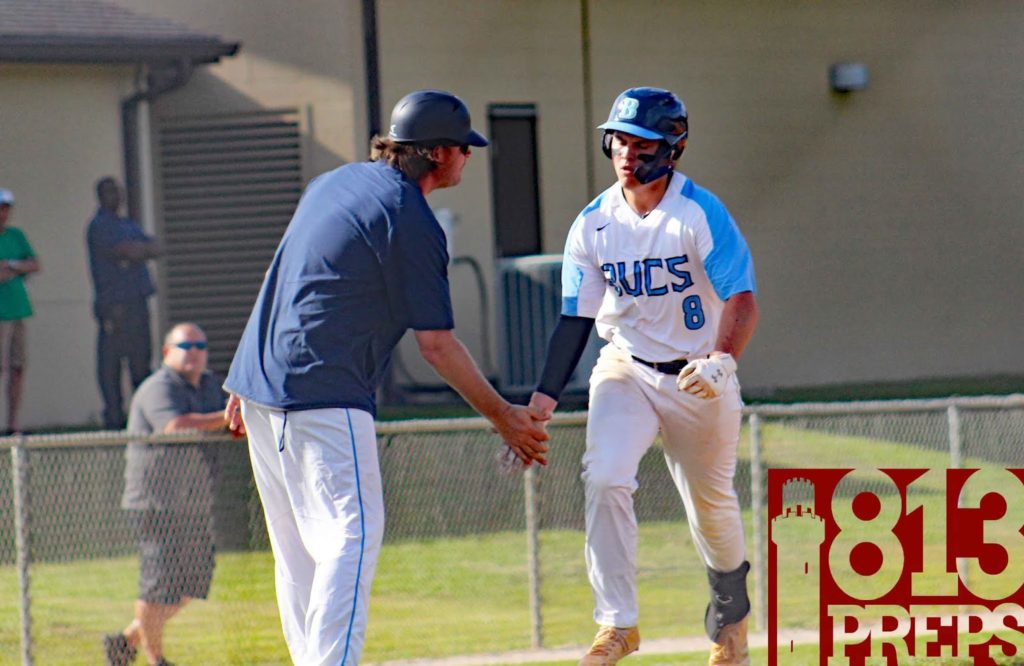 Berkeley Prep head coach gets a low five from sophomore Johnathan Bruno as he heads around third base after his first-inning, two-run home run. 
TAMPA – Berkeley Prep feasted on five Tampa Catholic pitchers as the Buccaneers finished of its regular season district schedule in a lopsided, 14-4 win in five innings. The Bucs hung ugly numbers in the third, behind five hits (four for extra bases), and in the seventh as a Davis Childers groundball single walked the win off.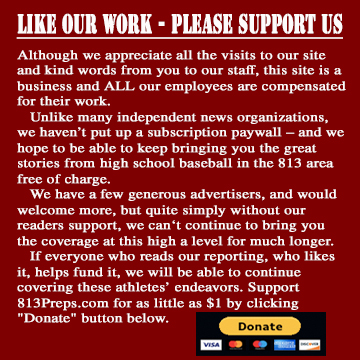 Tampa Catholic got the day started with some offensive gusto as MJ Bundick burned the right fielder for an RBI triple in the first, and was quickly driven in by an Anthony Lefler single up the middle. But from there, the Crusaders managed just two more hits in the game.
Berkeley Prep (13-5, 7-3 in Class 4A-4) took little time to respond as Johnathan Bruno put one into the trees in left during the home first, and Trey Hinchliffe added an RBI three-bagger to give the Buccaneers the lead.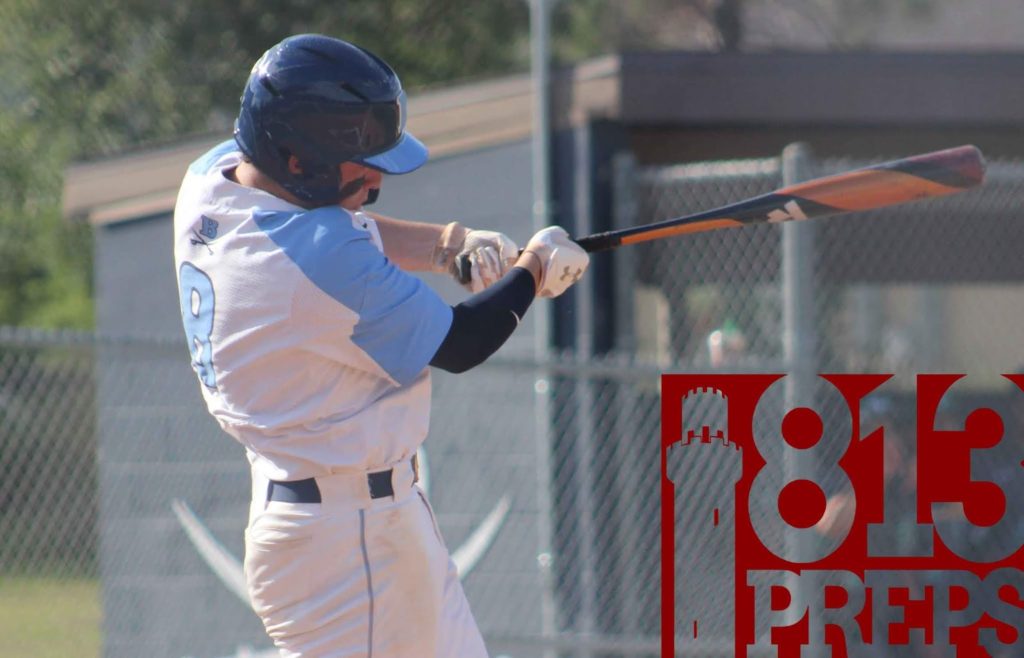 Johnathan Bruno connects on his home run in the first. Bruno was 3-for-3 in the win, with a double and three runs scored.
Bruno would again come up clutch with a double to start the Bucs six-run third inning, and also adding a walk and a single to his three-hit day. He also made two good, run-saving stops on throws to third base trying to get runners.
"We battled back after they put up a couple runs in the first," Bruno said. "I think everything started with that home run in the first. Roman hit another home run, everybody had big hits, everyone is invested right now and things look pretty good heading into districts."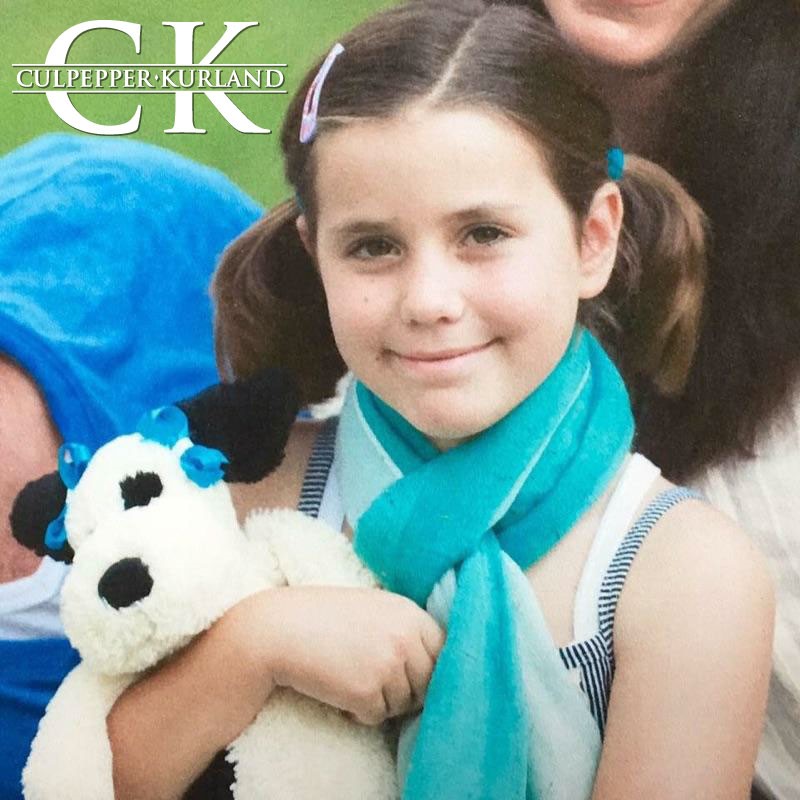 The Buccaneers will have the No. 3 seed in next month's Class 4A-District 4 seed behind Calvary Christian and Clearwater Central Catholic in the six-team division.
"We all have a pretty good approach right now, we hit the righty well, then they went to a lefty and we started to go the opposite way," Bruno said. "Through all five pitchers, we swung the bat through all of them."
The third would also see the first of Jakob Hines three hits, as he traded places with Bruno, and added singles in the fourth in fifth and one more RBI. Hinchliffe picked up a two-run double of his own in the third. But the highlight of the big inning belonged to junior Roman Samson, who saw the Crusaders change pitchers in the middle of his at-bat going from a right-hander to a lefty. The change however, didn't seem to affect Samson who belted the first pitch he saw from the new pitcher over the wall in left-center for a two-run shot.
Editor's Note – Make sure you check out all the extra photos we have from this game on our facebook page by clicking here.


"It's a different perspective going from a righty to a lefty, and the speed changed a little bit," Samson said. "I watched him throw a lot of fastballs in his warm-up, so I was pretty sure I was getting one."
"I was thinking about going toward second base, but I was ahead in the count so I might as well take a big hack and it worked out pretty well."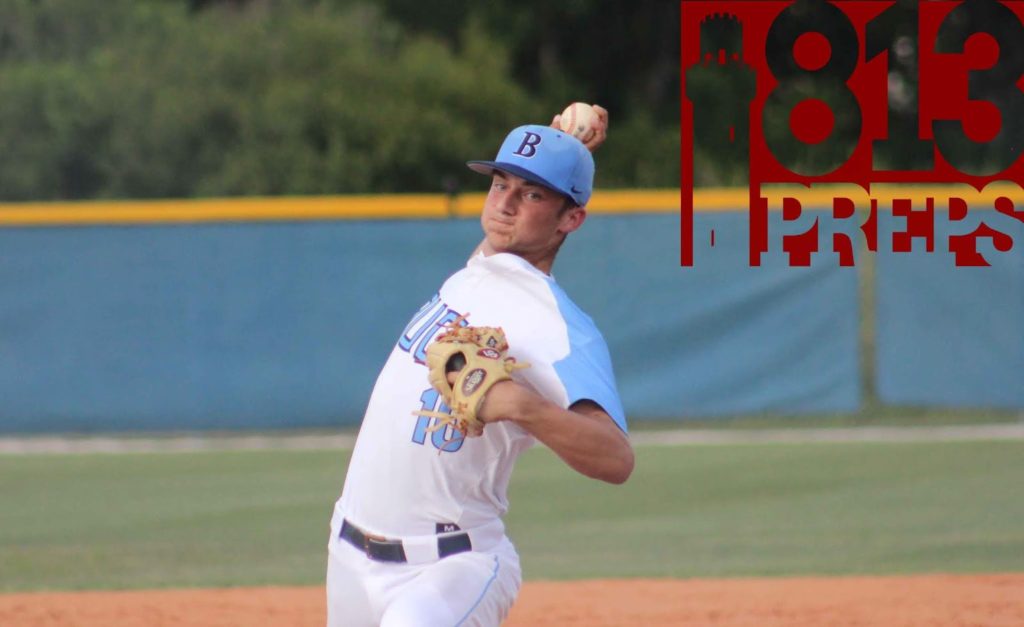 Berkeley Prep junior Ian Brown improved to 5-2 on the year with his five-inning win over Tampa Catholic. 
Junior Ian Brown picked up his fifth win of the season, working all five innings, allowing just four hits, fielded his position twice for outs and had a nice pickoff of a runner at second base in the fourth.
The Buccaneers finished things off early in the fifth as Alex Haire started the scoring with an RBI single, Cade Kurland drove in one with a sac fly, Hines picked up his third hit of the game and Childers finished things off.
Tampa Catholic (6-12, 3-7 in 4A-4) got another RBI hit from Bundick, a single in the third, and junior Tony Watson doubled in a run in the fifth inning.