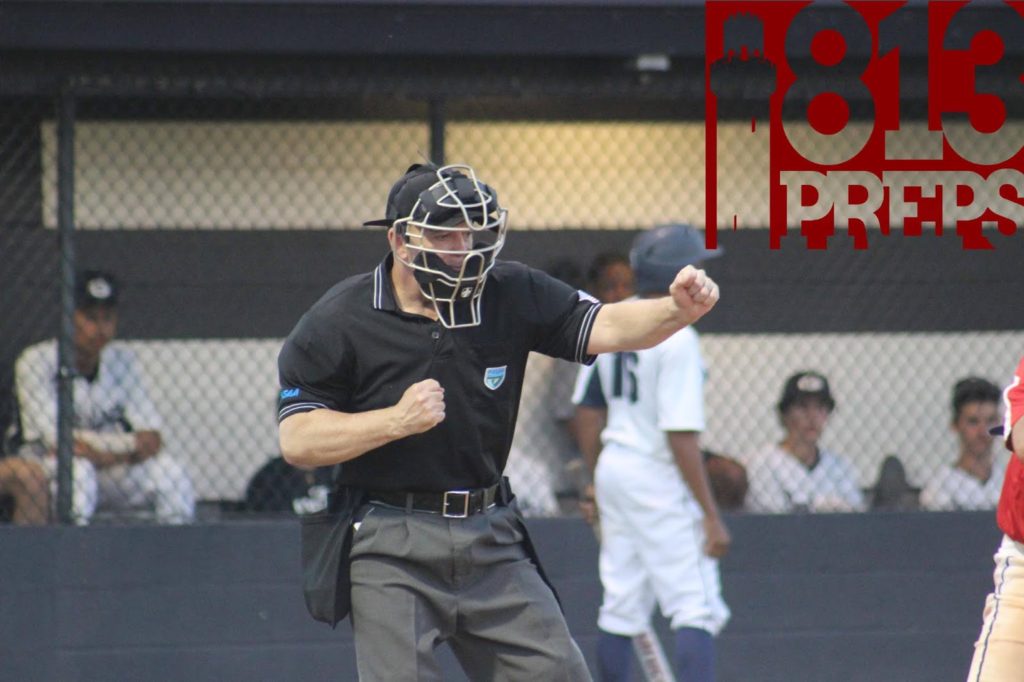 Veteran umpire Ben Heugel calls strike three during his last game as an official at Gaither High. After 38 years with the West Coast Umpire Association, Heugel will retire to spend more time with his family. 
TAMPA – After years on the diamonds of area high schools, it was only fitting that West Coast Umpires Association (WCUA) official Ben Heugel got just a little extra time on the field as Tuesday's game at Gaither – his final game as an umpire – stretched into extra innings. Heugel, who spent 38 years calling balls and strikes, fair or foul, smelling the breath of arguing coaches, and from time-to-time, even taking a belly bump or two, worked his final game in the bucket on Tuesday as Gaither picked up a 3-2, district win over rival King.
Heugel, a graduate of King High and the University of South Florida, joined the WCUA and the Florida High School Athletics Association as an umpire in 1981, at the age of 17 and spent time in nearly every board position for the West Coast, including an eight-year stint as the association's president. He also was chosen by his peers to work six state championship games, numerous region final games, and has been a dedicated instructor to other umpires at state and local clinics.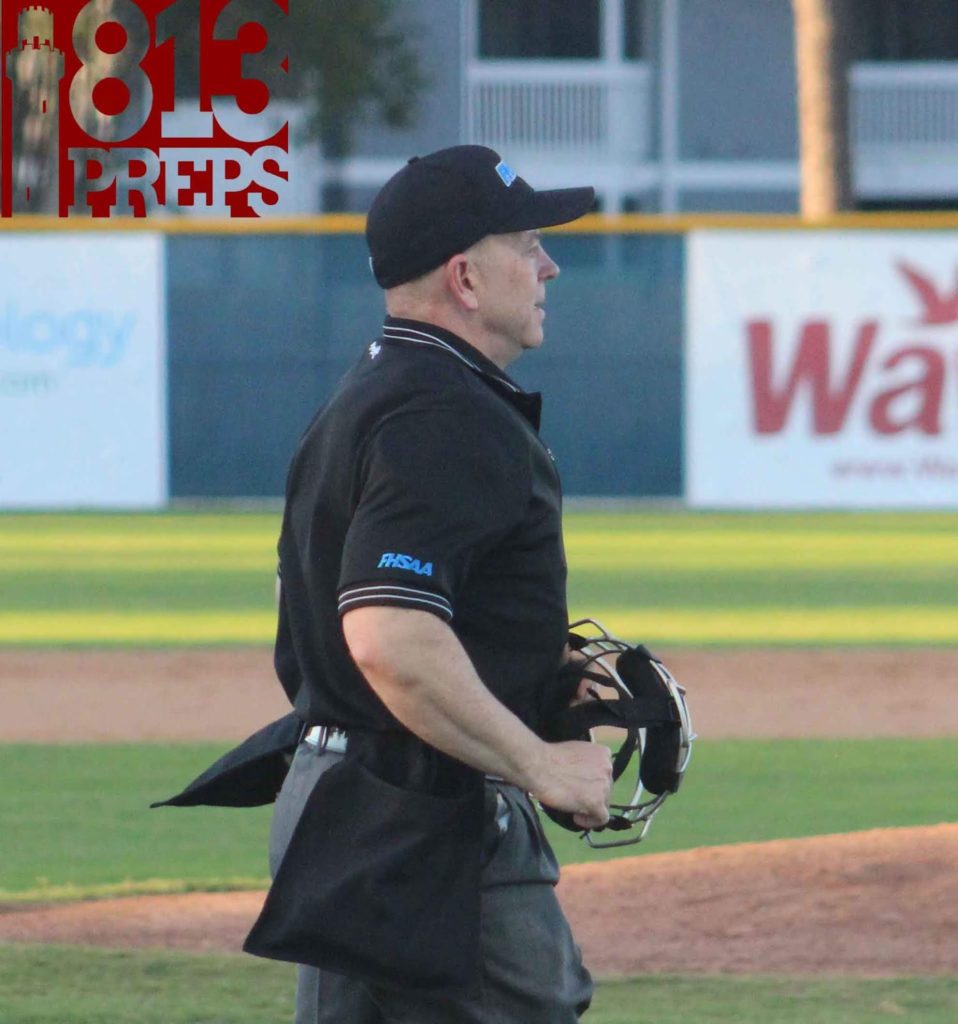 Ben Heugel jogs up the first base
line during his final game. 
On Tuesday, a number of friends and area coaches were in attendance including retired longtime coaches, Gaither's Frank Permuy and Jefferson's Pop Cuesta, as well as the veteran skipper in the visiting dugout King's Jim Macaluso. Prior to the game, Heugel was asked to throw out the ceremonial first pitch, with Cuesta on the receiving end of a pretty good-looking toss, only to have Permuy from the spot Heugel would man in a few moments, bark, "Ball. Outside."
"It was cool to work a game like this at the end of your career, in front of Permuy, Macaluso, and Pop who were all coaching when I started," Heugel said. "It was great to have all of them out here."
"As an umpire, you hope you earn your respect from the guys you respect the most in the game."
Permuy spoke of respect for the longtime blue as well: "We respected him, and I think he respected us. That's the best thing you can ask for between a coach and an umpire."
After the game on Tuesday, Heugel who also works fulltime as an account executive for Cigna, said the thing he'll miss most about the side job he spent more than two-thirds of his life doing will be the camaraderie between he and his fellow umpires.
"These are my buddies," Heugel said after the game, taking a moment caught in the emotion. "It's a fun game, being able to work with your buddies, having a lot of guy's nights out – it's been a great run."
It's a unique bond shared by umpires, pivotal to the game, verbally and publicly criticized in the undertaking very rarely seen in other jobs, but also a rare seat on the action that drives those who do the work. Heugel spent his last game calling balls and strikes, while longtime colleague Dave Stone, best man at his wedding, worked the field.
"First of all, you have to love the game," Stone said. "I think both of us always try to bring integrity and excellence to what we do."

"Ben is a great guy even though he may have a bunch of coaches who think he's sometimes a jerk." Stone said with a chuckle, "He really is fair and probably the most consistent official I've ever worked with."
Stone, himself a decades-long official with WCUA, said his longtime friend has been a student of the craft his whole career and is very respected by his peers for the way he has continued to develop and adapt.
"He's changed throughout the years, looked at himself at times and said, 'you know what, maybe I could have done that differently, been a little more patient.' I appreciate that about him."
Permuy, who spent five decades coaching in Hillsborough County, joked about the time Heugel in his early days as an umpire tossed him from a game, but also echoed Stone's sentiments of how he developed into one of the more respected area officials.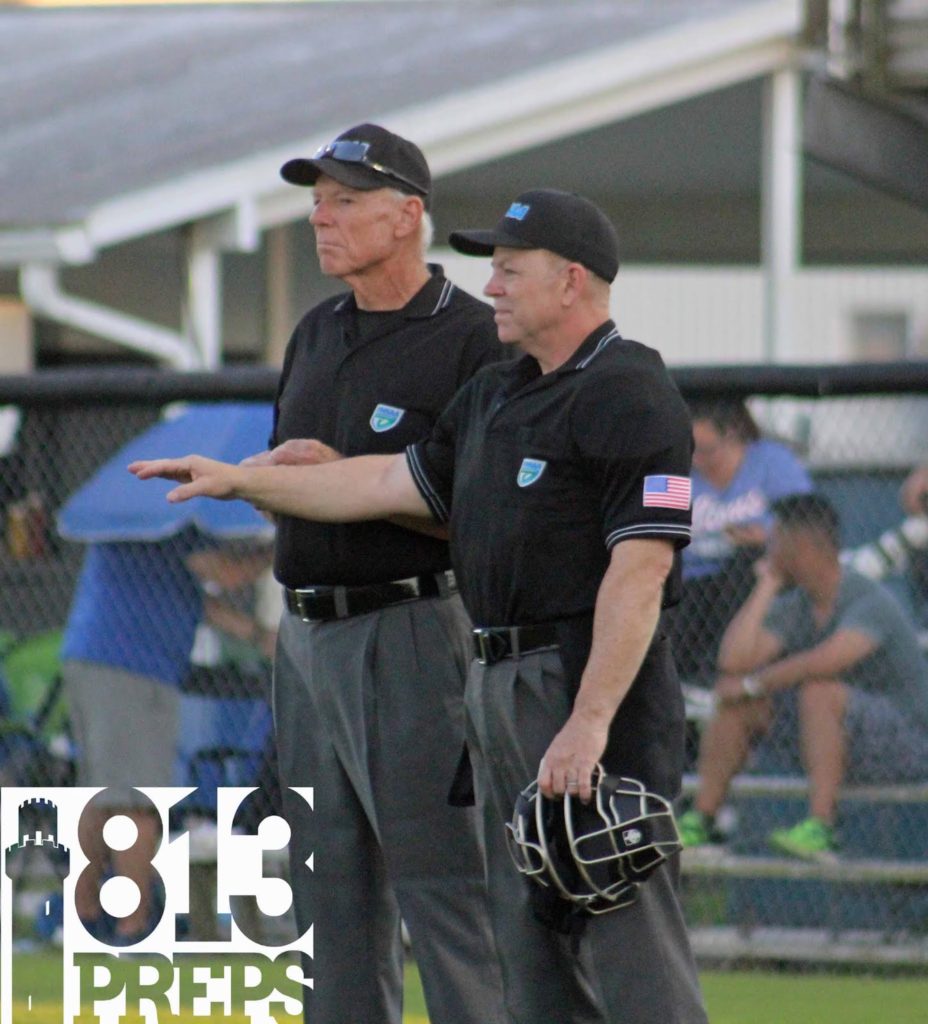 Ben Heugel (right) talks with his partner on the field, Dave Stone in-between innings of the game between King and Gaither. 
"I remember Ben when he first started was kind of a tyrant," Permuy said with a laugh. "I think we all mellowed with age, and he only rang me that one time. But he was always a great umpire, no one ever had to argue balls and strikes with him. Just a good, solid umpire."
Heugel, 55, said the time was right to step away from umpiring, but he has no plans to leave the field of athletics, he just now plans to have a different role. Describing himself as having a "late start to things," Heugel and his wife Lisa, have a 7-year-old son, Stefano who is starting to get involved in youth sports. The longtime umpire said he is looking forward to joining the coaching ranks, or even just sitting on the sidelines cheering for a while.
"My son is seven and is just getting into sports and there have been times when I'm about to hit the road to go do a game and he wants to go out and play ball," Heugel said. "We've had some tough moments there, when I've left and he's upset. I'm ready for a different chapter in my life. Maybe even coaching. But I can't wait to spend more time with my family."

Stone said he knows their longtime friendship will continue, but said he'll miss the game day, the before and after, and times on the field with his friend.
"I'll miss the fun that we have," Stone said. "Talking before the game about life and family, in the game being a part of things out there with him, and then after going out having some wings or sitting in the parking lot talking after a game. That part of our friendship is something I'll miss."
For Heugel, the draw of a new season has always been there and he doesn't expect that to go away, adding to the list of things he said he'll miss.
"The excitement of a new season, seeing what teams are going to be competitive, and when you get to call a big matchup it's really cool," he said. "There is always so much energy and excitement and that's something we feel too. Those are the best games, you hope you don't have a direct bearing in them, but you also hope you contribute to the great game of baseball."