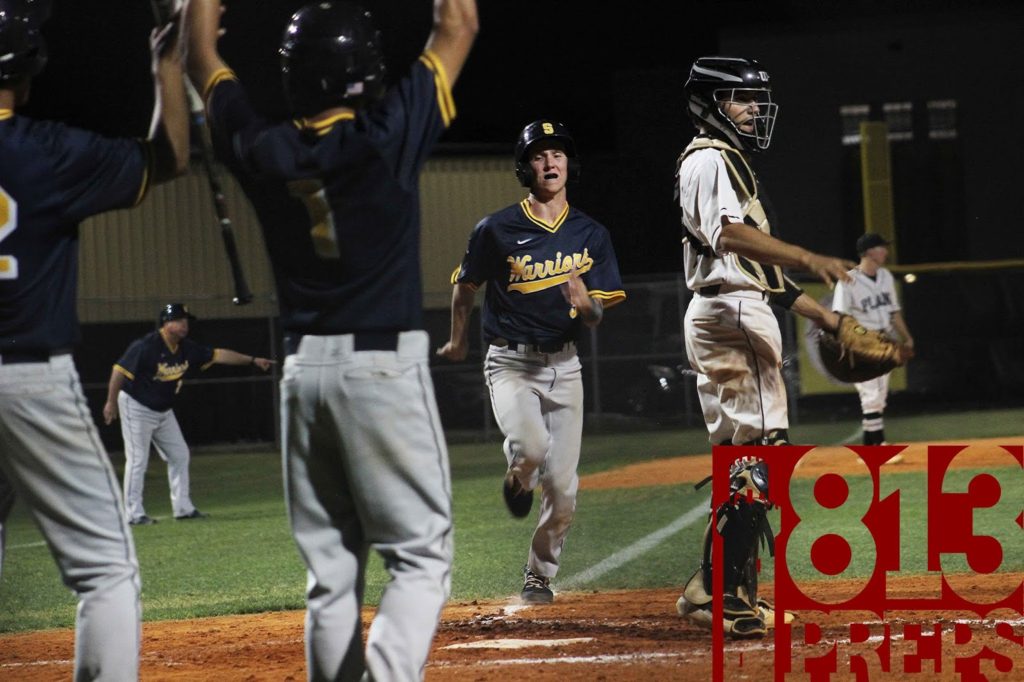 Steinbrenner sophomore Brett Schoessler charges home on an error scoring the deciding run for the Warriors. 
TAMPA – A three-game high school baseball week late in the season is a test, doing it back-to-back-to-back is even tougher, and after Steinbrenner let its third game last week slip away in defeat to Armwood on Friday, the Warriors were hungry to finish this run on a high note.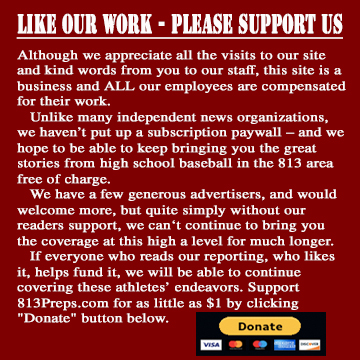 The Warriors did just that, winning a third game in as many nights as Steinbrenner battled back to take a 3-2 win over district rival Plant on the road Thursday night.
"Last week we let that Friday game slip away with our focus on trying to get a 3-0 week," Warriors coach John Crumbley said. "So when, we got to 2-0 this week, especially after an extra-inning win (9-8 in nine innings over Wharton) on Tuesday, I talked with our seniors yesterday and told them, 'I need your leadership.'"
"This was the best bus ride we had all year. I knew they were focused, took one game at a time … and got exactly what we needed tonight."
The win had some added weight according to the Warriors' Hall of Fame head coach, saying that the team was extra-motivated to have a successful week on behalf of longtime assistant coach Steve Morgan, who missed the week after being admitted to the emergency room on Monday and having surgery on Wednesday. Crumbley said Morgan was at home recovering.
"We wanted to have a good week for Coach Morgan, he's our pitching coach and we wanted him to know we were playing for him this week," Crumbley said.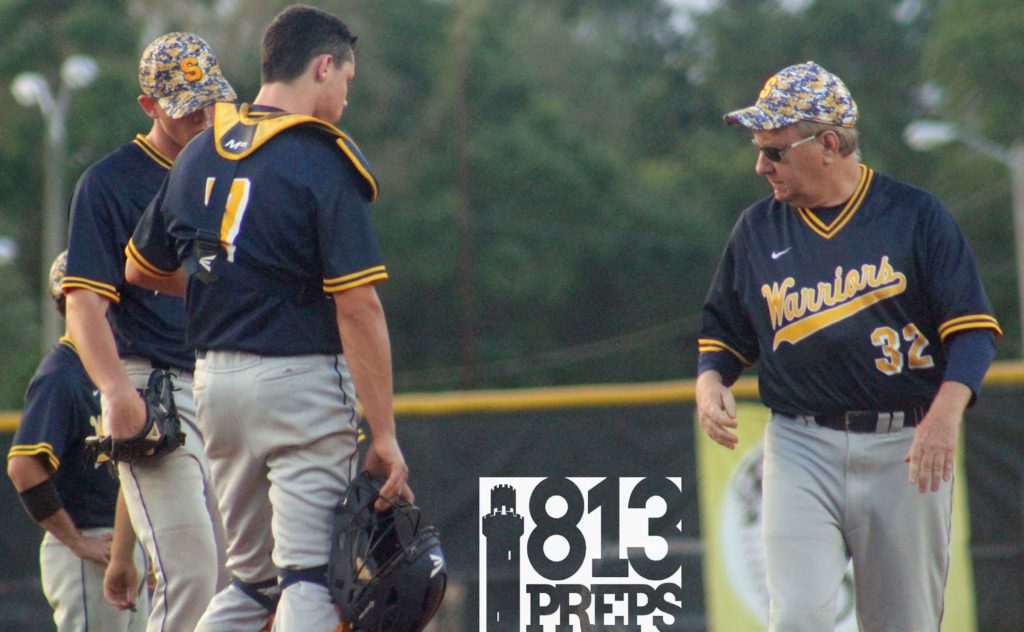 *Editor's note: Feel better, Stick!* 
After spotting the Panthers a two-run lead on two-of-five errors the Warriors would commit in the game, Steinbrenner cut the lead in the fifth when Tommy Malouf led off the frame with a single, moved to second on a sac bunt, and eventually was brought in on an RBI line drive single from Eddie Rull.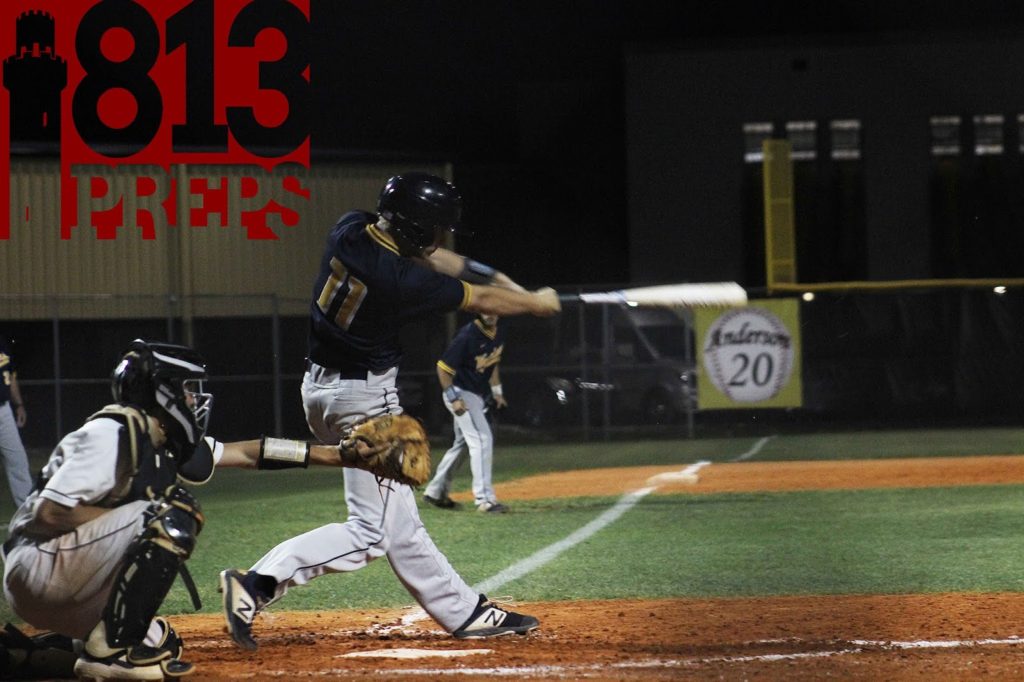 Steinbrenner's Adam Fisher tied the game with this RBI single, and drew a bad throw to first allowing the eventual deciding run to score. 
But Steinbrenner (15-3, 4-0 in Class 8A-5) wasn't done there, rewarding starting pitcher Brayden Heidel for his composure after Plant scored an unearned run in both the second and third innings, by taking the lead for good in the sixth. Adam Fisher slapped a slow chopper to a tough spot on the right side of second base, driving in the tying run with a single, but Plant made an ill-advised throw to first trying to get Fisher speeding up the line and the ball went wide of the bag, allowing pinch-runner Brett Schoessler to hurry home for what would prove the deciding run.
"I was just trying to put the ball in play with two strikes," Fisher said. "I got that done, put it on the ground and good things happened."
"The Warriors are never out of the game no matter what the score is, we are always in every game, we fight until the end and we got it done tonight."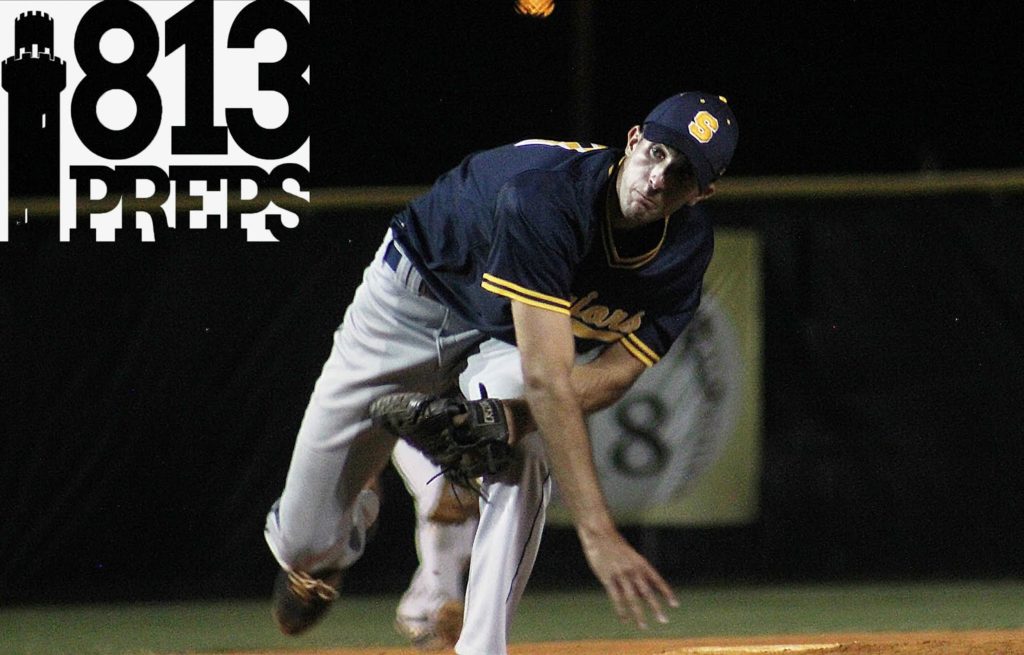 Steinbrenner senior RJ Parker.
From there, senior RJ Parker went to work on the mound finishing off the game with two scoreless innings, allowing just a walk and another runner reached on an error, before shutting the door to earn the save. After the win, the 6-foot-6 righty was direct and to the point.
"My job was to go out there, throw strikes and get this team another pivotal district win," he said. "You don't worry about things behind you, you focus on throwing to the batter, and if you do that you'll get it done."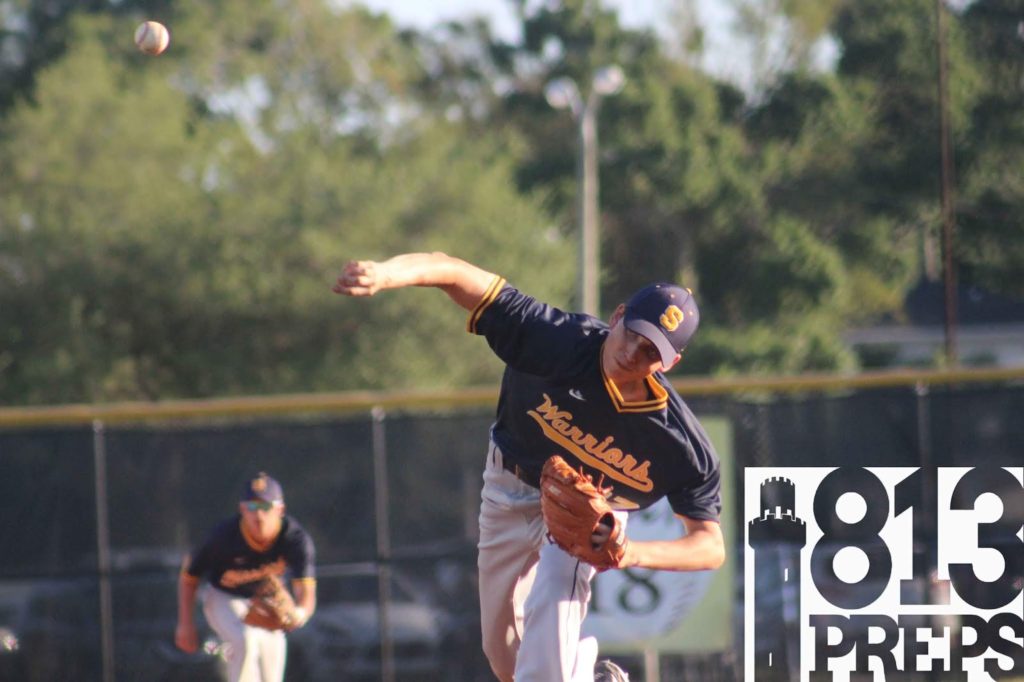 Steinbrenner junior Brayden Heidel battled around two unearned runs to work five innings on the mound and earn his sixth victory of the season. 
Heidel, who improves to 6-1 on the season, worked around six hits and three walks, leaving six runners in scoring position in the game.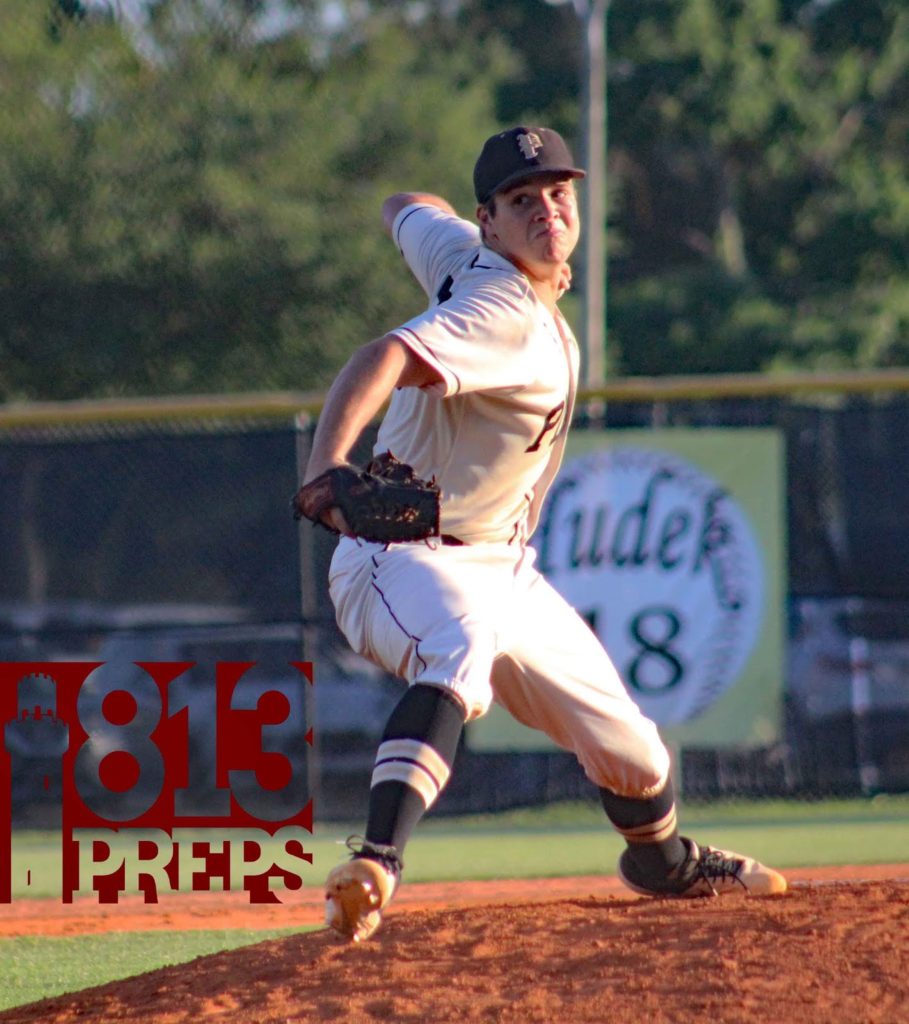 Plant pitcher Leo O'Shinski
"He's a very calm guy on the mound," Crumbley said. "He understands our philosophies and what we expect him to do, and even when he doesn't have his best stuff like tonight, he still goes out there and battles through."
The loss spoiled some excellent defense for Plant (11-8, 1-3) including a pair of double plays, a caught stealing by catcher Reece Blanco, and some nice plays off the mound by senior pitcher Leo O'Shinski.
Plant got runs in the game off a double from Matthew Ward, driving in Carson Richards (1-2), and a single from Jac Caglianone plating J.D. Urso.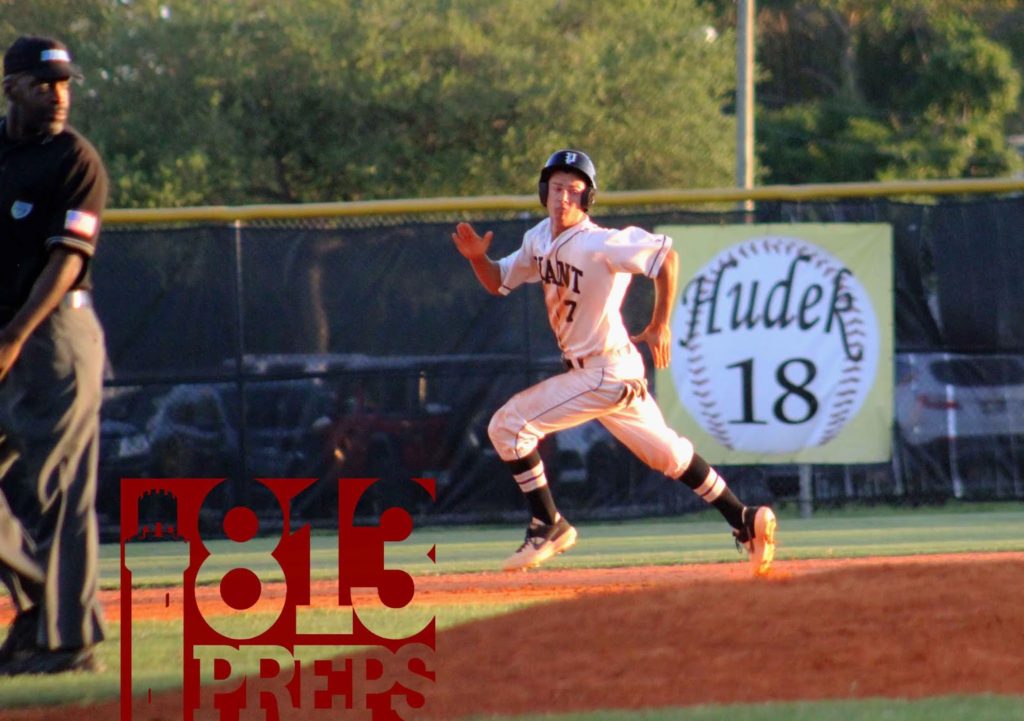 Plant senior J.D. Urso goes first-to-third on a throwing error trying to pick him off first base. Urso would score on the next pitch as Sac Caglianone singles.