* Our Week 8 rankings were voted on by 813Preps editor Jarrett Guthrie, staff writer Will Turner, and 95.3WDAE's Jay Recher. Follow Jay's coverage of all things Tampa Bay sports at his blog by clicking here. *
1. Sickles (4-14) – The Gryphons kept on rolling winning its fourth-straight since the forfeit rulings, with a mercy-rule win over Alonso and a win versus Hillsborough. Junior Chase Centala was pivotal to both wins, going 3-for-3 with three runs scored and two RBI against the Ravens and 10 strikeouts on the mound against the Terriers. Sickles has three road games this week, playing Strawberry Crest, Bishop McLaughlin and King.
2. Jesuit (18-2) – The Tigers wrapped up an undefeated district season by winning games over Robinson and Jefferson last week. BJ Graham's two-run home run led Jesuit to the win at Robinson, and Henry Politz drove in both runs to support Camden Minacci's complete-game shutout over Jefferson. The Tigers trial-by-fire schedule continues this week with a big showdown at Calvary Christian on Tuesday, a visit from Naples Gulf Coast on Friday, and a showdown with the state's No. 1 team IMG Academy on Saturday.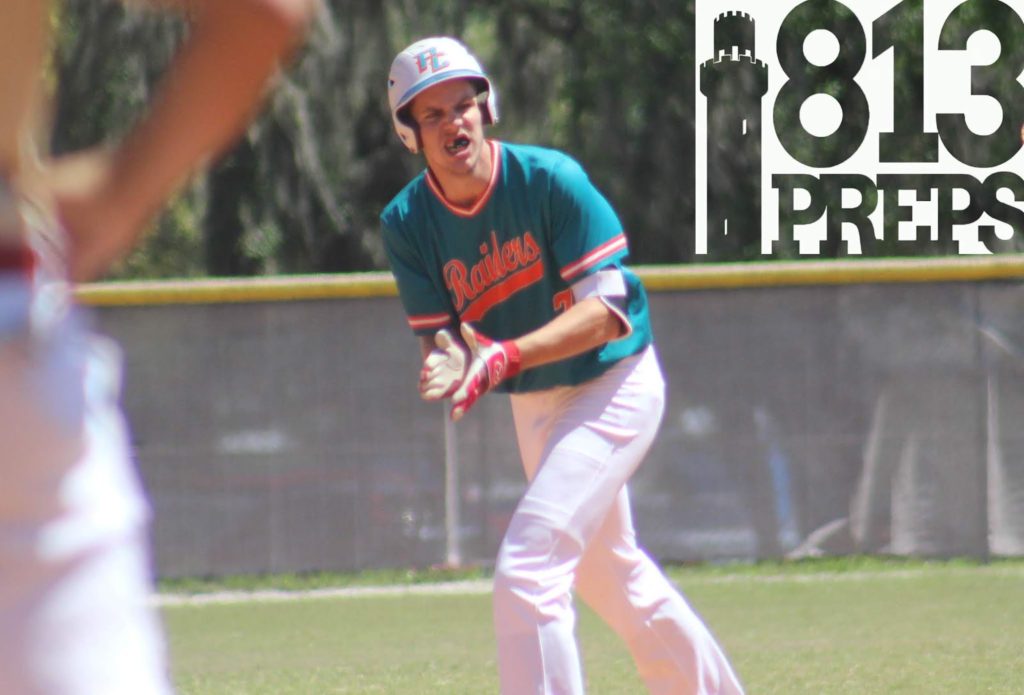 Plant City junior Cole Cothren
3. Plant City (18-2) – The Raiders locked up the district top seed with wins over Bloomingdale and East Bay last week, as Jarod Wingo drove in a run and picked up the win on the mound against the Bulls (click here for extended coverage of this game), and Tyler Dowdy tossed a five-inning no-hitter against the Indians. Junior Cole Cothren leads the team with a .424 average and 15 RBI. The Raiders host Hillsborough, and travel to Lennard and Armwood in the week ahead.

4. Leto (16-4) – The Falcons got things done with wins over King and Freedom as seniors Christian Suarez and Franklyn Hernandez each worked complete-games in victory. Home games against Newsome and Middleton are ahead this week for Leto.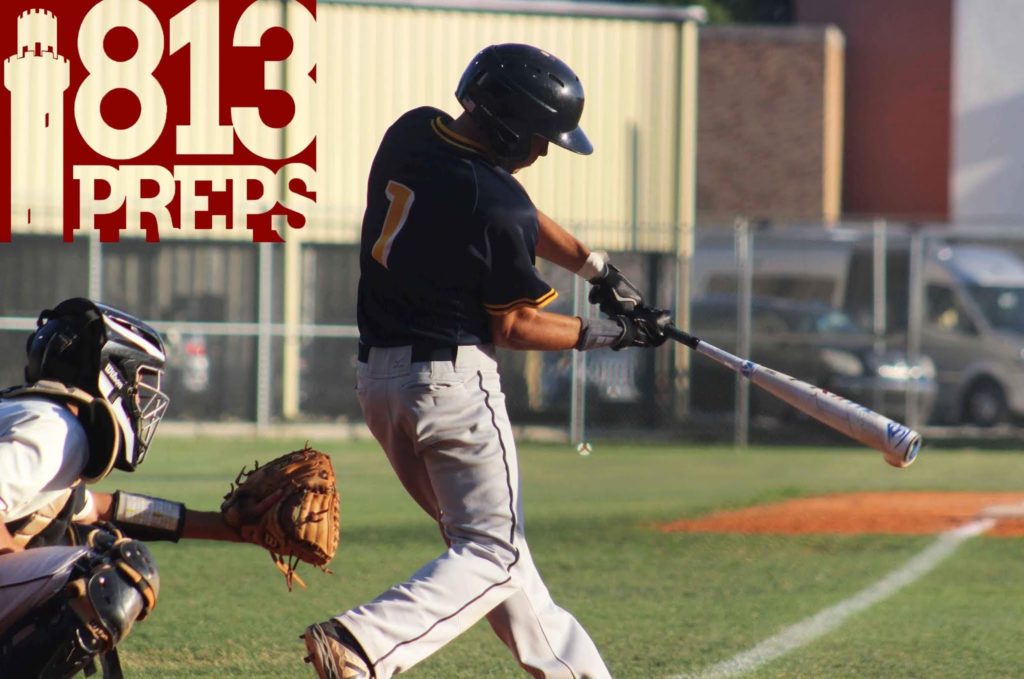 Steinbrenner's Donovan Garcia
5. Steinbrenner (15-3) – The Warriors won three games in three days topping Wharton in extras (click here to read about this game), Carrollwood Day, and finishing district play with a win at Plant (click here to read our coverage of this game). Junior Donovan Garcia is leading the team with 16 RBI this season. Steinbrenner will try and do it again with another three-day run at Robinson and Brooks DeBartolo, before hosting Riverview on Thursday.
6. Lennard (15-3) – Lennard finished up district play undefeated by defeating Brandon and Tampa Bay Tech last week. Edward Tarrant struck out 13 against Brandon, and had a pair of triples and an RBI against the Titans. Sophomore Alek Mangual has scored a team-leading 20 runs. The Longhorns host a pair of Top 10 teams – Durant and Plant City this week.
7. Wharton (15-4) – Wharton takes a bit of a tumble after dropping games to Steinbrenner and district opponent Strawberry Crest this week. Sophomore Zach Ehrhard is hitting .385 with 17 runs scored and 13 stolen bases, while junior Steven Hotinski has scored 17 runs and driven in 15 for the Wildcats. Wharton hosts Alonso and travels to Brandon for games this week.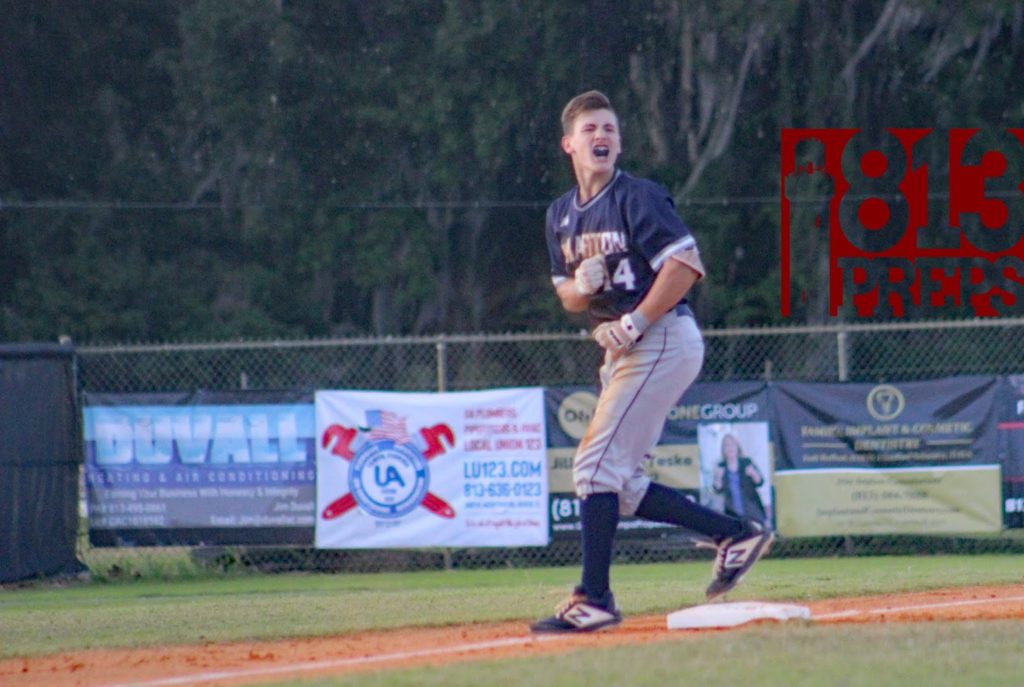 Wharton's Zach Ehrhard
8. Durant (14-6) – The Cougars slugged it out with East Bay in a 13-10 win and took care of business against Armwood, 9-1. Ahmad Fitts was 6-for-8 on the week with a double, two triples and a home run, driving in seven runs. Durant heads to Lennard on Tuesday and hosts Strawberry Crest on Thursday.
9. Riverview (13-6) – The Sharks shutout out Strawberry Crest behind a complete-game from senior Brendan Herrick (click here to read our coverage of this game), and got the better of Bloomingdale behind solid relief pitching from Kyle Knees. Riverview travels to Armwood and Steinbrenner this week, before hosting Alonso on Saturday.
10. Berkeley Prep (13-6) – The Buccaneers mercy-ruled Tampa Catholic behind three-hit days from Johnathan Bruno and Jakob Hines (to read about this game click here), and dropped a tough one to Suwannee last week. Hines has 19 RBI for Berkeley Prep, while Trey Hichliffe has driven in 18. The Buccaneers have three games ahead this week against Santa Fe Catholic, at Lakeland Christian, and at home against Elyria (OH) Catholic.
The Next Five:
11. Gaither (13-5)
12. Bloomingdale (12-7)
13. Plant (12-8)
14. Strawberry Crest (11-8)
15. Newsome (13-7)
Dropping out this week: Alonso (9-8)
Also receiving votes: Carrollwood Day (11-9)