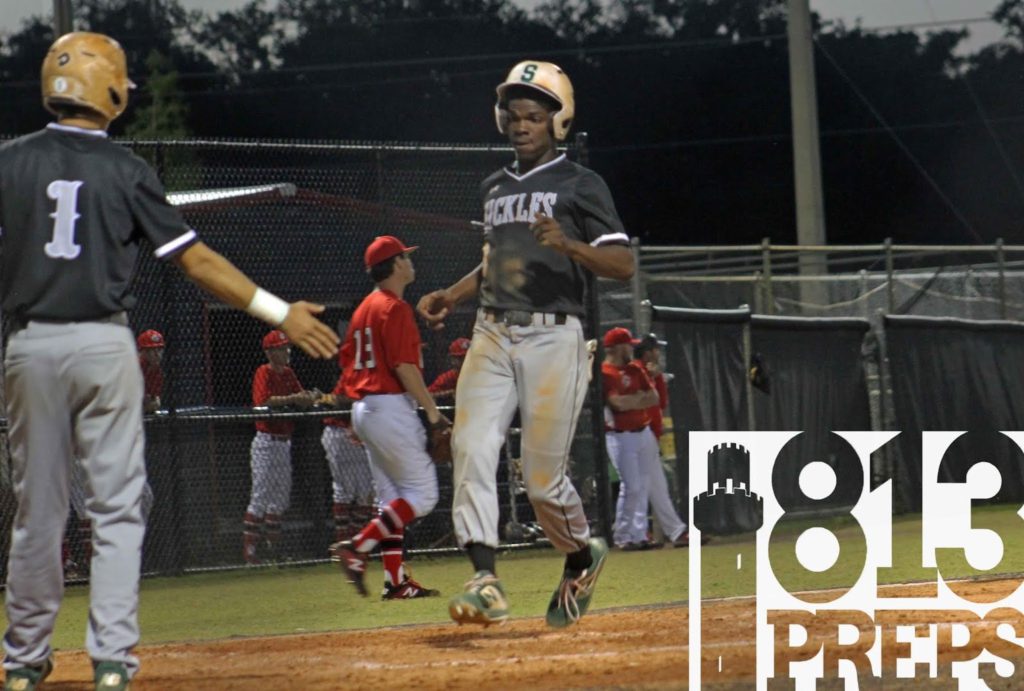 Sickles senior Justin Turk scores one of his two runs in the Gryphons win at Strawberry Crest. Turk was 3-for-3 in the game, with two infield singles and two stolen bases. 
DOVER – Strawberry Crest did about all you could ask against Hillsborough County's top-ranked team on Tuesday. Facing Sickles ace, Dylan Eskew the Chargers swung early, made contact, and on the mound held the meat of the order of the sixtee…four-win Gryphons at bay most of the game.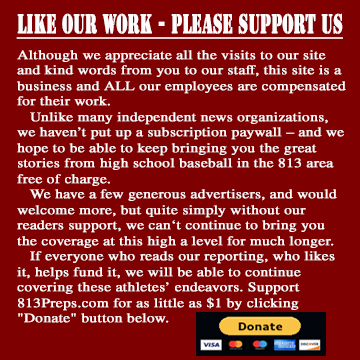 Unfortunately, Eskew was just too composed, and Sickles is a team just too complete as the bottom of the Gryphons' order churned out early hits, plated early runs and cruised to a 5-1 win.
"
The game was a battle for a Sickles team that has been snarling fire since the program self-reported a violation due to a player providing an inaccurate address to the FHSAA three weeks ago and was stripped of 12 wins. Since the forfeits, Sickles has won five games, three by mercy-rule and a six-run win over Hillsborough.
In the second inning, the bottom of the Sickles (5-14) lineup got things going with a walk drawn by Rolando Linares, a single from Justin Turk, before the first run scored on a single through the right side by Tyler Green, and the second on a squeeze bunt from Nick Duran.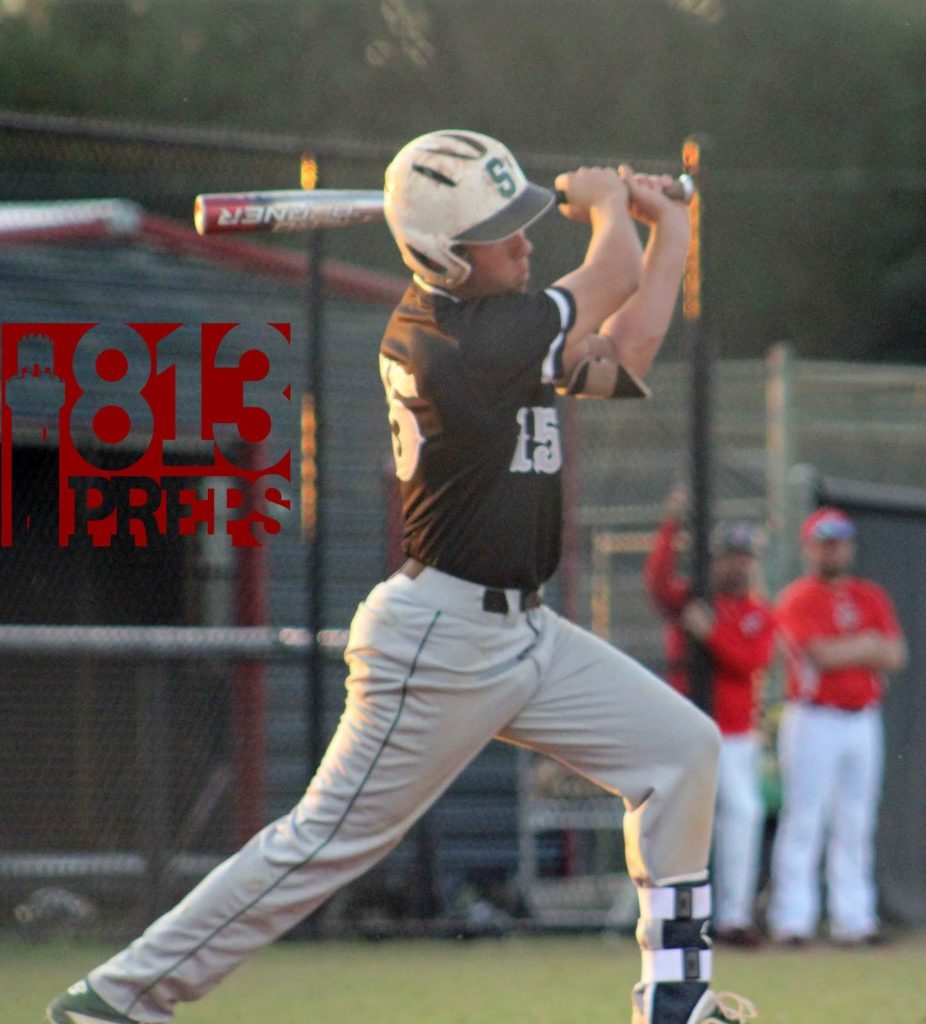 Sickles junior Tyler Green slaps an RBI single
to right in the second inning. 
"We've had a lot of guys come through at the bottom of our order," Green said. "Nick is probably one of the best bunters we have on the team, we know any time he has the chance he's going to lay a good one down so Turk and I are just trying to get on base in front of him."
From there Eskew worked steadily, only running into trouble allowing a pair of doubles and a run in the third, when Strawberry Crest's Colby Fanning starting the home half with a two-bagger and senior Tanner Kelley driving in the lone Chargers run to centerfield. Otherwise, the senior allowed just two other hits and struck out nine in the win, his seventh of the season (individual player stats are not affected by FHSAA imposed team forfeits). Eskew said a mid-game dugout meeting with catcher Danny Bernstein and his coaches led to a bit of a change in game-plan that seemed to key his success the rest of the game.
"They had a good game plan, and were really aggressive early on the fastball," Eskew said. "I think we made some good adjustments going to off-speed first-pitches. We had to switch it up, halfway through the game we had a meeting and we fixed the ship."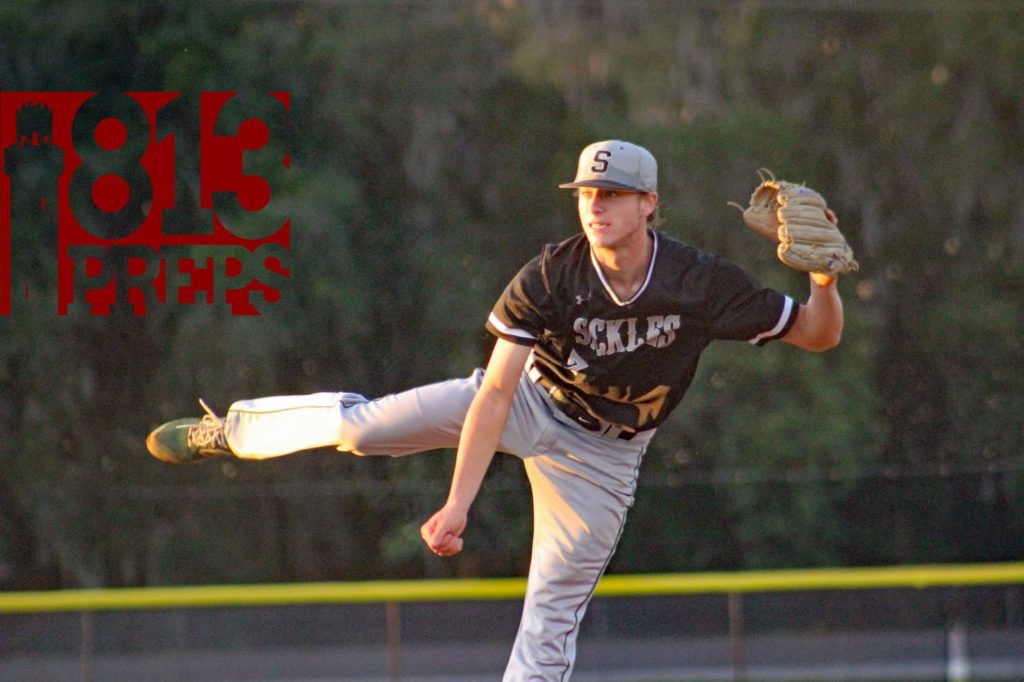 Sickles senior Dylan Eskew improved to 7-0 on the mound this season, working a complete-game and striking out nine. 
Turk, who finished 3-for-3, with two infield singles and two stolen bases added a two-out single in the fourth, and again Green came through driving his speedy teammate in with a double to left.
"I just zone into what I'm doing," Turk said. "We play as a team, if the top of the order isn't seeing it the rest of us have to do our job to pick them up. We piggy-back off of each other, tomorrow night they'll be the ones carrying us, so tonight it was our turn to do the job."
Junior Chase Centala doubled in Trey Bacon in the fifth, before himself scoring on an RBI single from Kohl Robertson to tally the five runs for the Gryphons.

Strawberry Crest tried to get a rally going in the final inning having a runner reach on an error, but he was erased trying to take an extra base. Kade Manderscheid singled with two outs, and another runner reached on a dropped third strike, but Sickles squashed the threat and ended the game on a fly ball to Turk in centerfield.
"It's having laser focus out there and focusing on the catcher's glove," Eskew said. "You have to have a short-term memory out there, not worry about what happened and focus on what you have to do."