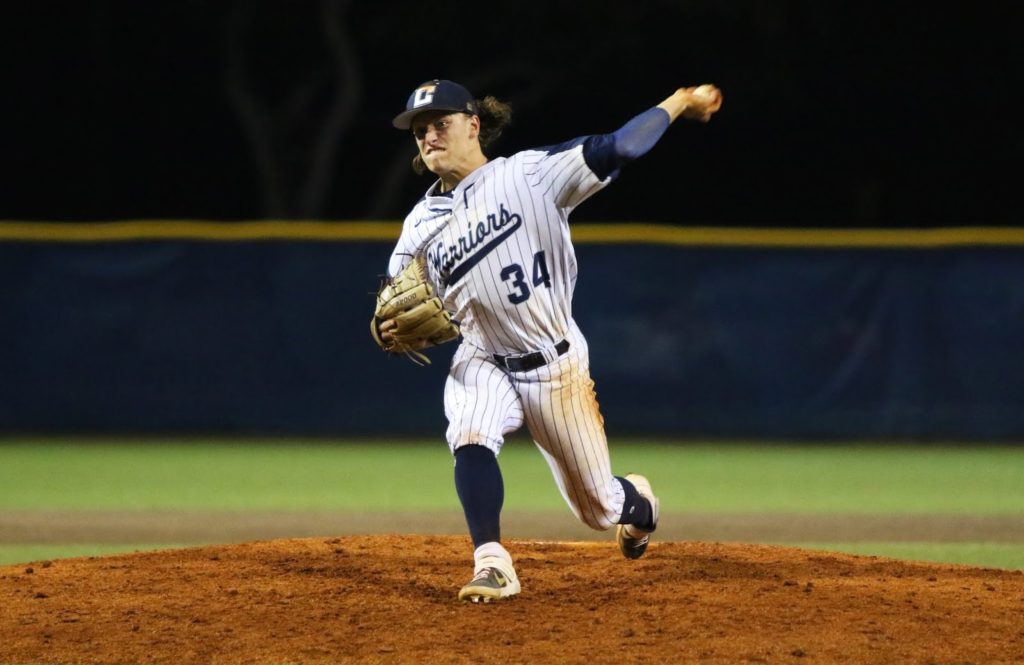 Calvary Christian senior Nolan Hudi worked the six-inning win, striking out eight and improving to 8-1 on the season. (Photo by Will Turner)
CLEARWATER – A fast start was all Nolan Hudi needed to lock in and batten down the hatches for Calvary Christian, which coasted to a 12-2 victory over Jesuit on Tuesday night at Victory Field.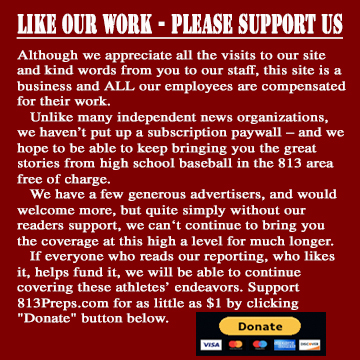 After losing on a walk-off grand slam to Clearwater Central Catholic a week ago, Calvary Christian has since rattled off three-straight wins as the Warriors look to close out the season on a high note with difficult games ahead.
An 18-win Jesuit squad was quite the test, but Calvary Christian seemed unphased. Pierce Chambers got things rolling with a three-run home run over the right center fence to push the Warriors to a four-run first, which they'd replicate in the second on a three-run moonshot to the parking lot in left from Tommy White.
Calvary Christian jumped on Jesuit ace Camden Minacci, who was charged with all eight of the Warriors' runs in the first two innings. He couldn't get out of the second on Tuesday night.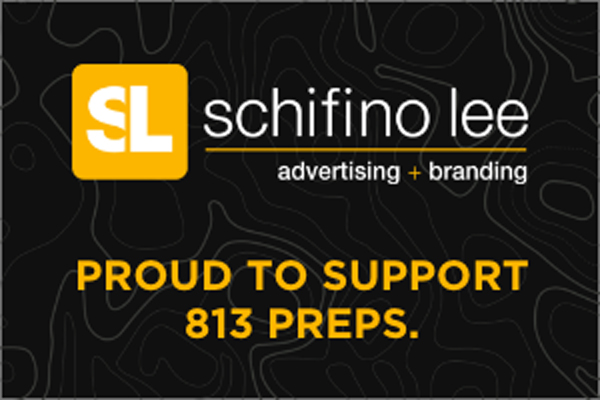 "We know he has great stuff and he's a talented young man," Calvary Christian head coach Greg Olson said. "What we wanted to do was stay disciplined in the strike zone. If we expanded it, we knew it was going to be tough because his stuff is so good."
For Jesuit coach Miguel Menendez, he knew a costly miscue that extended the first inning was an extra chance his Tigers couldn't afford to give a team as talented as Calvary Christian.
"That's a good team, obviously," Menendez said. "We had a chance to maybe get out of the first inning, but we misplayed a ball in right field … we had a chance get out of the inning with no runs, and who knows, that could've changed the complexity of the game. They capitalized on a mistake."
Meanwhile, Hudi went to work comfortably with an eight-run cushion. The future TCU Horned Frog looked comfortable on the mound through six innings of two-run baseball. His effort would turn out to be a complete-game in the mercy-ruled affair.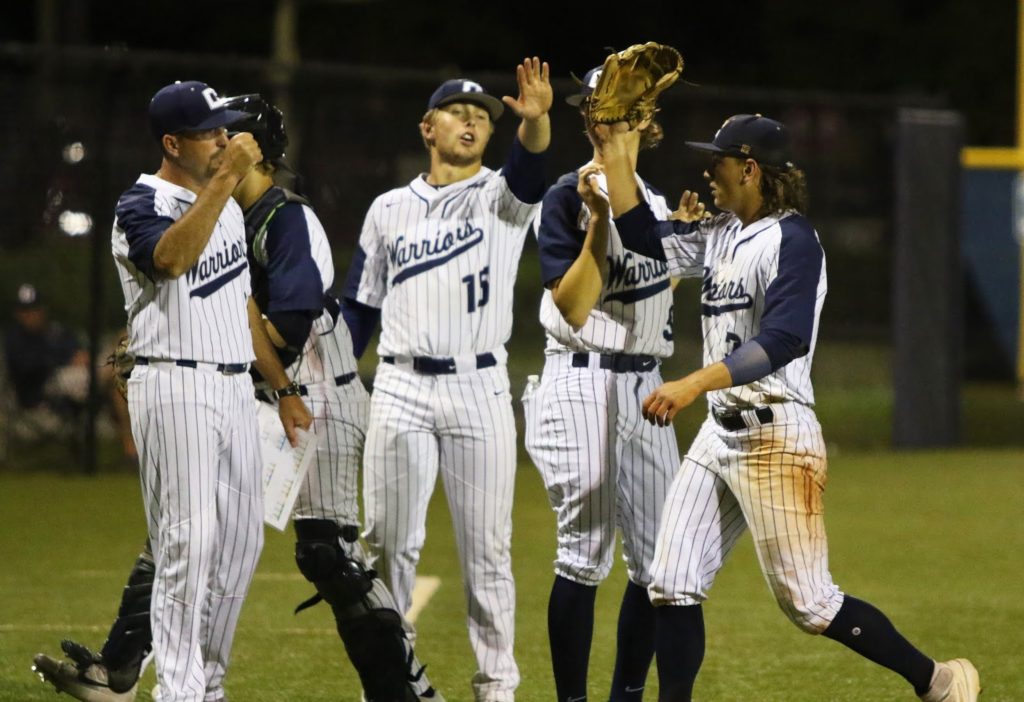 "He goes out and gives everything he has in each and every start," Olson said of his nationally acclaimed pitcher. "He throws with his heart and is able to throw four pitches for strikes, so I was really proud with his effort against that team because [Jesuit] is such a good offensive team."
Calvary Christian picked up a run in the fourth on an RBI single from Chambers, his fourth driven in on the evening. The decisive blows came in the sixth when White scored on a wild pitch, before Peter Stavrakos drove a single through the 3-4 hole to score another. Charles Stevens has the walk-off RBI single to give the Warriors the convincing victory.
Hudi threw 82 pitches (unofficial) in his six-inning complete game, allowing four hits and just a pair of runs on Jesuit catcher Bennett Lee's third home run of the year. He walked one and struck out eight.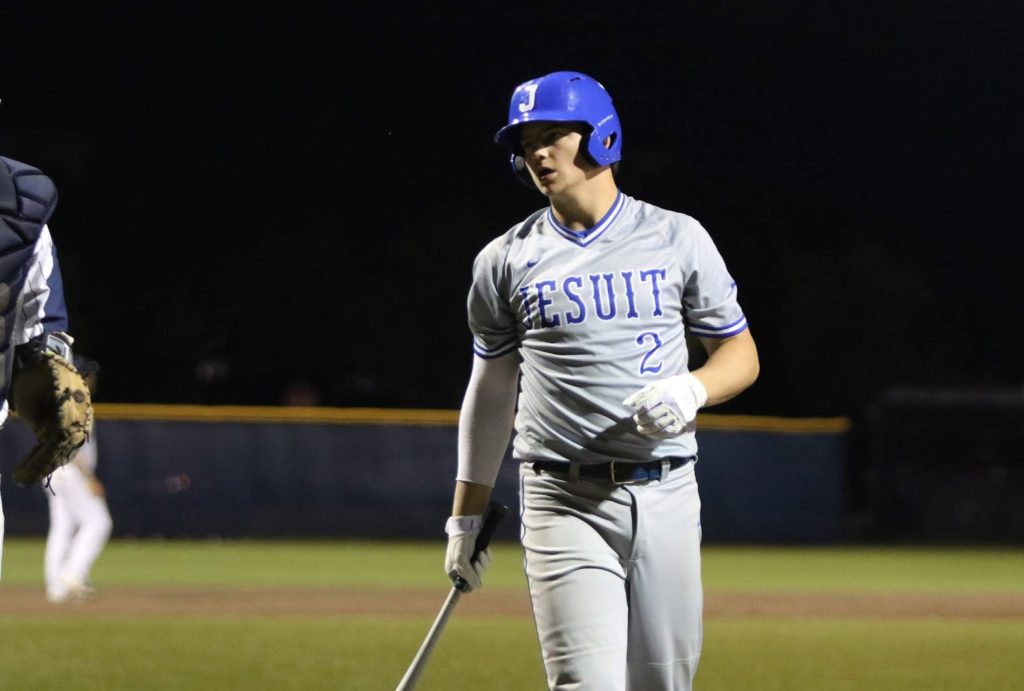 Jesuit junior catcher Bennett Lee hit a two-run home run in the loss, his third home run of the season. (Photo by Will Turner)
"It was going to be tough [to come back], especially with that guy on the mound," Menendez said. "We knew we were probably going to have to win a low-scoring game. I don't think we played to the best of our ability by any stretch tonight."
The schedule doesn't get any easier for Jesuit, which hosts Gulf Coast (Naples) on Friday before hosting MaxPreps' number one team in the United States, IMG Academy, on Saturday.
"These are games and moments that are going to help us and prepare us for the playoffs," Menendez said. "We feel that we have a team that can make a run at this thing and go deep and if we can make the run I think we're capable of making, nobody's going to remember what happened tonight."
– Will Turner is a student at the University of South Florida pursuing a double major in mass communications and history. He is the owner of WTurnerProductions.com, a high school sports website covering the entire Tampa Bay Area. Follow Will on Twitter at @TBTurner813 and @WTProTampa.