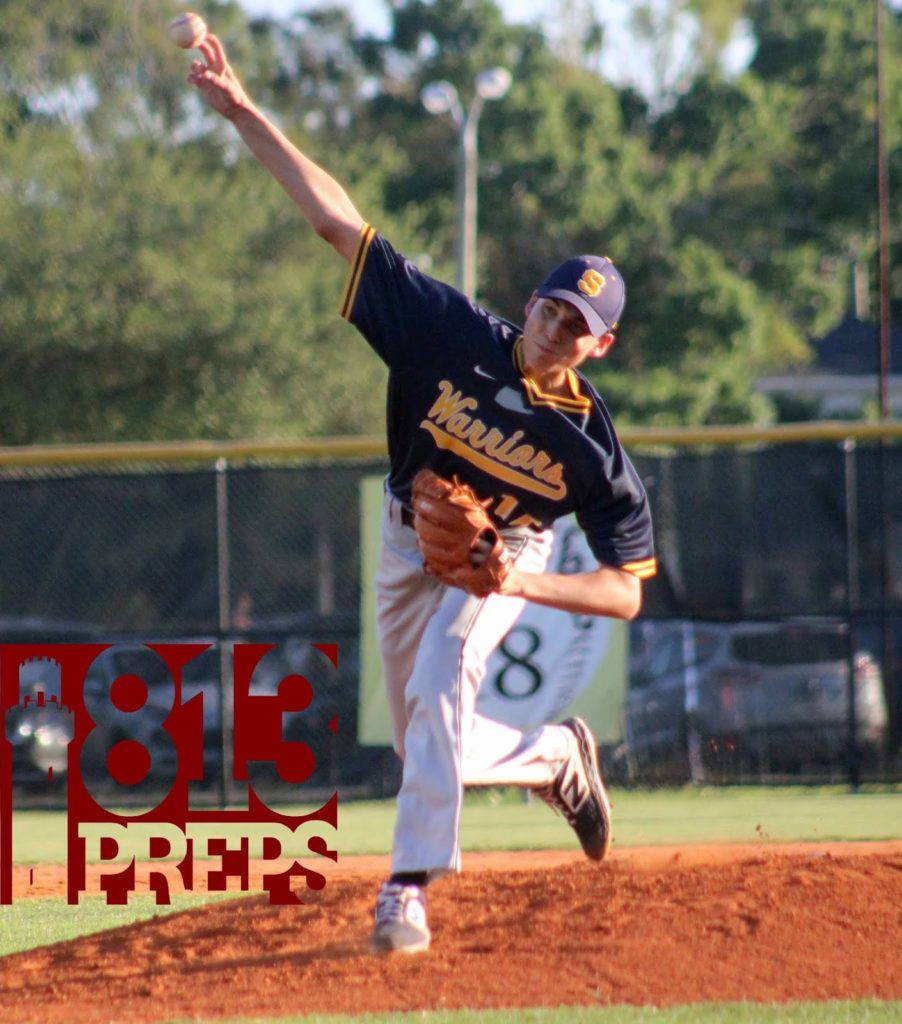 Steinbrenner P Brayden Heidel picked up his seventh win of the season (813Preps file photo)


Steinbrenner 14, 
Brooks DeBartolo 1
Steinbrenner junior Brayden Heidel pitched his team to victory and improved to 7-1 on the season, with six innings of work, allowing one unearned run on just three hits and a walk, with five strikeouts. The Warriors offense took little time to get going against Brooks DeBartolo as an RBI single by Tommy Malouf (3-for-4 with two doubles, three runs and two RBI) and a two-run single by Adam Fisher keyed a four-run head start in the first. Junior Donovan Garcia added a two-run home run the next inning, and Ryan Lowder scored three times in the win.
S    420 013 4 — | 14 | 15 | 3
BD 000 010 0 — | 1 | 3 | 5
W – Heidel (7-1). L – Corscadden (1-1). 2B – Malouf 2, Reynolds, Schoessler (S).  HR – D. Garcia (S). Records – S 16-4; BD 6-13.

Wharton 7, 
Alonso 6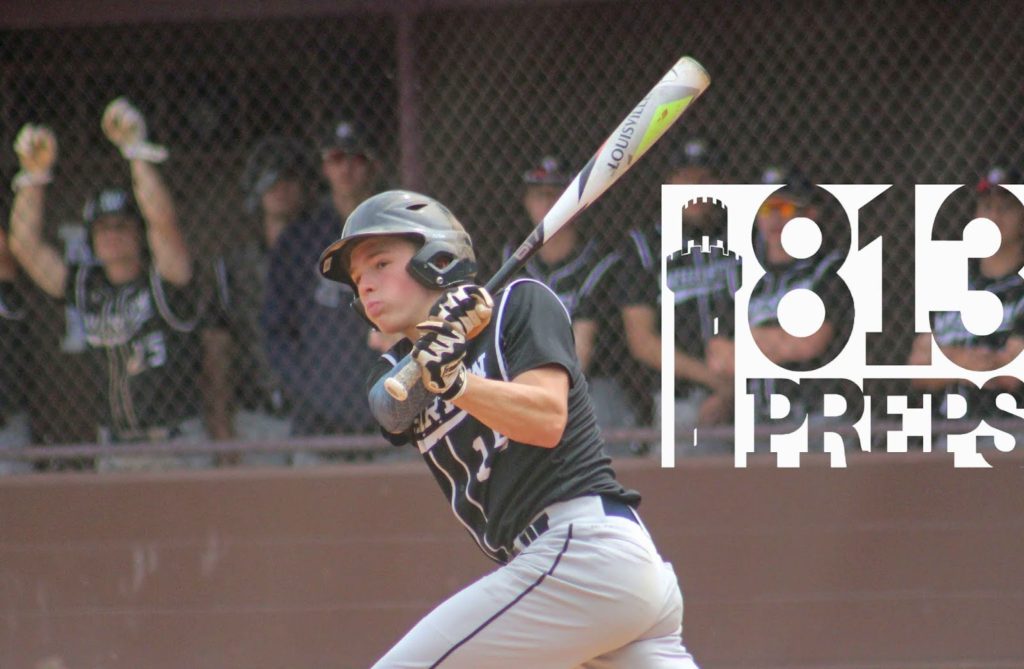 Wharton sophomore Dylan McDonald had a two-run liner single in the second inning of the Wildcats win. (813Preps file photo)
Wharton and Alonso battled in a back-and-forth affair on Wednesday. The Wildcats scored four runs in the sixth, two on a Ravens error and the rest on a two-run single from Zach Ehrhard (3-for-4, save on the mound), and held on as Alonso mounted one more late comeback in the seventh. The Ravens picked up a pair in the final frame on a Riley Morgado ground ball and Sehjin Daley RBI single, but Wharton stranded a pair aboard to end the game. Dylan McDonald and Frank Micallef each had two RBI for the Wildcats, and Ty Bitman (double) and Samuel Cole (two doubles) each had two hits and two RBI for the Ravens.
A  000 301 2 — | 6 | 6 | 2
W 120 004 x — | 7 | 6 | 0
W – Mercado (1-1). L – Perkins (4-0). S – Ehrhard (1). 2B – Cole 2, Bitman, S. Daley (A); Hotinski (W). Records – A 9-9; W 16-4.

Sickles 6, 
Bishop McLaughlin 1
— SHSGryphonsBaseball (@SHSGryphonsBB) April 24, 2019
Sickles senior Danny Bernstein (who signed his letter of commitment with Tallahassee Community College this afternoon) hit his third home run of the season, a three-run shot as the Gryphons defeated Bishop McLaughlin on Wednesday. Junior Chase Centala struck out nine in six, shutout innings on the mound to earn his seventh win of the season, Justin Turk was 2-for-3 with a triple and a run scored in the win, and Rolando Linares singled in a run. Johnny DiBenedetto had an RBI single in the seventh for the Hurricanes.
S     002 013 0 — | 6 | 12 | 1
BM 000 000 1 — | 1 | 3 | 1
W – Centala (7-1). L – Gillespie (6-1). 2B – Carroll (BM). 3B – Turk (S). HR – Bernstein (S). Records – S 6-14; BM 16-5.



Bell Creek 7, 
Largo 3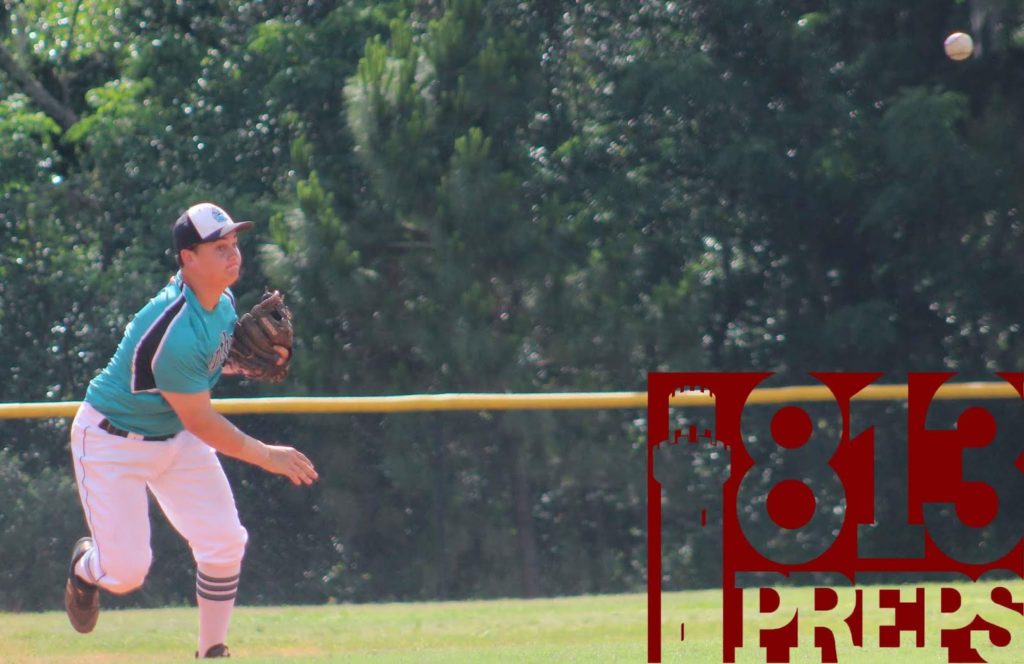 Bell Creek junior Brendon Gerena-Lee bumped his team-lead in RBI to 19 with a pair of run-scoring singles in a win at Largo on Wednesday (813Preps file photo)
A pair of RBI singles from Brendon Gerena-Lee in the first and third innings got things rolling for Bell Creek, and the Panthers added five more in the sixth to cruise to a win. Sophomore Dante Portillo went 3-for-4 with a double, two runs and two RBI, senior Eric Bucheli was 3-for-3 with run and RBI, Troy Gonzalez tripled and drove in a run, and sophomore Tres Toledo allowed one earned run over five innings on the mound en route to his fourth victory of the year.
BC 101 005 0 — | 7 | 14 | 1
L    000 001 2 — | 3 | 6 | 2
W – Toledo (4-1). L – Long. 2B – Portillo (BC); Povey (L). 3B – Gonzalez (BC). Records – BC 12-8; L 6-14.