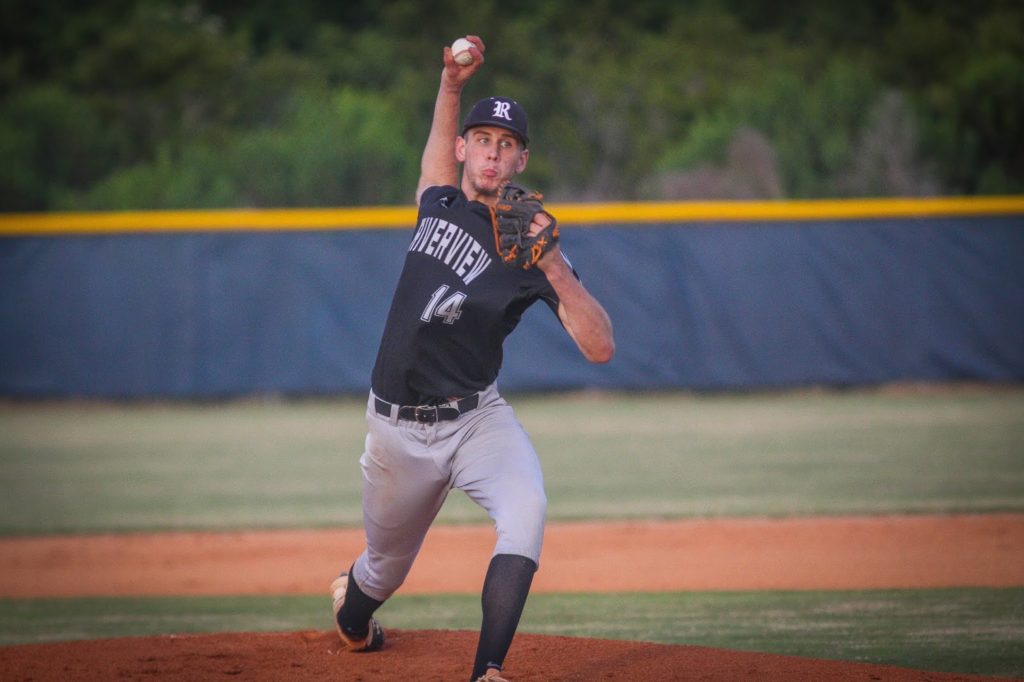 Riverview senior RHP Ty Correa pitched four innings in a no-decision in the Sharks' 10-5 win over Steinbrenner on Thursday evening.
TAMPA — There's always the coaching — the preaching, really — that a team and its players have to play all the innings.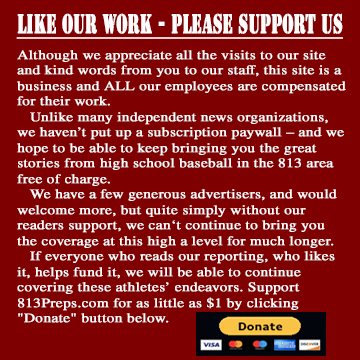 On Thursday night, as Steinbrenner hosted Riverview in a Class 8A potential postseason primer, one team (the Sharks) did just that and the other (the Warriors) didn't.
"You've got to play seven innings — you can't be happy with winning six innings," Warriors coach John Crumbley said.
Indeed, Steinbrenner (16-5) won six innings, heading into the top of the seventh, three outs away from a 4-3 victory. However, Riverview (15-6) surged to a 10-5 victory thanks to a seven-run seventh inning, broken wide open thanks to a three-run double by MacAllister Jorgensen, who would also score from second on a throwing error to complete a four-run play.
"(Jorgensen's) been doing that all year," Sharks coach Ronnie Rodriguez said. "He's having a great year for us and if there's a better player in Hillsborough County — well, I'd like to see him."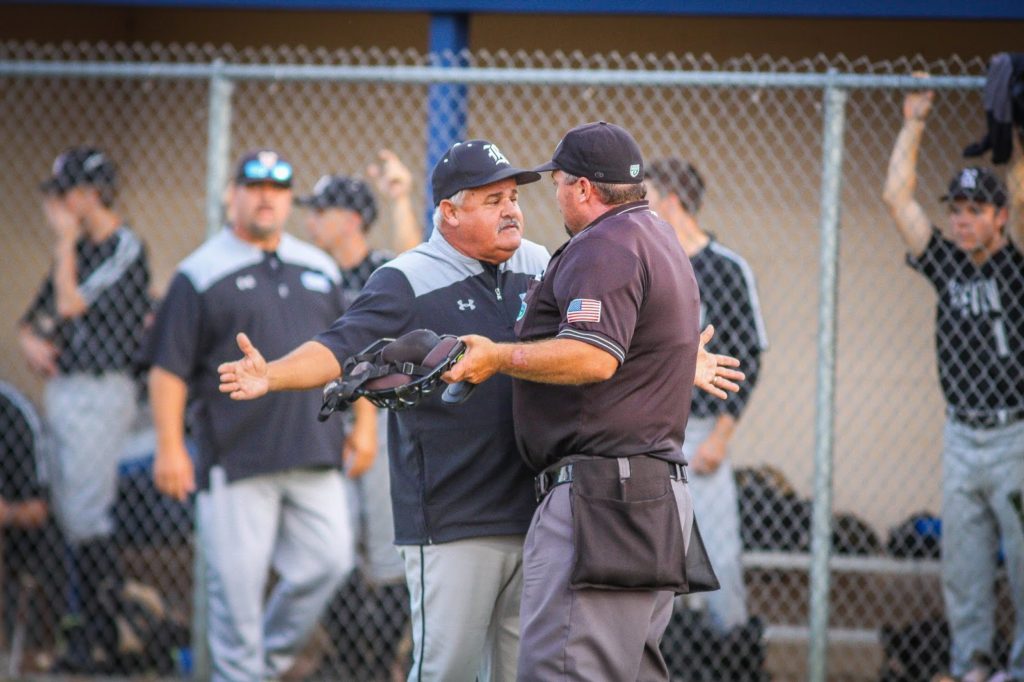 Riverview coach Ronnie Rodriguez asks the home plate umpire why his senior infielder, Brendan Herrick, was ejected early in the game Thursday evening.
The Warriors jumped out to a 2-0 lead as Mikey Mullins hit an RBI double in the first and a sac fly by Jacob Bluffstone in the second. Ben Migliarese hit an RBI double for the Sharks first run, but Donovan Garcia scored on a wild pitch in the third for Steinbrenner.
"We had to be selective at the plate against them," Rodriguez said. "That was key to coming back and winning tonight."
These Selective Sharks were definitely that, walking nine times and then getting three painful, yet free passes thanks to hit by pitches.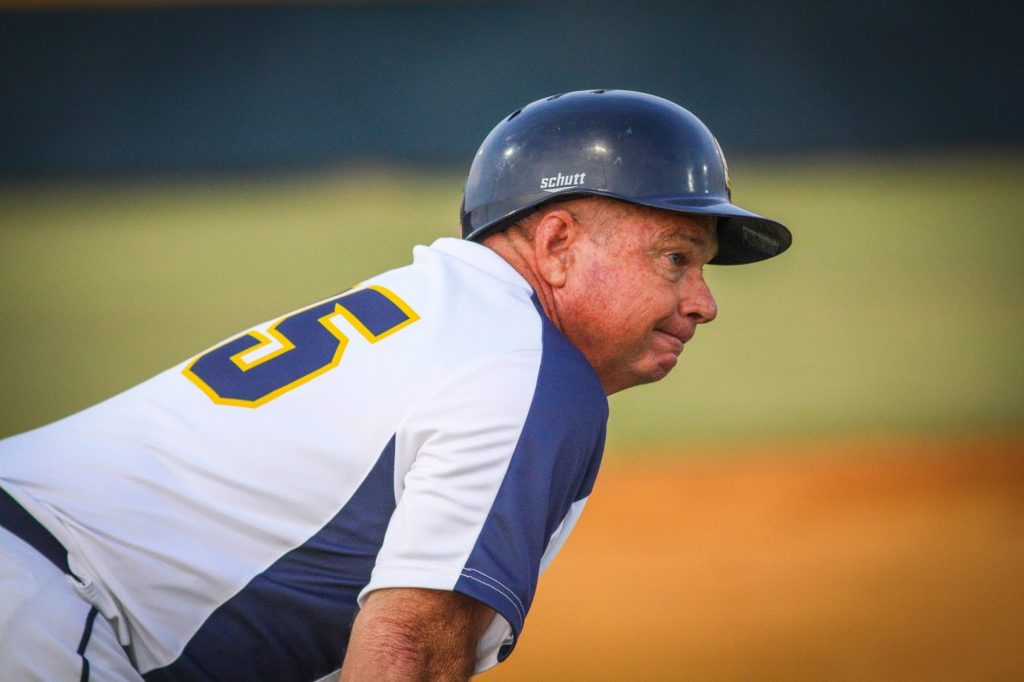 Steinbrenner head coach John Crumbley.
"They had 12 free shots between those (walks and HBPs)," Crumbley said. "If we're not smart enough as kids to realize you can't do that to be successful, maybe, I don't reach them anymore."
Riverview was able to walk home a run and score again on a wild pitch to tie it in the fourth, but Steinbrenner took back the lead thanks to an RBI single by Garrett Reynolds.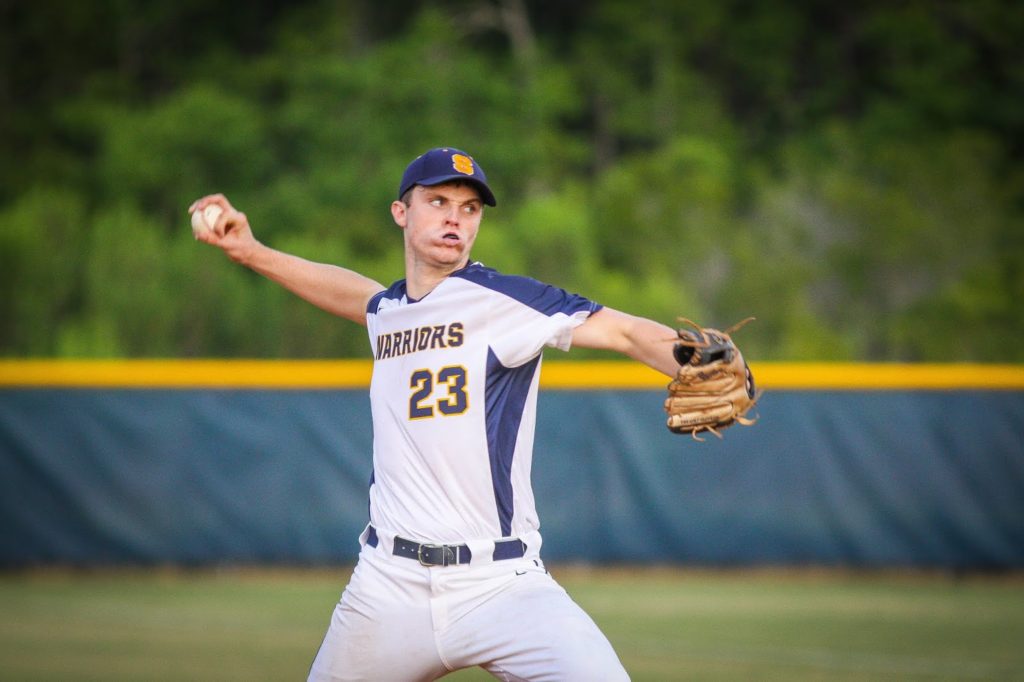 Steinbrenner senior RHP Bryce Leonhardt pitched three innings, allowing three runs, three walk and struck out two, but did not suffer the loss in the Warriors' 10-5 loss to Riverview on Thursday evening.
Chris Reynolds would relieve starter Bryce Leonhardt and pitch 3 1/3 innings, but ran into trouble in the seventh and was replaced by Ryan Andrews, who failed to record an out and gave up four earned runs.
"We did some good things, but we did a lot of bad things, especially in the seventh inning," Crumbley said, adding that pitching AND defense failed them in the seventh.
"It was just not good baseball. It's up to them. We've coached them and if they don't want to do what it takes to be successful, then it'll be (a) short (season)."
– Mike Camunas is a longtime veteran journalist who is always seeking true stories, trained under J. Jonah Jameson and takes better photos of Spider-Man than Peter Parker. Follow Mike on Twitter @MikeCamunas