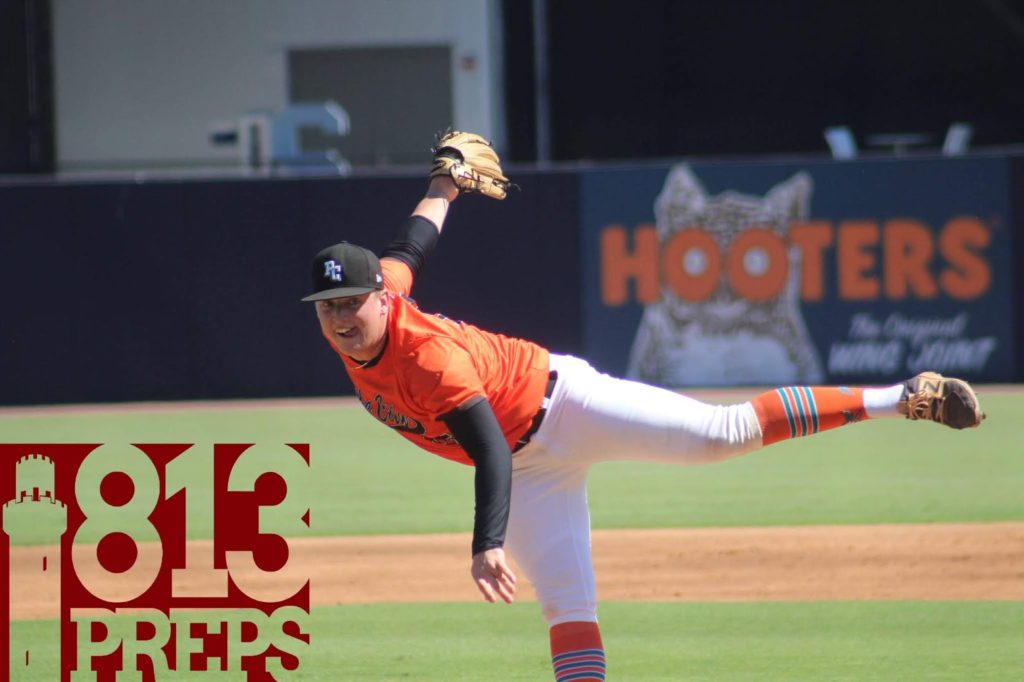 Plant City senior Parker Messick struck out 17, and also hit a double and a home run as the Raiders defeated Lennard. (813Preps file photo)
By Bob Bellone
RUSKIN – It was all about going the distance for Plant City senior Parker Messick on Thursday night. First came the long ride across the eastern part of the county for a non-district game at Lennard High. Then came the good stuff.
Very good stuff, in fact.
Messick struck out 17 batters and allowed only two hits in a complete-game 8-1 victory. The left-hander also covered distance with his bat, contributing a double to a four-run first inning and blasting a two-run homer in the third.
It didn't matter to Messick that his first home run of the season wasn't needed to secure the eighth consecutive triumph for Plant City (20-2).
"We'd rather win big," he said.
— T.J. Messick (@TJMessick) April 26, 2019
Hunter Emerine woke up his bat with a three-run homer in the first for the Raiders, who are undefeated in nine road games.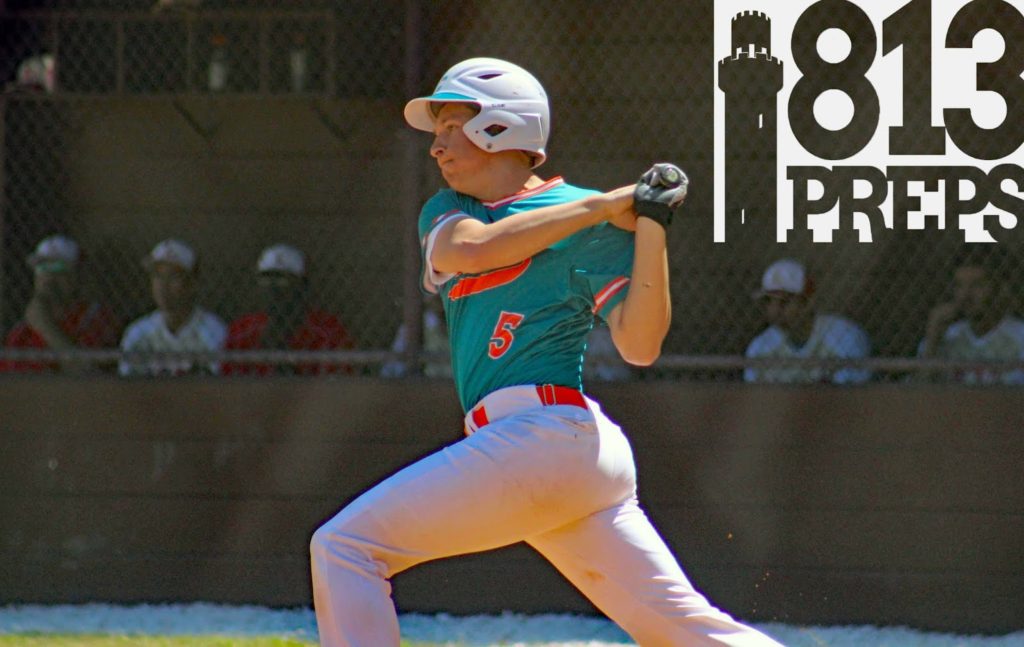 Plant City's Hunter Emerine hit a three-run home run. (813Preps file photo)
"I haven't been hitting much of anything," he said. "I've been struggling a little bit but doing good lately."
— T.J. Messick (@TJMessick) April 26, 2019
Tyler Dowdy also drove in three runs, opening the scoring with a sacrifice fly and capping it with a two-run single in the fourth.
Lennard (15-5) didn't have a baserunner on Senior Night until it picked up an unearned run in the fourth. Leadoff batter Adrian Munoz reached on a three-base error and crossed when Yazael Nunez broke up the no-hitter with a single. Edward Tarrant followed with a double, the only other hit for the Longhorns.
Messick quickly composed himself and struck out 11 of the next 13 batters he faced.
"I was really pounding the zone with a hard fastball," he said. "Instead of one or two pitches working, I had three or four pitches working for me that I could locate anywhere I wanted. It gave me confidence on the mound at any count."
– Bob Bellone, with nearly a half-century of experience in sports journalism, is in his second season with 813Preps.com.