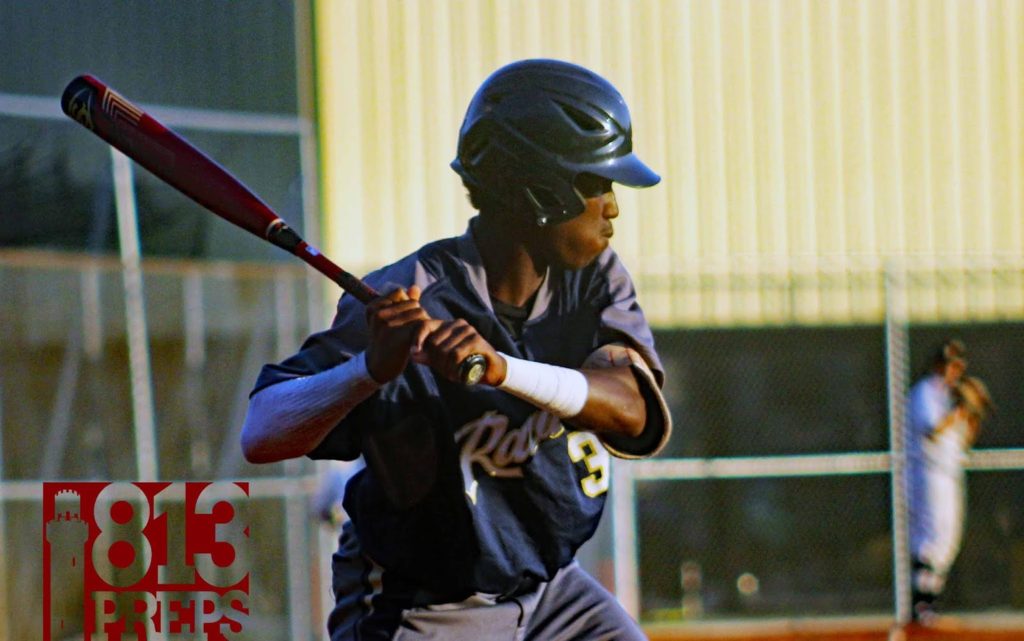 Alonso freshman Isaiah Myles was 2-for-3 with a double and three RBI to help the Ravens defeat Riverview on the road.
(813Preps file photo)
By Bob Bellone
RIVERVIEW – Riverview seniors Dillon Besnier and Ty Correa slammed back-to-back home runs, but a pair of Alonso freshmen quietly upstaged them in a 7-6 comeback victory Saturday.
Isaiah Myles was an early replacement for senior shortstop Andrew Lara, who left with an ailing back, and turned in several defensive gems. The 5-foot-7 utilityman also helped the Ravens come from behind twice, delivering a two-run single in the fourth and an RBI double in the sixth.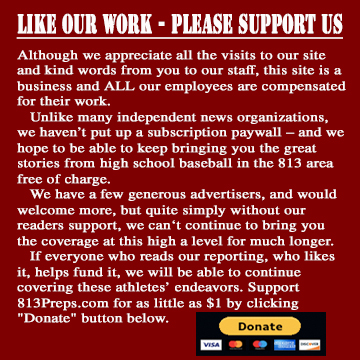 Myles pointed to the reason for his success.
"We come out here every day in practice," he said, "just work hard and try to do anything we've got to do to win."
Freshman teammate Hector Montilla exhibited a different brand of bat control, drawing walks on each of his three plate appearances at the bottom of the order.
"You don't have to swing at bad pitches," said Montilla, who scored twice.
The Sharks also accepted free passes, sandwiching a couple in the second inning with a Jeremy Galen infield single – their lone hit off Ravens starter Renzo Gonzalez until the fifth. A passed ball and an error also contributed to a 2-0 advantage.
Alonso (11-9) scored three times in the fourth, capitalizing on three walks, two hits, a stolen base and a wild pitch.
An inning later, Riverview (15-7) regained the lead with four runs. Andrew Jrolf led off with an infield single and Noah Andis bunted him to second. Macallister Jorgenson tied it with a double, setting the stage for the longball hitters.
Besnier had been having difficulty with change-ups by Gonzalez until the sophomore left-hander served them on consecutive pitches.
"He hung it," Besnier said, "and I saw it like a beachball."
Correa admitted the blast prompted him to think big. "Once I saw him go yard, it went through my mind," he said. "I'm not going to lie."
The Ravens immediately answered with four runs of their own in the sixth, helped by a pair of errors after the Myles double.
Relief pitcher Haile Daley came in after the power display and earned the victory. Sidewinder Jason Englert pitched a scoreless seventh for the save.
– Bob Bellone, with nearly a half-century of experience in sports journalism, is in his second season with 813Preps.com.