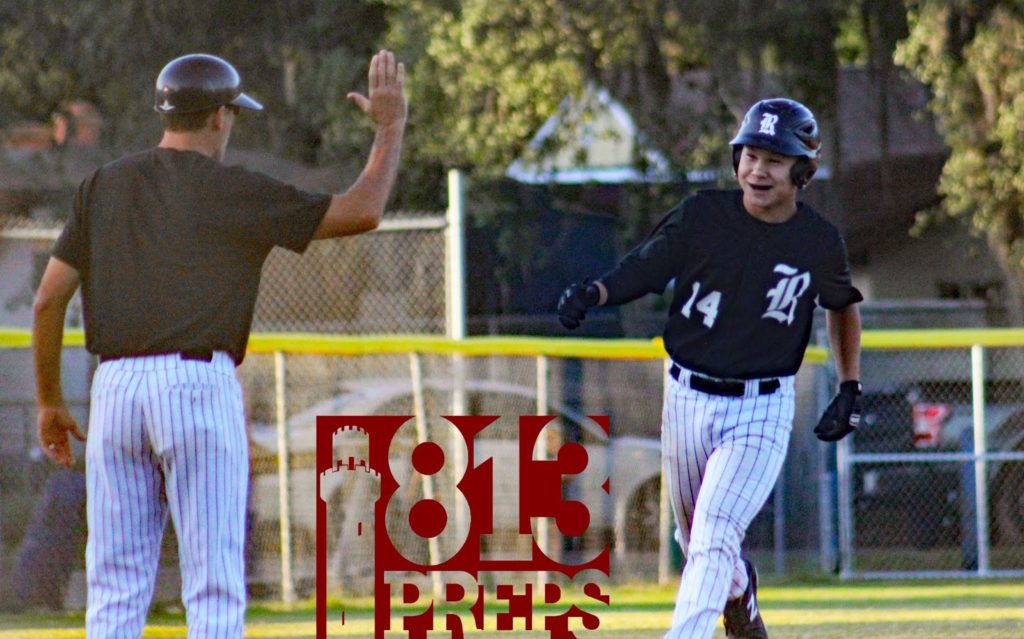 Rounding third base, Robinson sophomore Ben Kim wears a big grin after going big fly – his first home run of his high school career – in the Knights 15-2 win over Chamberlain on Friday.
TAMPA – Putting it together at the right time. That's the key for postseason success in high school baseball. Something the 2016 Robinson Knights did reaching the Class 6A state semifinals, and something this year's team is hoping it can duplicate or perhaps improve upon.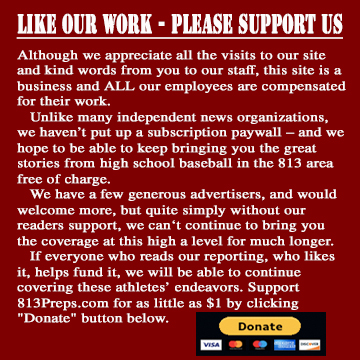 Friday night, Robinson proved too much for Chamberlain smashing its way to a 15-2 victory, and though not in any true danger it was the response to the only real adversity the team faced that was an example of what the the players hope to be over the next few weeks.
Up significantly, the Knights saw Chamberlain get four of their first five aboard in the third inning, including an RBI single from Justin Santiago. With the game well in hand, the Knights brought in some reserve players, and although no official errors were made there were chances that weren't converted.
However, instead of letting complacency set in and allowing things to spiral, Robinson (13-7) buckled down as junior pitcher Kenny Keller initiated a rundown, pickoff play between second and third for an out and ended the inning with his second strikeout.
"There are some games where you have to not let anything get to you," Keller said. "If you give up a home run, or something you can't control happens behind you, your only focus is the next pitch, the next out, doing what you have to do to get your team back in the dugout and ready to hit."
The win, Robinson's sixth in its previous eight games, wasn't a season-maker, or even the most significant of the past week, having defeated Steinbrenner 4-1 on Tuesday, but it was decisive when it should have (and need to have) been.
"We're fighters and go out every night with the want to win," sophomore Ben Kim said. "We are going to keep that mentality. There are no off nights."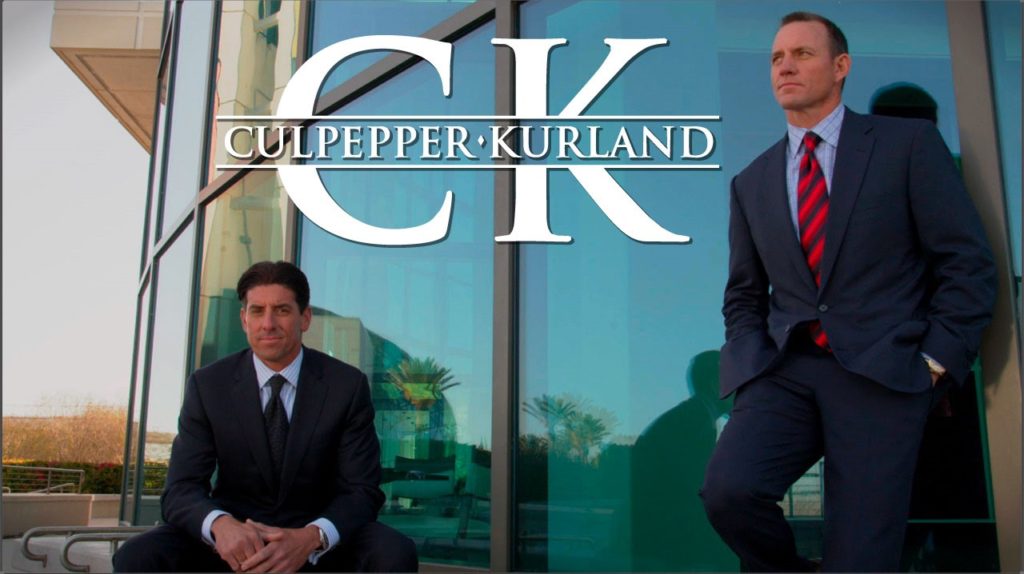 A tough season for Chamberlain (1-20) continued, about the only positive for the Chiefs came in the first inning, where junior Brennan Hyde – less than four months removed from Tommy John surgery – picked up his first hit (a single) of the season in just his second game back at designated hitter – and was driven in on a double from Santiago (2-for-2, two RBI).
The rest of the way was all Robinson, the Knights exploded in the second inning sending 18 men to the plate and scoring 14 runs.
Some of the bright spots included a three-run homer from Kim, an RBI double from senior Koby Fogg, and an absolute monster two-run dinger off the bat of senior Alex Diaz.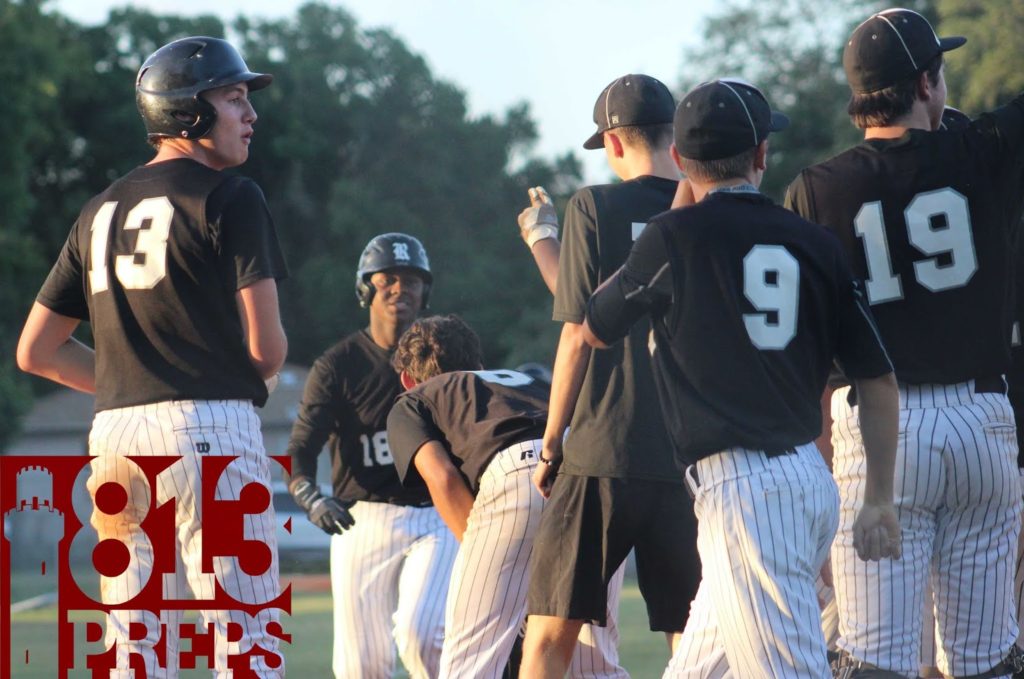 Robinson senior Alex Diaz trots toward the waiting crowd of teammates gathered behind home plate after crushing a no-doubter three-run home run.
The home run for Kim, his first since he was an 11-year-old provided some postgame levity, clinching Kim a wager with fellow teammate Michael Swanson who now has to rock a "durag" of his buddy's choosing in an upcoming game.
"It's pretty fun, I had a bet going with a teammate to see who would get one first," Kim said, "with my friend Mikey, and I guess, I came out on top."
Swanson, begrudgingly admitted he'd honor the bargain, wearing the headgear but added: "Yeah, but you have to buy it."

Kim said his previous Little League home run was a fence-skirter, so he was pleased to get a hold of the one he belted to right-center on Friday.
"I went up there looking for a pitch to hit and got one," Kim said. "A chest high fastball. I liked it and swung as hard as I could."
For his part, Keller did a steady job throwing strikes and letting his team do its job behind him. He worked three innings, good enough to get the win in the four-inning game, which neither team, nor the umpires seemed to notice ended two runs early by mercy-rule when the scoreboard incorrectly listed the Knights with 17, and not 15 runs. Keller struck out two, and allowed two runs on five hits, while also going 2-for-2 at the plate with a pair of RBI singles, a walk and two runs scored.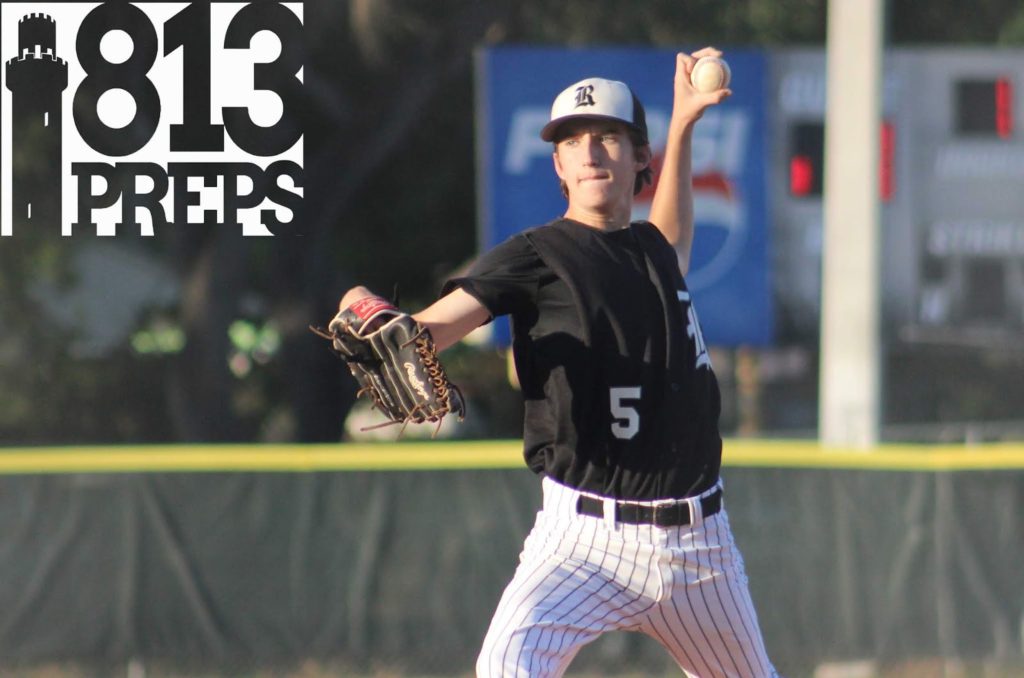 Robinson junior Kenny Keller earned the win at Chamberlain with three innings on the mound. Keller is now 4-0 on the season.
The Knights have a good mix of veteran upperclassmen and hungry underclassmen, and for Keller, now 4-0 on the mound this season, he's hoping his efforts are helping him grow into a leader for his team.
"Our team leaders are good at firing us back up, getting us back in games," Keller said. "I don't have all the stature of a team leader yet, but I always try to earn this team's respect and show them I am willing to do that. I want to be (in that role) as soon as possible for our team."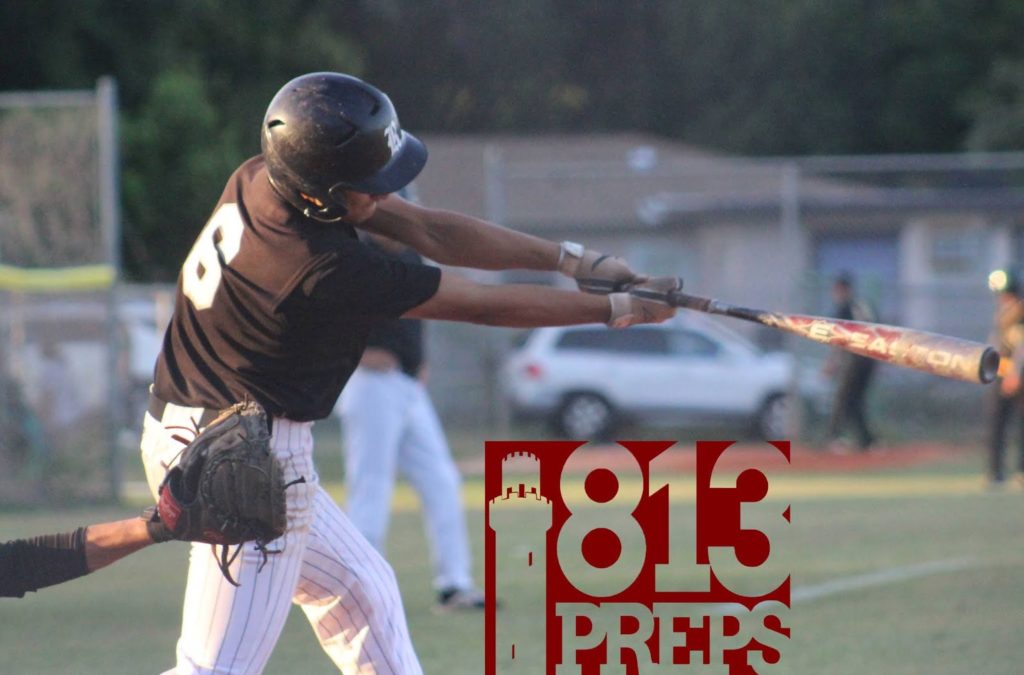 Robinson senior Koby Fogg connects with an RBI double to centerfield, turning the lineup over for the first time in the Knights' 14-run second inning.
The Knights are the No. 2 seed in the upcoming Class 6A-District 8 tournament and await the quarterfinal winner between Jefferson and Spoto. Robinson won both meetings against the Spartans, and split in the regular season with Jefferson. The top seed, Jesuit, was undefeated in district play but were pushed to the limit by Robinson two weeks ago as the Tigers rallied with a three-run seventh to claim a 4-2 victory. Kim said his team is ready to keep battling and make some noise for the duration of the season.
"I think the mentality going into the districts is that we know what we are capable of, especially after that game with Jesuit and beating Jefferson early in the season," Kim said. "We know we are on-par with these guys, we just have to think we are better, believe we are better."