* Our Week 9 rankings were selected by 813Preps editor Jarrett Guthrie.
1. Sickles (7-14) – The Gryphons rolled to a trio of wins last week against Strawberry Crest (we were there for this one and you can read about it by clicking here), Bishop McLaughlin and King. Senior Justin Turk was 8-for-9 on the week with four runs scored, two RBI and two stolen bases, but nearly the entire lineup has taken its turn stepping up. Hard to overlook Danny Bernstein however, the senior back stop just continues to come through, now with a team leading 30 RBI. Sickles finishes the regular season with games against Jefferson and Middleton this week.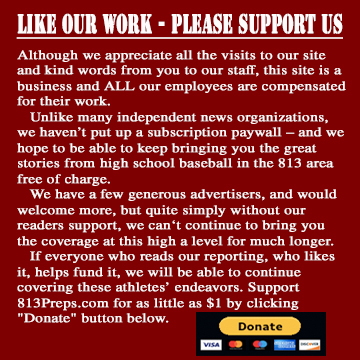 2. Plant City (21-2) – The Raiders are on fire, winners of nine-in-a-row including last week's trio of victories over Hillsborough, Lennard (click here to read our coverage from this game) and Armwood. Senior Parker Messick set a career mark with 17 strikeouts against the Longhorns and is now 6-1 on the year. Plant City wraps the regular season with a homestand against Brandon and Spoto, before hosting the 8A-6 district tournament as the top seed.
3. Jesuit (19-4) – It's hard to ding a team too much when three of its losses were to teams ranked in the top 25 in the state of Florida and the other is to the No. 2 team in the state of Ohio. But yes, the Tigers lost a pair of games last week to Calvary Christian and IMG Academy sandwiched around a win over Naples Gulf Coast, and slip a spot in our rankings. So, the Tigers are for sure going to have a lighter week this week, right? Nuh-uh. Jesuit hosts Bartow and No. 2 state-ranked Venice before heading into its district tournament as the top seed.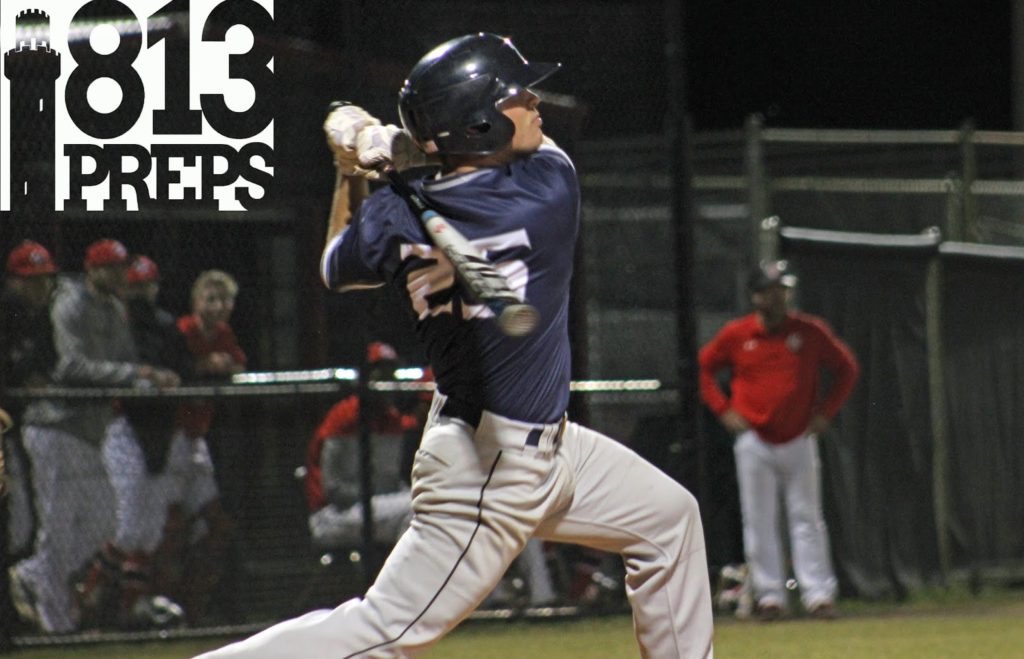 Wharton's Steven Hotinski
4. Wharton (17-4) – After a pair of losses two weeks ago, Wharton got things going again battling its way to a 7-6 win over Alonso, and handled things against Brandon as well last week. Junior Steven Hotinski has found a way to produce runs for the Wildcats all season, leading the way with 19 runs scored and 15 RBI. Wharton finishes the regular season with games at Wharton and Blake this weekend will be the No. 1 seed in the upcoming tournament.
5. Durant (16-6) – Them pesky Cougars are another team that is trying to peak at the right time. Wins over Lennard and Strawberry Crest last week pushed the current streak to five-in-a-row as junior Ahmad Fitts is stinging the baseball right now. Durant's regular season district record has them as the fourth seed, swinging up, but the Cougars are not going to be an easy out for anyone. Durant faces one of the more difficult final regular season weeks, with games against Plant and Gaither.
6. Leto (17-7) – Leto's bats went quiet in a tough loss to Newsome, before a back-to-business win over Middleton. The Falcons will be the top seed in the 7A-8 district tournament, but can't overlook a Tuesday meeting with Riverview and a game against Tampa Bay Tech this week. Leto set the bar high last season, with a state final four berth, this team knows how to create with aggressiveness at the plate and on the base paths in support of senior pitchers Christian Suarez and Franklyn Hernandez.

7. Riverview (15-7) – A strong start to the week ended with a bit of a dud for the Sharks. After topping Armwood, rallying late to beat Steinbrenner (read about this game by clicking here), Riverview dropped a tough one to Alonso on Saturday. But things are definitely trending upward for the Sharks, winners of 7-of-10 in its recent run, thanks in part to junior Macallister Jorgensen who continues to cause havoc, now hitting .414 (including an eight-game streak) with 28 runs scored. Riverview wraps the regular season with a game against Leto this week, before taking on Bloomingdale to open its 8A-6 district tournament.
8. Steinbrenner (16-5) – The Warriors took a hit in its third, three-game week in a row dropping games against Robinson and Riverview, that bookended a win over Brooks DeBartolo. Steinbrenner senior Tommy Malouf has hit in nine-straight and has a .328 average and a team-leading nine doubles. The Warriors are sitting pretty in the three-team 8A-5 with the bye into the district final and an auto-berth into the region tournament, but aren't taking it easy this week with three more games at Alonso, and against Berkeley Prep and Carrollwood Day.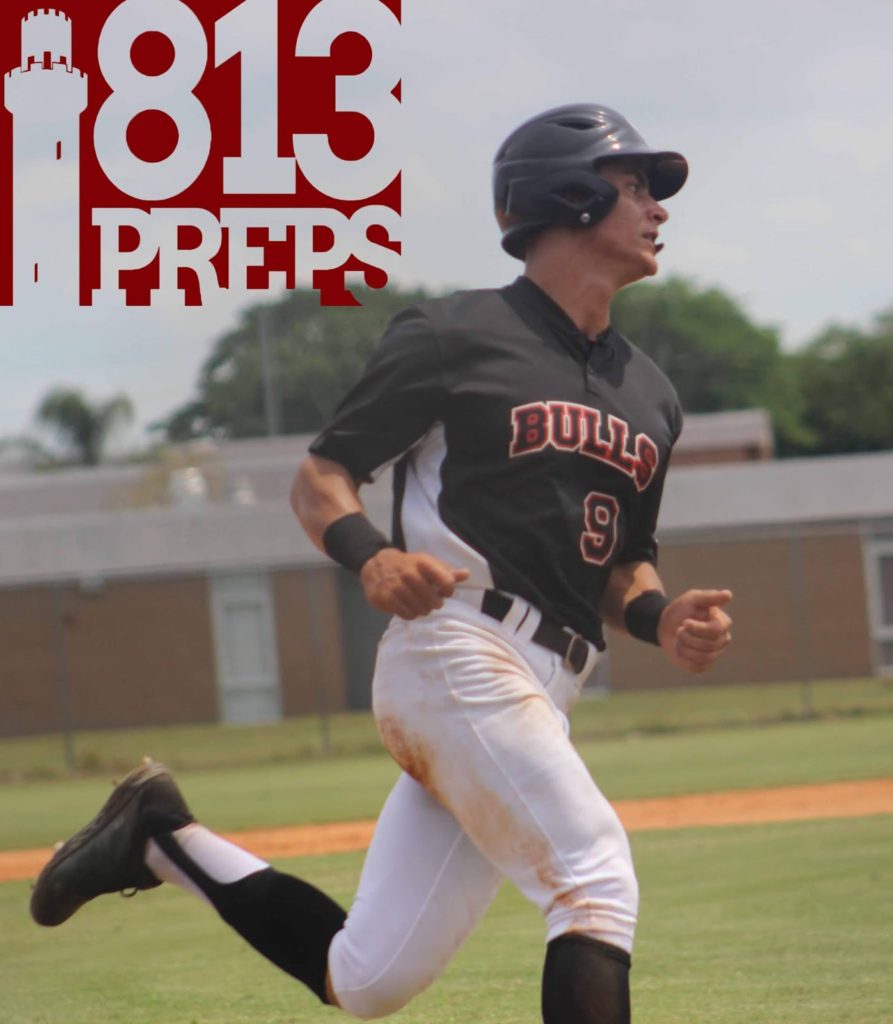 Bulls' Dominic Gonnella
9. Bloomingdale (14-7) – After a four-game skid, the Bulls got things righted with wins over Brandon and Newsome (catch up on this game's action by clicking here) last week. In case you weren't paying attention, this is the fourth team from Class 8A-6 represented in our Top 10, as the district is a true Beast of the East (Hillsborough County that is). The Bulls hold the No. 2 seed in the upcoming district tournament, but shouldn't overlook a rising Jefferson team that has battled back to a winning record after starting the season 0-6. For the Bulls, juniors Dominic Gonnella (.382, 19 runs, 14 RBI) and Jackson Hobbs (.343, 16 RBI, 14 runs) have been excellent at the plate this season.
10. Lennard (15-5) – The Longhorns were stampeding in the second half of the season, before running into a pair of "L's" against Durant and Plant City last week. Tough losses to a pair of 8A-6 teams, but perhaps they came at the right time. Lennard is experiencing the best season in program history, and perhaps the late, regular-season struggles can teach the Longhorns something as they gear up as the top seed in the 7A-9 tournament. Though meaningless as far as the post-season goes, this week will be a good test of the Longhorns' mettle as they try and avoid slipups against Middleton and King.
The Next Five:
11. Berkeley Prep (15-7)
12. Robinson (13-7)
13. Newsome (14-8)
14. Gaither (14-6)
15. Alonso (11-9)
Dropping out this week: Plant (12-9); Strawberry Crest (11-10).