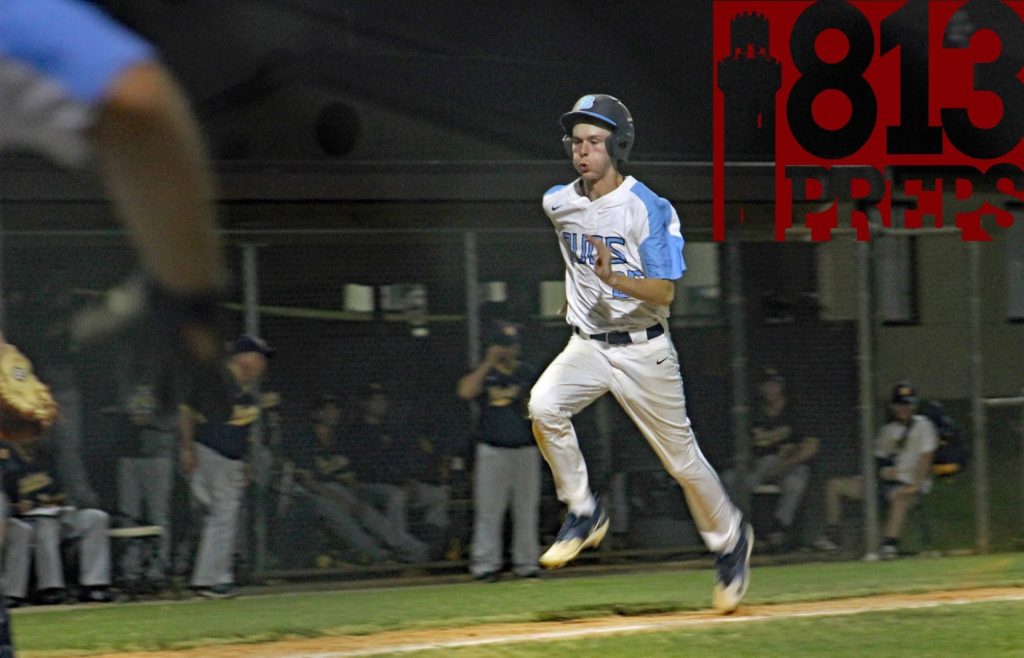 Berkeley Prep freshman pinch runner Andrew Jergins races home on a ball that gets away from Steinbrenner, scoring the deciding run in the ninth inning. 
TAMPA – All five of the evening's pitchers did enough to win as Steinbrenner and Berkeley Prep battled into extra-innings of a scoreless game. Ironically though, the game would come down to a junior varsity call-up, seeing his first action on the varsity field that would prove the pivotal difference in this one.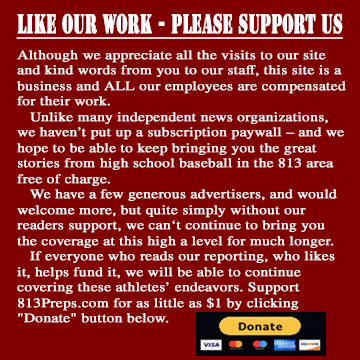 Buccaneers junior Trey Hinchliffe lined a single to left in the ninth inning and stole second, only to be lifted for a pinch-runner, freshman Andrew Jergins, with two outs. A weakly hit ball to third base proved disastrous for the Warriors as the throw was buried to the first baseman and rolled away from the bag. It was all the freshman needed to see as he rounded third base and dashed to the plate scoring the walk-off decider in Berkeley Prep's 1-0 win.
"It was great, I knew I was the winning run so that was all I was thinking about," Jergins said. "That was my first time on the varsity field, so that moment felt pretty good."
In an all-too-typical, blink-first scenario the error, just the second of the game spoiled an excellently pitched and defended game for the Warriors, and rewarded the stellar pitching of Berkeley Prep (16-7).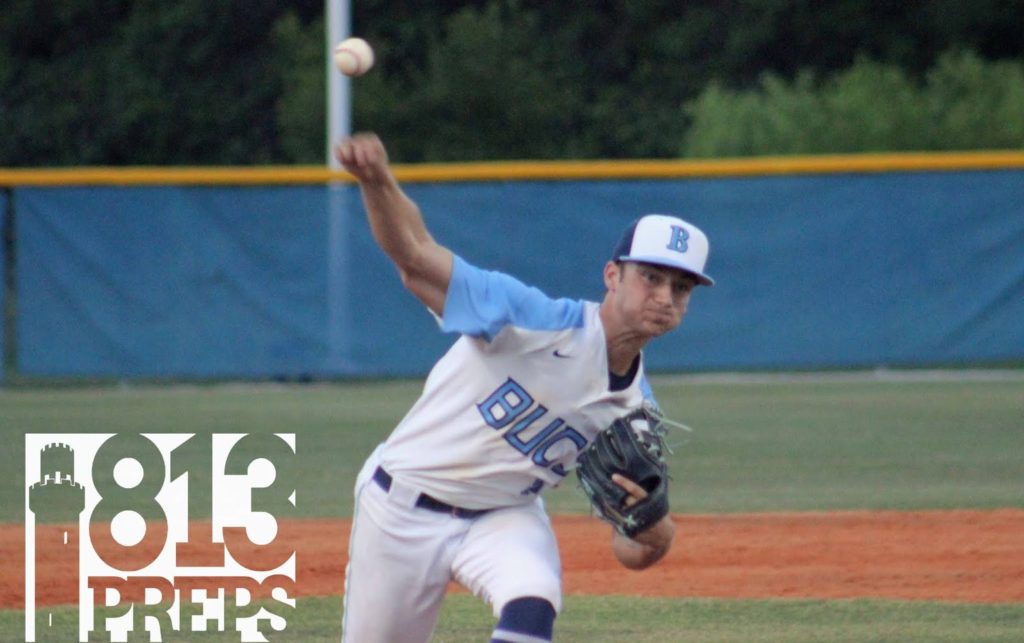 Berkeley Prep junior Ian Brown worked seven shutout innings on the mound, striking out four. 
Junior Ian Brown worked seven innings on the mound for the Bucs, scattering four hits and a walk, while striking out four, before turning things over to sophomore Will Parkinson, who picked up the win with two innings of relief.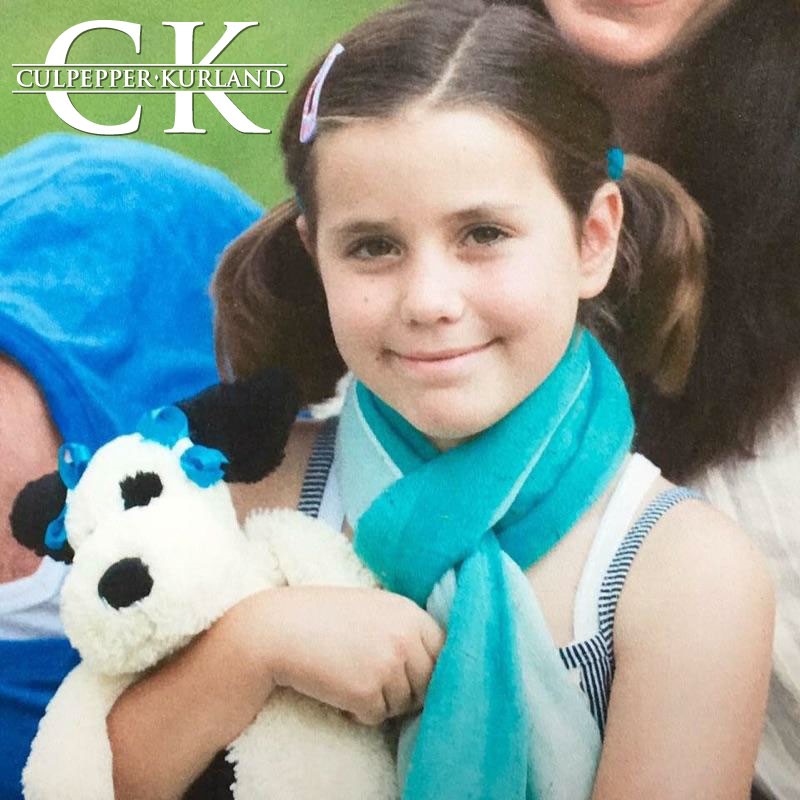 After the game Brown pointed to the work put in behind him by his defense as the biggest factor in his success.
"We've got a great team and every time I've gone out this season, I've had complete trust in my defense," Brown said. "Every time there is a ball in play, I know for a fact they are going to catch it."
Though Brown needed less than 70 pitches to get through seven, the decision to pull the righty worked out well for the Buccaneers as Parkinson allowed just two singles in his two innings, but picked off one runner and got an assist from catcher Davis Childers catching the second man trying to steal a base.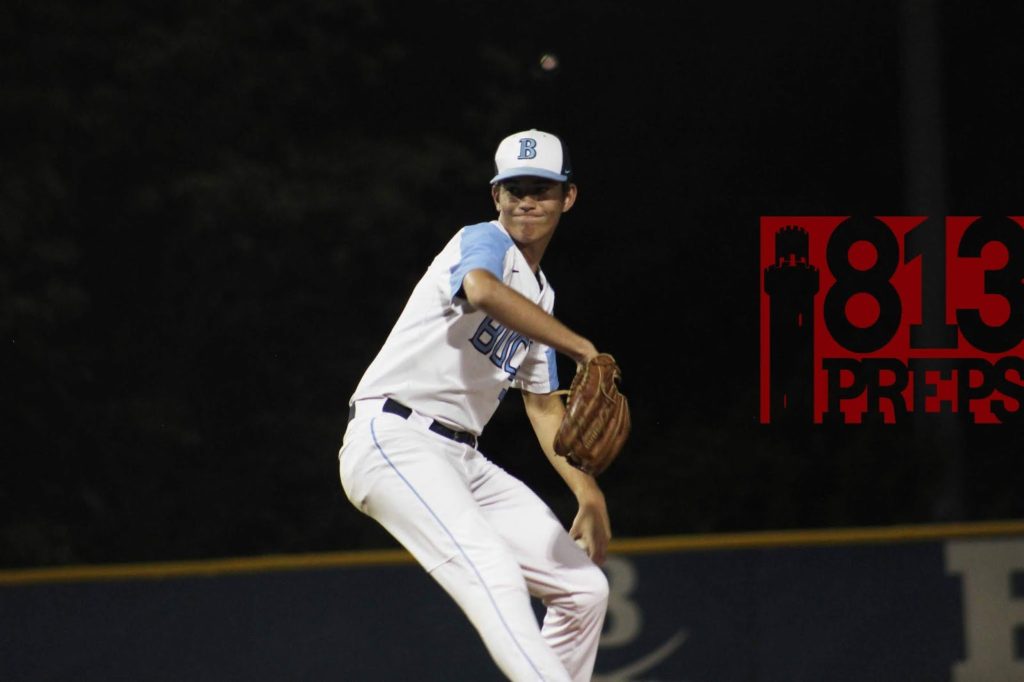 Buccaneers sophomore Will Parkinson earned his first win of the season with two shutout innings.
"Ian averaged less than 10 pitches per inning, he just shoved tonight," Parkinson said. "I just wanted to go out there and continue his hard work and give him a big hug after the win."
"This was a huge win and I think it will be a big motivator for us. (There was) A lot of energy for our guys and we got to show some JV call-ups how to win a game like this. Hopefully, we ride it through (the season finale against Hillsborough) Thursday and into the playoffs."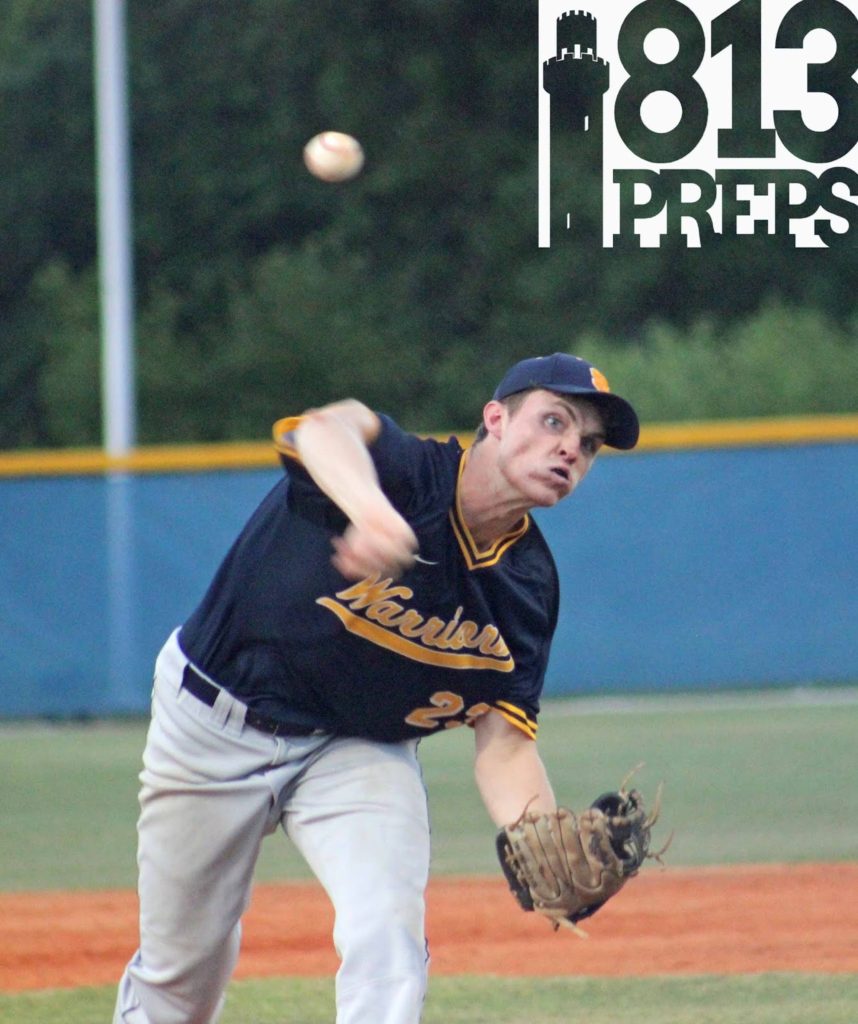 Steinbrenner senior Bryce Leonhardt
Steinbrenner (16-7) senior starting pitcher Bryce Leonhardt scattered five hits across five innings of work in a no-decision, before yielding the mound to Ryan Andrews (2 ip, one hit, four K), then Chris Reynolds (1 2/3 innings, one unearned run, two hits, two strikeouts) who took a tough loss. Junior Donovan Garcia was 3-for-4 at the plate and sophomore Tayden Hall was 2-for-3, and both had doubles.
Roman Samson hit his fifth double of the season in the win, Andrew DiMisa was 2-for-4 with a stolen base for the Buccaneers, and sophomore third baseman Johnathan Bruno started a pair of double plays in the win, including handling a chopper with a runner on third, and keeping the game scoreless in the sixth.
"That was a huge momentum swing for us," Brown said. "Keeping that run off the board, while there pitching was shutting us down at the pate, that is a moment that allowed us to stay in it until a couple lucky bounces went our way. Bruno has been great for us, offense, defense, whatever we've needed all year. "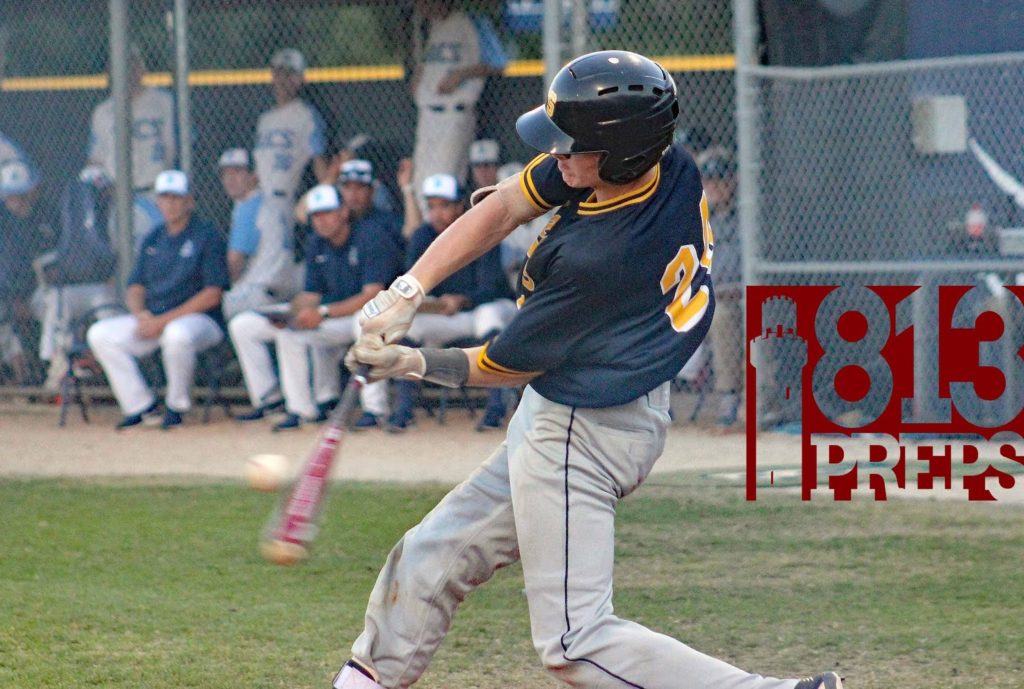 Steinbrenner sophomore Tayden Hall smacked a double to right field in the fourth inning. Hall was 2-for-3 with a walk in the loss. 
Steinbrenner, which holds the top seed in next week's, three-team Class 8A-District 5 tournament, and thus an automatic berth into the region tournament, has lost three-in-a-row and four-of-five. The Warriors finish the regular season with a game Thursday against Carrollwood Day (at Berkeley Prep).
Berkeley Prep, the three-seed in next week's Class 4A-District 4 tournament, hosts Hillsborough in its regular season finale on Thursday, before facing Brooks-DeBartolo at Clearwater Central Catholic to open its 4A-4 tourney play.