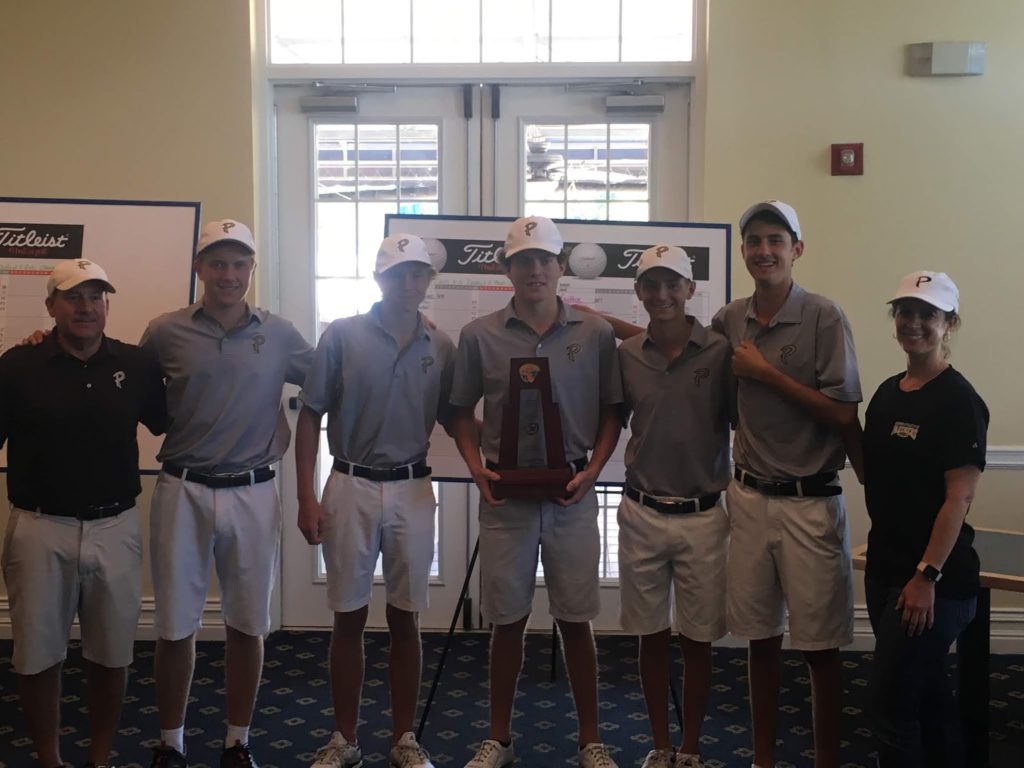 Plant golf coach Tom Feeney (far left) with his 2018 Panthers boys golf district championship team (Photo provided by Plant Golf)
TAMPA – Plant golf coach Tom Feeney has announced he is stepping down from the program to take on a new role as the Director of Operations at the Oakview Lakes Retirement Community in Fort Meade, FL – where he will oversee the operations for the community's nine-hole, par-3 golf course, and its 200 manufactured homes.
Feeney spent seven seasons coaching at Plant starting as the assistant boys coach, before taking over the head coaching duties for both the boys and girls teams.
"I absolutely enjoyed my seven years at Plant High School," Feeney said. "Golf is such a universal sport that these individuals can use in the future to grow friendships, build business, or just have the opportunity to play with their parents on a weekend afternoon."
Feeney led Plant to the postseason and state tournament numerous times, including coaching the Panthers boys team to the 2016 FHSAA Class 3A state championship – a first for a Hillsborough County team since King High won in back-to-back seasons in 1969 and 1970, as well as a state runner-up finish in 2015, and team berths in the state tournament in 2014 (3rd place), 2017 (5th place) and 2018 (11th place).
In a message to 813Preps, Feeney said Plant would not have enjoyed the success it did during his tenure without the help of assistant coaches Steve Haigler and Eileen Zilvetti, and that he took tremendous pride in the fact that at least one member from his teams signed a college commitment to play golf at the next level during each of his seasons.
Although he has a number of significant moments to choose from, Feeney did acknowledge he has a specific moment that will stand above the rest: "I will always remember the day they raised the championship banner in the gymnasium showing the first state championship in 80 years."