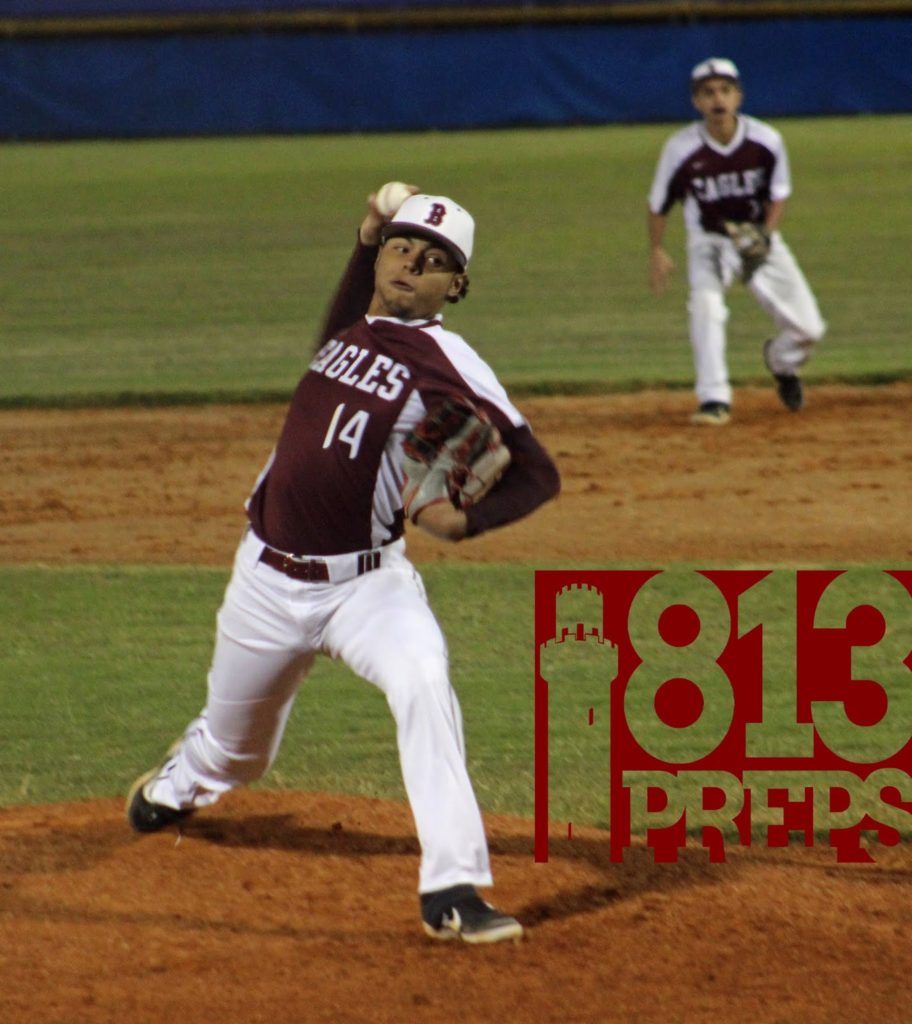 Brandon junior Marcos Herrand (file photo)
Brandon 2,
Newsome 0 
Brandon junior Marcos Herrand tossed six shutout innings and struck out four as Brandon picked up a win on senior night over Newsome. Jonell De La Rosa struck out a pair in a clean seventh inning to earn the save. Offensively, senior Raekwon Williams got himself caught in a rundown between first and second, and made the pickle last long enough for senior Jalen Wright to score what would be the deciding run in the third inning. Williams added a bit of insurance in the fifth with an RBI single scoring Daniel Santana.
N 000 000 0 — | 0 |
B 001 010 x — | 2 |
W – Herrand (3-8). S – De La Rosa (3). Records – N 15-9; B 5-16.

Strawberry Crest 6,
Chamberlain 5 – 10 innings
— SCHS Athletics (@athletics_schs) May 2, 2019
Strawberry Crest senior Joey Parrillo got a two-out, two-RBI hit in the seventh to tie the game, and Tanner Kelley drove in the winning run in the 10th as the Chargers held off Chamberlain in the two team's season finale. Senior Jacob Heath picked up his first win of the season, working three shutout innings of relief, while Eli Garner allowed one earned run over six innings. For Chamberlain, senior Daniel Camargo was 2-for-5 with a pair of doubles and two runs scored, David Cornelio had a pair of hits including a double and an RBI, Brennan Hyde drove in one, scored one and stole two bases and Tim Cook pitched 5 1/3 innings allowing two earned runs.
C   400 010 000 0 — | 5 |  6  | 5
SC 002 001 200 1 — | 6 | 10 | 2
W – Heath (1-2). 2B – Camargo 2, Cornelio (C). Records – C 1-22; SC 13-10.
— Ricky Mussenden (@RickyMuss) May 3, 2019
///*** 
Foundation Christian 3,
Winter Haven Oasis Christian 0 
– eight innings