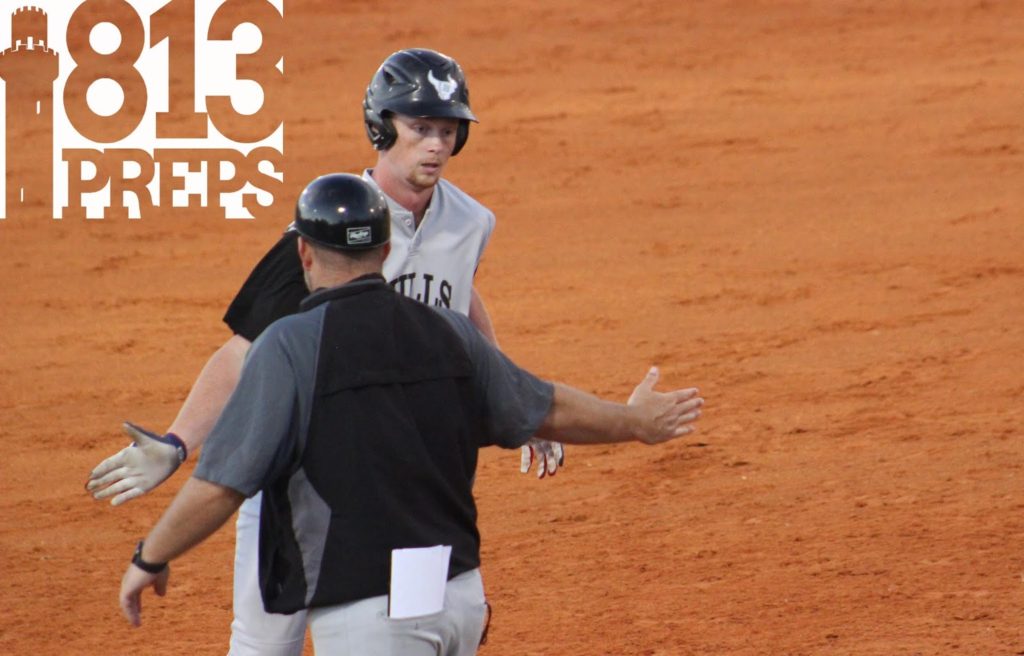 Bloomingdale head coach Kris Wilken congratulates his senior Kyle Merkle
TAMPA – Bloomingdale got all it needed early as Antonio De Jesus made Colby Shelton's double in the second hurt with his own RBI single, and Nico Saladino provided the eventual winning run with an RBI sac fly. But that didn't mean the Bulls high-powered offense, which averaged seven runs a game, would let up as Bloomingdale closed the regular season with a trio of home runs and 14 hits in a 9-1 victory at Jefferson on Friday night.
"That builds up the momentum," Shelton said. "You go out after that looking to get outs and get back in the dugout and try to do it all over again. It's great and the (fourth inning) was a lot of fun."
The fun Shelton referred to came for the Bulls offense as senior Kyle Merkle led off the fourth inning with a mammoth shot over the wall in centerfield – his sixth of the season.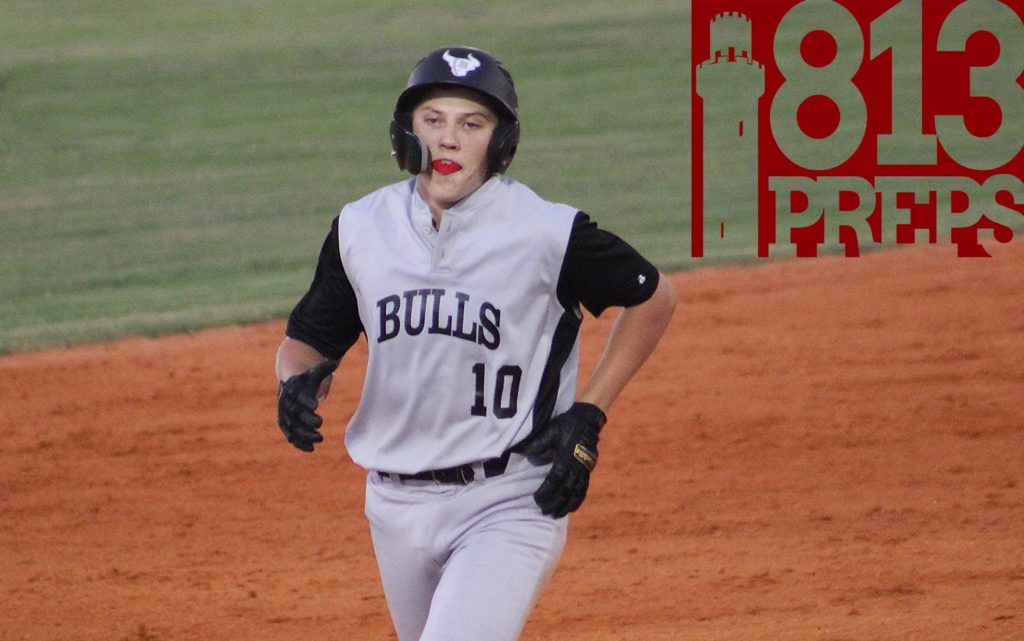 Shelton trots around second base after his solo homer. 
Then it was the freshman's turn as Shelton made it back-to-back sending a home run down the right field line. This sparked a five-run inning that featured five-straight hits including a double from Nico Saladino and an RBI single by Garrett Borgen.
The fireworks weren't done either, as junior Brock Wilken smoked a no-doubter down the left field line – his county-leading 10th home run of the season.
Click here to read more about Wilken's big year at (and behind) the plate. 


Bloomingdale (15-7) senior Myles Caba took care of business on the mound in a short night, earning his fifth win of the season with three perfect innings and three strikeouts.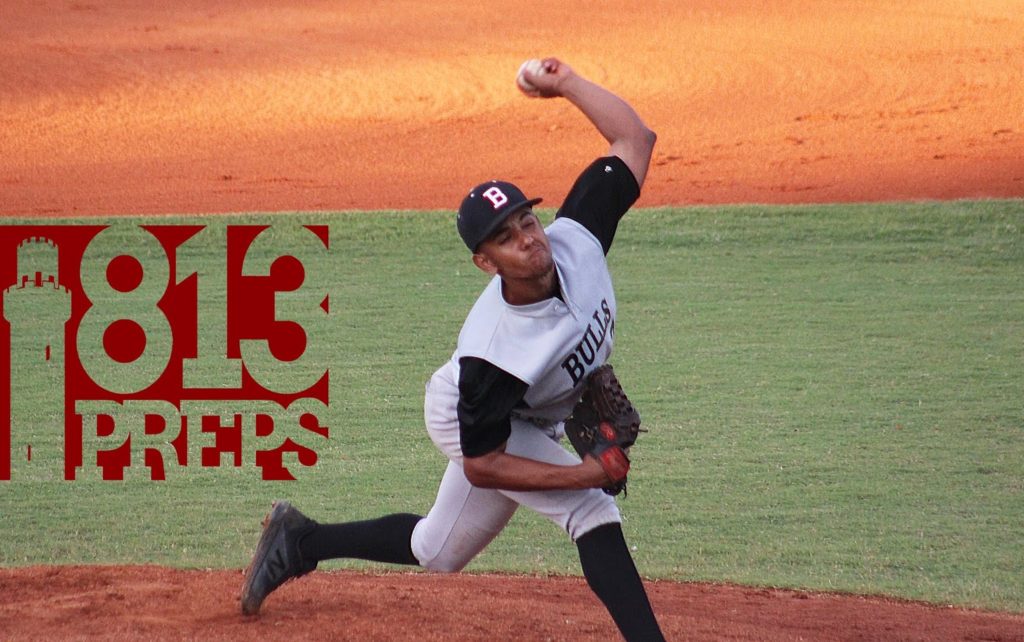 Bloomingdale senior Myles Caba is now 5-2 after he picked up the win on Friday night. 
The South Florida State College signee said he was happy to sit back and watch his teammates put on the display, as he has been all season.
"Run support is always a good thing," Caba said with a grin, "especially when guys are hitting home runs like Brock and Merkle. That's something I've never had as a pitcher in high school. I'm very thankful to have it this year."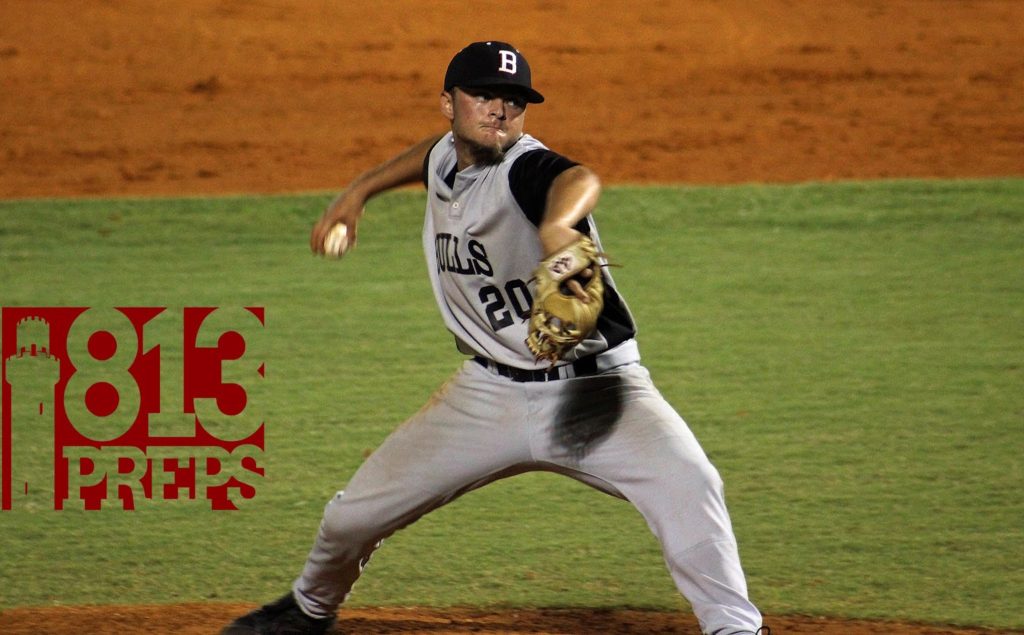 The Bulls got two scoreless innings of relief from senior Nico Saladino, who also had a double, an RBI sac fly and a run scored in the win. 
Replacing Caba on the mound was current and future teammate, fellow SFSC commit Nico Saladino who tossed two scoreless innings of his own, before yielding to Bryce Hazzard for an inning, and then Riley Moore for the final frame on the mound.
Jefferson (11-11) which struggled at the plate all night got a little bit going in the final inning as pinch-hitter Alejandro Montada led off with a double and sophomore Miguel Denson drove him in with his own double. However, the rally was brief as Denson was thrown out trying to stretch his hit to a triple and after a walk, Moore closed out the win with a strikeout and ground out.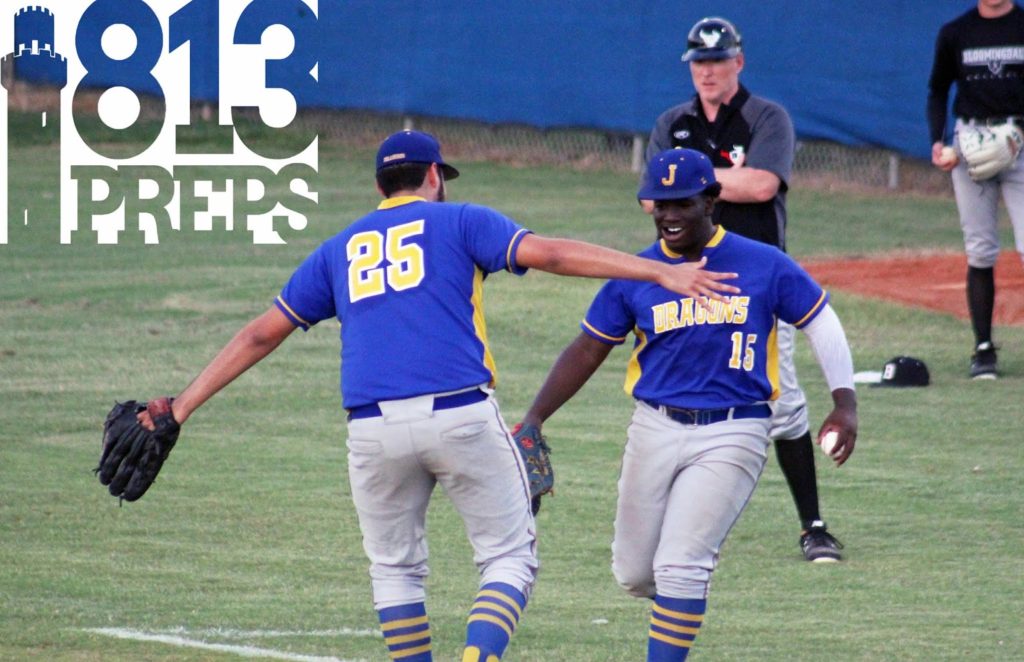 Jefferson sophomore Miguel Denson (No. 15) comes in for a hug from senior pitcher Andrew Ortiz after making a rangy snag of a sharp liner in foul territory to end the third inning. Denson provided the Dragons only run with an RBI double in the seventh.
De Jesus finished the game 3-for-4 with a pair of runs scored, while Borgen, Wilken, Shelton, and Merkle had two hits in the win.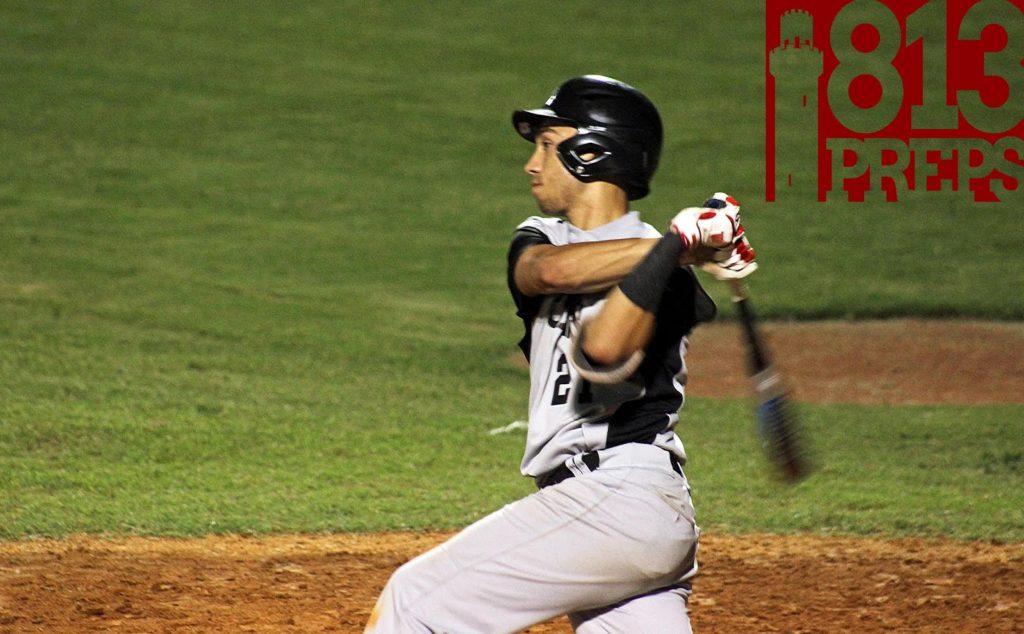 Junior Antonio De Jesus slaps his third single of the game in the fifth inning. De Jesus was 3-for-4 with a pair of runs scored and an RBI for Bloomingdale. 
Bloomingdale will be the No. 2 seed in next week's Class 8A-District 6 tournament, and has a rubber-match against Riverview in the district semifinals at Plant City High on Tuesday, while Jefferson, the No. 3 seed in the Class 6A-District 8 tournament hosts a quarterfinal game against Spoto on Monday.