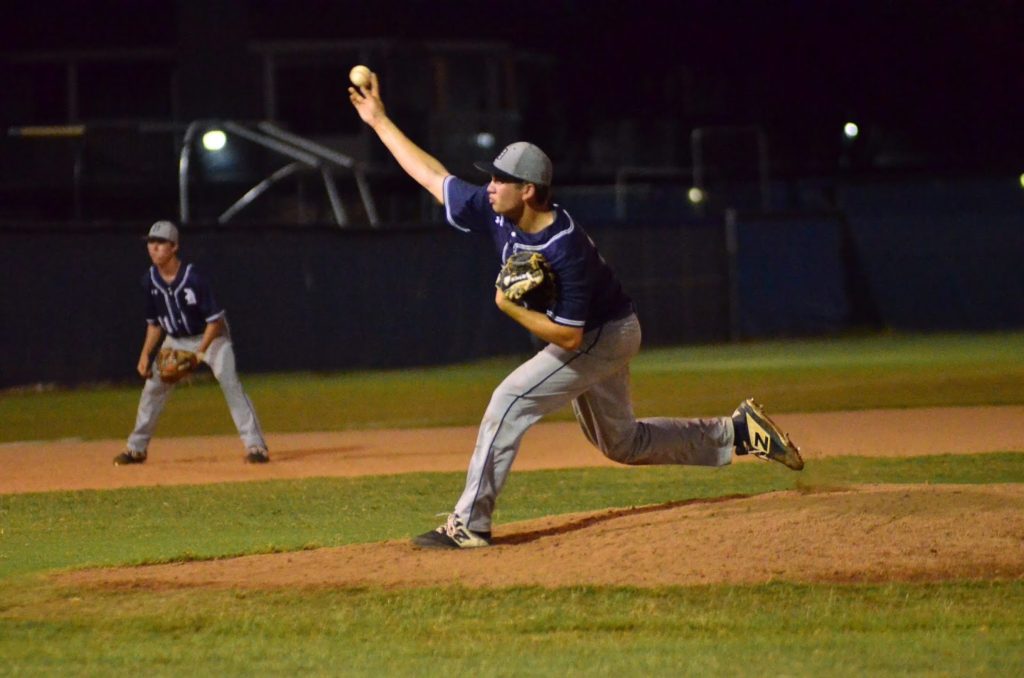 Durant sophomore Alex Canney earned the save on the mound, and also had a key RBI bunt and run scored in the Cougars five-run, sixth inning. (Photo by Andy Warrener)
TAMPA – The last game of the regular season typically has a ho-hum atmosphere. Not the case during Friday's weather-delayed contest between Gaither and Durant. Though, neither team's ace took the mound, the lineups were stocked with starters and it was the Cowboys' Senior Night. Both teams wanted it.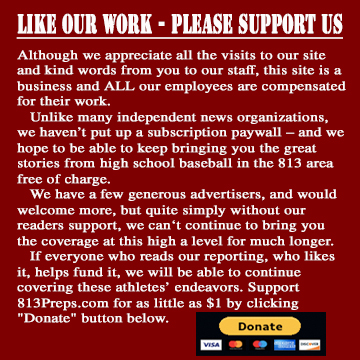 The Cougars just wanted it a little more, scoring five runs in the sixth inning and holding off a Gaither comeback for a 7-5 win.
Durant (17-7) drew first blood on an Arpod Zsold ground out that scored Brendan Queen from third. But the Cowboys evened it in the third off a hit from Frank Perez.
Then things really to pick up. In the home fourth, Ruben Espinal led off with a single, Ruben Suarez bunted him to second and a single from Alex Perez gave Espinal just enough time to reach the plate on a bang-bang play that kicked up an enormous cloud of dust. The Cougars elected to intentionally walk Derek Crum, and Frank Perez did not take kindly to that. He laced a bases-clearing double to right-center that gave the Cowboys a 4-2 lead heading into the fifth inning.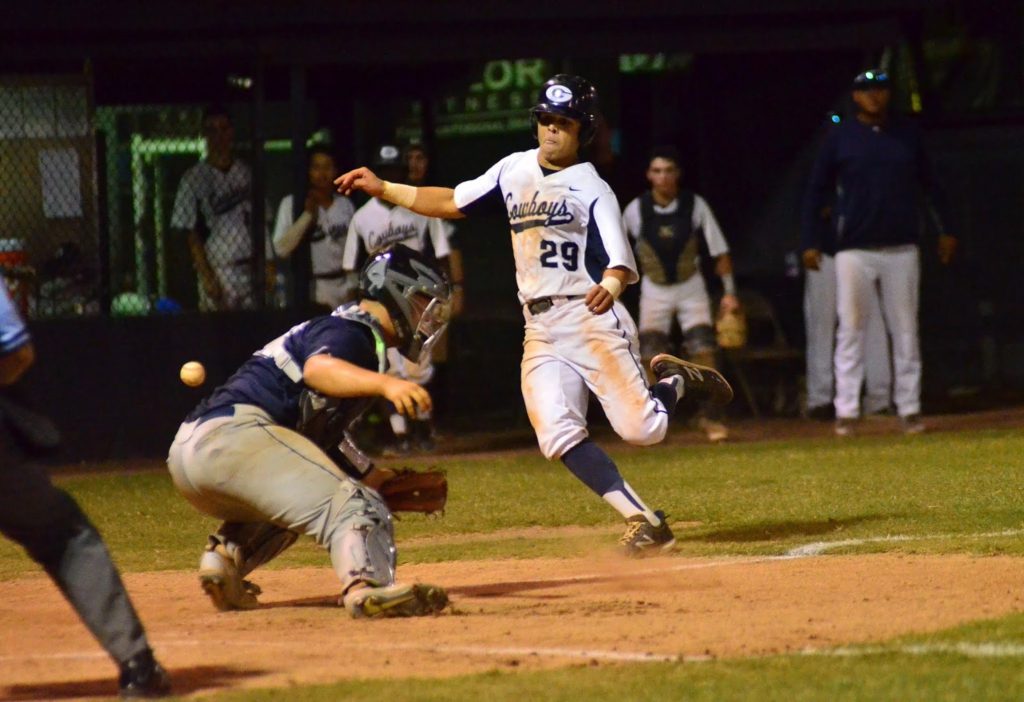 Gaither senior Derek Crum scores one of his three runs in the game. The Wake Forest commit also hit a home run in this game. (Photo by Andy Warrener)
With district playoffs looming early next week, neither skippers Nelson North nor Butch Valdes wanted to take any of their pitchers too deep.
Gaither (14-8) platooned Alfredo Melenendez, Albert Padron and Roy Peguero while the Cougars sent Nathan Hood, Frankie Martinez, who struckout four in just two-and-two-thirds innings to earn the win, Dalton Marsh and Alex Canney, who wound up getting the save.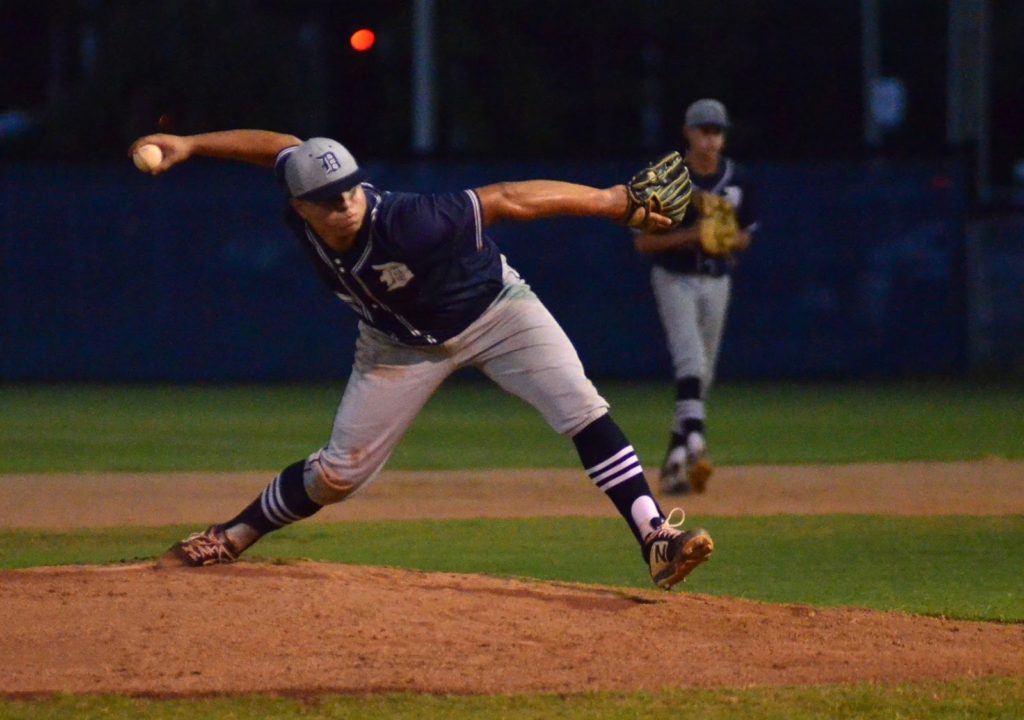 Durant senior Frankie Martinez picked up the win on the mound for the Cougars. (Photo by Andy Warrener)
Canney would come up big for the Cougars at the plate in the top sixth, as Durant started dropping down bunts. Zsold got on with one, Javy Quintana moved runners around with his, and a pair of throwing errors by the Cowboys let a run in. That's when the Cowboys tapped 6-7, 245-pound Peguero in to pitch. Peguero throws very hard but was a little on the wild side Friday night.
"I was mostly thinking fastball down the middle," Canney said. "But coach (Valdes) made it easy on me and called a bunt down the first-base line. It let me calm down and get the job done."
It worked. Canney's bunt drove in a run to tie the game at 4-4 and landed Canney safely at first base. A sacrifice fly from Carson Darrow gave the Cougars the lead and Canney would score on a wild pitch to give the Cougars a two-run lead. A hustle play from Queen, legging out an infield single drove the lead up to three before the Cowboys could escape the inning.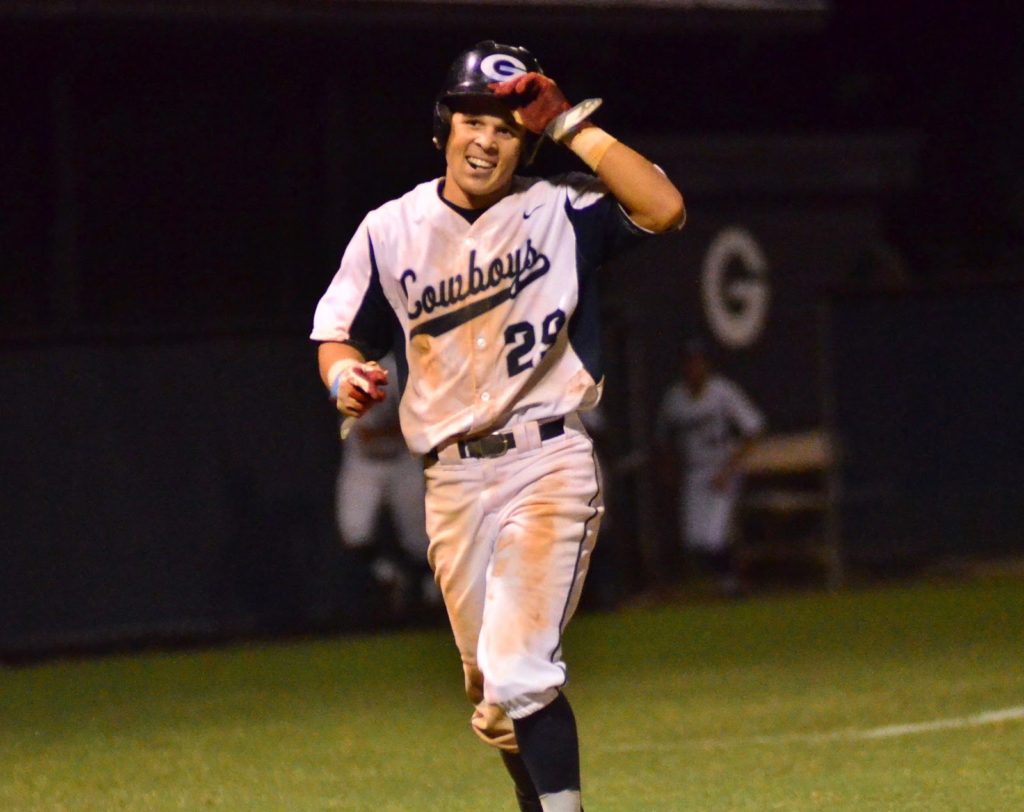 Derek Crum's home run trot.
(Photo by Andy Warrener)
The Cowboys would get one back on a solo shot from Crum, but Canney would stand in their way in the bottom seventh. He walked the first batter but bounced back snaring a hot ground ball and turning it into a 1-6-3 double play.
"That (double play) was big," Canney said. "I needed it. Not everything was working and it was good to have a break, then I could get through the inning easier."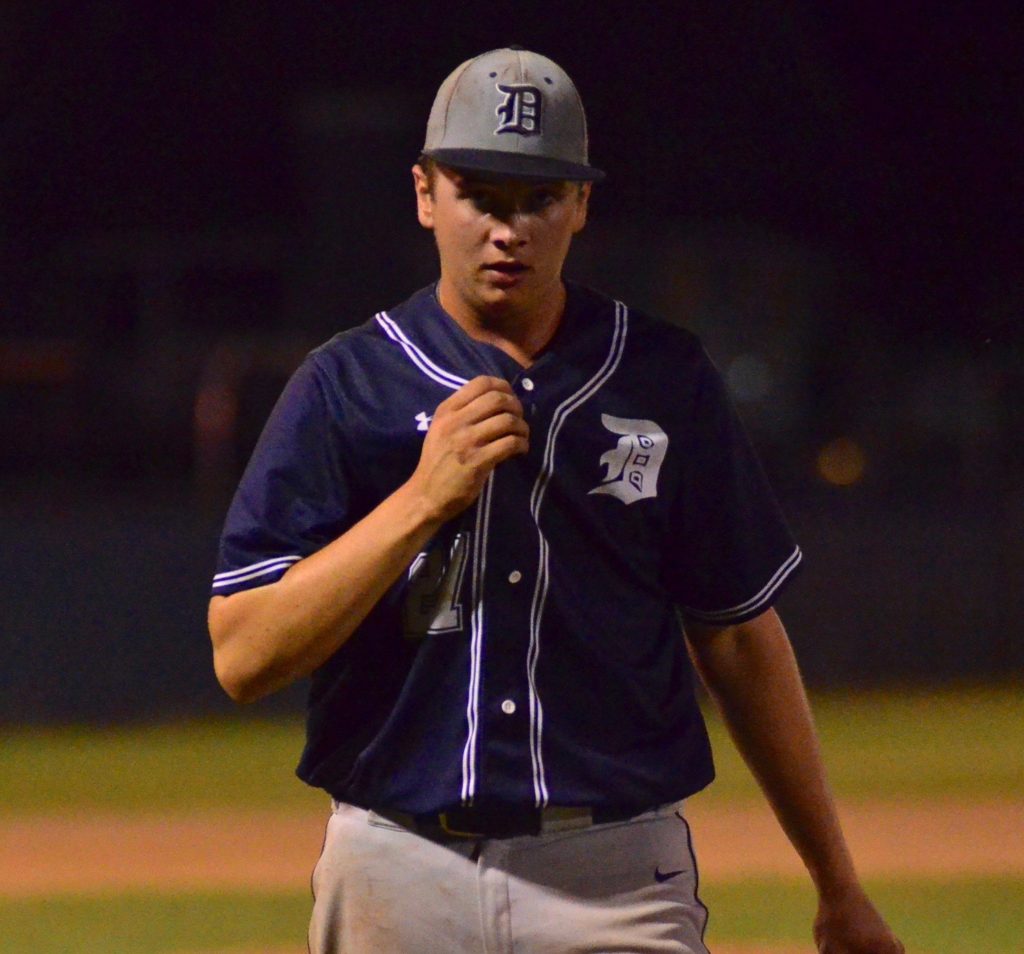 Durant's Alex Canney comes off the mound after
picking up the save. (Photo by Andy Warrener)
Canney would walk another batter and give up a base on a wild pitch but finish with a strikeout to end the game.
"My curveball tends to run on righties," Canney said. "They were hugging the plate a little bit and I threw a couple curves that I made look like fastballs then got him with the fastball."
–  Andy Warrener is a longtime area journalist and photographer. Follow Andy on Twitter at @jawarrener