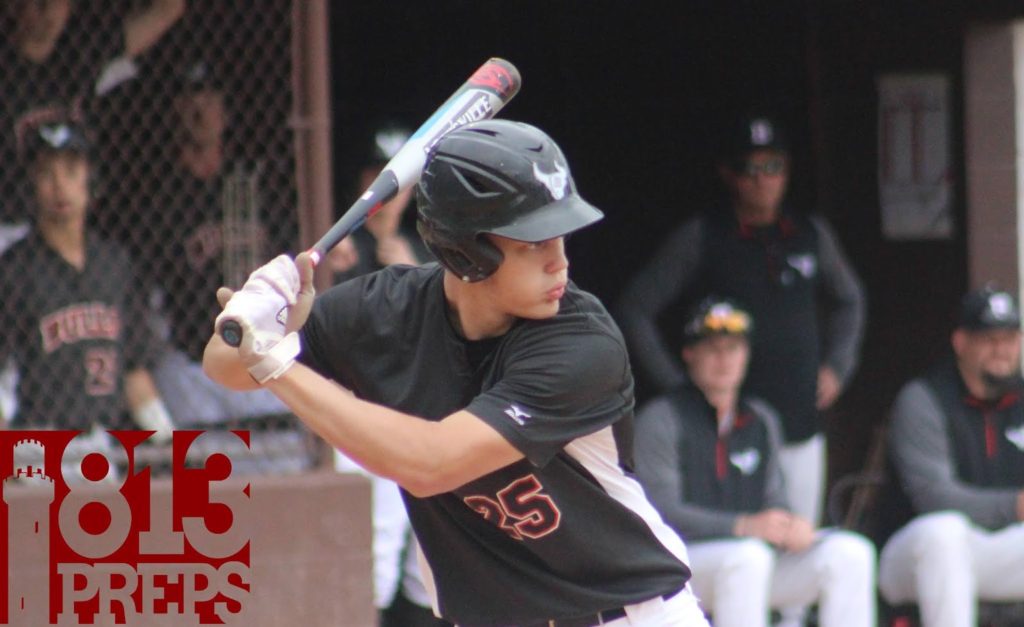 Bloomingdale junior Brock Wilken finished the regular season in style, blasting his county-leading 10th home run on Friday night at Jefferson. 
TAMPA – There wasn't much time to even appreciate its departure. Bloomingdale junior Brock Wilken put an absolute charge into a chest-high fastball in sixth inning of the Bulls regular season finale win at Jefferson and barely made it out of the box before the rocket cruised over the left field fence (Click here to read about the Bulls 9-1 win at Jefferson).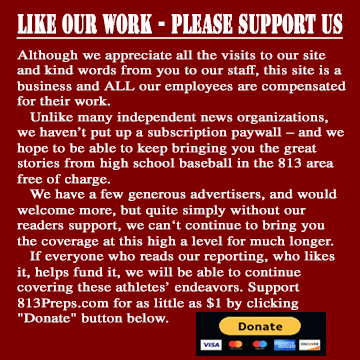 The home run ball has become a bit more of a rarity in the high school game in the past eight seasons, since large scale changes swept youth baseball and the National Federation of State High School Associations adopted the composite or Batted Ball Coefficient of Restitution (BBCOR) bats in 2012 in an effort to minimize risk to pitchers and infielders.
BBCOR or no, nothing is protecting baseballs from the Bulls junior this spring, as Friday's dinger was Wilken's 10th of the season, the first double-digit total from a Hillsborough County player since Plant's Stan Rowe hit 10 in the pre-composite 2010 season.
"I wanted that home run a lot," Wilken said. "It was really on my mind quite a bit to set that mark. You try not to think about it, but you can't help it, it comes into your mind every once in a while."
Wilken made an immediate impact for the Bulls as a freshman, hitting .312 with 18 RBI, but didn't crack his first home run until his sophomore season – his only high school home run prior to this season.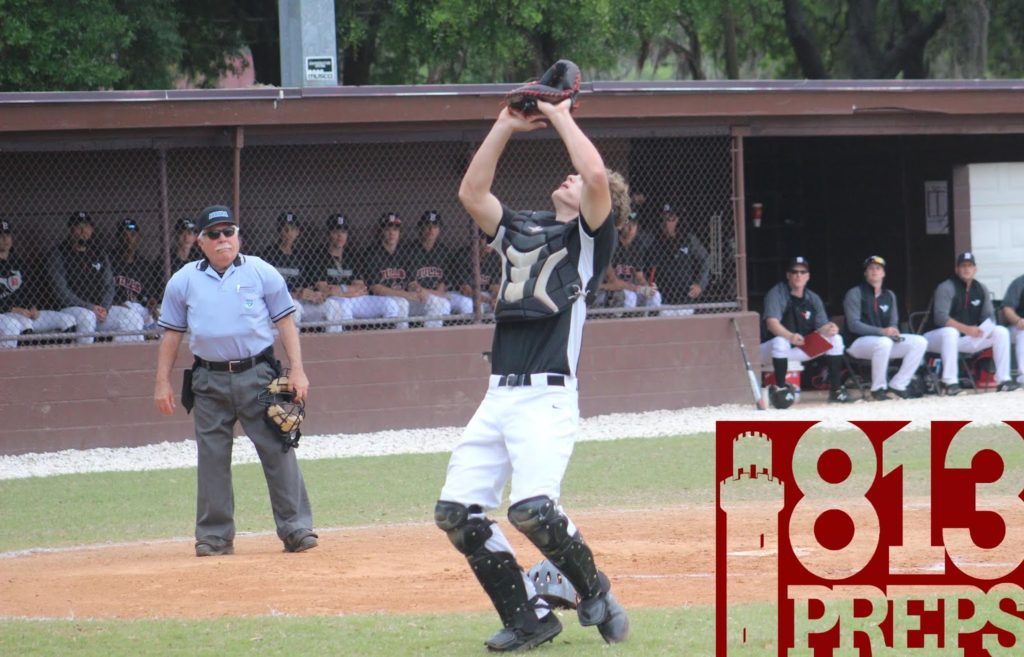 Wilken has hit over .400 this season, even after making the transition this season from third base to catcher. 
Making this year's power display a bit more impressive is that it came while Wilken made the difficult transition from third base to catcher, filling a void for his team. Obviously, the move behind the plate didn't impact his contributions at it.
"I feel like this move has been amazing, not only for me but for the team," he said. "Our team needed someone to step in there, it allowed other people a chance to play every day, and the whole team has stepped up to those opportunities."
Apologies for the language of the party standing up on the Jefferson deck. But I mean this ball was BLASTED. The 10th home run of the year for Bloomingdale's Brock Wilken.

pic.twitter.com/vEshAZ2V63

— 813Preps (@813Preps) May 4, 2019
Wilken is no donkey-hacking, one-trick pony up there either, the Wake Forest committed junior is leading the Bulls in hits and has a .421 average, to go along with four doubles, a triple, and 22 RBI.
"I had a few (runs) of trying to swing for it (a home run)," Wilken admitted. "But we've been working on it all season, to stay in the moment, get a good pitch to hit and put my best swing on it."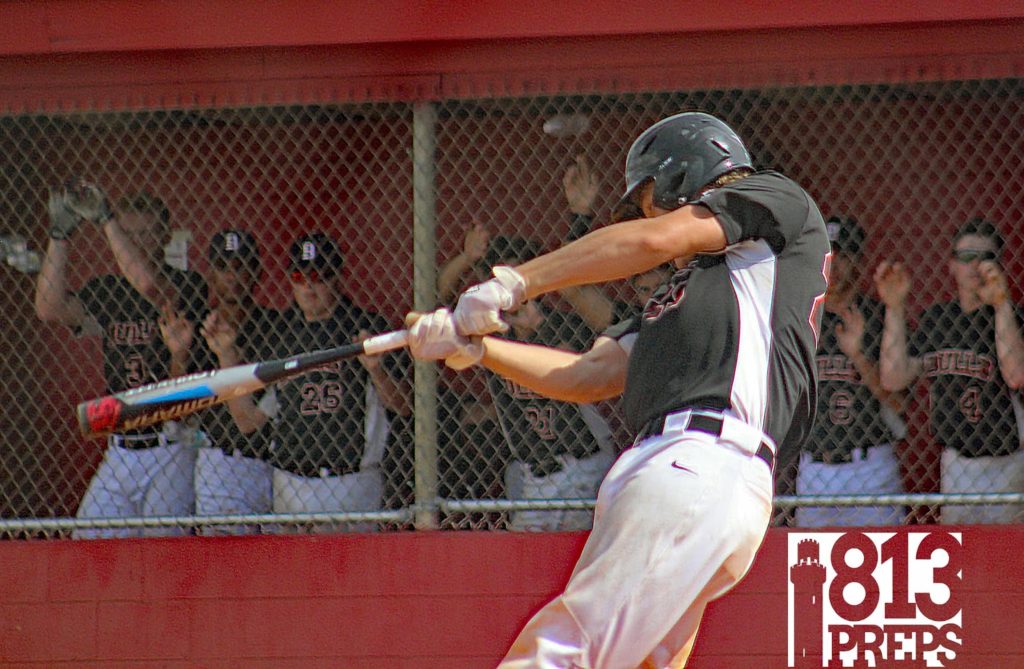 Bloomingdale junior Brock Wilken is tied for second in the state in home runs (behind Spring Hill Springstead's Jiovel Lantigua, who has 12)
And before teams can think about pitching around the 6-foot-3, 200-pound, behemoth in training, they'd have trouble finding an easy out around him. The Bulls are hitting a combined .327 as a team, with six starters at the 20-hit mark for the year. Senior Bryce Hazzard has a pair of home runs, to go along with his team leading 21 runs scored, freshman Colby Shelton got in on the round-tripper action on Friday belting his third home run of the year at Jefferson and now has 19 RBI, while leadoff man Dominic Gonnella is hitting .375 scoring 19 runs, and Jackson Hobbs has hit .329 with 15 runs and 16 RBI for Bloomingdale on the year.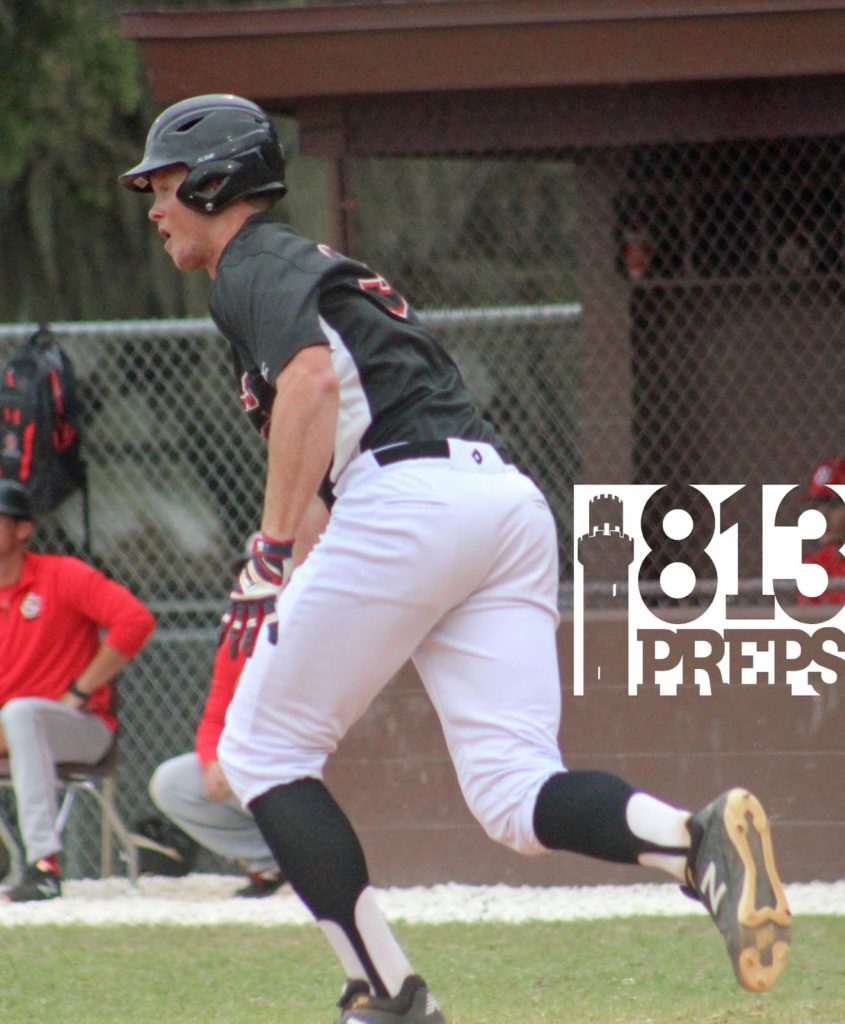 Kyle Merkle
All this, and then oh yeah, there is senior Kyle Merkle.
Merkle, a 6-foot-5, 235-pound colossus, has not let his senior season go to waste. If not for his own teammate's total, Merkle's reversal of a pitch low and over the plate on Friday sending it beyond the fence in centerfield was his sixth homer of the year would has him tied for second in the county (with Sickles senior Dylan Eskew). Merkle, a Presbyterian College signee, is hitting .316, with 18 runs scored and 19 RBI. And even with his own power output this season, which like his teammate was only previously displayed with a solo home run last season, Merkle said he is enjoying taking in the show from his junior teammate.
"Brock stepped up a lot for us this year," Merkle said. "At the plate and (at catcher) where we needed a guy to take over back there, block the plate, throw out guys when we need him to."
Adding with a smile: "I feel like next year, he's going to be pretty good."
For Wilken said the duo has enjoyed the season, building off of each other a bit.
"That has gotten us going all season," Wilken said. "If he hits one first, then I'll try to get one later in the game. If I start it, I know he's going to keep it going. It just goes back and forth. It's been fun for the whole team."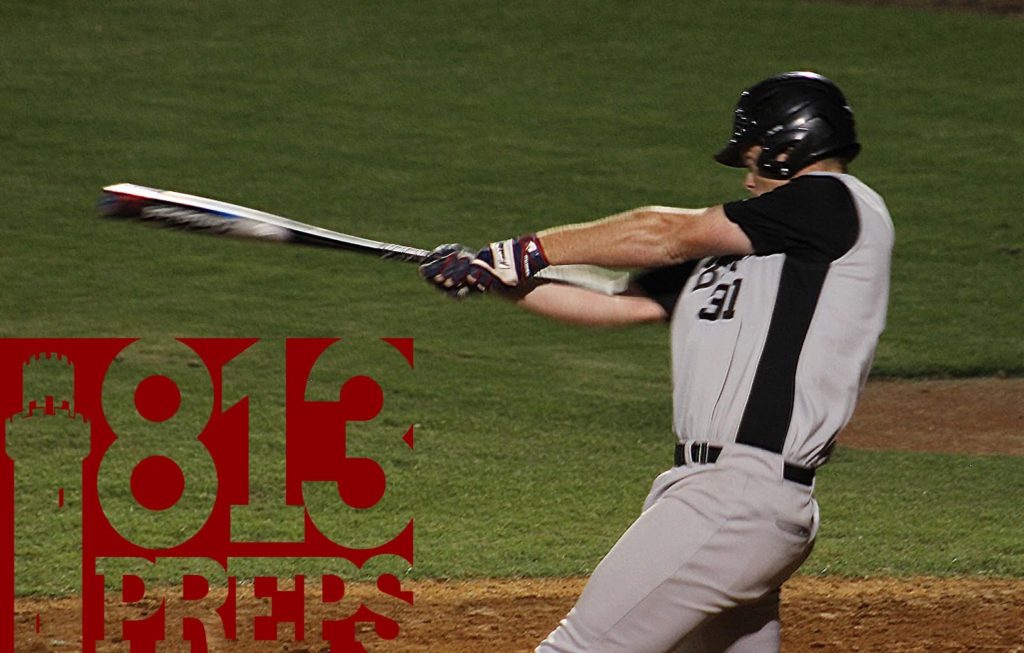 Bloomingdale senior Kyle Merkle has hit six home runs this season, including a solo shot to the deepest part of the park at Jefferson on Friday. 
Merkle added: "The cool part of this team, is how much we feed off each other. In one person gets a hit it progressively builds, the whole team gets hits, gets leads and then we get to go out, do our thing and take big swings."
Bloomingdale begins the Class 8A-District 6 tournament this week, trying to defend its district crown. The Bulls will have some work to do as the No. 2 seed as Plant City (23-2) has the top seed and an 11-game win streak, the Raiders last loss was to the Bulls, but the two are split on the year with PC winning the second meeting. The top seeds will have to contend with arguably the most difficult district, as the Bulls open against Riverview (16-7) after splitting its regular season meetings; and Plant City will face Monday's quarterfinal winner between East Bay (4-16, but winners of three of its last four games) and Durant (17-7).
813Preps District Schedule
Class 9A-District 8
5/7 (3) Palm Harbor at (2) Newsome, 4 p.m.; (4) Sarasota Riverview at (1) Alonso, 7 p.m.
5/9 Championship, 4 or 7 p.m. (higher seed)
Class 8A-District 4 – at Strawberry Crest 
5/7 (4) Wiregrass Ranch v (1) Wharton, 4 p.m.; (3) Freedom v (2) Strawberry Crest, 7 p.m.
5/10 Championship, 7 p.m.
Class 8A-District 5 – at Steinbrenner
5/7 (3) Plant v (2) Sickles, 7 p.m.
5/8 Championship: Sickles/Plant winner v (1) Steinbrenner, 7 p.m.
Class 8A-District 6 – at Plant City
5/6 (5) East Bay v (4) Durant, 7 p.m.
5/7 (3) Riverview v (2) Bloomingdale, 4 p.m.; East Bay/Durant winner v (1) Plant City, 7 p.m.
5/9 Championship, 7 p.m.
Class 7A-District 8 – at Gaither
5/6 (5) Chamberlain v (4) King, 7 p.m. (at King)
5/7 Chamb/King winner v (1) Leto, 5 p.m.; (3) Hillsborough v (2) Gaither, 7 p.m.
5/9 Championship, 7 p.m.
Class 7A-District 9 – at Tampa Bay Tech
5/6 (5) Brandon v (4) Tampa Bay Tech
5/7 Brandon/TBT winner v (1) Lennard, 5 p.m.; (3) Armwood v (2) Braden River, 7 p.m.
5/9 Championship, 7 p.m.
Class 6A-District 8 – at Jefferson
5/6 (5) Blake v (4) Middleton, 5 p.m.; (6) Spoto v (3) Jefferson, 7:30 p.m.
5/7 Blake/Middleton winner v (1) Jesuit, 5 p.m.; Spoto/Jefferson winner v (2) Robinson 7:30 p.m.
5/9 Championship, 7 p.m.
Class 4A-District 4 – at Clearwater Central Catholic
5/7 (5) Tampa Catholic v (4) Tampa Prep, 4 p.m.; (6) Brooks DeBartolo v (3) Berkeley Prep, 7 p.m.
5/8 Brooks DeBartolo/Berkeley Prep winner v (1) Calvary Christian, 4 p.m.; Tampa Catholic/Tampa Prep winner v (2) Clearwater Central Catholic, 7 p.m.
5/10 Championship, 7 p.m.
Class 3A-District 4 – Quarterfinals at higher seed sites; semis and final at Santa Fe Catholic 
5/7 – (5) Lakeland Santa Fe at (4) Seffner Christian, 4 p.m.; (8) Winter Haven All Saints at (1) Lakeland Christian, 7 p.m.; (6) Bell Creek at (3) Bishop McLaughlin, 7 p.m.; (7) Cambridge Christian at (2) Carrollwood Day, 7 p.m.
5/9 Bell Creek/Bishop McLaughlin winner v Cambridge/CDS winner, 4 p.m.; Santa Fe/Seffner winner v All Saints/Lakeland Christian winner, 7 p.m.
5/10 Championship, 7 p.m.