* Our Week 10 rankings were voted on by 813Preps editor Jarrett Guthrie and 95.3WDAE's Jay Recher. Follow Jay's coverage of all things Tampa Bay sports at his blog by clicking here. *
1. Sickles (9-14) – It wasn't quite bell to bell. But the Gryphons started the year as our Preseason No. 1 and finish the same in our final weekly rankings. Sickles avenged one of it's two non-forfeit wins, by getting the better of Jefferson, 1-0 when the Gryphons scratched out a seventh-inning run. Then another one-run win, this time against Middleton came with a 24-hour rain delay after the first inning. Sickles takes on Plant at Steinbrenner on Tuesday in the Class 8A-District 5 semifinals, in search of its second-straight district crown.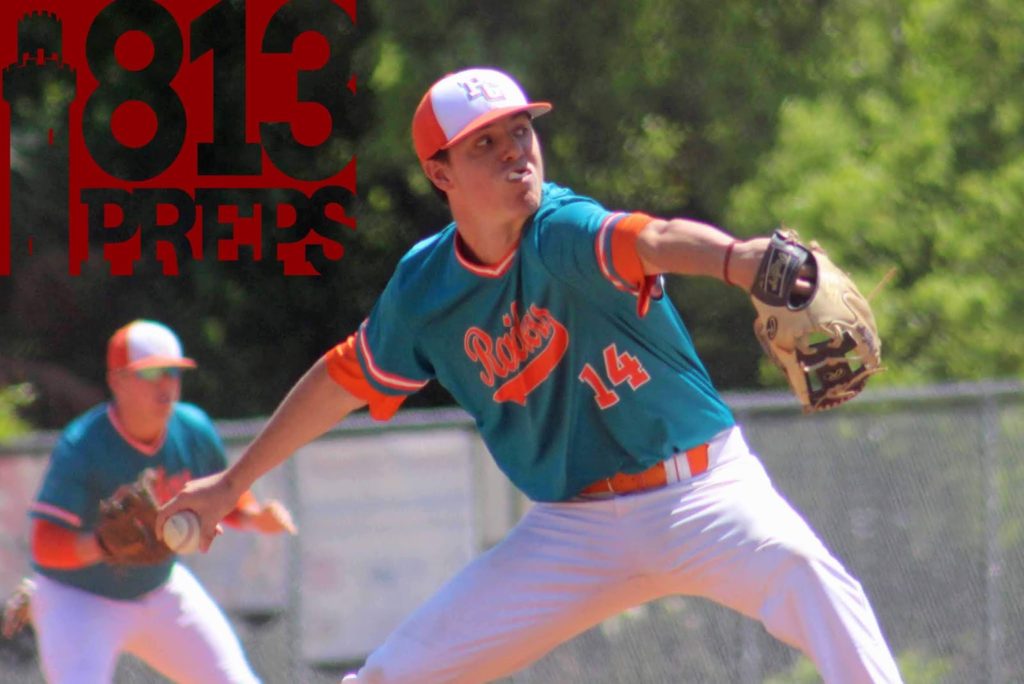 Plant City senior pitcher Grant Gifford
2. Plant City (23-2) – The Raiders got a pair of shutout Week 10 wins over Brandon and Spoto, the second of which, featured a five-inning win by Grant Gifford (0 runs, 2 hits, five K) and a 2-for-2, two RBI, double night at the plate for the senior. The Raiders host and hold the top seed in the highly competitive Class 8A-District 6 tourney and await tonight's quarterfinal winner between East Bay and Durant, for Tuesday's district semifinal game.

813Preps would like to sincerely thank Leading Edge Fundraising for its season-long sponsorship of our Weekly Rankings!


3. Wharton (19-4) – The Wildcats rallied from a pair of mid-April losses by winning its final four including last week's victories over Armwood and Blake. The Wildcats jumped nine spots from our Preseason Rankings, and went 12-2 away from its home field this season. The Wildcats will have and Strawberry Crest split in the regular season, but Wharton is the Class 8A-4 top seed after winning a coin flip. Wharton faces Wiregrass Ranch on Tuesday at 4 p.m. with the tournament being hosted by Strawberry Crest.
4. Jesuit (20-5) – The Tigers split in the final week, dropping a game to Bartow, but pulling out the extra-inning win over Venice as junior Jonathan Shoop used the distraction caused by Bradke Lohry working an extended rundown between first and second, to score the winning run. The Tigers were undefeated in Class 6A-District 8 play and awaits a district semifinal showdown against Monday's quarterfinal game between Middleton and Blake, on Tuesday. The Tigers aim to try to make it eight district titles in a row this week with all 6A-8 game being hosted at Jefferson.
**Want to see how we did? Click here to check out our preseason rankings to see where 813Preps had them stacked heading into the 2019 season.**


5. Riverview (16-7) – Senior Ty Correa's bases-clearing double on Tuesday gave the Sharks all the runs needed to close the regular season with a good win over Leto. Correa, who missed a chunk of time to a hand injury, still managed to finish the regular season second on the team with 19 RBI in just 13 games. We had Riverview going into the season ranked at No. 4, so the Sharks didn't miss the mark by much. The Sharks, ranked third in this week's 8A-6 tournament, have a decisive rubber-match lined up with Bloomingdale on Tuesday.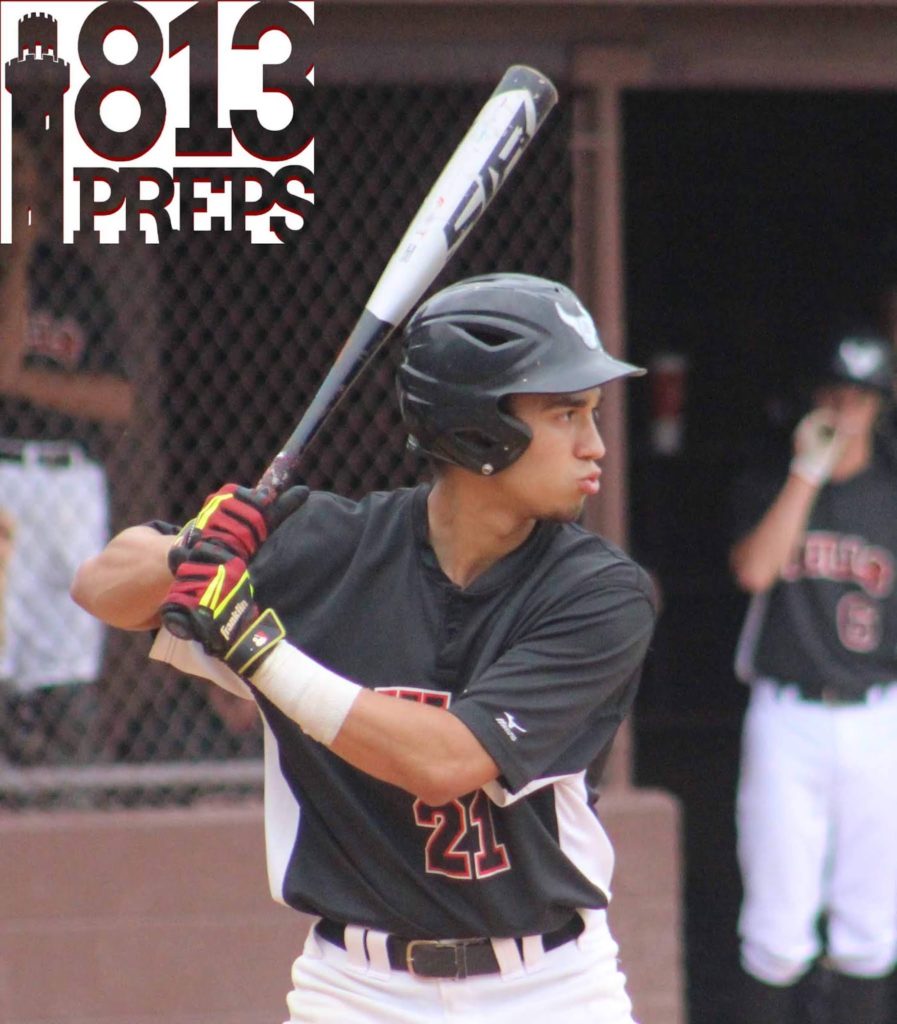 Antonio De Jesus
6. Bloomingdale (15-7) – The Bulls used a trio of longballs to dispatch Jefferson on Friday to close the regular season on a high note (click here to read all about it). As listed above, the Bulls – ranked No. 2 in the 8A-6 tournament face off against Riverview in the district semifinals. An offense that has absolutely raked this season (for a look at Brock Wilken and Kyle Merkle's role in that click here) has shown few signs of letting up, averaging more than seven runs per game. Junior Antonio De Jesus chipped in three hits on Friday, and is one of six Bulls hitters to reach the 20-hit mark this season.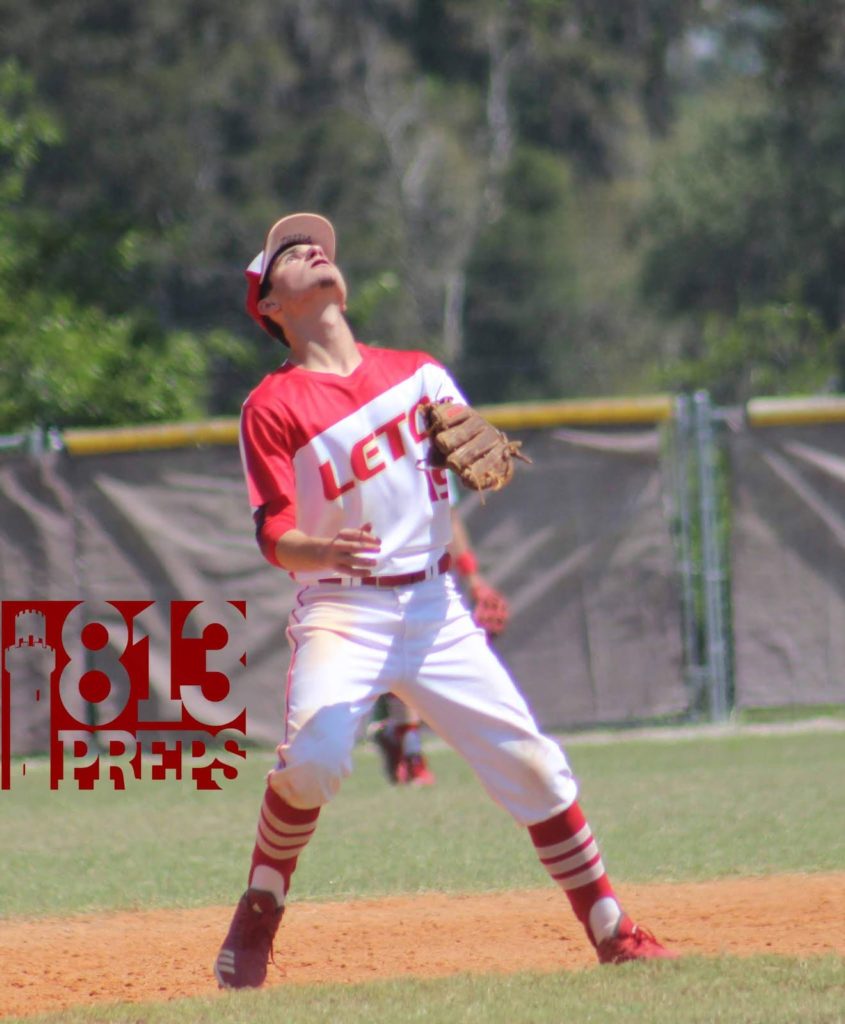 Coltin Pizzio
7. Leto (18-6) – The Falcons rebounded from a loss to Riverview by ending the season with an 11-1 win over Tampa Bay Tech. Leto, a Class 7A state semifinalist a season ago, will be the top seed in this week's Class 7A-District 8 tournament at Gaither and will face tonight's winner between King and Chamberlain on Tuesday. The Falcons were ranked sixth in our Preseason Rankings because we knew upperclassmen talent returning, but man, that underclass led by sophomores RJ Gutierrez (.379, 18 runs) and Damien Breton (.354, 17 runs, 17 RBI), and freshman Coltin Pizzio (.310, 20 runs), has been a spark this season for Leto.
8. Durant (17-7) – Durant split in the final week, losing to Plant, but topping Gaither to close the regular season (click here to read about the Cougars win over the Cowboys). The Cougars 3-5 district record speaks more about the competitiveness of the 8A-6 group, than a letdown by Durant. We underestimated Durant a bit, but we didn't totally drop the ball, ranking them at No. 13 in the preseason. Make no mistake, Durant is no ordinary four-seed and would not shock anyone if the Cougars fought its way into the region tournament taking the tough road starting with a play-in game tonight against No. 5-seed East Bay.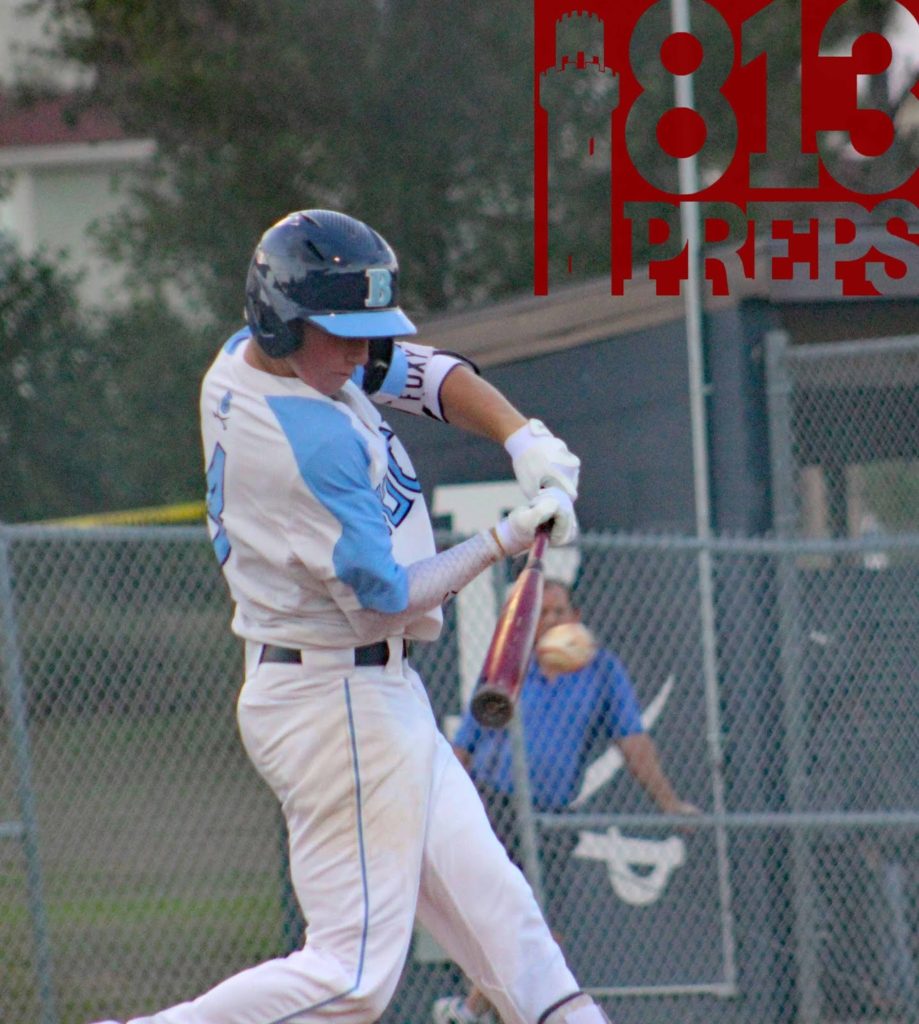 Cade Kurland
9. Berkeley Prep (17-7) – The Buccaneers closed the regular season with a wins over Steinbrenner (click here to read all about this game) and Hillsborough, and are another team we were a bit off on in our Preseason Rankings – putting Berkeley Prep 14th back in February. Of the Bucs seven losses, six have come to teams ranked No. 70 or above in the state according to MaxPreps.com. Berkeley Prep is another team with a bright future as three of its four top hitters this season are underclassmen in sophomores Andrew DiMisa (.350, 20 runs, 17 RBI) and Johnathan Bruno (.380, 18 runs, 17 RBI) and eighth grader Cade Kurland (.375, 21 runs, 21 RBI). The Bucs travel to Clearwater Central Catholic this week, as the No. 3 seed in the 4A-4 tourney, facing Brooks DeBartolo in Tuesday's district quarterfinal.
10. Lennard (16-5) – We need to own our mistakes. The only team in our final weekly rankings we whiffed on in the preseason – the Longhorns finish the regular season in the 10th spot after winning against Middleton last week. Behind a five-game win streak to start the year, and an 8-0 run in Class 7A-District 9 play, Lennard joined the ranks early and kept on producing. A strong senior class has built this program for years and are hoping to go out on top. The Longhorns chase postseason glory as the top seed in this week's district tournament at TBT, where Lennard awaits Monday's winner between TBT and Brandon.
The Next Five:
11. Alonso (14-9)
12. Steinbrenner (16-7)
13. Plant (13-9)
14. Newsome (15-9)
15. Strawberry Crest (13-10)
Dropping out this week: Robinson (13-9); Gaither (14-8).