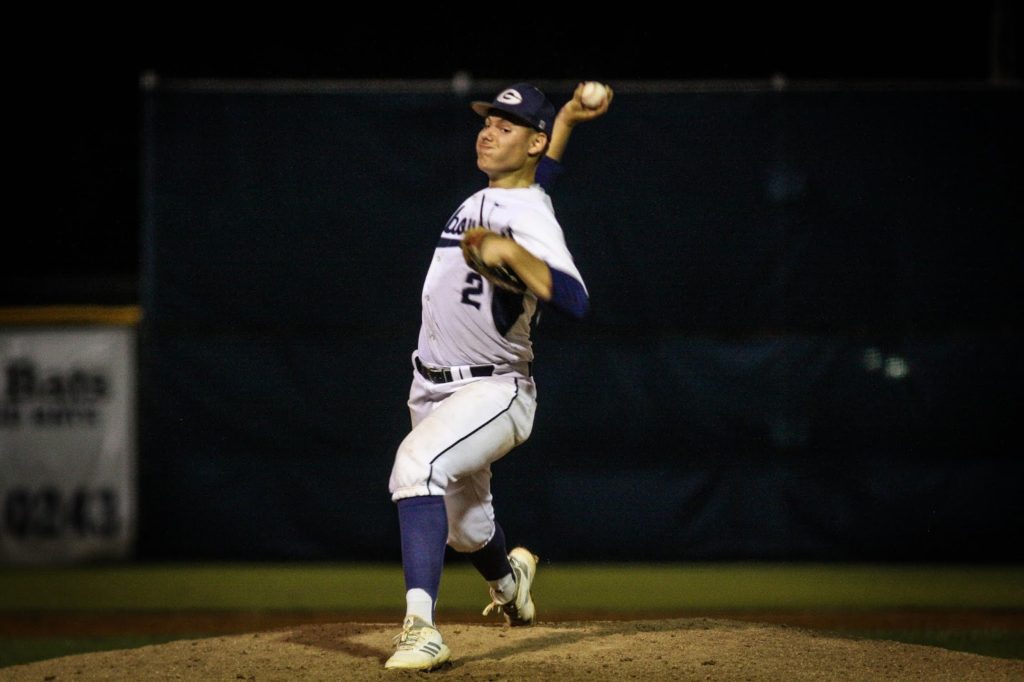 Gaither sophomore RHP Austin Grause pitched 6 1/2 innings in relief, allowing just one run in the Cowboys' 7-5 win over Hillsborough in the 7A-8 district semifinal on Tuesday night. (Photo by Mike Camunas)
TAMPA — Gaither and Leto will face off in the Class 7A-8 district final on Thursday, as the host Cowboys (12-11) won a wild one: a 7-6 barnburner over Hillsborough, which came after the top-seeded Falcons dispatched King 8-2.
"I'm just happy we get to go to regionals again," Leto coach J.J. Pizzio said when asked which team — Gaither or Hillsborough — he'd rather face in the district final. "You know, you're just playing with house money on Thursday."
The Falcons (20-6) led just 2-1 in the bottom of the fifth inning in the first game, but added four runs to widen the lead over the Lions (7-19). Freshman Coltin Pizzio and sophomore Damien Breton were both 2-for-3 with two runs scored, and senior Javy Hernandez had a two-run double in the win.
"We knew that if we stuck to our game plan and hit balls to the right, then we'd be successful — that's always our plan, and we never want to get to trying too hard and start pulling it," Pizzio added.
In the second game, the Terriers (8-15) and the Cowboys got off to a wild start, with each team scoring five runs in the first inning. Juan Jamie-Nunez had an RBI double and Dwayne House drove in two, yet Gaither came right back thanks to RBI singles by Frank Perez and Willie Jackson, and a bases clearing, two-out double by Adison Dubin.
Gaither would take the lead thanks to K'Wality Williams, who drove in two with a double in the very next inning.
Jamie-Nunez would cut the lead to one thanks to an RBI single in the fourth, but the Cowboys turned to usual starter, sophomore RHP Austin Grause, to shut down the Terriers.
"A lot of hits in the first inning, but I was glad we were able to come back and make it a whole new ballgame," Gaither coach Nelson North said. "We rolled the dice a little bit and hoped to get some innings out of (starter C.J. Hanson), but Grause has been our starter all year and he came in and did a great job."
North was also impressed by not only K'Wality Williams' game Thursday, but his whole season. The go-ahead hit in the second was big, but also was the final play of the game, as the second baseman made an over the shoulder catch in shallow centerfield that could have been a bloop single and tied the game with a Terriers' runner on third.
"We've had a lot of injuries and adversity throughout the year," North added, "and (Williams) was a guy who started off the year as a backup and came in and started and done a great, great job for us."
– Mike Camunas is a longtime veteran journalist who is always seeking true stories, trained under J. Jonah Jameson and takes better photos of Spider-Man than Peter Parker. Follow Mike on Twitter @MikeCamunas