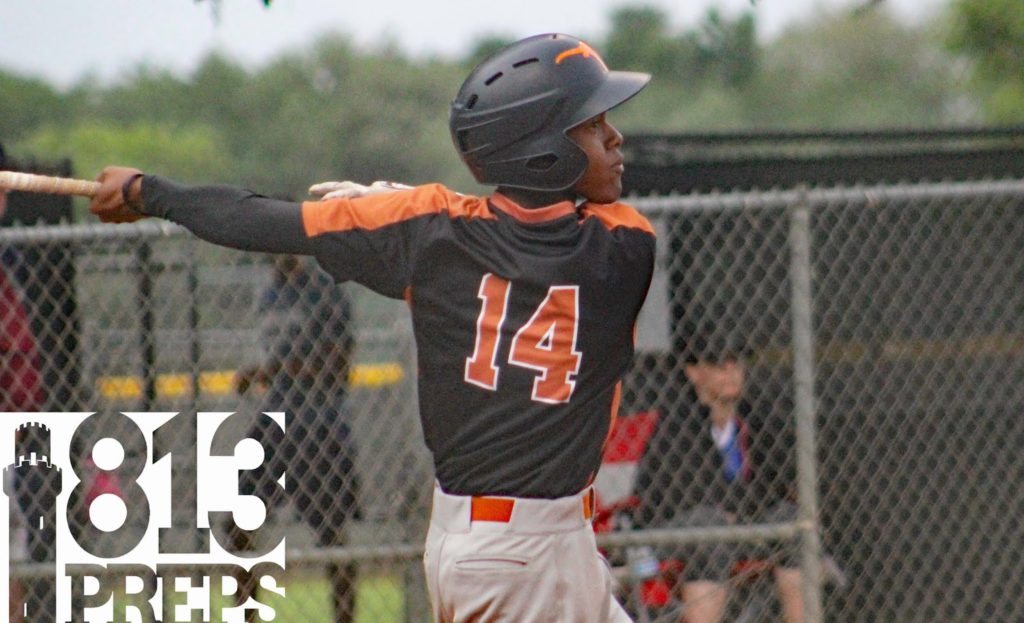 Lennard sophomore Alek Mangual had a pair of RBI, including the game-ending RBI sac fly in the Longhorns district semifinal win over TBT. (913Preps file photo)
TAMPA – Lennard and Braden River punched their tickets to the Class 7A-Region 2 tournament with wins over Tampa Bay Tech and Armwood, respectively in Tuesday's 7A-District 9 tournament.
Lennard 12, Tampa Bay Tech 2 (six innings)
The top-seeded Longhorns overcame a slow start to run-rule the host Titans in the early game.
"Change of schedule, getting out of school early, being picked up late, not being able to hit batting practice, it was a culmination of everything," Lennard head coach Kennedy Duran said. "But hats off to their pitcher [Alex Jackson], he threw strikes and had us off balance."
Only four of Lennard's 12 runs were driven in. Edward Tarrant got the scoring started in the first by scoring on a wild pitch. The hosts tied it in the second on a suicide squeeze from Noah Andrus-Rhoads.
Lennard got back ahead in the home half of the third on a sacrifice fly from Levi Montero, but Tampa Bay Tech tied the game at two in the next half inning on Elijah Dukes' RBI single.
That's when Lennard pitcher Yazael Nunez shut things down, allowing his offense to go to work. The Longhorns put together a three-spot in the fourth which included a sacrifice fly from Tarrant. They scored four in the fifth off of a trio of Tampa Bay Tech errors.
Deuce Waller scored on a passed ball in the sixth before Adrian Munoz scored on a wild pitch. An Alek Mangual's sacrifice fly to center scored Gabriel Mangual to end it.
"We preach put the ball in play, good things can happen if you put it on the ground and pray for the best," Duran said.
This will be Lennard's first appearance in a regional tournament in school history in what has been a record-breaking season in Ruskin.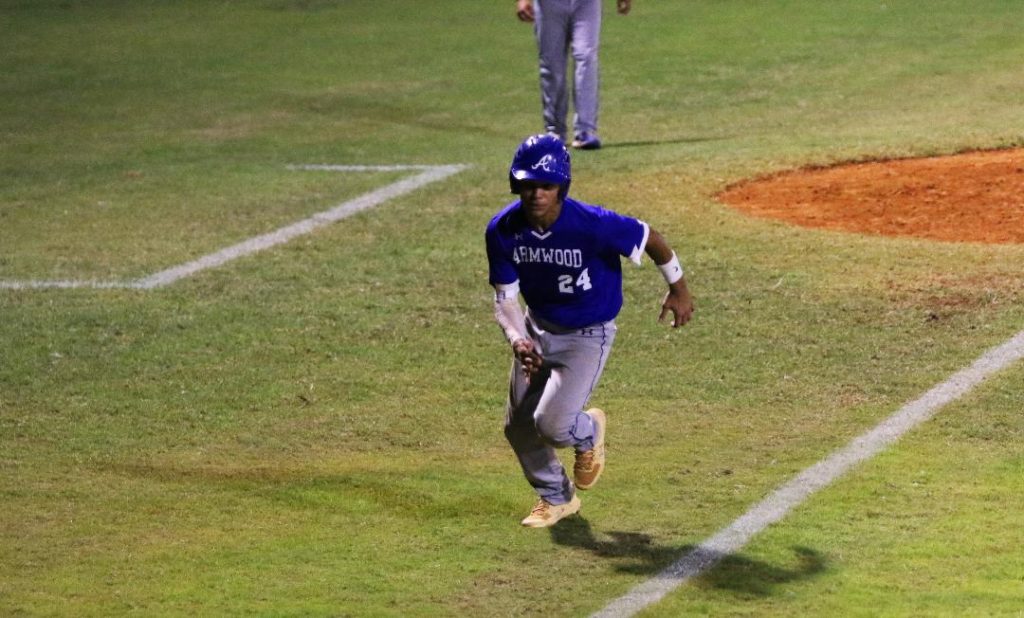 Armwood's Christian Tavarez scores on wild pitch in the fifth inning of the Hawks district semifinal loss to Braden River. (Photo by Will Turner)
Braden River 5, Armwood 3
In the nightcap that started almost an hour late, the out-of-county school prevailed to take the rubber match in the season series.
The second-seeded Pirates were bumped from their perch atop the district for the first time in three seasons but wouldn't let 2016's misfortunes repeat itself when Braden River lost to Armwood by one run in that district tournament game.
Manuel Maldonado got Armwood started early with an RBI single to left to score pitcher Trevor Finan before their Manatee County foe tied it after a throwing error by the Hawks' catcher allowed Sam Martin to cross home safely.
Martin's big game continued when he hit an RBI single to score Zac Graham in the fourth, who doubled in the go-ahead run two at-bats prior. Martin and Alen Bass then scored on back-to-back errors at first to take a four-run lead.
"Sam's been a big guy for us all year, probably the strongest guy we have on the team," Braden River head coach Craig Page said. "When he's going, our guys get behind him."
The four-spot in the third ended up being the difference between the two sides.
"We've seen [Armwood starter Trevor] Finan before so we were trying to hit the ball where it's pitched and to all fields," Page said. "We forced the issue a little bit."
Armwood, which was enjoying its best season since 2011 and the improvement was acknowledged by Page. The Hawks stole a game down the stretch of the regular season, 12-10, which was the first win for them over the South Suncoast school since the district semifinal win in 2016.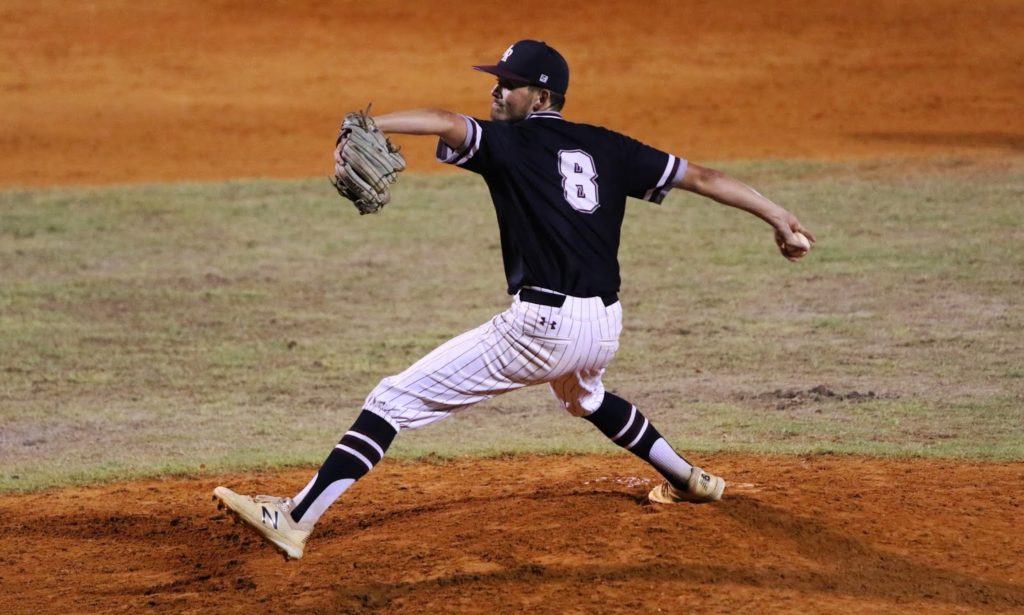 Braden River senior pitcher Chase Jackson
The big difference in this game was the solid start from Braden River's Chase Jackson. The senior threw four strong innings before being replaced with two outs in the fifth. He allowed just two unearned runs across and struck out four.
"I give a lot of credit to them, they've done a fantastic job," Page said. "We knew they were never going to go away. We talked about being up 5-1 and that's nothing against anybody, especially with the way they swing the bat."
The Hawks even put on a late rally by scoring on a wild pitch and drawing a bases loaded walk in the fifth. They did, however, leave the bases loaded there. Armwood finishes its season above .500 for the first time since 2011. Braden River advances to its third straight district final and regional tournament.
– Will Turner is a student at the University of South Florida pursuing a double major in mass communications and history. He is the owner of WTurnerProductions.com, a high school sports website covering the entire Tampa Bay Area. Follow Will on Twitter at @TBTurner813 and @WTProTampa.