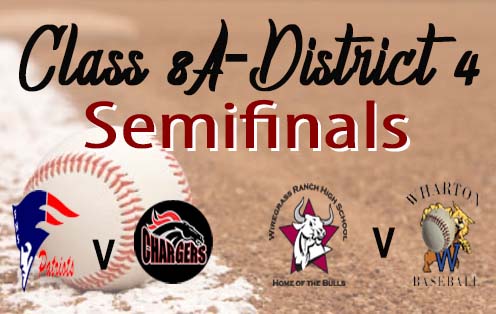 By Brandon Wright
DOVER – The last time Strawberry Crest and Freedom squared off in a district semifinal, the visiting Patriots handed a very young Charger squad a stinging, 2-0 defeat two season ago.
Alex Marshall and his Crest teammates hadn't forgot.
Marshall was dynamite on the mound and the Chargers took advantage of multiple Patriot miscues to win 8-0 Tuesday night, advancing to Thursday's championship game against Wiregrass Ranch, which defeated Wharton 3-2 in semifinal play.
"They eliminated us right here on this field," Marshall said. "That's been on our mind ever since. We wanted to beat them. So, we did."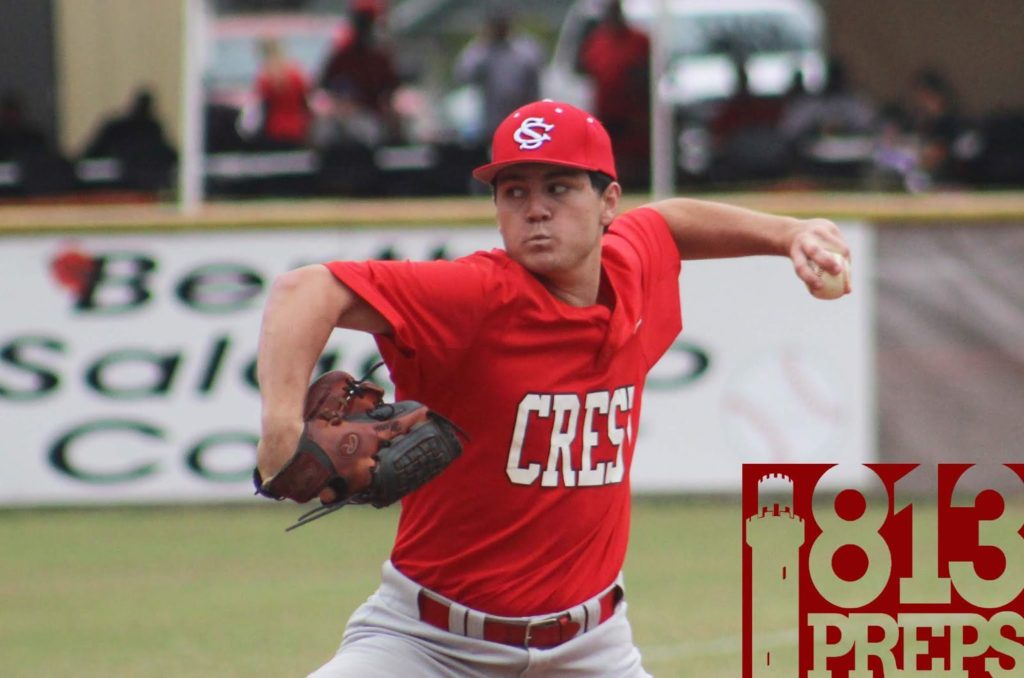 Chargers senior Alex Marshall. (813Preps file photo)
The win, regardless of outcome Thursday, also booked the Chargers (14-10) a slot in the upcoming region playoffs for the second consecutive year. Crest reached the state semis in 2018 and, despite a somewhat inconsistent regular season, third baseman Colby Fanning said there is no reason to think a return trip is out of the question.
"I think we can go all the way to states," he said.
Tuesday belonged to Marshall, who sliced through the Patriot lineup with ease. The senior lefty said control has been his biggest issue this year but there were no signs of that against Freedom.
"(Control) has been a problem for me in the past," Marshall said. "I've gone out got in trouble when I don't throw strikes and don't let guys make plays behind me. It's something I've been working on all year."
Marshall didn't walk a batter Tuesday, surrendered just two singles and struck out six. He didn't allow a runner to reach second all night and had just three balls hit out of the infield on his way to a complete game.
"It's fun playing behind Marshall when he's throwing strikes because he works quick," Fanning, who had two of the Chargers' five hits and scored three runs, said.
Marshall's defense was stingy all night. Fanning made a gorgeous sliding stop down the third base line in the first, throwing out the Patriots leadoff batter. And Kade Manderscheid made the play of the night, laying out in shallow center on a sinking liner to rob Jack Linne of a hit.
"I knew my defense had me," Marshall said.
Crest got all the runs it would need in a three-run second. Ben Pues scored on an error, Manderscheid came around on a wild pitch and Austin Obergfell rounded out the scoring with an RBI single.
The Patriots (6-15) were their own worst enemy. Freedom hit five batters, walked five more, committed four errors and tossed three wild pitches.
In the afternoon semifinal, Wiregrass Ranch rallied with three runs in the seventh to defeat Wharton, taking advantage of a hit batter, two singles and a Wildcats error as the Bulls avenged two regular season losses in the biggest way.
Paul Sustachek's RBI single got Wiregrass Ranch (14-9) on the board and cut the Wharton lead in half, before a misplayed Nate Crissey groundball allowed two more runs to score.
From there, Robert Boser finished off his solid relief outing, working around a pair of seventh inning singles to finish off the win, 3-2.
Wharton ends the year 19-5, with Carson Caso tossing six scoreless innings on the mound.
– Brandon Wright loves his family, baseball, the Philadelphia Eagles and craft beer. In no particular order depending on the day. He hates real birds, Led Zeppelin, Mike Piazza and pizza made in Florida. He still hopes to one day be selected in the MLB draft.


Wiregrass Ranch 3, Wharton 2
WR    000 000 3 — | 3 |  5  | 1
Whar  101 000 0 — | 2 | 10 | 2
W – Boser. L – Perkins. 2B – Hernandez, Sutton (Whar). Records – WR 14-9; Whar 19-5.
///*** 
Strawberry Crest 8, Freedom 0
Records – F 6-15; SC 14-10.