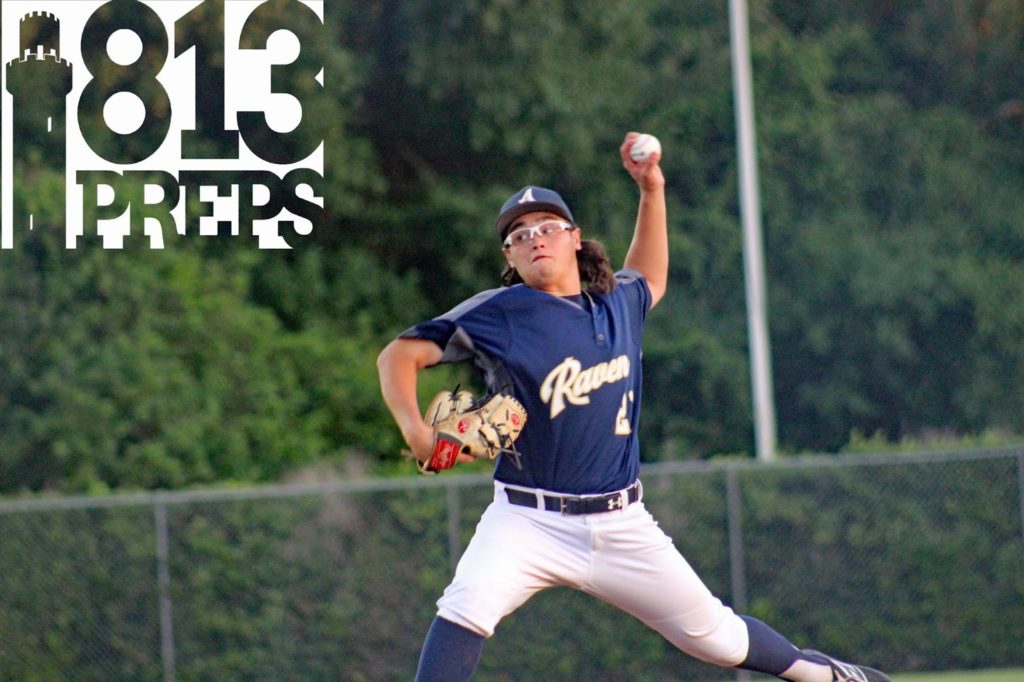 Alonso junior Sam Drumheller carried a no-hitter into the sixth, allowing just one run on two hits and earning the win.
TAMPA – Two of the uglier blemishes on Alonso's record this season came courtesy of district opponent Sarasota Riverview, as the Rams stung the Ravens twice in the regular season winning both games by six runs apiece.
That third go-round though, in a win-or-go-home, Class 9A-District 8 semifinal game, was all Alonso as junior Sam Drumheller stymied Riverview long enough for senior Conor McNair to push things too far out – like over-the-fence-out – for the Rams to respond. Result: Alonso 8, Sarasota Riverview 1.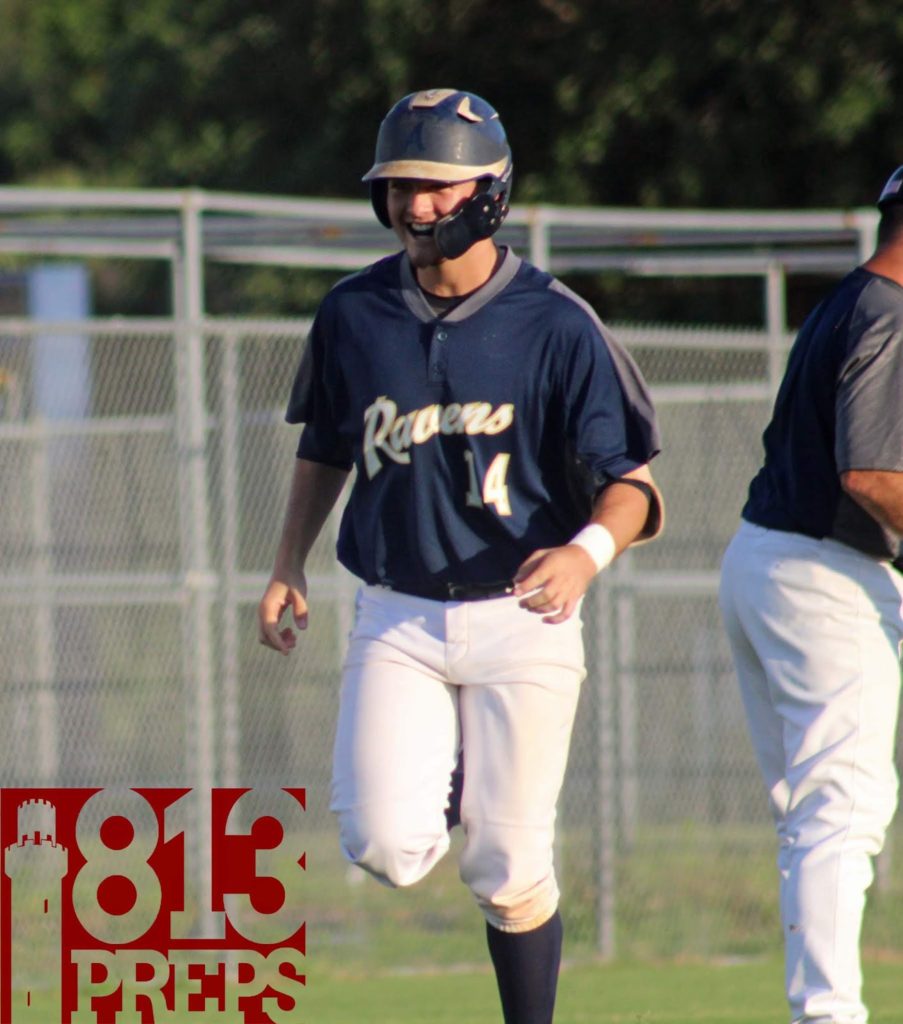 Alonso senior Conor McNair heads to the plate
after his two-run homer in the first. 
Alonso (15-9) took control quickly as senior Andrew Lara singled in the home first, from there McNair worked into a favorable count and waited for his pitch, turned on it and sent it over the wall in left for his second homer of the season.
"I got into a good count, looking for something to drive and happened to get one low and in," McNair said. "I got a good piece of it, didn't really think I got all of it, but when it went out it really sparked something in our team."
McNair may have been a bit unsure off the bat, but Lara who was on the move from first and watching the ball soar, said he was expecting his teammate to come through.
"I had a feeling Conor was going to get a hold of one," Lara said. "I saw the (Riverview) coach pull in the left and center fielder and I thought, oh, that is a mistake."
From there, the 5-foot-10, crafty lefty went to work on the mound, striking out six. Drumheller made Rams hitters look silly on occasions, including a strike-three swing that sent a hitter's bat flying from his hands. He also let his defense show off behind him, as Drumheller improved to 6-0 on the mound this season with the win.
"It was just about having fun out there," Drumheller said. "We had a good lead, so I was able to go out, throw strikes and enjoy my defense working behind me."
The defense had style to spare, as Lara made the hard charge at shortstop look easy on a pair of nifty plays, senior right fielder Jonathan Cruz barrel-rolled into a third-out, diving grab in the third, and left fielder Isaiah Myles showed of his range as well cutting to his left and catching a ball near dead-center for the final out of the top of the fourth.
"I feel like our defense this year has been really key for us," Lara said. "We've focus on defense, especially recently, because we know hitting is going to come but defense wins games."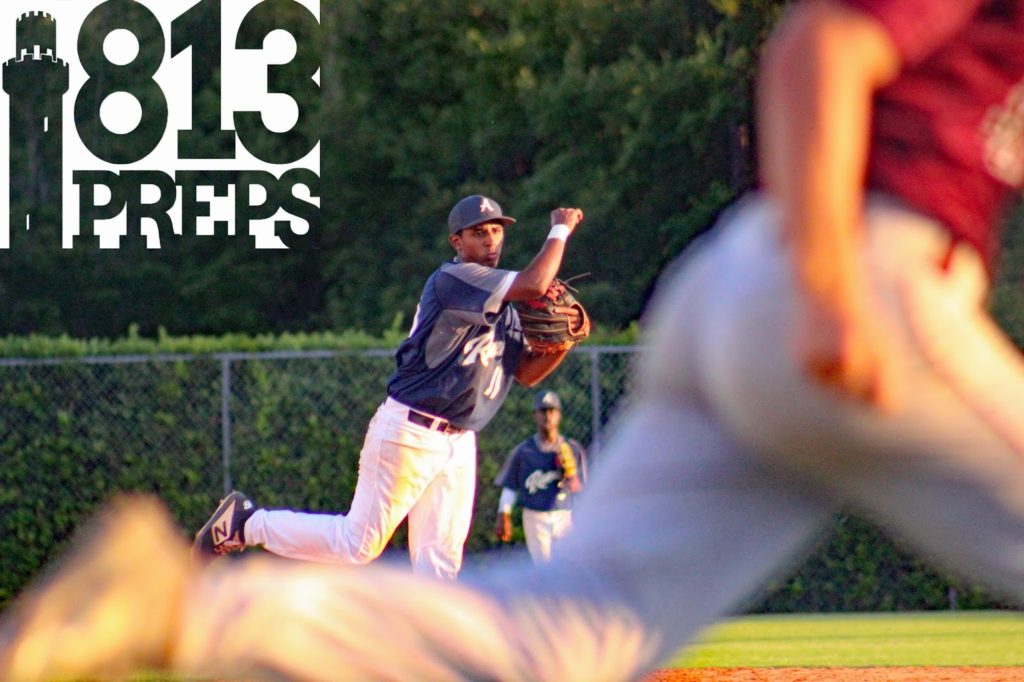 Alonso shortstop Andrew Lara makes a nice play and throw for an out in the third 

inning. The Ravens senior was 2-for-3 with a pair of runs scored, a sac bunt and reached on a three-base error in the game. 
The Ravens lead was extended by McNair, as the senior singled in Renzo Gonzalez in the third, and Alonso piled on five more runs in the fourth, keyed by an RBI double from Myles, while Samuel Cole (2-for-2), Cruz and Lara each singled and scored in the frame.
"I think that third RBI kind of snowballed us into a hit-frenzy," McNair said. "We got a couple walks there, then a couple of good bunts in the game from Andrew (Lara), some singles, a big double mixed in there as we scored in those innings."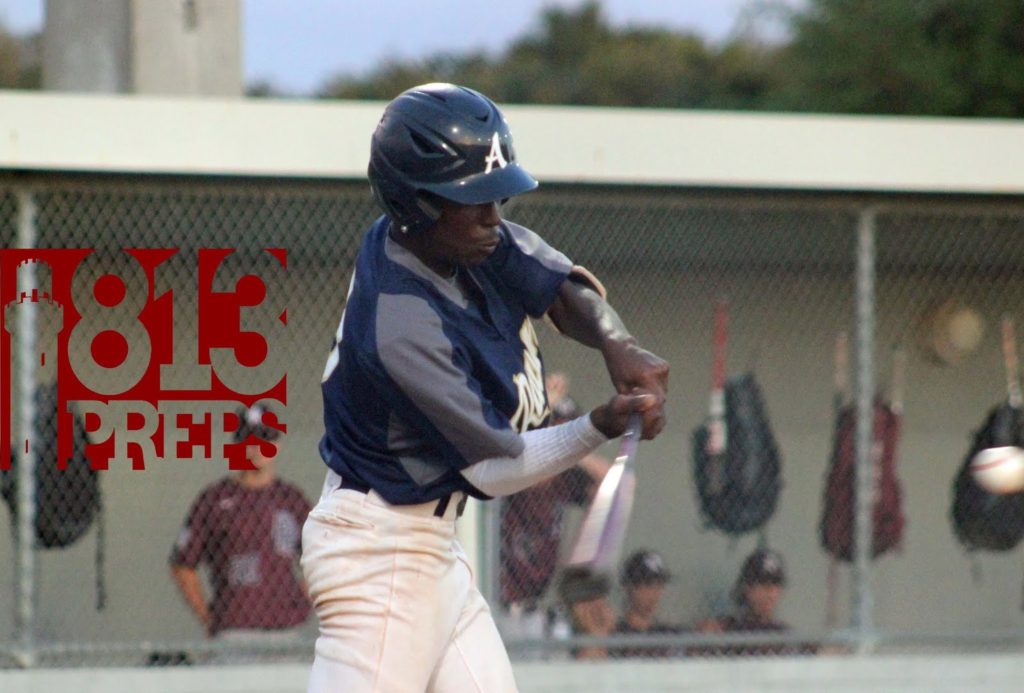 Alonso freshman Isaiah Myles cracked a two-strike, RBI double to left-center in the fourth. 
The Rams managed to get to Drumheller finally, with a leadoff single in the sixth and loaded the bases to chase the junior from the game. Riverview added two more hits and a run, but nothing else on reliever Nick Traficante who finished the game on the mound.
The win sets up a home game against cross-county rival Newsome, winners 3-2 over Palm Harbor on Tuesday afternoon. In the two district meetings this season, Alonso took them both, however, Newsome claimed a Saladino Quarterfinal victory over the Ravens this season.
Alonso 8, Sarasota Riverview 1
R 000 001 0 — | 1 | 4 | 1
A 201 500 x — | 8 | 9 | 0
W – Drumheller (6-0). L – Sullivan. 2B – Myles (A).  HR – McNair (A). Records – R 9-17; A 15-9.