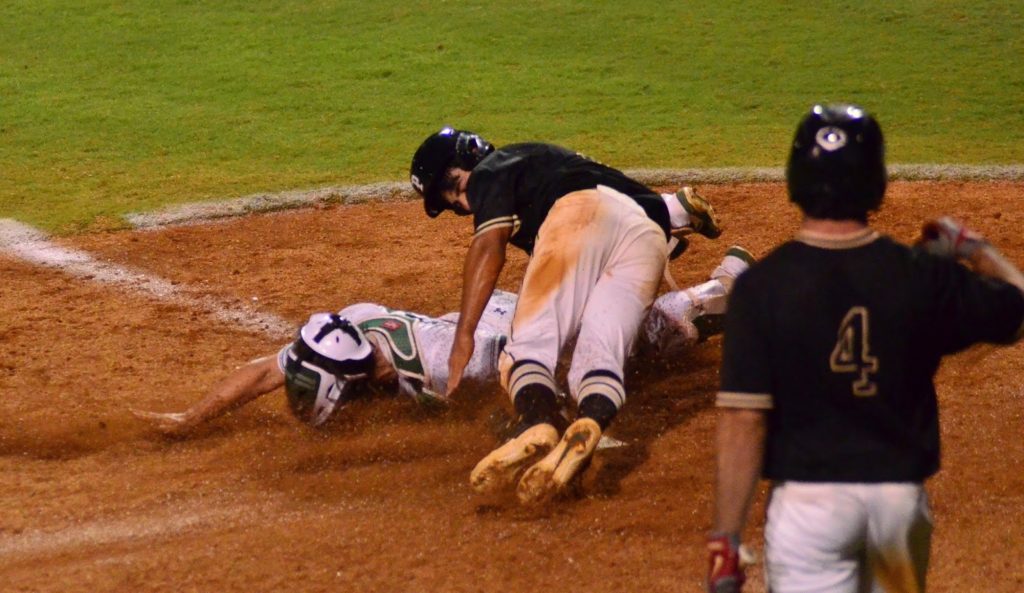 Plant's Matthew Ward barrel-rolled into home, beating Sickles catcher Danny Bernstein to the plate, scoring the deciding run as the Panthers defeated the Gryphons 1-0. 
(
Photo by Andy Warrener
)
LUTZ – District playoffs pit teams at their season's zenith against each other. Plant and Sickles are all too familiar foes and their Class 8A District 5 semifinal matchup had the end of the 2019 season at stake for one team. The pressure was on.
Starters Dylan Eskew and Mathew Coker kept a kung fu grip on the game as innings flew by, some without a runner reaching base. Finally, in the top of the sixth, Matthew Ward dashed home on a passed ball and would score the only run of the game as the Panthers held the line in a couple of clutch situations in the third and sixth innings, and reached Wednesday's district championship against Steinbrenner, with a 1-0 victory.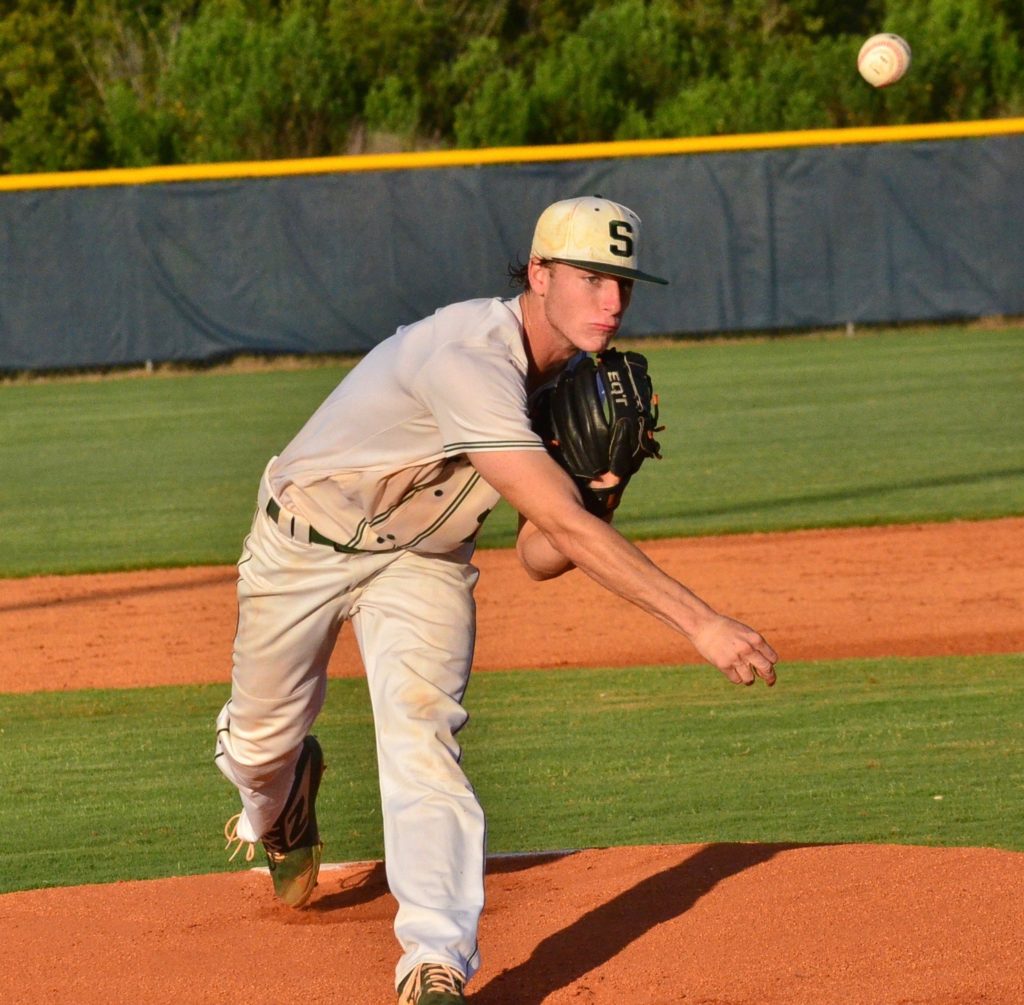 Sickles senior Dylan Eskew tossed a no-hitter, but took a tough
loss in Tuesday's 8A-5 District semifinal. 

(

Photo by Andy Warrener

)
It was a pitcher's duel and a catcher's battle. Eskew didn't allow a single hit or earned run, fanning eight with just three walks in seven complete innings.
In response, Coker went six-and-two-thirds before handing things off to Leo Oshinski to get the final out. Coker struck out three, walked four and scattered four hits but it was Coker that had his feet in the fire. Twice.
In the bottom third, Sickles' Tyler Green walked and a two-out blooper into right field from Chase Centala, got Green around to third. Eskew was hit by a pitch and the bases were loaded for Danny Bernstein. Bernstein got a hold of a pitch and drove it hard, on a line to deep center but Plant centerfielder Carson Richards, almost up against the wall, was there to make the catch and escape the inning.
The sixth inning brought the fire and the brimstone. In the top half, Ward reached first on an error. He summarily stole second. Gabe Rincones went down swinging and JD Urso grounded out to third, leaving Ward lonely at third base with two outs.
"Coach said, anything that gets to the grass or is even close, to go home no matter what," Ward said. "Doesn't matter if I get out, just get there."
The next pitch ricocheted off Bernstein's glove. It didn't go far. It barely made the grass but it was enough for Ward to jump the train home. Eskew started home to cover but Bernstein was already making the move to the plate. Ward started to slide but rolled it over into a dive as both he and Bernstein laid out for the white pentagon. Ward got to it first and tumbled over top of Bernstein as they collided.
"I really wasn't sure if I was going to go but without Eskew covering home, I decided to just take it," Ward said. "I made it and got my team the lead."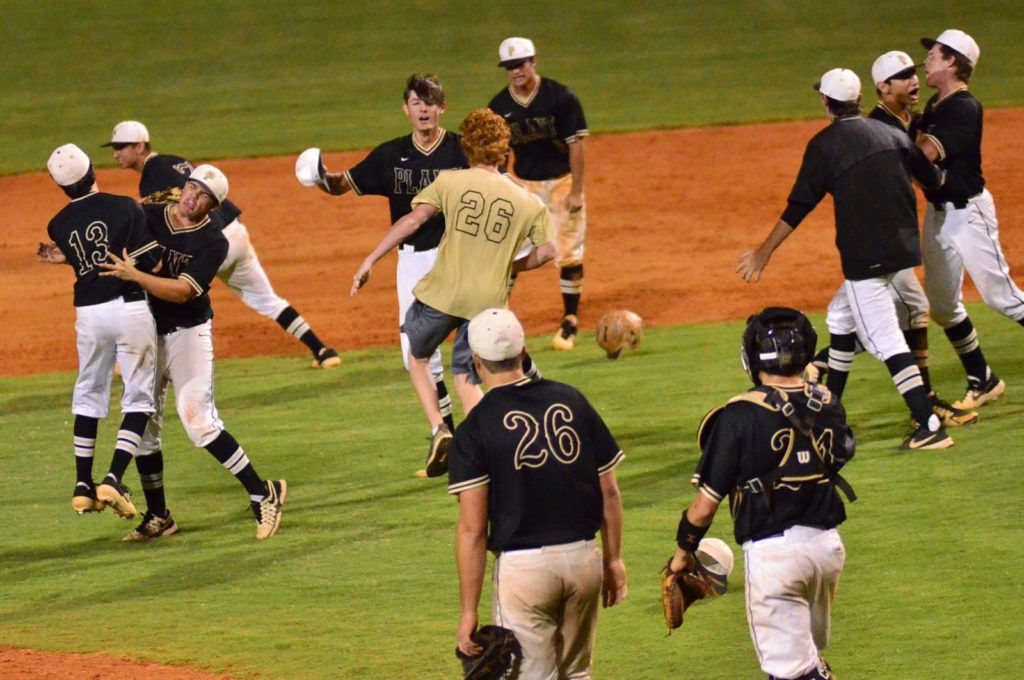 Plant players celebrate on the field after a 1-0, district semifinal win earned them a spot in the district final and region tournament.
(
Photo by Andy Warrener
)
The Gryphons would get their chance. In the bottom sixth, Eskew singled to center. A fielder's choice from Bernstein got the second out. Justin Turk hit a blooper in a tricky spot, down the first base line and raced safely to the pad. Turk then stole second and Kohl Robertson drew a walk to load the bases again with two outs. Rolando Linares got into a 3-1 count, then a full count and then chopped a slow dribbler to short. Without a charging in effort from the Urso, Linares might have reached first safely but the bang-bang play went Plant's shortstop's way and the Panthers escaped again.
"It all goes back to what my dad told me when I was a kid, 'Stay within yourself'," Coker said. "I just took a deep breath and relaxed."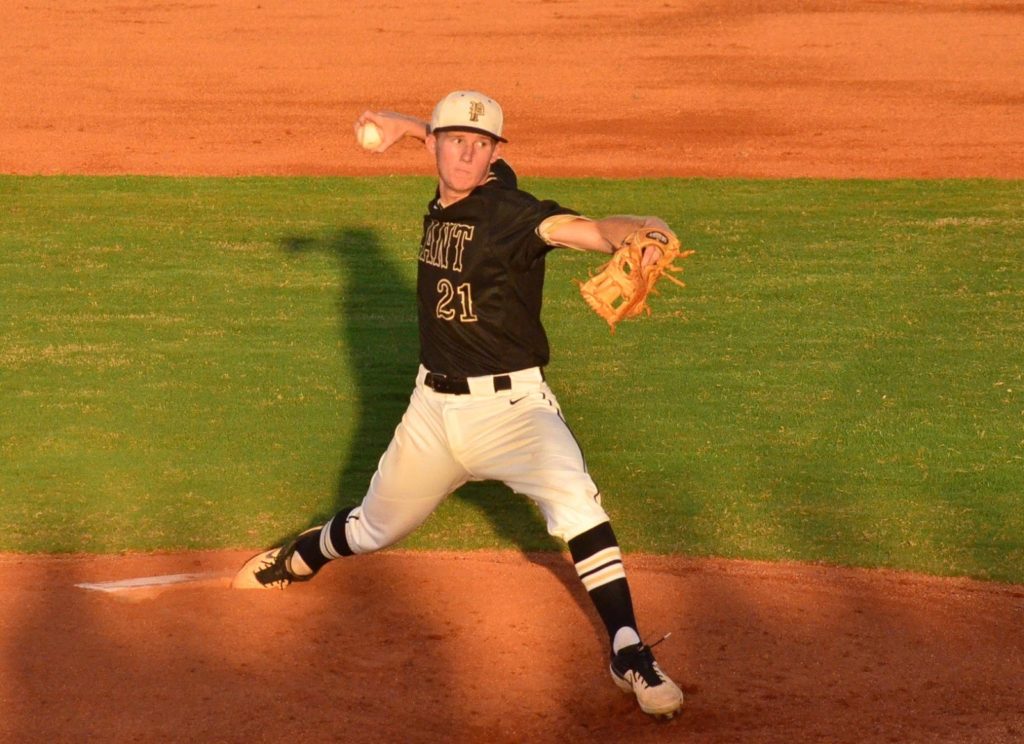 Plant senior Mathew Coker earned the win on the mound with 6 2/3 innings of work for the Panthers. (Photo by Andy Warrener)
Coker got a foul out and a strikeout to start the seventh and that's when Plant skipper Dennis Braun tapped Oshinski. Trey Bacon legged out a single in another bang-bang play to keep hopes alive but a fly ball into left from Centala found the glove of Sam Nation and the ball game was over.
–  Andy Warrener is a longtime area journalist and photographer. Follow Andy on Twitter at @jawarrener
Plant 1, Sickles 0
P 000 001 0 — | 1 | 0 | 0
S 000 000 0 — | 0 | 6 | 1
W – Coker (4-1). L – Eskew (7-1). S – Oshinski (1). Records – P 15-9; S 9-15.