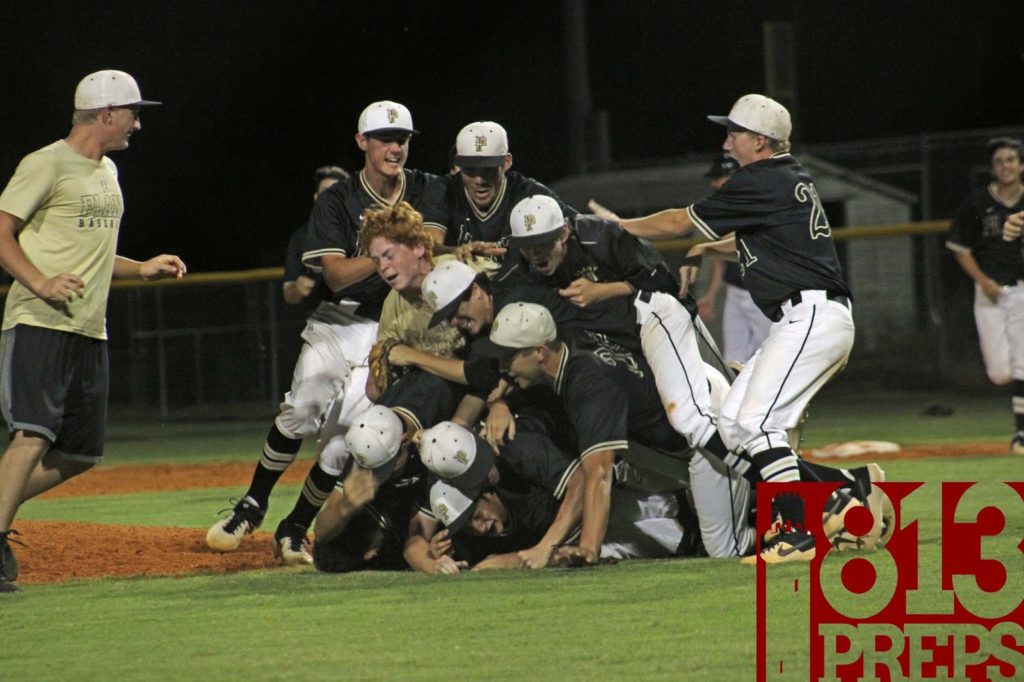 Plant players pile on after the final out is called, as the Panthers claimed a Class 8A-District 5 championship with a 4-0 victory over Steinbrenner.
LUTZ – After coming away with a one-run win in the Class 8A-5 district semifinal game despite being no-hit versus Sickles, Plant head coach Dennis Braun said he knew he had to take advantage of every chance his team had to put a run on the board in Wednesday's district championship game against Steinbrenner.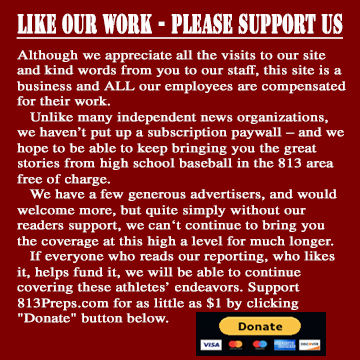 So, when the first two Plant runners reached base in the fifth, Matthew Ward by a single and Gabe Rincones on an error in a thus-far scoreless game, Braun said it was crucial to make the runners count.
Senior J.D. Urso did his job bunting the two into scoring position.  Though it look like Steinbrenner might do what it had the four previous innings and get out of things unscathed with a runner threatening, as starting pitcher Bryce Leonhardt got a swinging, strike-three call on Sam Nation for what would be the second out.
But that thought was a fleeting one.
Instead, the third strike in the dirt escaped the Steinbrenner catcher, Nation sprinted to first and as he did in the win over Sickles the night before, Ward raced to the plate and scored what would prove the deciding run on a wild pitch as Plant went on to win, 4-0.
Braun didn't hesitate as Warriors catcher Griffin Garcia couldn't locate the ball to send Rincones home right behind Ward scoring on the same wild pitch.
"It's been a struggle for us to score runs this year," Braun said. "As soon as I saw (the catcher) hesitate, I knew I had to send him."
"I knew we had a decent runner, so those decisions are easier when you are scoring the amount of runs we've been scoring. You have to be aggressive there."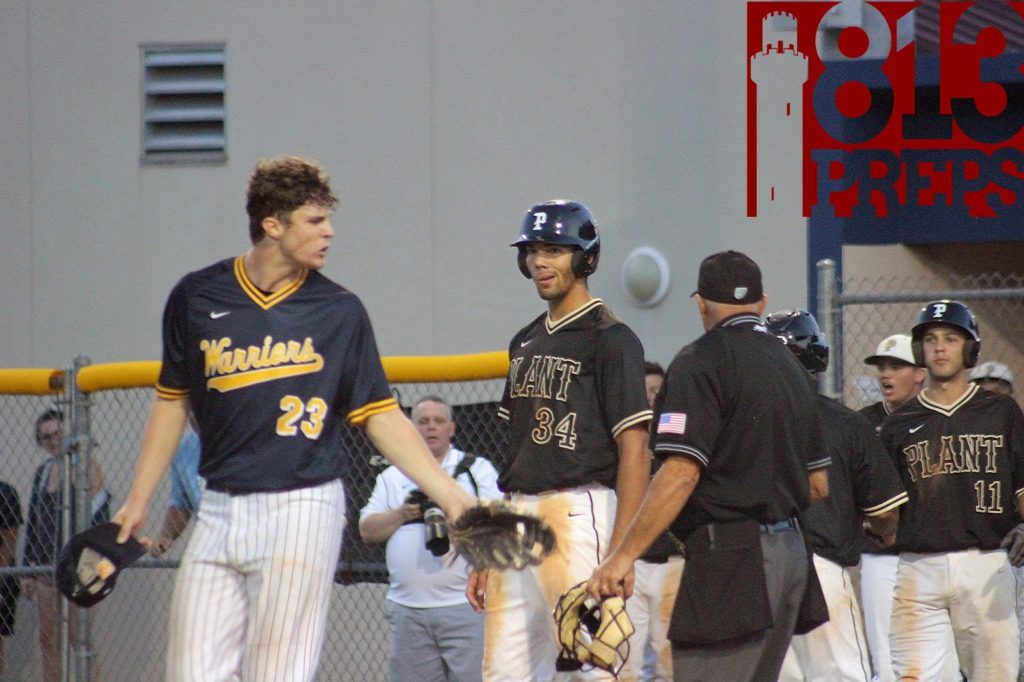 Things got a bit heated in the fifth inning between
the two teams, as a pair of Plant runners scored
on a wild pitch. 
A spirited game already, things escalated quickly as some contact at the plate between the Panthers runners and Leonhardt set off a series of verbal spars between both teams, coaches and fans.
Rincones, who scored the second run, said the heightened emotions were a consequence of the moment but he had a job to do in getting to the plate.
"I think the pitcher was upset that two runs scored, and emotions got the better of all of us," Rincones said. "The runner has to touch home plate, so I had to do something to get there, and emotions got up."
Speaking of emotions, Rincones said that Tuesday's win over Sickles lit a fire under he and his teammates, who turned around a late season 1-7 skid in April, to win their fourth-straight game.
"The win on Tuesday, it was an emotional boost," Rincones said. "We knew we could win this game, we knew what we were up against, but we were confident that we weren't going to let anyone stop us from playing as hard as we could to get a win."
"The real season has started now, the playoffs, and we are not planning on being done any time soon."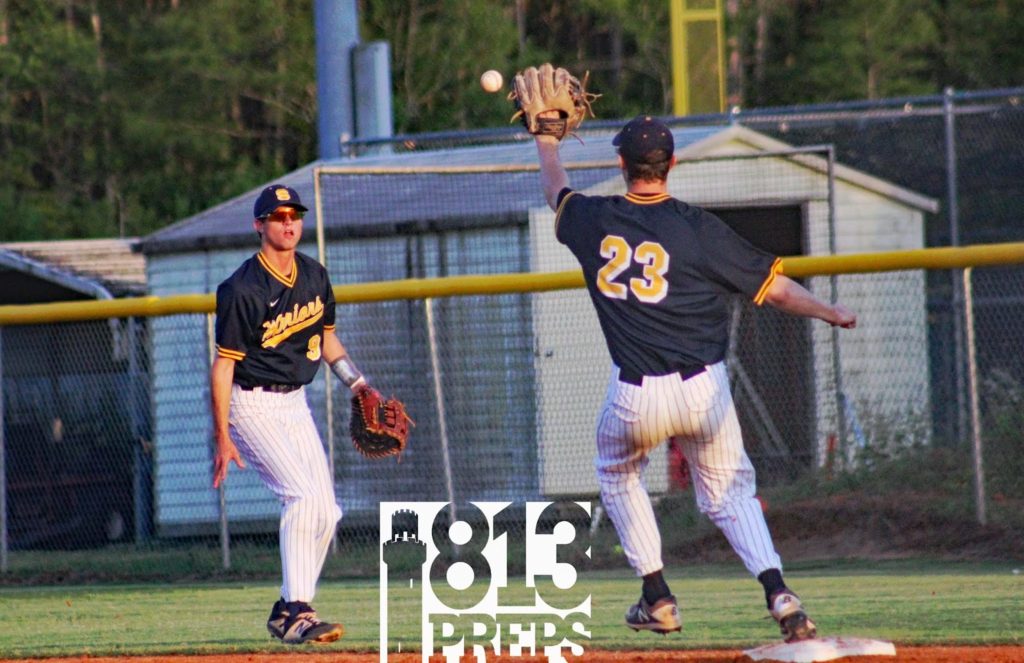 Steinbrenner senior Tommy Malouf flips a ball to pitcher Bryce Leonhardt covering the bag for an out in the third inning.
Things had a chance to kick back up in the top of the sixth when on the first putout, neither the Plant runner, nor Steinbrenner defender were giving up on the play and a hard out resulted in a warning from the umpire to both benches. Ironically, this drew both coaches walking next to each other toward the official for clarification in an odd solidarity, but the warnings proved enough to settle things down for the duration.
The verbal back-and-forth at rest, and the lead in hand allowed for Panthers starting pitcher Leo Oshinski to go back to the mound, where the senior lefty was outstanding throughout. O'Shinski spun gold the entire night, limiting the Warriors to just four hits and a walk, while striking out five in his complete-game victory.
"We've had a real up-and-down season, so having a moment like this, going out there with this defense behind me," O'Shinski said, "this feels really, really great."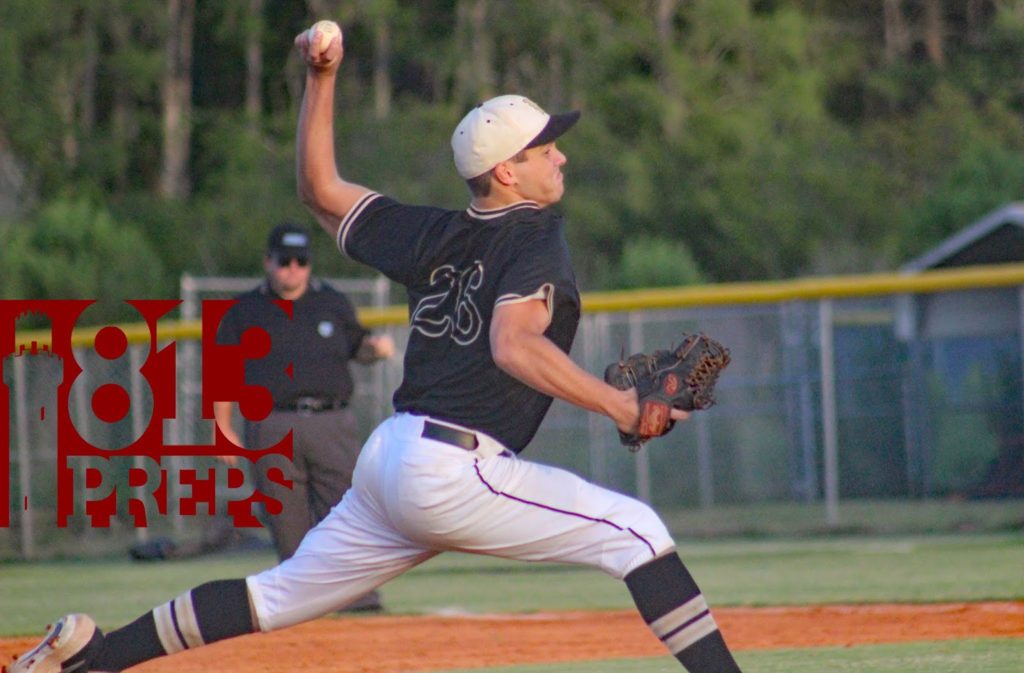 Plant senior Leo O'Shinski picked up his fourth win of the season with a complete-game, shutout effort, allowing just four hits and striking out five. 
O'Shinski, who earned the one-out save in Tuesday's win against Sickles, needed just 88 pitches to improve to 4-2 on the season. The win was not only Plant's fourth win in-a-row, but its fourth victory via the shutout.
"Leo was great," Braun said. "He has been working hard and it has shown. Both him and (Tuesday's game winner Mathew) Coker, I couldn't be prouder of what both of them have done the last two nights."
Plant (16-9) added a little insurance in the top of the seventh as Rincones (2-for-4, stolen base) led off with a double and scored his second run of the game on an RBI squeeze bunt by Reece Blanco. Blanco himself scored on a ball that fell between three Warriors defenders in shallow left field to wrap up the scoring.
"I've known Gabe all four years we've been on this team together," O'Shinksi said of his teammate. "He's had some ups and downs, but I know I can count on him and it's really nice when he comes in clutch."
Steinbrenner (16-8) got a walk and a Mikey Mullins single to start the seventh, and one out later a ground-ball fielder's choice appeared to put up a run for the Warriors in the final frame, but instead the game ended as the runner putout at second was called for interference and nullified the run and ended the game.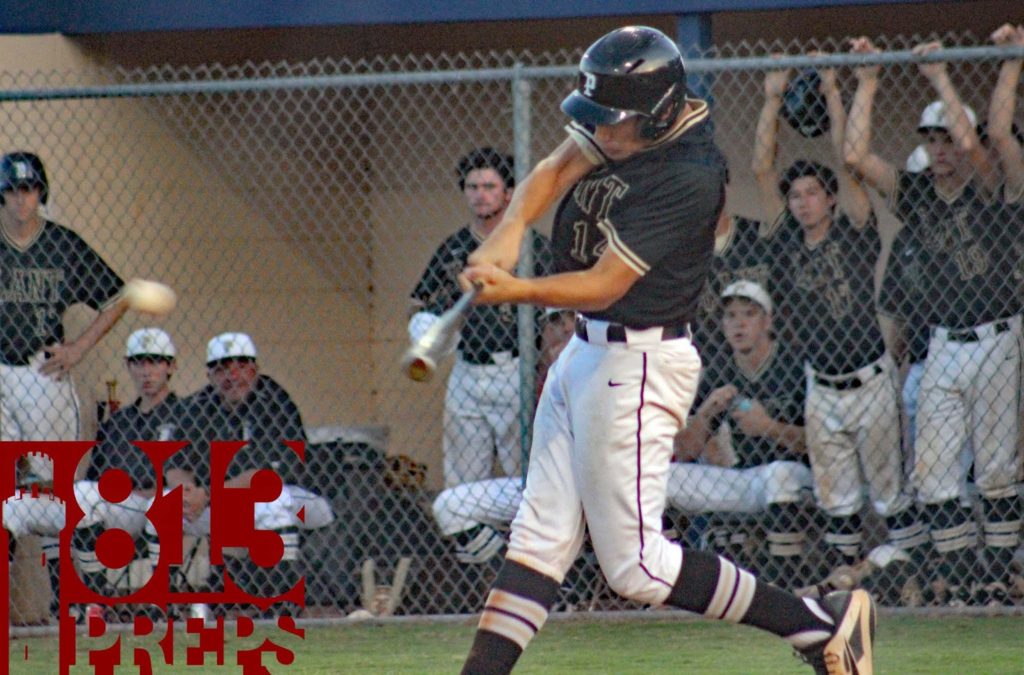 Plant junior Jac Caglianone was 3-for-4 in the win.
Plant junior Jac Caglianone didn't factor in any of the scoring, but was 3-for-4 on the night, while Steinbrenner junior Michael Blackwood had two of the Warriors' four singles in the game.
Both team's advance to next week's region tournament, where the Panthers will host the 8A-6 runner-up of Thursday's district final between Bloomingdale and Plant City, while Steinbrenner will travel to the 8A-6 winner.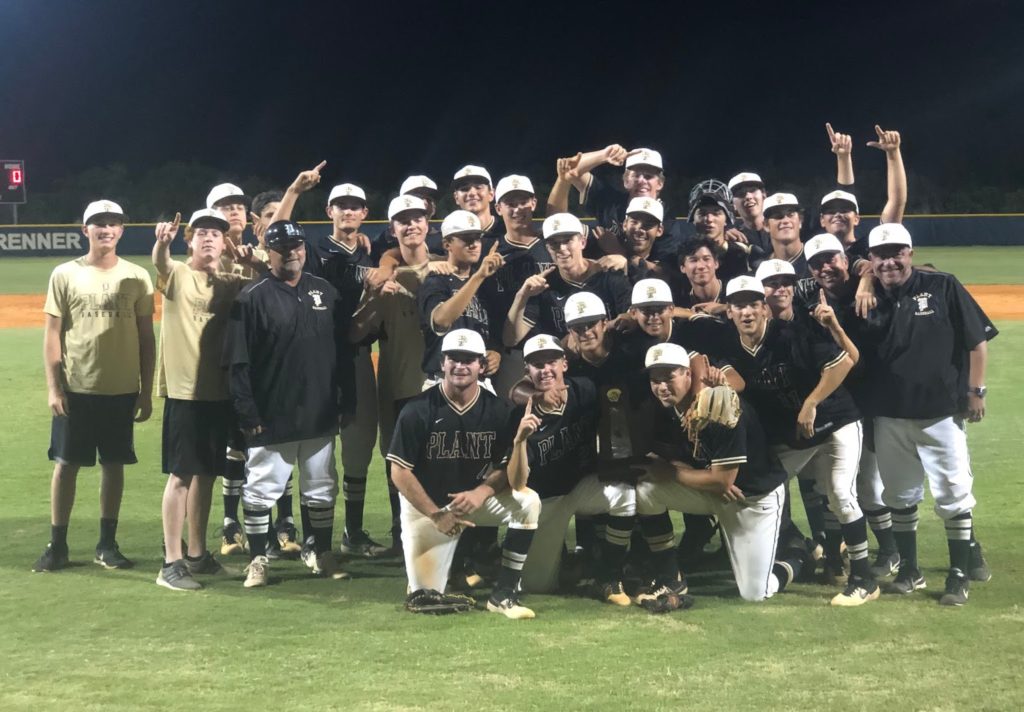 The Class 8A-District 5 Champion
Plant Panthers