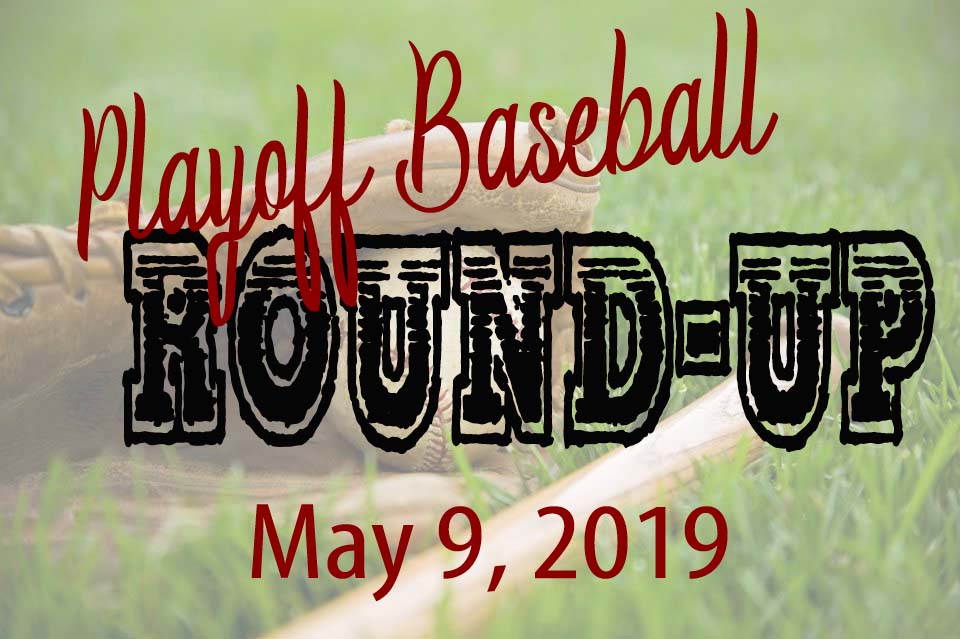 Class 7A-District 9 – at TB Tech
Braden River 1,
Lennard 0
Braden River's Calvin Hedgepeth scattered four Longhorns' hits in a complete-game effort as the Pirates defeated Lennard for the 7A-9 crown. Hedgepeth struck out five on the mound, while Ryan Waldschmidt drove in the deciding run in the fifth with a single. Lennard loaded the bases with one out in the seventh inning, but could not scratch across a tying run. The Longhorns reach the region playoffs for the first time in program history and will have to travel to face the winner of Friday's District 10 championship game between undefeated Mitchell (25-0) and Osceola (16-10), next Wednesday.
BR 000 010 0 — | 1 | 5 | 1
L    000 000 0 — | 0 | 4 | 1
W – Hedgepeth (4-6). L – Tarrant. 2B – Vitug (BR); Nunez (L). Records – BR 15-12; L 18-6.

6A-District 8 at Jefferson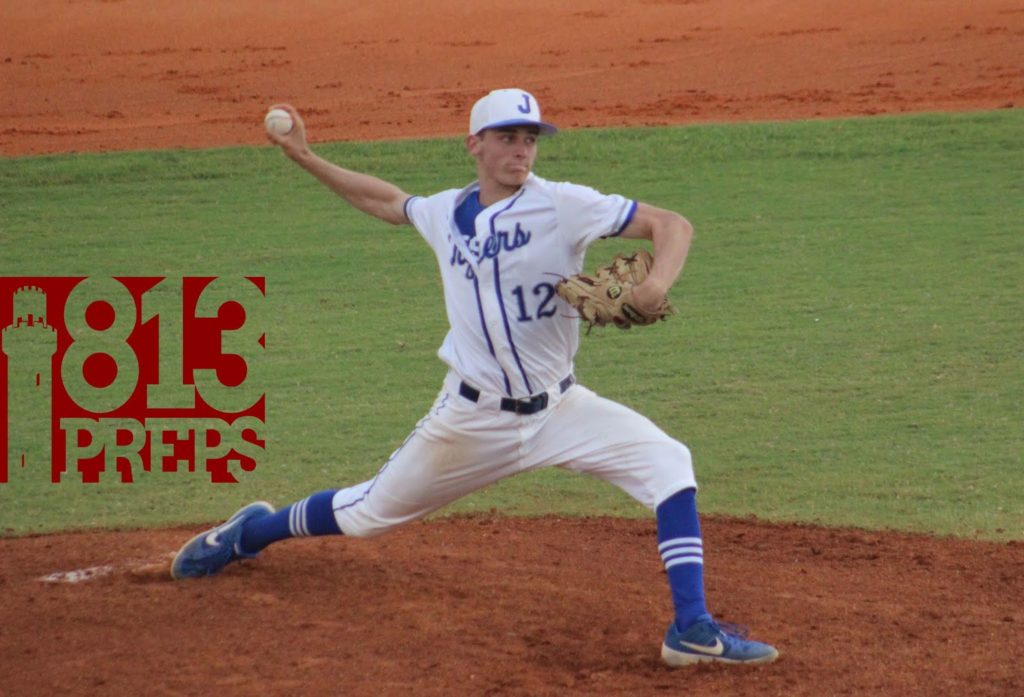 Jesuit junior Camden Minacci worked four no-hit innings before rain forced a postponement of the 6A-8 District Championship game against Jefferson on Thursday. 
Delayed – Jesuit 3, Jefferson 0 – in fourth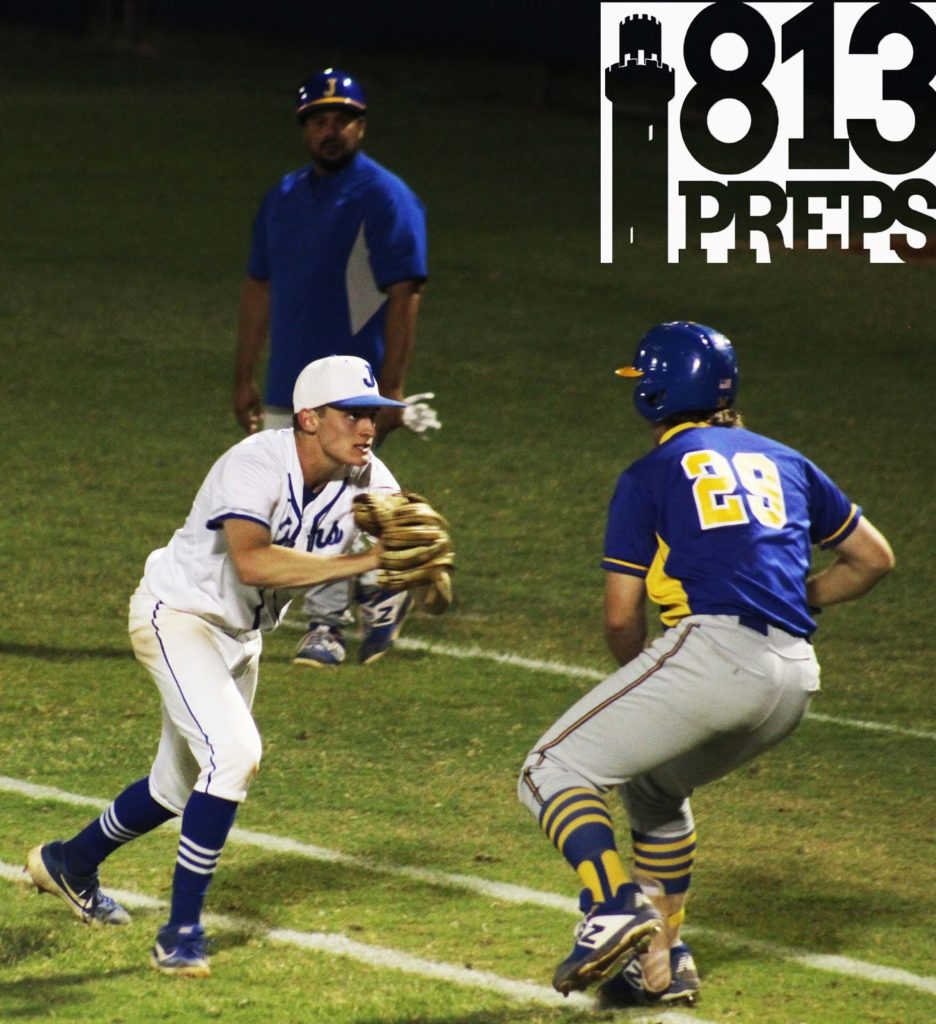 Minacci fields a ball off the mound and is set to make a
tag for on out in the third. 
The Class 6A-District 8 championship was called due to rain in the bottom of the fourth inning at Jefferson on Thursday as a heavy downpour unloaded on the field. The game is slated to restart on Friday at 6 p.m. and is scheduled to return to Jefferson, however, Jesuit head coach Miguel Menendez said the school's administrators would stay in contact throughout the day and it is possible the venue could be switched to Jesuit. Top seed Jesuit holds a 3-0 lead on the host Dragons, with runners on first and third, and one out. Jesuit junior Camden Minacci had four strikeouts through four innings on the mound, allowing just a pair of walks in his start. The two rivals were highly spirited in the game, which saw an early verbal argument break out on the field between innings and both teams get official warnings by the umpires.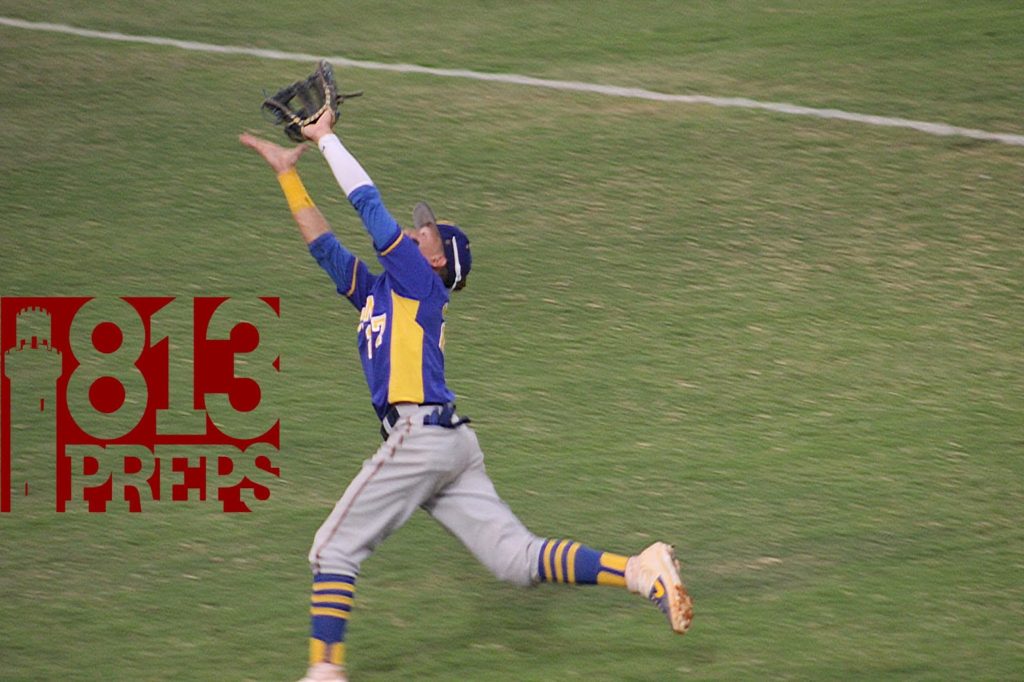 Jefferson shortstop Oscar Galvez was a defensive wizard early in the district final. Here the senior runs down a ball in foul territory for an out in the third inning. 
Jef 000 0xx x — | 0 | 0 | 2
Jes 012 xxx x — | 3 | 5 | 1
Records – Jes 13-11; Jef 21-5.

Class 3A-District 4 – Lakeland Santa Fe
Lakeland Christian 4,
Seffner Christian 3
Seffner Christian had a lead snatched away late as 3A-4 top seed Lakeland Christian scored three runs to tie the game in the sixth and won the game on a two-out throwing error that allowed the deciding run to score. The Crusaders got ahead early as an error allowed Jackson Shelton to score after reaching base on a single in the first. Seffner Christian added to its lead in the third as Bryce Mitchell singled in Shelton, and Daniel Tomasello drove in Tommy Turkett with a groundout. But that was all the scoring the Crusaders would do as Seffner Christian's season comes to a close in the district semifinals.
SC 102 000 0 — | 3 | 6 | 4
LC 000 003 1 — | 4 | 7 | 1
W – McDonald. L – Turkett. 2B – Canigetta (LC).  Records – SC 11-12; LC 19-5.
///*** 
Bishop McLaughlin 4, 
Carrollwood Day 0
A second inning RBI sac fly off the bat of Shafer Magee plated the deciding run for Bishop McLaughlin as Carrollwood Day's bats never got going in the Class 3A-4 district semifinals. A couple of errors and an RBI double from Thomas Sutton added a three-spot for the Hurricanes in the third inning. The run support was more than enough for junior Hunter Gillespie, who tossed a complete game, scattering four hits and three walks, while striking out three and earning his seventh win of the year. Patriots junior Daniel Vassallo struck out 11 in the loss allowing four runs (one earned) on five hits, and finishes the season 5-3 after earning a win in a no-hitter and tossing a five-inning perfect game this season.
BM   013 000 0 — | 4 | 5 | 0
CDS 000 000 0 — | 0 | 4 | 2
W – Gillespie (7-1). L – Vassallo (5-3). 2B – Sutton (BM). Records – BM 19-6; CDS 14-12.