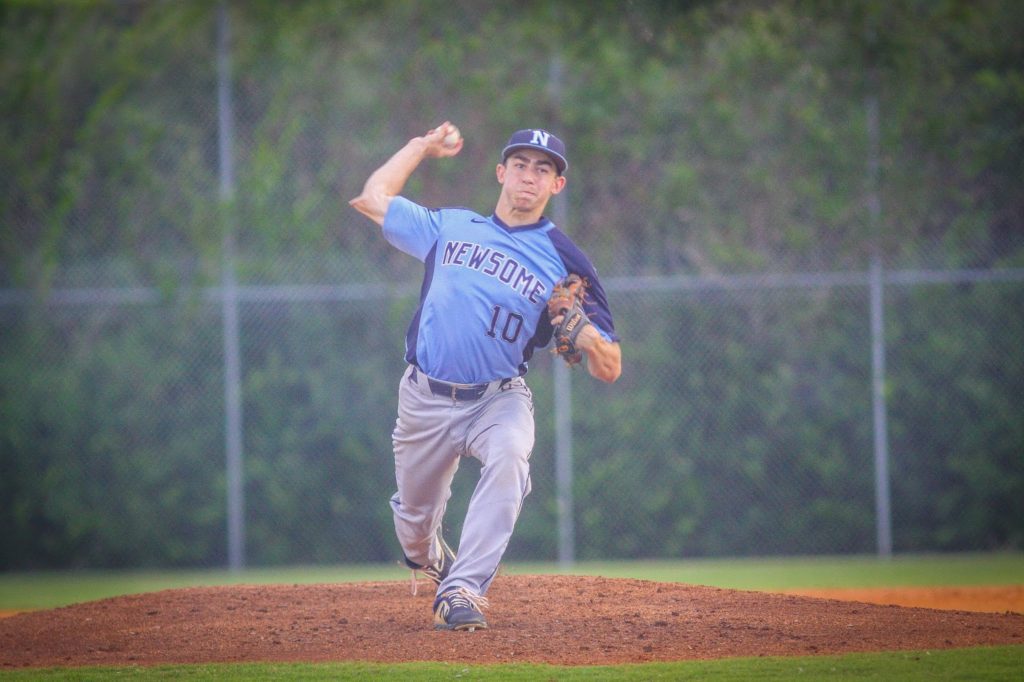 Newsome junior RHP Zack DeVito pitched a complete-game shutout in the Wolves 4-0 win over Alonso in the Class 9A-8 district championship on Thursday evening. DeVito struck out six and allowed three hits. 
TAMPA — It's been a long wait for Newsome. In fact, for every Wolves player, their entire lives. Sixteen years to be exact.
That's because when Newsome (17-9) captured the Class 9A-8 district championship with a 4-0 win over host Alonso on Thursday evening, it was the first title in the program's 16-year existence.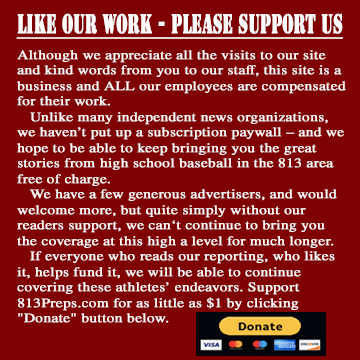 "A lot of hard work and a lot practice has been put into this," said starting pitcher, junior RHP Zach DeVito, who threw a complete-game, three-hit shutout, "and I'm just glad we made it here and finished the job."
"Now, its regional time, baby — let's go!"
Indeed, the Wolves will be hosting their very first regional quarterfinal on Wednesday night at 7 p.m. when Port St. Lucie Treasure Coast comes to Lithia. Alonso (15-10) will have to travel to Vero Beach, which has won four-straight district titles, for its region quarterfinal.
And Newsome has come a long way to earn the program's first-ever district title, the likes the players haven't seen since the program started when they were just toddlers or not yet even born.
When coach Dick Rohrberg took over five seasons ago, coming over after a state championship series appearance with his former team, Sunlake, he had a lot of players in new positions and it took time for the group to buy into what Rohrberg and the coaches were preaching.
"They're being less nervous, too, because being young that happens quickly," Rohrberg added. "Our coaches have a very calming influence on them."
DeVito helped his team out constantly, even while not on the mound.
"He's a big up-lifter in the dugout," said sophomore infielder Kelsen Johnson, who went 3-for-4 with an RBI and a double. "It's … interesting to play behind him, but he keeps things fun and it's fun to watch him pitch."
Even though Newsome defeated Alonso in the Saladino Tournament, the Ravens won the regular-season series 2-0 by a combined score of 4-0. The Wolves were looking to "even up the series," as DeVito put it, and Newsome wanted more than just revenge.
"Getting home-field advantage is definitely an advantage and it's nice to come back and compete at home," Johnson added. "I think it kind of fueled our fires that we lost to them before, so it was nice to come out tonight and put the foot down and do what we're supposed to do."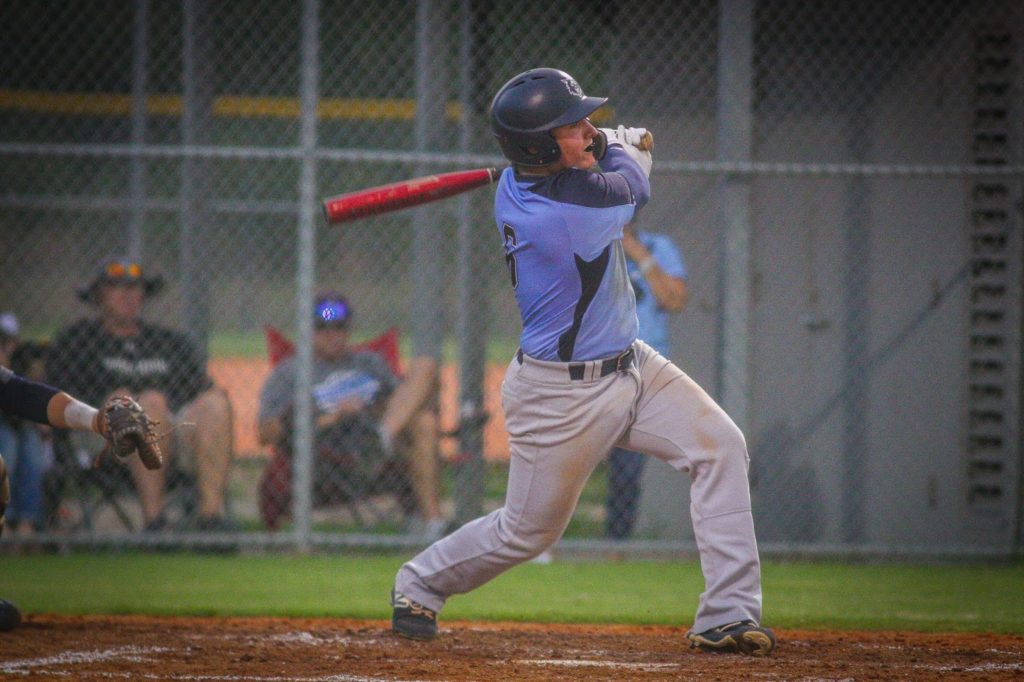 Newsome sophomore INF Kelsen Johnson went 3-for-4 with an RBI in the Wolves 4-0 win over Alonso in the Class 9A-8 district championship on Thursday evening.
Newsome did exactly what anyone would want their team to do — score in the first inning, which included a three-run spot for DeVito to work with out of the gate. Johnson drove in the first run with an RBI single and then a wild pitch and hit batter scored the second.
Cole Stallings drew a bases loaded walk for the third run, and then an RBI single in the fourth by Sawyer Smith scored Johnson.
— Mike Camunas (@MikeCamunas) May 9, 2019
DeVito made easy work of the Ravens for the most part, except for a hiccup in the sixth that was the Ravens best chance to score with runners at the corners and one out.
Rohrberg was impressed with DeVito "calming down after getting ahead of himself a bit" and his overall outing, in which he used his sinker to throw strikes.
"Not many high school pitchers have a sinker, so that was definitely giving them trouble," Rohrberg added.
BALLGAME: Newsome goes the distance for its first district championship in the program's 17-year history. 4-0 win over Alonso in 9A-8 district

@813Preps pic.twitter.com/QfujRMr2d0

— Mike Camunas (@MikeCamunas) May 10, 2019
Now that Newsome has made history with its first district title, the players will take some time to reflect on the ballyhooed accomplishment before getting back to work to prepare for Treasure Coast (16-8).
"It's really cool to be part of something so memorable," Johnson said. "I get to be part of a something that will hang in the stadium for a long time and that's really cool."
– Mike Camunas is a longtime veteran journalist who is always seeking true stories, trained under J. Jonah Jameson and takes better photos of Spider-Man than Peter Parker. Follow Mike on Twitter @MikeCamunas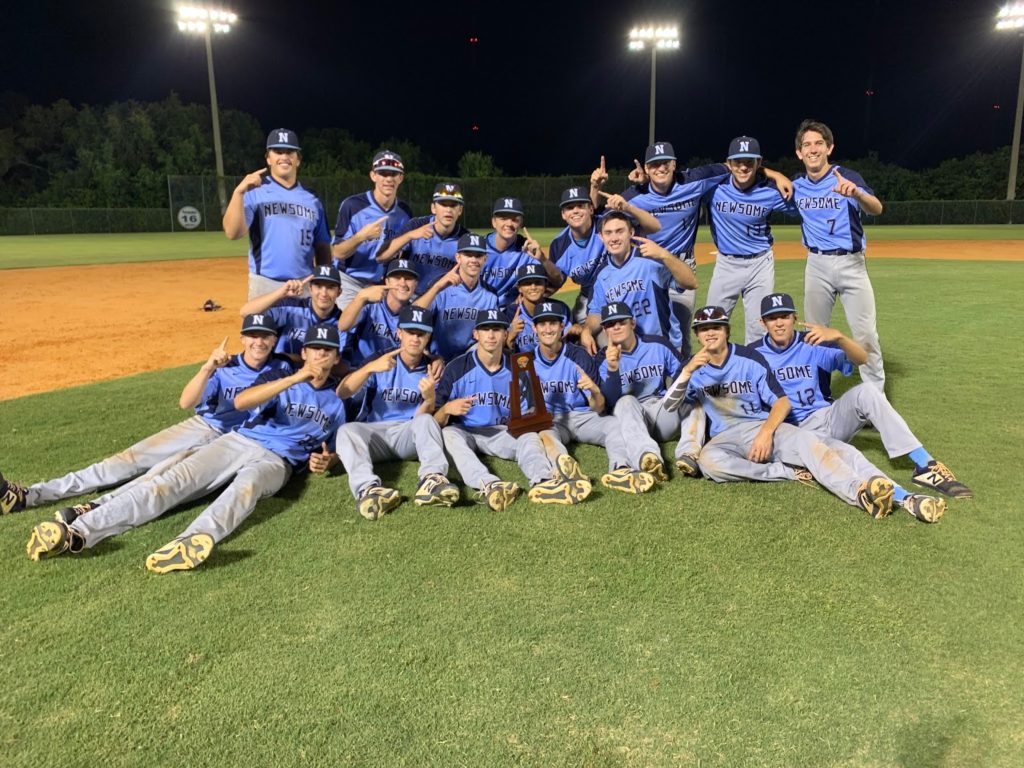 2019 Class 9A-District 8 Champions
Newsome Wolves