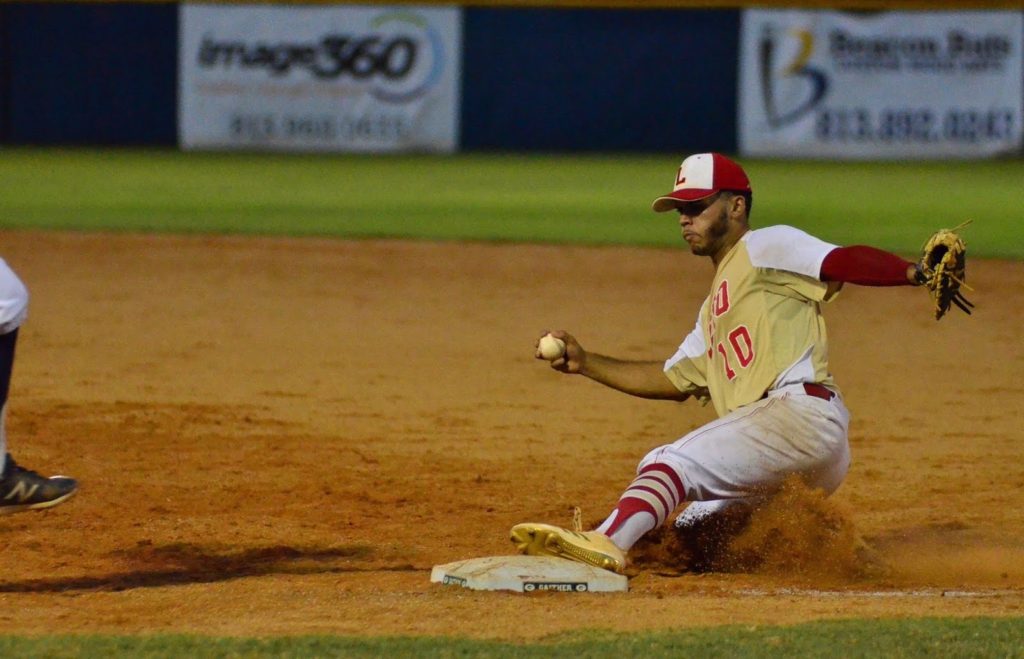 Leto junior first baseman Mikey Camacho slide into the bag for a putout in the sixth inning. Camacho also got the Falcons offensive night started with a single and a run scored in the third. 
Stories and photos by Andy Warrener
The Falcons might have come into Thursday's Class 7A-District 8 final as the top-seeded favorites but the one blemish to their 8-1 district record came at the hands of Gaither and starter Roy Peguero, when the 6-foot-7 right-hander struck out seven, allowed just two hits and pitched a shutout.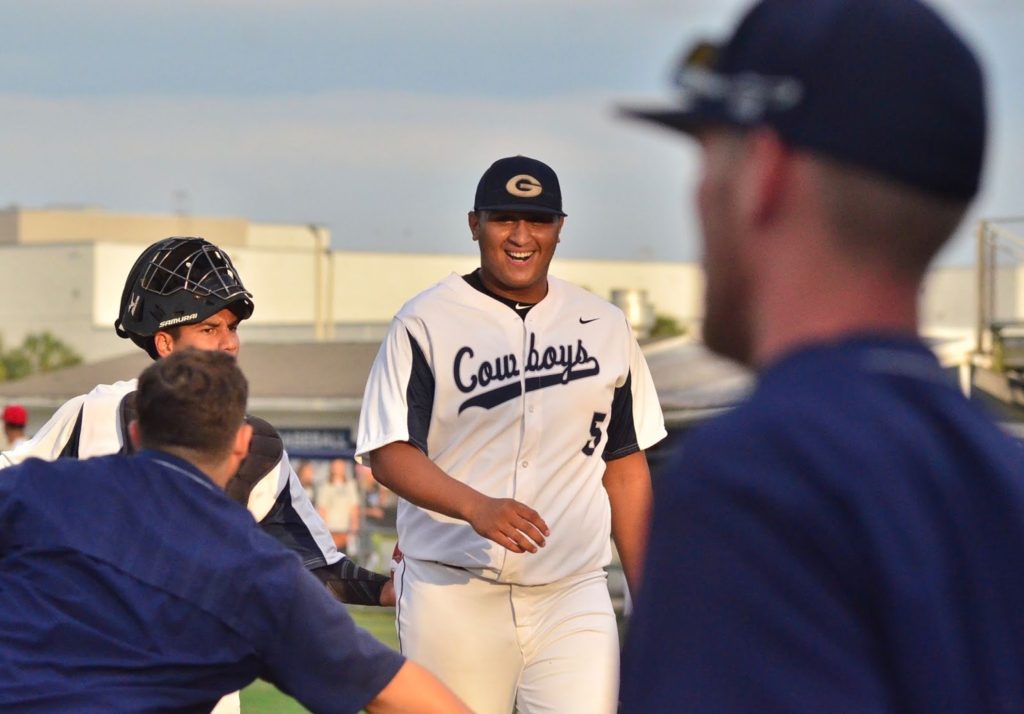 Gaither senior pitcher Roy Peguero. 
It would be Peguero again on the mound for the Cowboys on Thursday to try and do it again. He nearly succeeded. But he wavered a bit in the third inning, and Leto took advantage with a string of singles that the Falcons turned into three runs.
The Leto runs were nearly enough to get Peguero pulled from the game but rallied to shut the Falcons down the rest of the way. However, thanks to a stellar performance from starter Franklyn Hernandez and a lock down showing from Javy Hernandez in relief, the Falcons' three-run third inning held as Leto claimed its second-straight district title with a 3-2 victory.
It took most of two innings for either team to get a runner to second base, as both infields were solid as well. Of 18 groundouts between both squads' infields, there was just one error. Leto first baseman Mike Camacho had a heck of a night on defense, stretching, almost doing a split to get to a throw and even sliding to get the touch on the bag to beat a runner in the sixth inning. It would be Camacho that kicked off the Falcon flurry in the third inning.
"It feels so good because I had been in a drought and it felt good to get things started and look where we are now," Camacho said.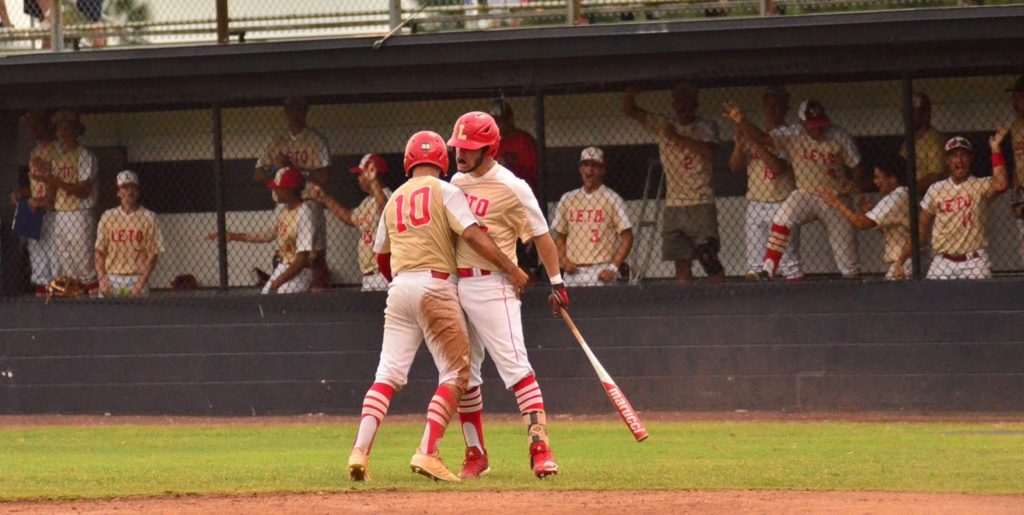 Mikey Camacho (No. 10) is greeted with a chest bump from Bryan Perez after scoring the game's first run.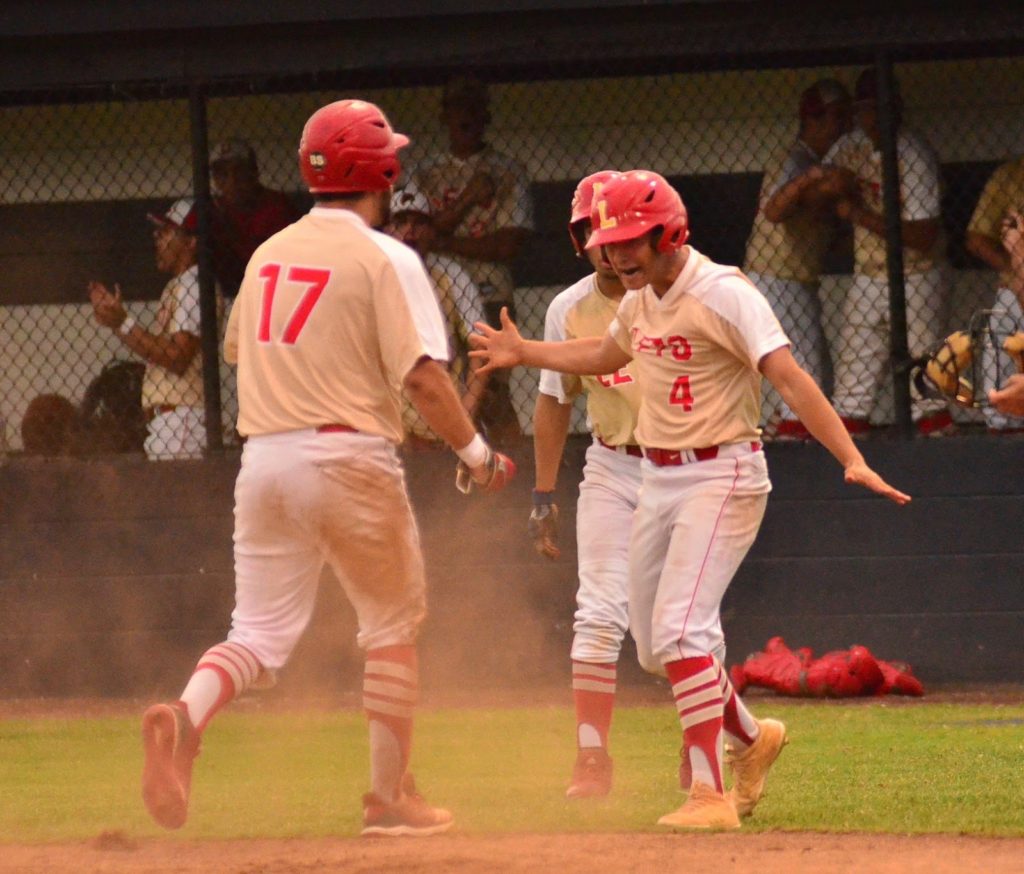 Javy Hernandez (No. 4) is ready to congratulate Bryan
Perez (No. 17) after both cross the plate in the third.
Camacho's single to right led off the inning, Coltin Pizzio's sacrifice bunt moved Camacho to second and that was the moment when Peguero started to waver. After a flyout for the second out, Pegeuro shook off the next five calls from catcher Ezio Duque. On the sixth call, Peguero delivered and Javy Hernandez ripped a single to right, scoring Camacho. Bryan Perez singled to right and then Jose Santos singled to center, driving in a hard-running Hernandez and Perez.
The Falcons were running Thursday night. They were three-for-three stealing bases and pulling Cowboys infielders out of position.
"Coach (Pizzio) is aggressive on the bases," Camacho said. "We're always trying to get closer to home, get that run in as soon as possible."
Gaither skipper Nelson North even went to the mound to talk to Peguero but didn't pull him. Peguero would rally and allow just one more hit the rest of the way.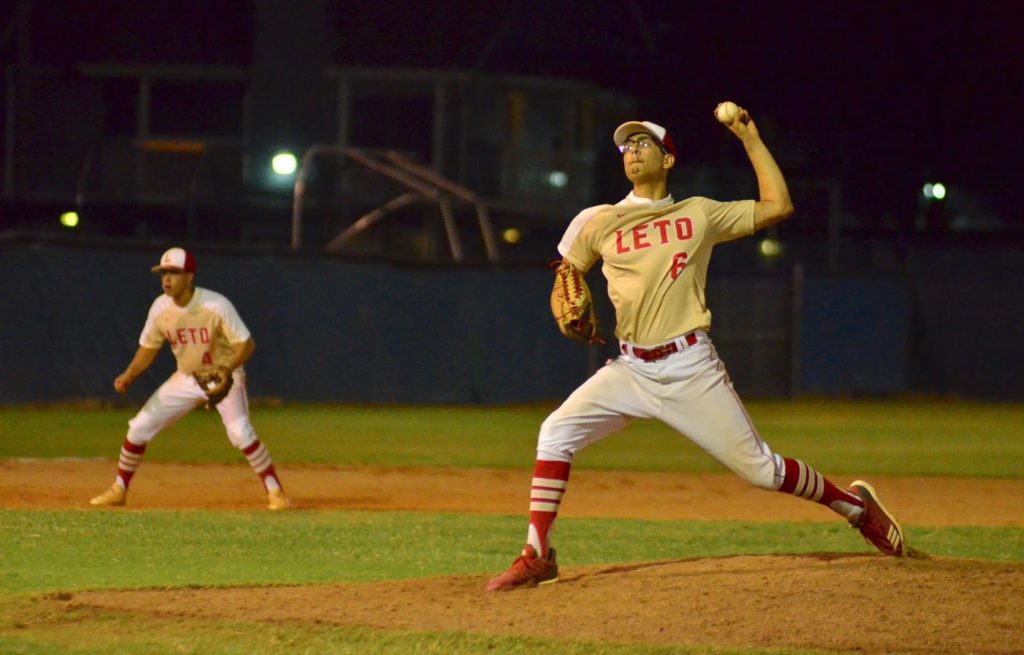 Leto senior pitcher Franklyn Hernandez earned the win. 
Meanwhile, the Cowboys would whittle the lead down. In the top fourth, a lead-off single from K'Wality Williams got him on, a passed ball got him to second and a pair of ground outs let him in for the Cowboys' first run. Again, in the top sixth, Austin Grause singled in Williams with two outs to cut the Falcons' lead to 3-2. This was the end of the night for Franklyn Hernandez, who gave up just two runs on five hits through six and two-thirds innings of work.
"It motivated us going against him (Peguero)," Franklyn Hernandez said. "We wanted to make it even and get him off the mound."
Javy Hernandez was dominant in relief. He got a flyout to escape the sixth and then struck out the first two batters he faced in the seventh.
"We wanted it," Javy Hernandez said. "We wanted to go back-to-back, we wanted to shut them down. (Gaither senior Derek) Crum is a tough hitter, too and I knew I had to shove it down in a hole."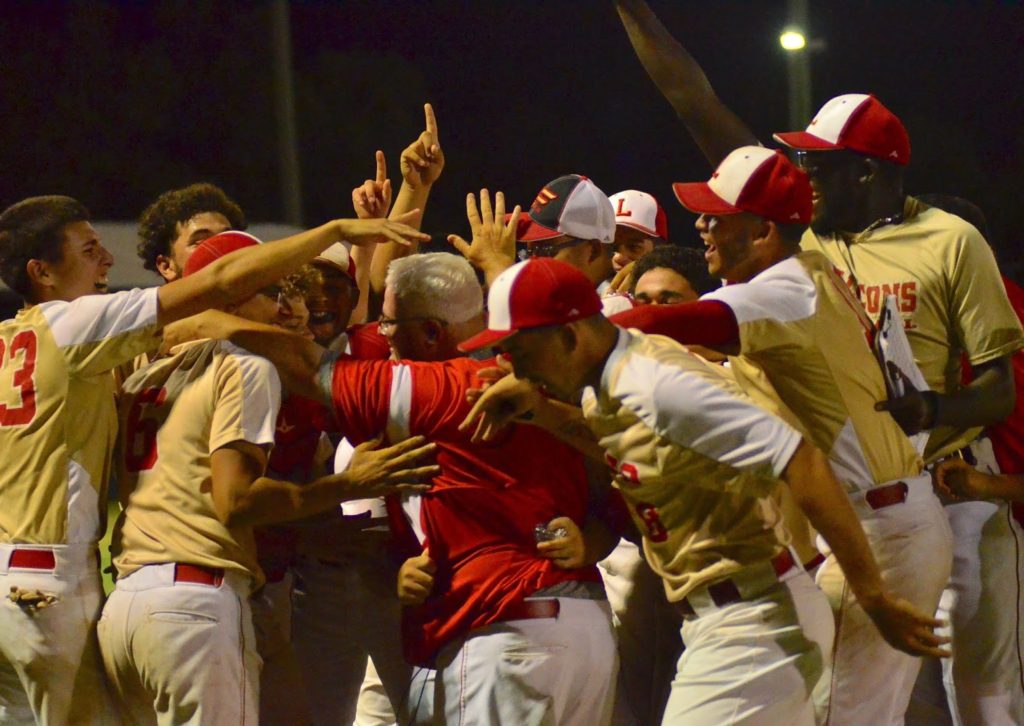 Leto players celebrate around head coach JJ Pizzio after claiming a second-straight Class 7A-District 8 championship. 
Hernandez got Crum to fly out to end the game and earn the Falcons a district title, and a home game in next Wednesday's region quarterfinal where Leto will face Winter Haven, while Gaither will travel to face the District 7 winner Groveland South Lake.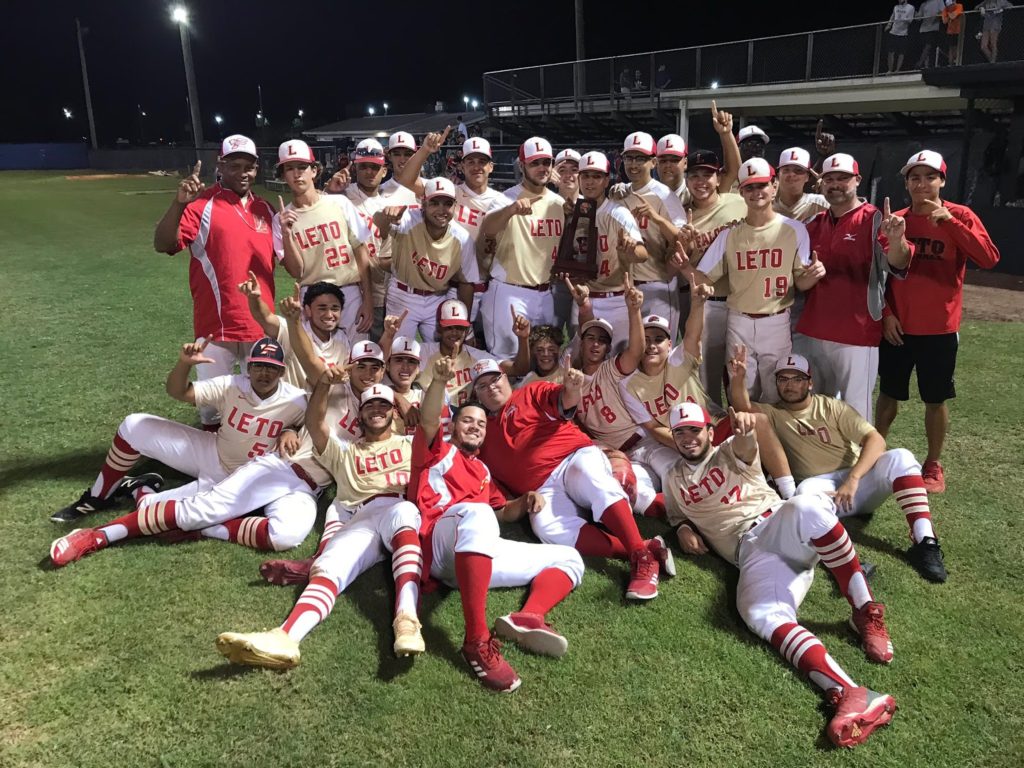 The Class 7A-District 8 Champions
Leto Falcons