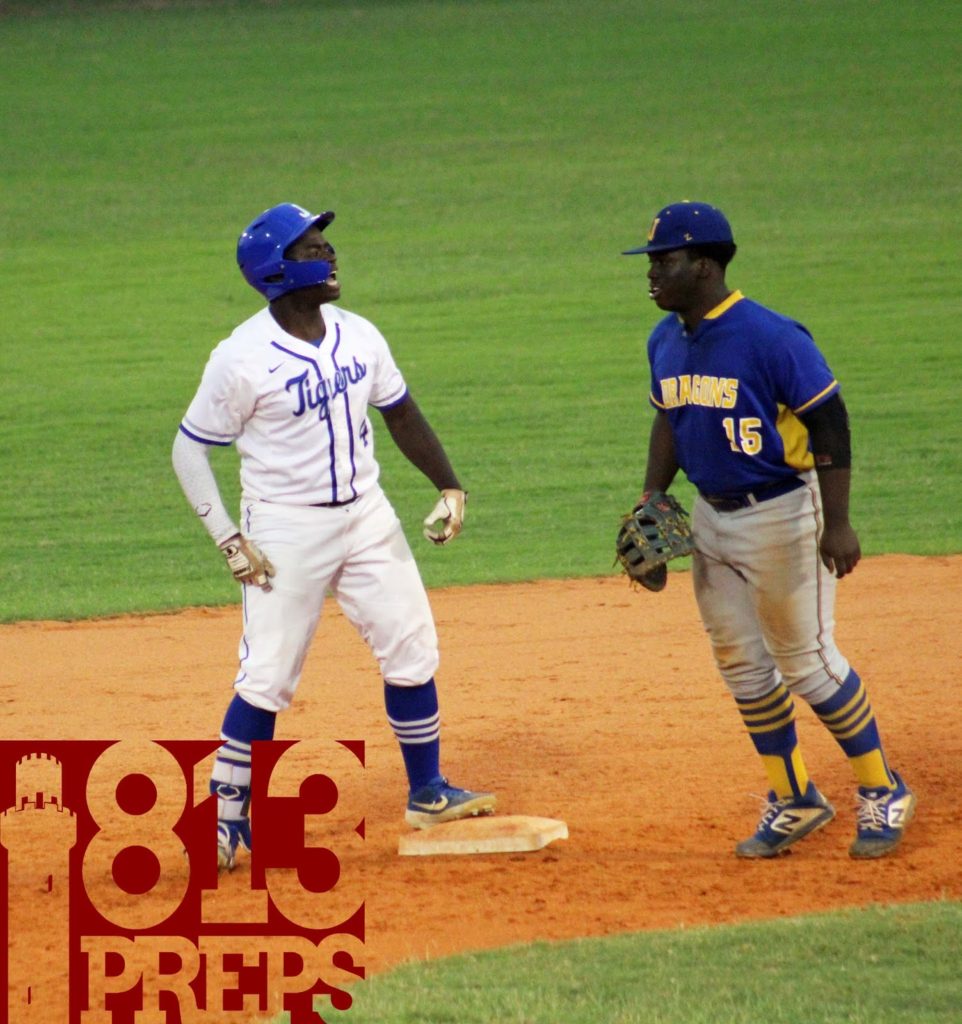 Sophomore BJ Graham yells in the direction of his dugout after his RBI double on Thursday night. Graham and his Jesuit teammates returned to a battle to finish the rain-postponed Class 6A-District 8 championship final, holding off Jefferson for a one-run win. 
TAMPA — All it took was 24 hours for Jesuit to secure a district title.
Thanks to a rain postponement from Thursday evening, the Tigers and rival Jefferson had to make up the second half of the Class 6A-8 district championship game.
But, in the end, that game saw Jesuit (22-5) returning to the field with a three-run lead from Thursday, and being tested and holding off Jefferson to secure the Tigers eighth-straight district trophy with a 3-2 win over the Dragons (13-12) on Friday afternoon.
— Mike Camunas (@MikeCamunas) May 10, 2019
"I love this rivalry and, in my opinion, it's us or them," Jefferson assistant coach Juan "Papo" Fontela, Jr. said. "They're not going to beat themselves, and we're not going to beat ourselves. … Like I said, I love coming out for the Jesuit game because it's always going to be good."
The Tigers re-entered the game in the bottom of the fourth inning with runners at the corners, but "new" starter Jaiden Duarte went the distance for the Dragons, including getting out of a bases-loaded jam in the bottom of the sixth with the Tigers looking to add insurance runs.
"Jaiden is one-of-a-kind," Papo said, "a lot of these kids grew (up) this year and they're ready for those pressure moments. He's one of them."
"We wanted to tag an extra one on there (in the sixth) and had a chance and we thought starting the game the way we did might be the chance, too," Jesuit coach Miguel Menendez said, "but credit to our guys for shutting it down and getting it done."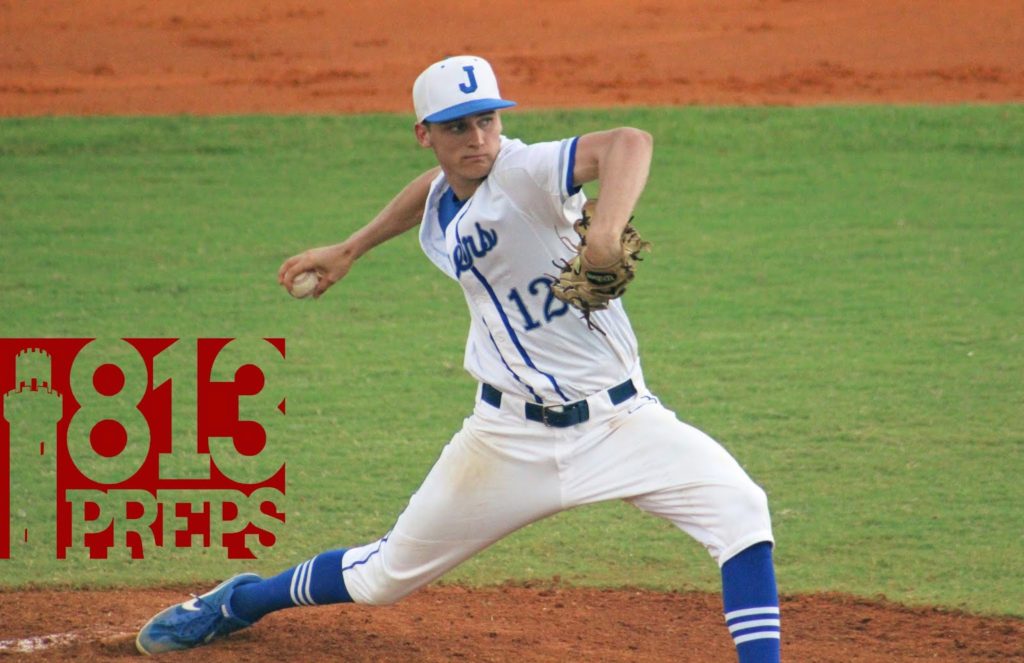 Jesuit junior Camden Minacci tossed four no-hit innings for Jesuit on Thursday, but was a spectator for the game's conclusion on Friday where his teammates held on to secure his eighth win of the  year. 
Jesuit's Thursday night starter, Camden Minacci, had a no-hitter going with two walks, one hitter reaching on an error and four strikeouts. Turner Thompson took over, but it was Tripp Russo who needed to finish out the game with 1 2/3 scoreless innings pitched, including two strikeouts in the seventh.
"Camden threw great last night, and Turner was supposed to 'start,' but we had a team effort on the mound — I felt great and I was happy I could get it done for us," Russo said. "Things went our way today and I'm also happy to be part of this (district championship) streak — it's only my first, but I hope we get another next year and we keep it going."
Jesuit took the advantage on Thursday scoring its first run without a hit in the second inning when a Bradke Lohry ground ball scored Jack Moroney, and adding two more in the third as Ethan Valdez lead off with a single, was driven in by a BJ Graham double to center, and Graham was pushed across on a Henry Politz single.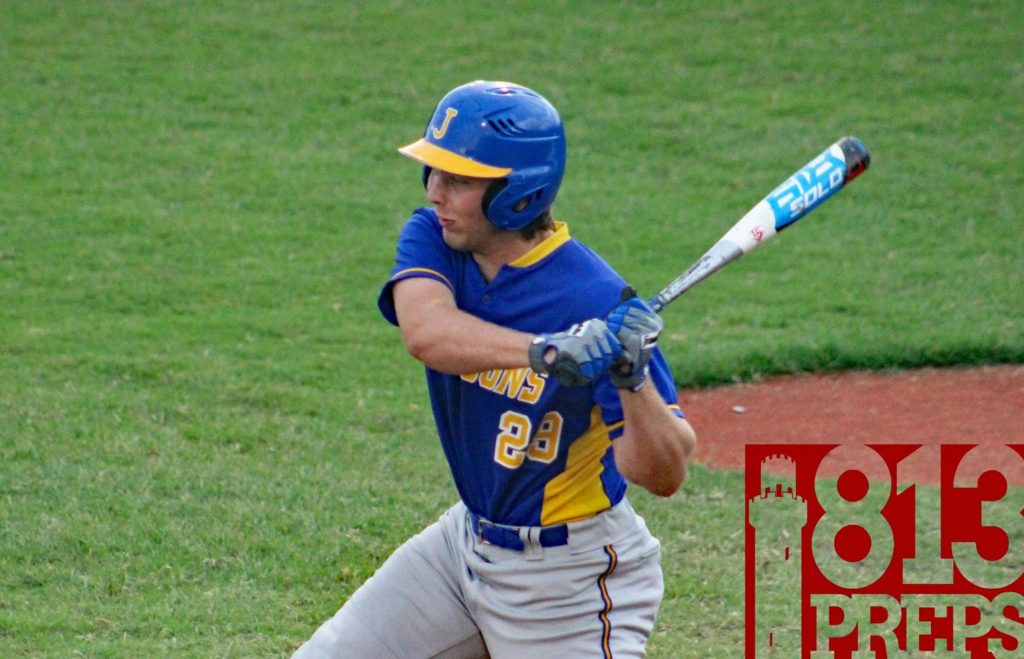 Jefferson senior Marc DeGusipe had an RBI single for the Dragons in the comeback attempt. 
Despite coming back after a day to a 3-0 deficit, Jefferson closed that gap with a run in the fifth and sixth, including Marc DeGusipe driving in pinch-runner Tyson Mickie (stolen base) for the latter.
Montada pinch running gets a steal and takes third on the throw that gets by Jesuit SS. On the next pitch, Degusipe drives him home with a RBI single. Tigers leads just 3-2 now over Jefferson

@813Preps pic.twitter.com/QGjylGmj91

— Mike Camunas (@MikeCamunas) May 10, 2019
"We knew we were going to face adversity and it wasn't going to be weather all the time," Menendez said. "We knew there's no taking a team like that for granted. … Now, I do think (our) team can win the whole thing, but, obviously, there's going to be challenges and that's why you take it one game at a time."
In next week's regional quarterfinals on Wednesday, Jesuit will host Wesley Chapel (12-9) and Jefferson will travel north to Land O' Lakes (19-5).
– Mike Camunas is a longtime veteran journalist who is always seeking true stories, trained under J. Jonah Jameson and takes better photos of Spider-Man than Peter Parker. Follow Mike on Twitter @MikeCamunas
Jesuit 3, Jefferson 2
Jef 000 011 0 — | 2 | 1 | 1
Jes 012 000 x — | 3 | 5 | 2
W – Minacci (8-1). L – N Perez (4-3). S – T. Russo (1). 2B – Graham (Jes). Records – Jef 13-12; J 22-5.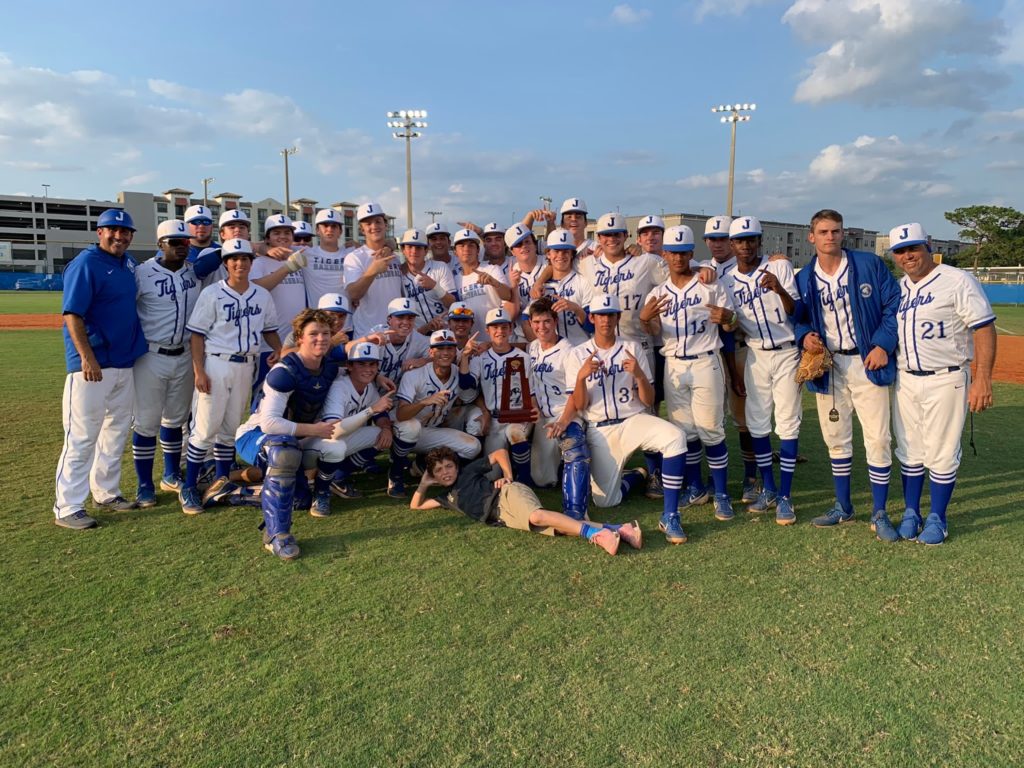 2019 Class 6A-District 8 Champions
Jesuit Tigers