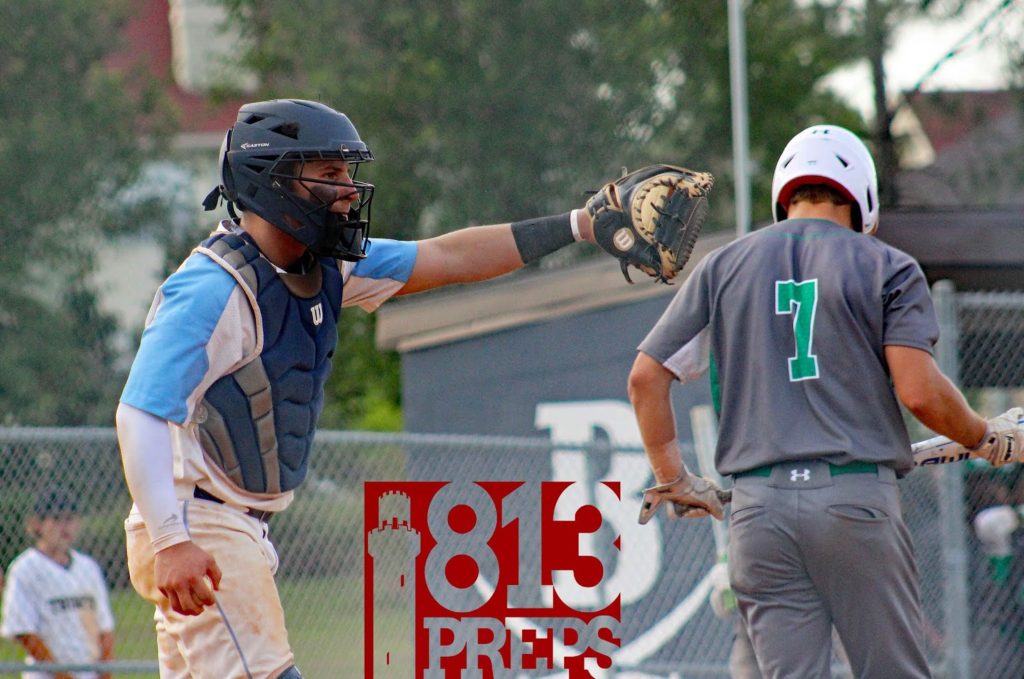 Berkeley Prep senior and captain Jakob Hines has been a four year starter for both the Buccaneers baseball and football teams. 
TAMPA – There was a point earlier this year, where Berkeley Prep head baseball coach Richie Warren and his staff were getting on the team's pitchers for their control issues. The Buccaneers' skipper was chastising his throwers, telling them it was way too early in the season for the team's catcher to be taking the punishment he was behind the plate. For a moment, Warren forgot about the makeup of the player for which he was concerned.
Buccaneers senior Jakob Hines appreciated his coach's disquietude, but the two-sport, four-year standout told his pitchers to throw it however was needed to get outs. He knows his job – in fact, loves his job.
"We were getting on our pitchers a couple of times about hanging our catcher out to dry," Warren said. "But Jakob was the first person to say, 'hey, just keep on throwing it, I'll block it.'"
"Here we are trying to help him, but all he cares about is his teammates. That's what a leader does, he knows it's part of the job and no matter what, he puts it all out there to block a ball and save that extra run."
For Hines, who has been the Buccaneers backstop since his freshman season and was also running back for the school's varsity football team for four seasons, grit and toughness in both sports is a point of pride for him.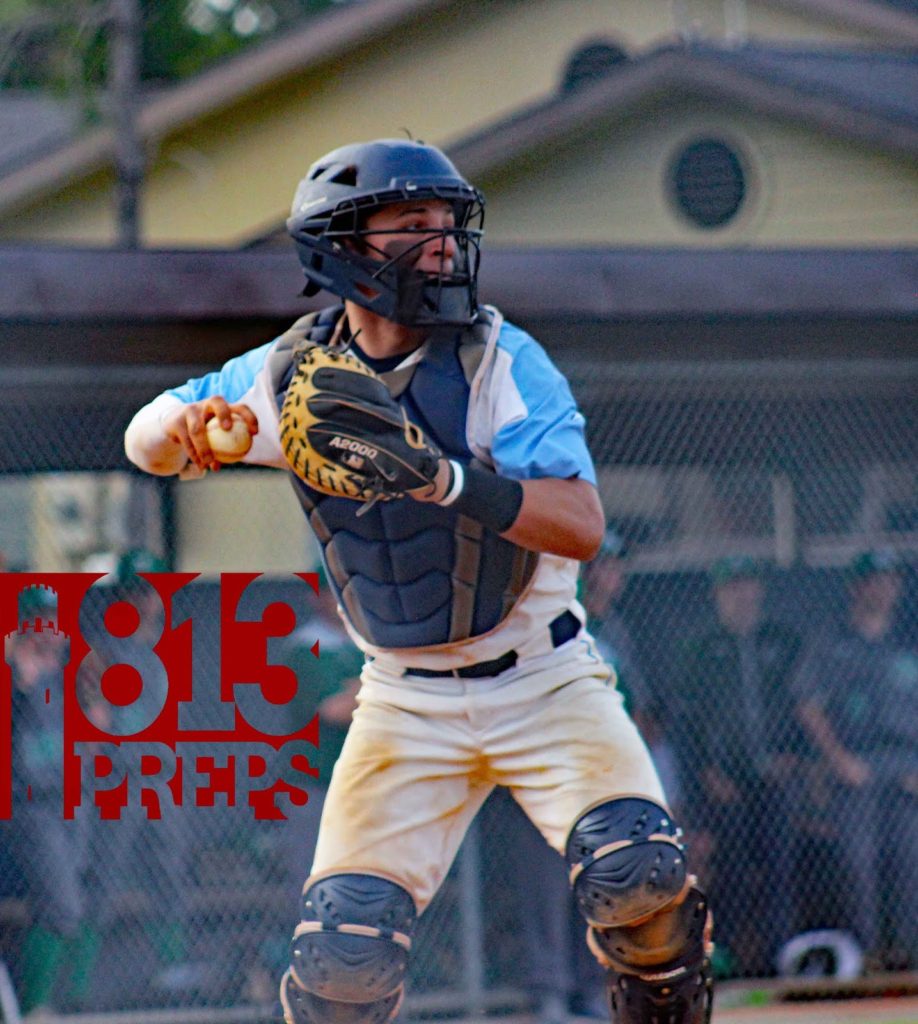 "I take pride in being back there and blocking pitches," Hines said. "I like it. I enjoy it. I guess, it comes from that football mentality – I like contact, I like being physical."
"In situations like that, where doing that saves a run or keeps a runner from advancing, it's a great feeling to be able to do that for your team."
Great success is something that has been a part of Hines' tenure at Berkeley Prep. On the gridiron, the running back was part of an FHSAA state final four berth for the Buccaneers in 2016, and helped his team reach the region final last fall as a senior. He rushed for 2,664 yards across his four-year career, including a 1,000-plus yard rushing season as a junior, while scoring 33 touchdowns for the Buccaneers football team.
On the diamond his offensive production was equally impressive, playing in 100 games (thus far), batting .284 for a career – including a .311 average last season and a .343 average as a senior, with a total of 73 RBI and 40 runs scored. And that success also included a state final four run in baseball in 2016.
"He's made it to the final four in two sports," Warren said. "How cool is it for a kid to do that? And to be the man, the starting running back, the catcher, when do you see that happen?"
"It has been great to see him go from a freshman on that (2016) team, learning what it takes to now, talking to his teammates about the daily preparation it takes to get to that point. It has been wonderful to see the maturation of someone like him, who completely buys in to everything that his coaches try to teach him."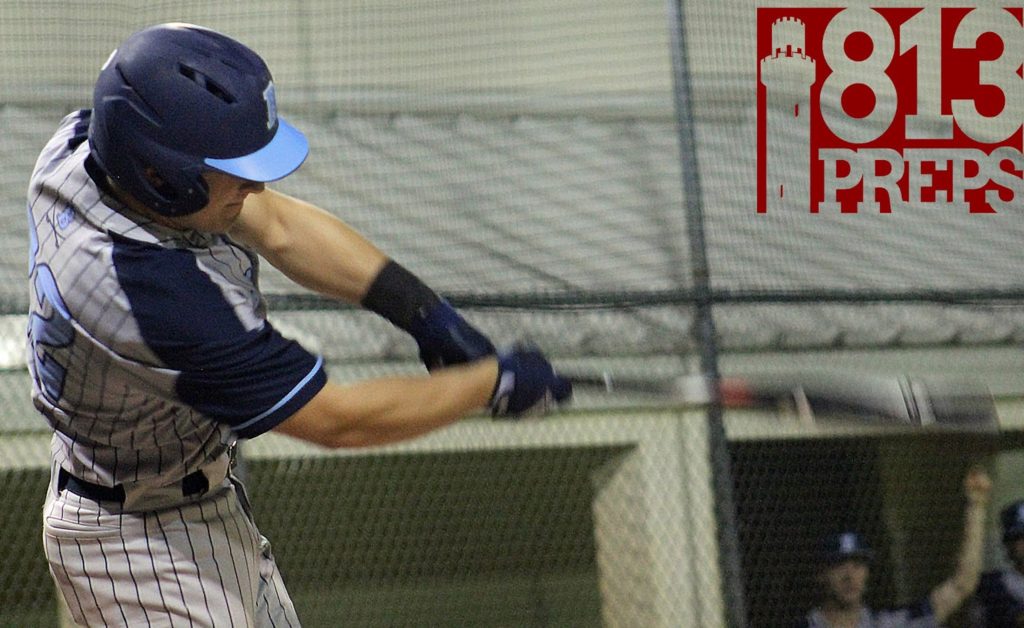 At the plate this season, Hines is hitting .343, with 21 RBI, 14 runs scored, eight doubles and two home runs. 
From here on out though, Hines has made the decision that playing only baseball will be the focus of his future athletic endeavors.
"I kind of made my decision about that after the football season ended," Hines said. "It was a fun season, but a tough one. I love football, but it was time for me. I'm kind of a smaller guy (5-foot-10, 180-pounds) so I think there is more opportunities for me in baseball."
Surprisingly, Hines is still in search of a spot to continue his athletic growth, admitting that having not made the decision to focus solely on baseball has put him a little behind in the search for a college program to play with next year.
"I'm thinking about going the JUCO route," Hines said. "I definitely want to play at the next level, but with football I didn't focus on my baseball future as much as I probably should have."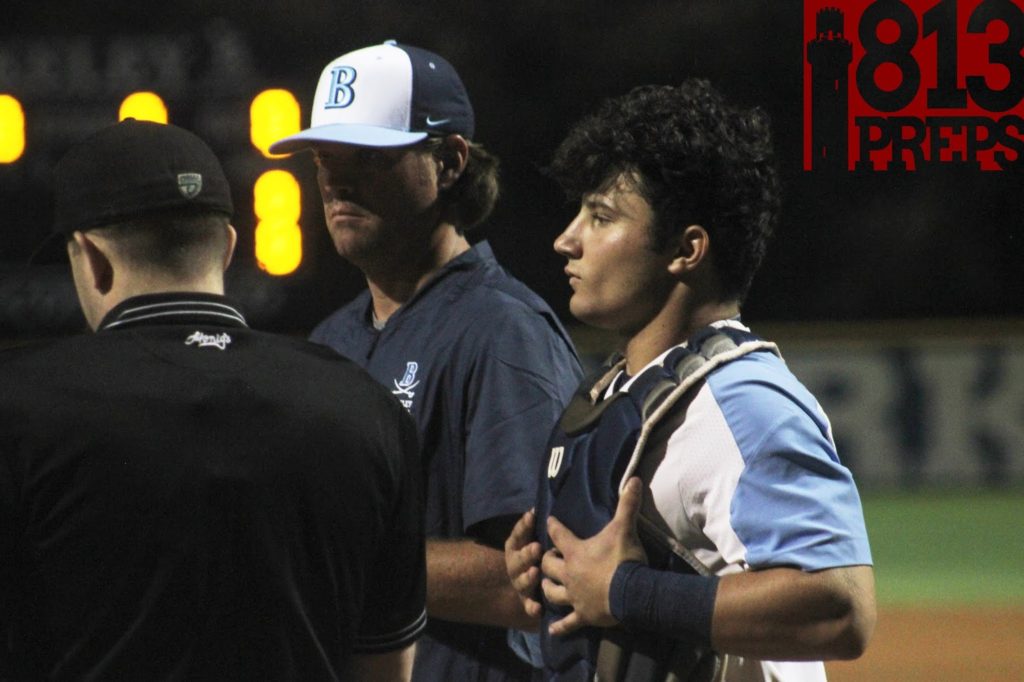 Hines and Warren at a pregame, plate meeting
earlier this season. 
For Warren, whatever program is lucky enough to have Hines next season will be getting an unparalleled worker and a player who will lead by example.
"Guys like Jakob don't come through your program very often," Warren said. "A player who works and gives you everything he has. He's hard-nosed and he puts in a ton of extra effort off the field."
Hines has also excelled in the classroom and will finish high school with a 3.5 GPA, and said he has plan to focus on business as a major in college. But baseball is his love, and one he hopes he has a chance to continue.
"I'm in love with this game," Hines said. "I love the action, hitting the ball, catching the ball, being a part of the game. That love has been sparked inside of me since I was a little kid."
Hines and the Buccaneers hope to extend the "action" a bit longer this season, as Berkeley Prep is the lone FHSAA small classification team from Hillsborough County still alive in the region playoffs. Berkeley Prep (19-8) was the Class 4A-District 4 runner-up and the Buccaneers travel to Orlando's The First Academy (19-8) for a region semifinal game Tuesday at 7 p.m.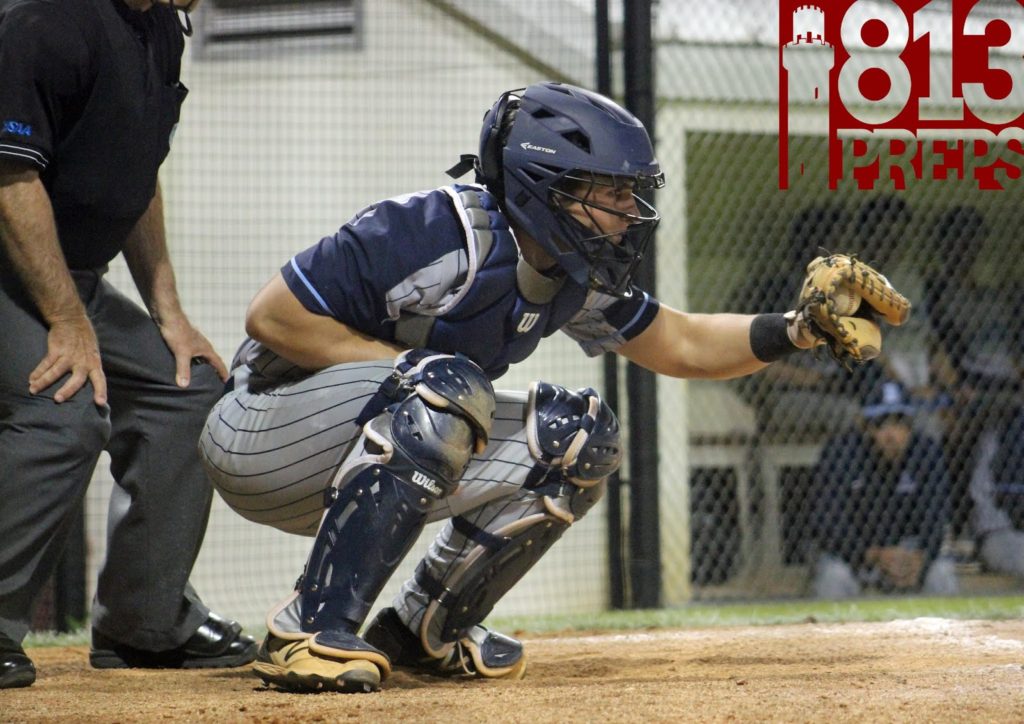 Read our previous Senior Feature Series (click story)


Part 1 – Riverview's Dillon Besnier
Part 2 – Lennard's Yazael Nunez