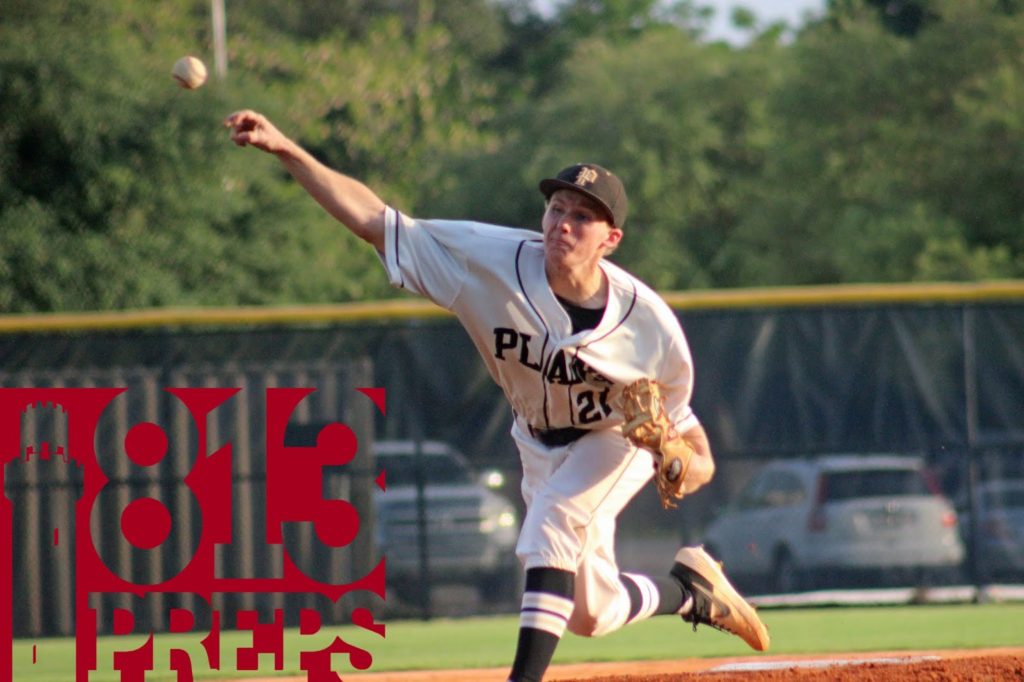 Plant senior Matthew Coker stepped up in a big way for the Panthers, tossing a complete-game and holding one of the county's most potent offenses to just a single run and helping his team to a region quarterfinal win. 
TAMPA – Big moments are made for big-time players, so of course in two of the biggest moments for Plant this season, it has been Matthew Coker – all 5-foot-9, 160-pounds of him – called to lead the Panthers to victory from the mound.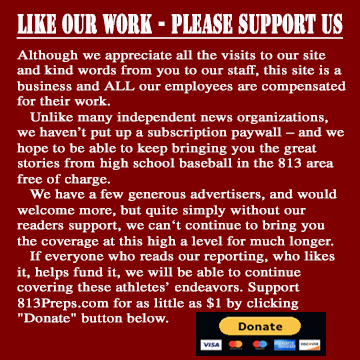 In last week's district semifinal against seeming world-beaters Sickles, Coker toed the rubber pitching 6 2/3 scoreless innings as the Panthers clawed out a 1-0 victory and a berth in the region tournament. A district title later, and again it would be Coker, who had made just two previous starts on the year, called to tame the Bloomingdale Bulls, a team with a team average above .320 and 26 home runs this season.
Coker, the Panthers' everyday third baseman, looked every bit the gunslinger in Wednesday's Class 8A-Region 2 quarterfinal, holding the Bulls hitters to just three hits, as Plant claimed a 2-1 victory.
"Coach (Dennis Braun) has always got the game plan set out for us and I have a lot of trust in him," the humble hurler said. "I appreciate his faith in me, I really admire the guy and he helps me get better every single day."
"I trust him 100 percent, and I love that he trusts me."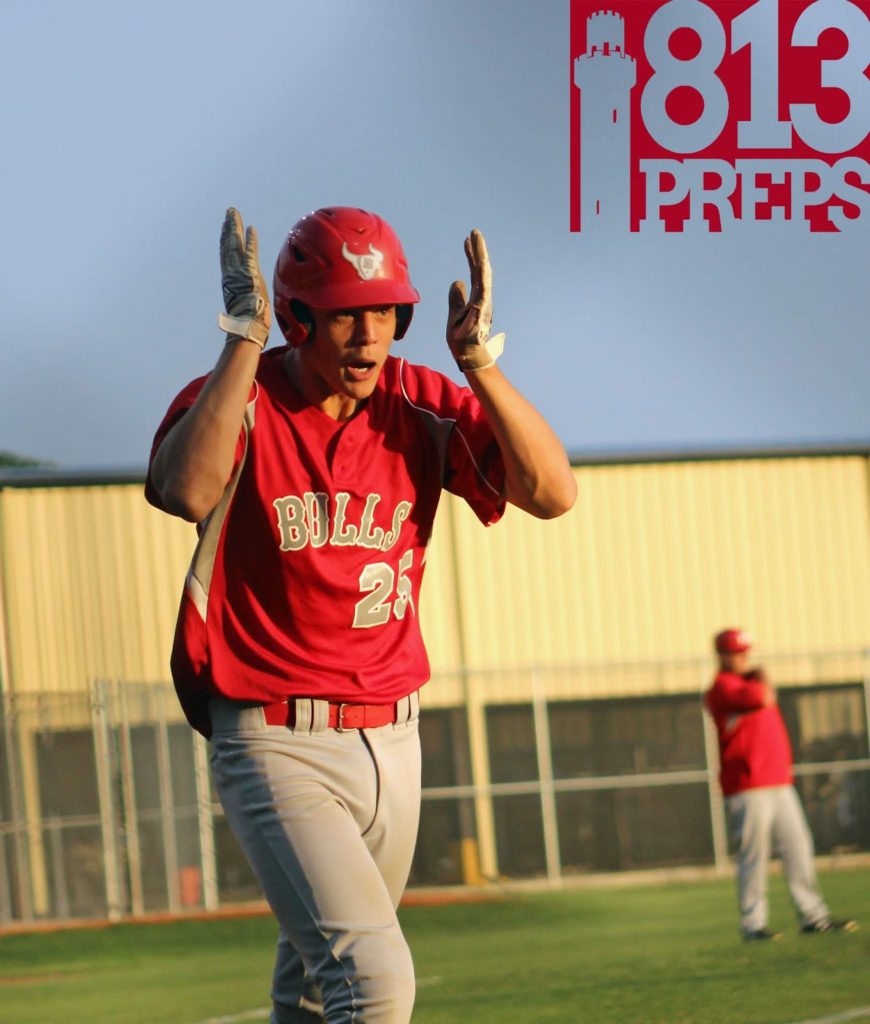 Bulls junior Brock Wilken heads back to the
dugout, though his surprise is likely feigned
after mashing his 12th home run of the year. 
The lone mistake Coker made was a third-inning pitch to Bulls slugger Brock Wilken, who belted his county-leading 12th home run over the fence in left-center. The mark extends his county-best one for more than a decade.
"He put a really good swing on that one, I thought I painted the black, but he's a really good hitter," Coker said. "But the thing about baseball is, you always have a next pitch. You respond to it, I found my composure, telling myself to make another good pitch, that's all you can do."
Bloomingdale (16-9) starting pitcher Myles Caba worked steadily on the mound, but wasn't as sharp as he has been in recent outings. With a slim lead in hand and some deep counts, the Bulls made the move on the mound with the senior at 60 pitches, and thus available on Saturday if the Bulls could hold on to the lead. The strategy seemed to be in good shape as after 3 2/3 innings on the mound, Riley Moore entered and recorded the final out of the fourth on one pitch. He added to that with two more big outs before the Bulls turned to senior Nico Saladino on the mound.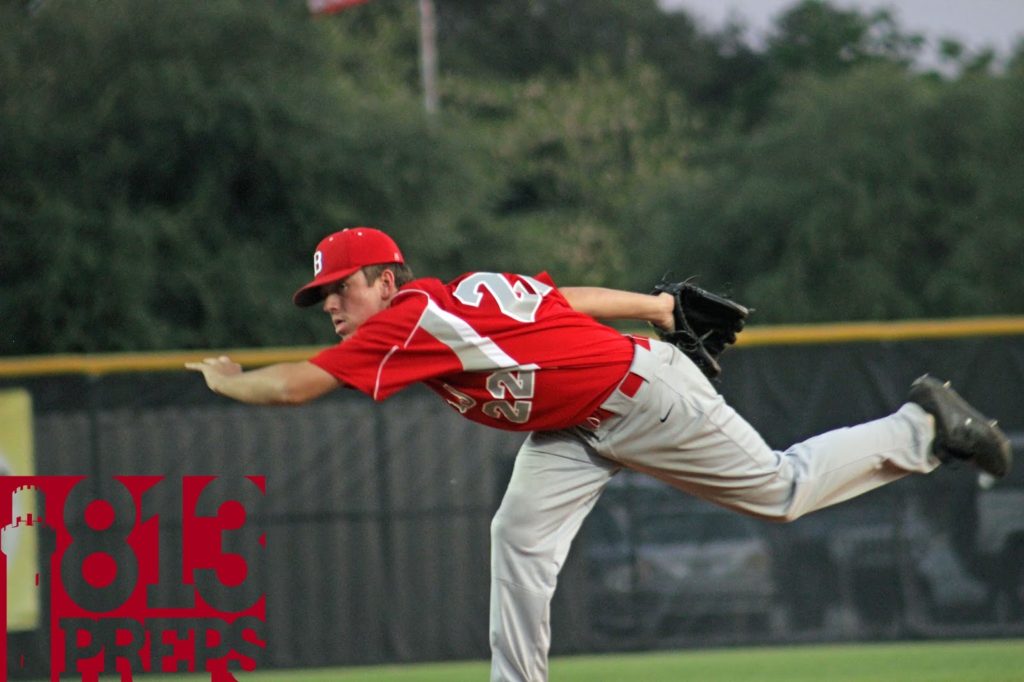 Bloomingdale junior Riley Moore came in and got three big outs for the Bulls in relief. 
The strategy there did not work as well, as Plant senior Gabe Rincones watched his opponent's warm-ups and noticed a pattern.
"I had a feeling he was going to give me a fastball and try to get ahead early with two outs," Rincones said. "I didn't see him throw a lot of off-speed stuff while warming up, so I tried to get my timing right."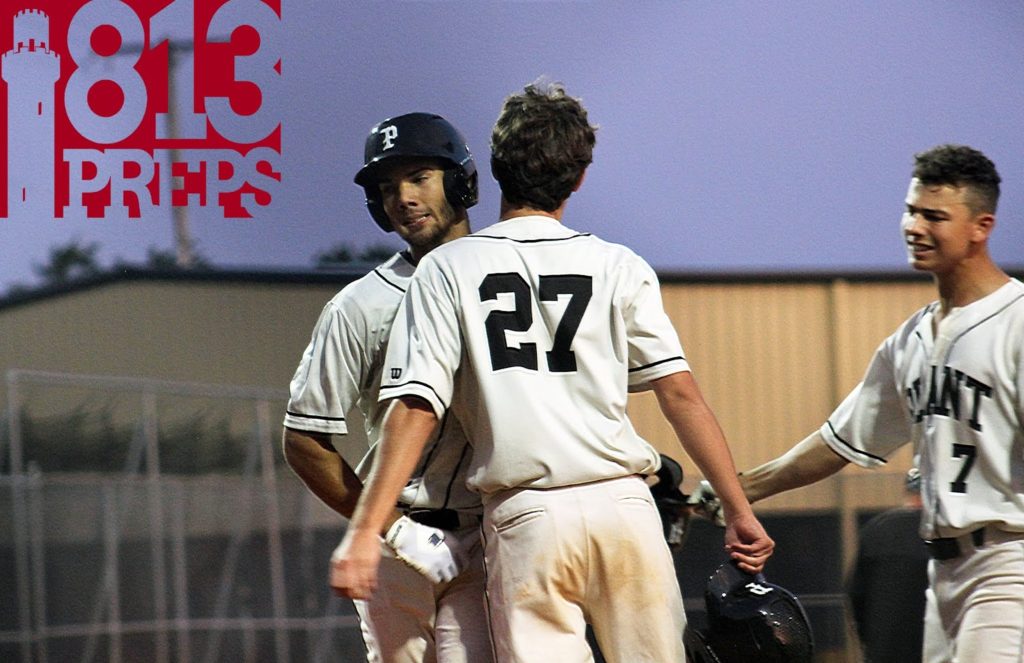 Senior Gabe Rincones gets a chest bump from Max Wickman after driving in a pair of runs with his fifth inning home run.
Rincones certainly seemed to get the timing right, taking a poorly placed, first-pitch fastball and reversing its course up and out of the ball park for a two-run home run, his sixth of the season and that was all the Panthers would need.
"Honestly, that is the best feeling I've ever had after an at-bat," Rincones said. "That was such a great feeling. The best feeling ever, so far at least."
Saladino would allow only one more hit, a Sam Nation (2-for-3) single, over his 1 1/3 innings on the mound.
The Wilken home run stung, but the Rincones response fired up Coker to return to the mound, especially after he and three other teammates made the dinger prediction prior the pitch to his teammate.
"In the dugout, we knew this was coming, we all had a feeling," Coker said. "There were four guys who called it, I said I knew that was going to be Gabe's pitch and when he connected we all knew he didn't miss it."
From there, the Bulls (which paired 31 doubles with the 26 home runs this season) couldn't buy a ball in the air, making just a pair of fly ball outs in the loss. Coker finished the game with four strikeouts and 15 groundball outs, including a 1-2-3 inning in the seventh to seal the complete-game effort, the first of his high school career.
"That (performance) was not a surprise for me," Rincones said. "Coker is very, very consistent and, honestly, if it wasn't for him we would have won either (the Sickles or Wednesday's) game."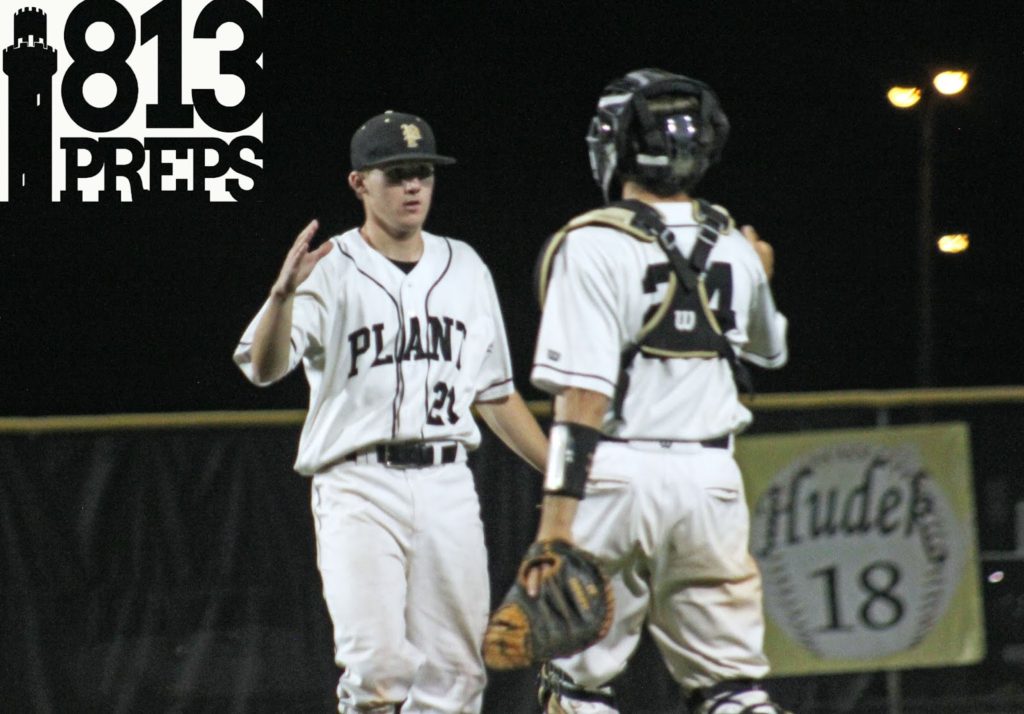 Coker celebrates with his catcher Reece Blanco after the final out was made on Wednesday night. 
Plant (17-9) got some solid defense behind Coker, as J.D. Urso at short and Matthew Ward at second, each started a double-play, but the defensive gems for the Panthers belonged to junior Carlos Santa Cruz, who got the night off at the plate but filled in for Coker at third base, but made an impact with his glove, first with a rangy snag-and-throw to end the second, and then a great play diving to his left for a ball and finishing with an on target throw to first to end the sixth. But he was unfazed from there as the Bulls (which paired 31 doubles with the 26 home runs this season) couldn't buy a ball in the air, making just a pair of fly ball outs in the loss.
"I think when you have two really good third baseman, and I mean he's really great," Braun said, "it's awesome to have that guy. When Carlos gets his opportunities, he executes and that has been a really nice thing for us this season."
The Panthers travel east on Saturday for the region semifinal to face off with Plant City, 2-0 winners over Steinbrenner on Wednesday. The Raiders (26-2) hold a pair of victories over Plant this season.