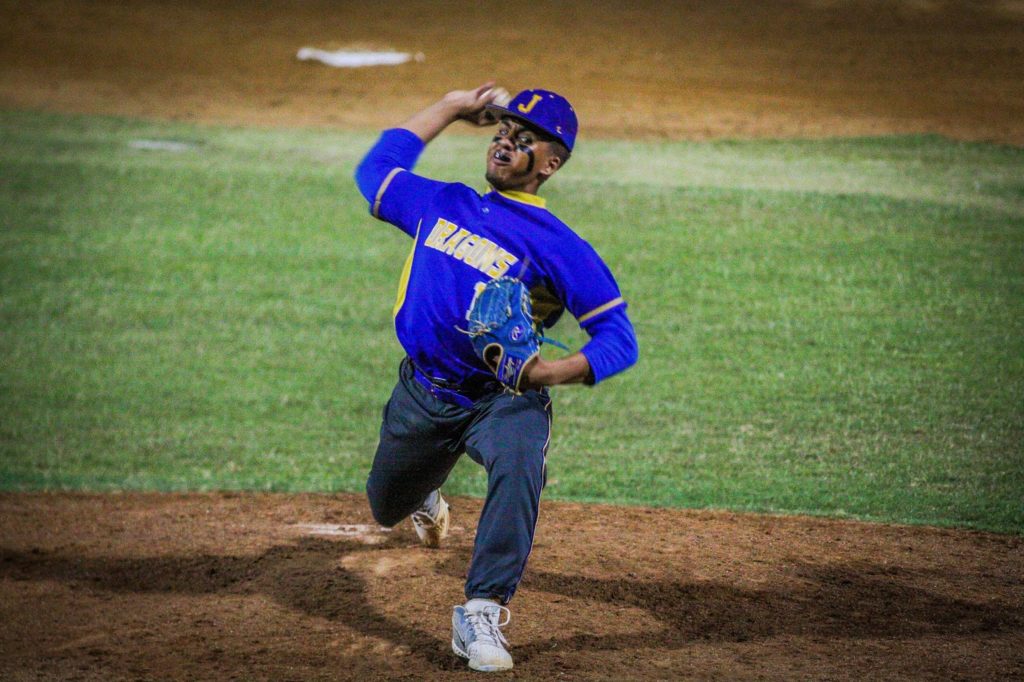 Jefferson senior Mike Dominguez struck out 11 in a no-decision, before the Dragons pulled away in extra innings for a region quarterfinal win over Land O'Lakes. 
LAND O' LAKES — Familiar foes. Familiar names. Familiar faces.
Basically, deja vu over and over and, well, one more time for not only good measure, but for all of this season's marbles.
And also to keep the season going.
Thanks to a 5-2 win over Land O' Lakes in the Class 6A regional semifinal on Wednesday evening, Jefferson (14-12) will have its FOURTH meeting with district rival, Jesuit (23-5) in Saturday's regional semifinal.
"Jesuit is becoming an intersquad game for us," Jefferson coach Daniel Gonzalez said. "I was joking around with (Tigers coach) Miguel (Menendez) that we play each other more than we have intersquad games. This will be the fourth time we see them this year and it was the same last year. … I can't say enough about that program, but I hope we go out and give them some trouble on Saturday."
Jefferson will have to more than be troublemakers at Jesuit this weekend, as the Dragons are 2-5 vs. the Tigers in the previous meetings the past two seasons.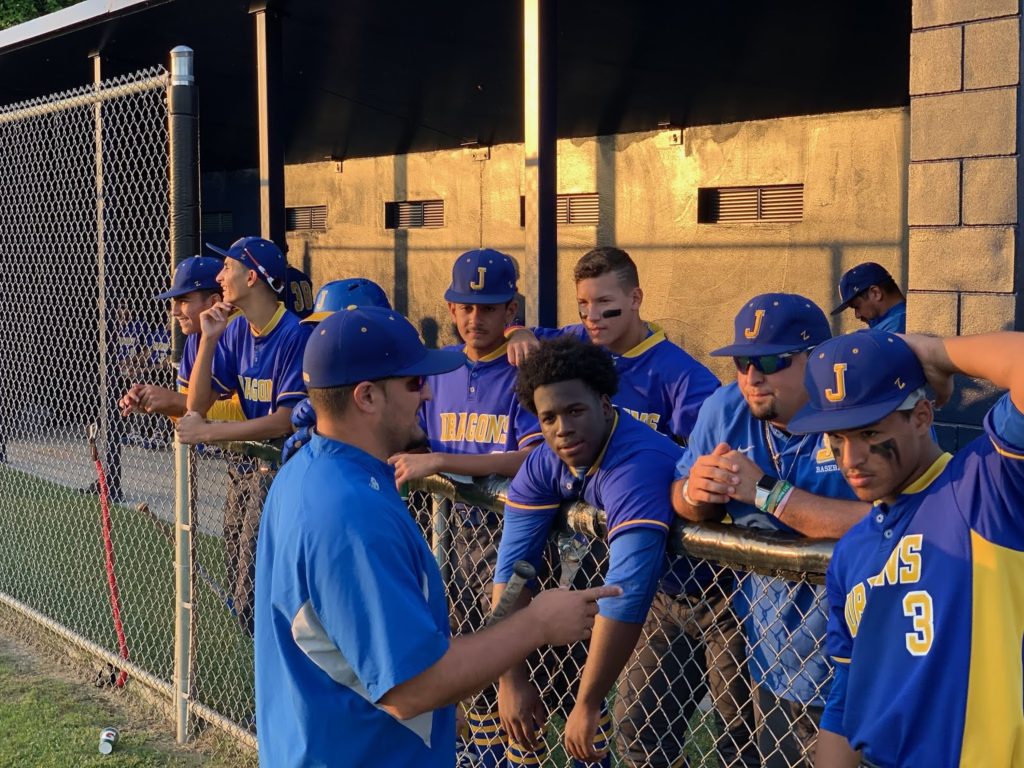 Jefferson coach 

Daniel Gonzalez talks to his players as the Dragons wait for the sun to dip a little lower prior to the start of the region quarterfinal game at Land O'Lakes. 

Jefferson has been outscored 17-12 in those games, however, the Dragons won the most important of those seven matchups: 2018's regional semifinal game that occurred a year ago to the day Wednesday — Jefferson defeated Jesuit 2-1 in extra innings, and continued its run to a state title last season.
"We play them tight and we play a lot of the Hillsborough County teams — some of the best teams in this area — tight and that pays off in high-pressure games like the ones you'll get in regionals," Gonzalez added.
High pressure raised quickly Wednesday evening once the Dragons took a 2-0 lead over the Gators (19-6). Yaidel Perez drove home a run with a single and a bases-loaded walk by Oscar Galvaz in the second provided the lead that was held tightly by senior RHP Michael Dominguez, who was "lights out."
Dominguez was pulled after 101 pitches to avoid the pitch count that would keep him from pitching in the rest of the regional tournament and struck out 11 through 6 1/3 innings.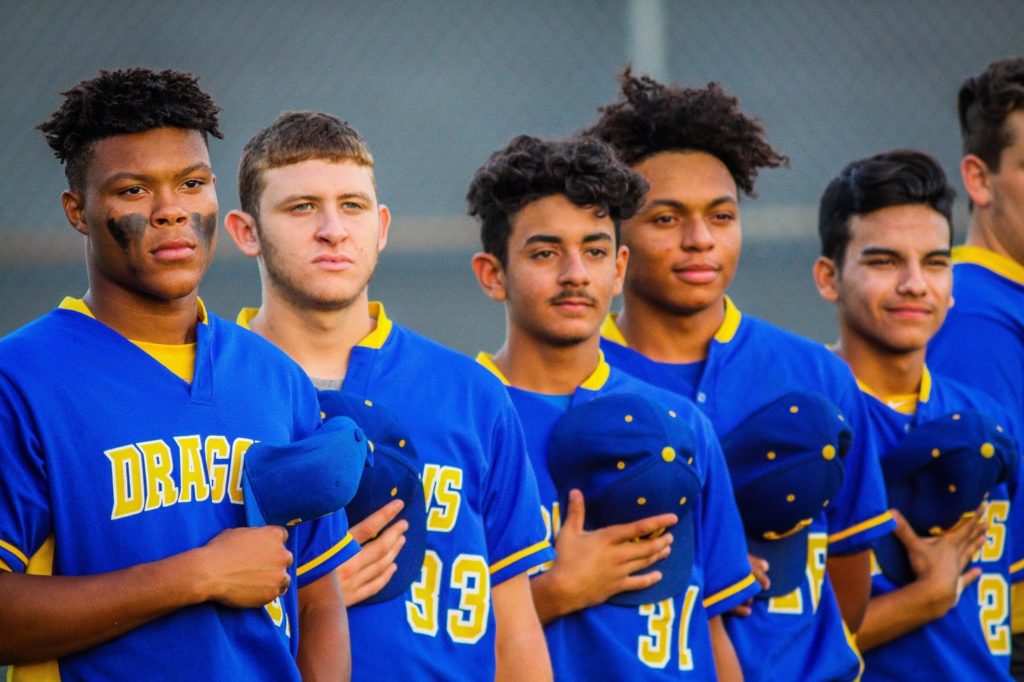 The Dragons are set for a fourth showdown this season with Jesuit on Saturday, this time for a spot in the region finals for the winner. 
The Gators would score their two runs in the fifth to tie the game, and while both teams had chances to take the lead, many batters were either left on base or caught stealing trying to move to scoring position.
Senior Nick Perez pitched 3 2/3 innings in relief for Dominguez, but did so on only 55 pitches, leaving him eligible to start Saturday.
"It's hard to think of a better 1-2 punch (than Dominguez and Perez)," Gonzalez said.
"Nick did a great job and he picked me up and did his job," Dominguez added. "He was great out there."
The Dragon's had a three-run 10th inning kicked off by a long single by Miguel Denson off the tall centerfield wall that scored Tony Zavala. A wild pitch allowed the fourth run and then, despite having just two hits since the second inning, Yaidel Perez beat out an infield grounder by diving into first that allowed the Dragons' fifth run to score.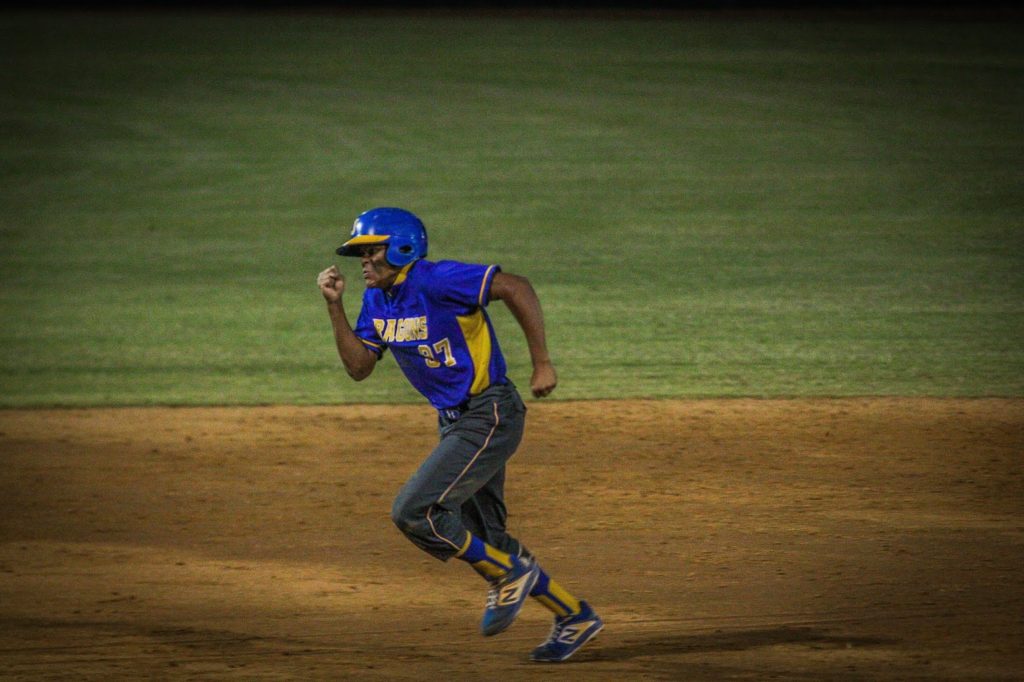 Jefferson two-sport athlete Tyson Mickie has been a terror on the base paths as a pinch-runner leading the team in stolen bases this season. 
Now, with yet another "intersquad" game with Jesuit on docket, Jefferson will be looking for ANOTHER deja vu Saturday.
"Every year we want to get past these guys (Jefferson defeated Land O' Lakes 5-4 in 2018) and see Jesuit again," Dominguez said. "We've had a hard time with (Jesuit) this year, but hopefully, just like last year, we can go out and do our thing and get past them and get back to the regional finals."
– Mike Camunas is a longtime veteran journalist who is always seeking true stories, trained under J. Jonah Jameson and takes better photos of Spider-Man than Peter Parker. Follow Mike on Twitter @MikeCamunas