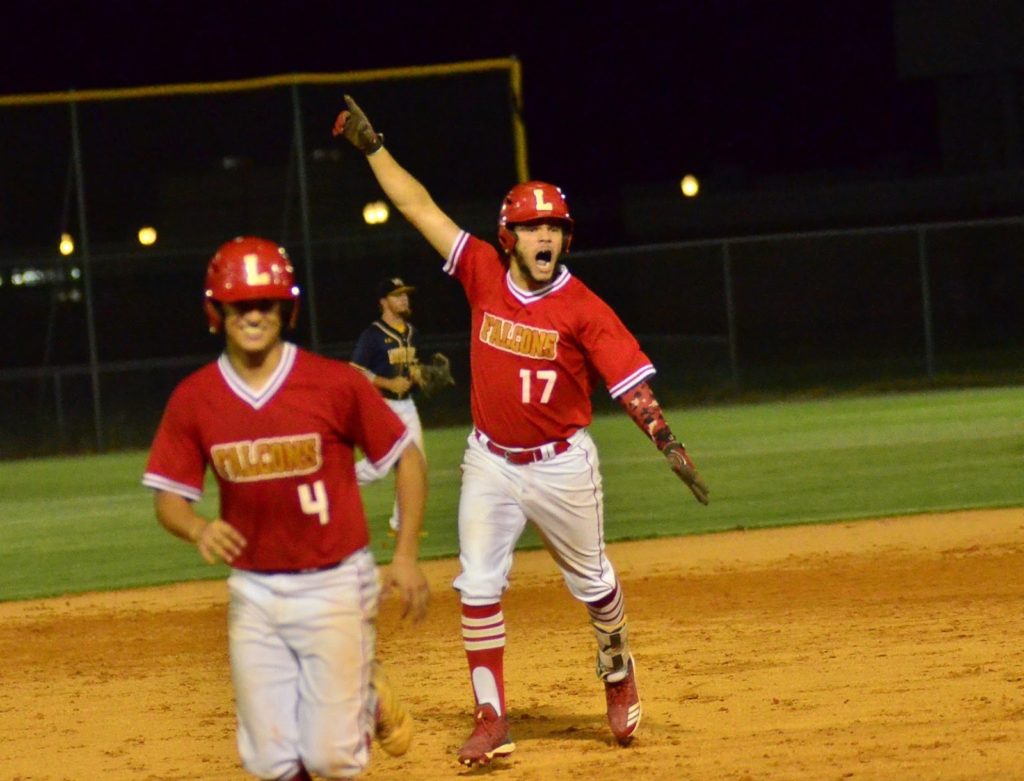 Leto senior Bryan Perez rounds second after hitting a three-run, walk-off home run to push the Falcons over Winter Haven in the 7A region semifinals. 
Story and photos by Andy Warrener
TAMPA – There weren't many secrets between Leto and Winter Haven's baseball teams on Wednesday' night. The two teams' players know each other well after they played regularly against each other during American Legion summer ball last year.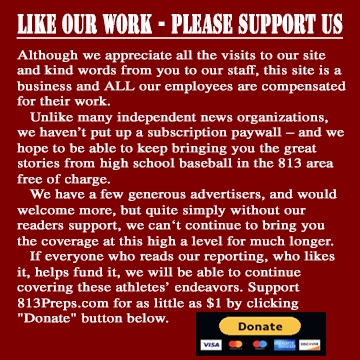 "They know all about us, we know all about them, we know what these games are going to be like," Leto head coach JJ Pizzio said. "I just hugged 15 of them like they're my players. There's a great deal of respect we have for each other."
That respect turned into tight-fisted tenacity on Wednesday night as the Falcons squared off against the Blue Devils. Things went to extras knotted at one each, before senior Bryan Perez decided to end things in the eighth inning, with a walk-off three-run home run to give Leto a 4-1, Class 7A-Region 2 quarterfinal victory.
The Falcons like to run and the Blue Devils know it. The Blue Devils got Javy Hernandez caught in a run-down in the first inning, they threw out Damien Breton trying to steal second, by a country mile in the fourth.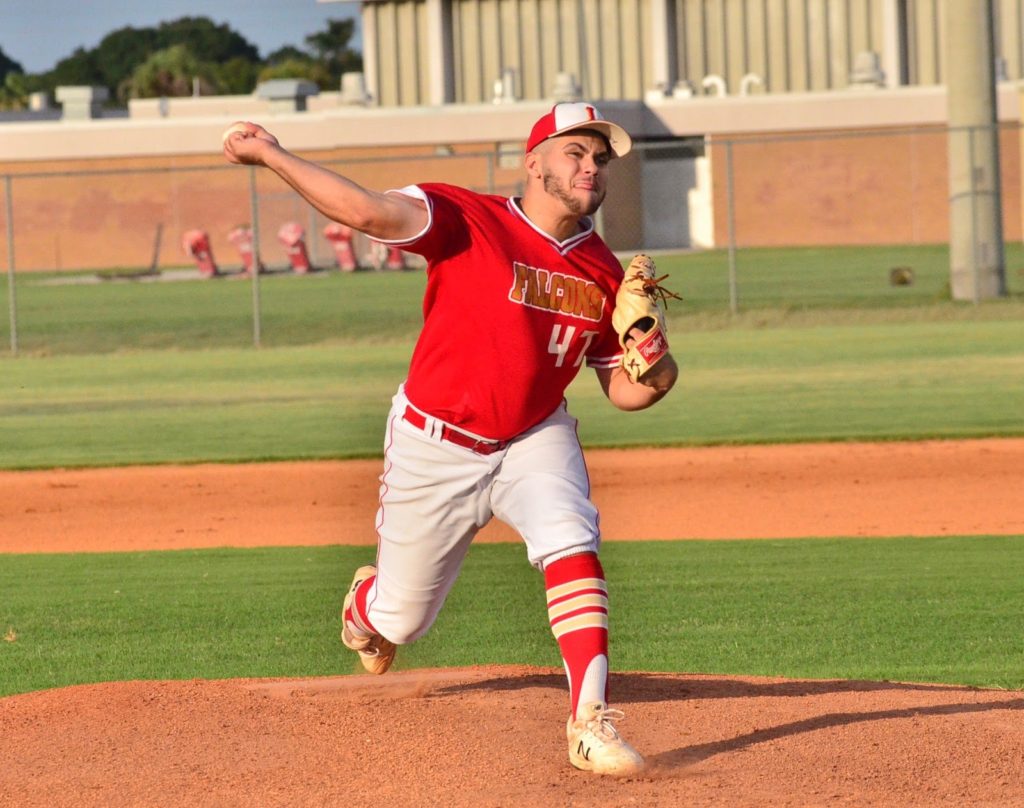 Leto senior Christian Suarez struck out 11 in his six innings on the mound for the Falcons. 
It was going to be that kind of a night.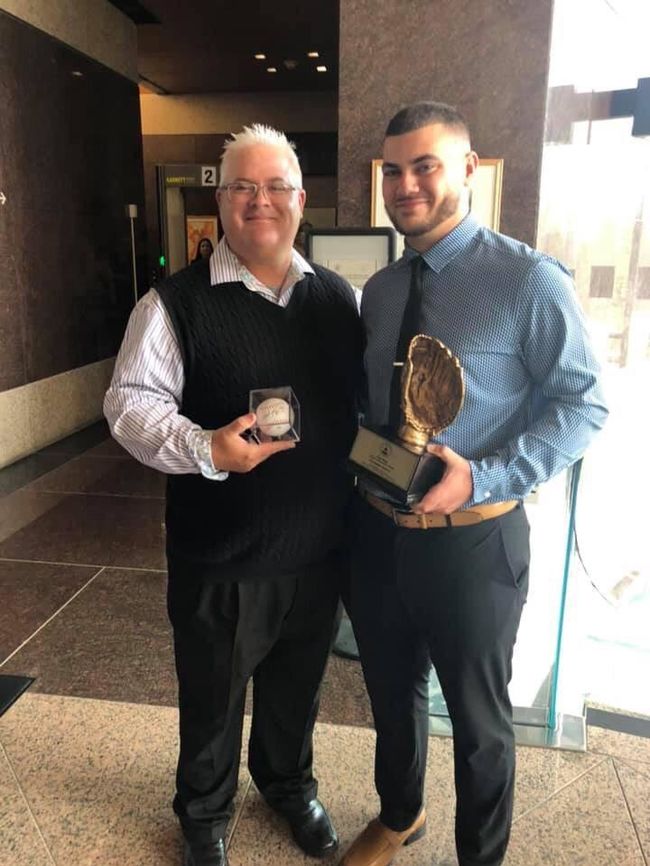 Falcons coach JJ Pizzio with Christian Suarez
at Wade Boggs Award ceremony.
(Photo provided by Suarez family)
Leto starter Christian Suarez, who earlier in the day was recognized for his talents on the field, grades in the classroom and volunteer work in the community as the Wade Boggs Award winner by Hillsborough County Schools, was splendid through six full innings of work, striking out 11, while walking just four. The only lapse came in the second inning when he walked a run in. That pesky run would hold up all the way through to the bottom of the fifth inning.
With one out, Tomas Lozano was hit by a pitch. A sacrifice bunt by Isiah Gonzalez moved him to second base, now with two outs. Mikey Camacho walked but that called in another of the three pitching changes the Blue Devils made on the night. Brayan Cruz came up to bat after a poor showing in his first at-bat. Cruz wanted some redemption and Lozano was ready to run like his hair was on fire.
"Coach said while I was at second base that if the ball was hit, I was running," Lozano said. "It didn't matter if I was out or not, I was running."
Cruz delivered with a single to right-center and Lozano took off like he was shot out of a cannon, rounded third and made it home so quickly there wasn't even a play at the plate. Tie ball game.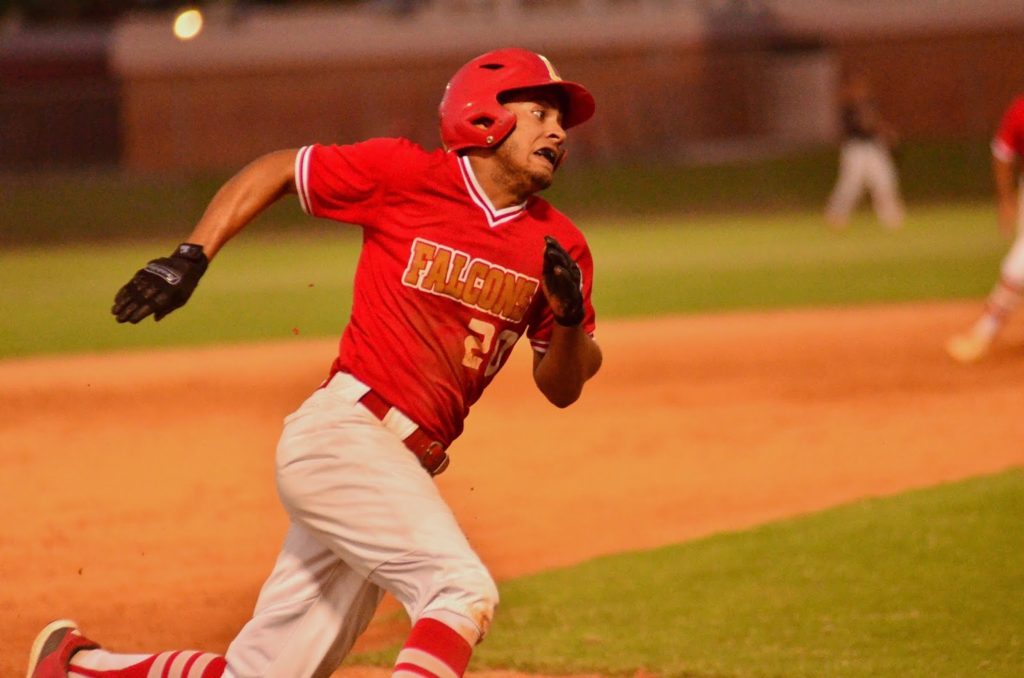 There was no stopping Leto senior Tomas Lozano, scoring from second base to tie the game in the fifth innings. 
The pressure wound tight as 1-2-3 innings early, gave way to nail-biting situations down the stretch. The Falcons survived a two-on, two-out in the sixth, a two-on, two-out in the seventh and a bases-loaded with just one out in the eighth. Reliever Hernandez went down 3-0 in the count with then two outs and the bases loaded. One more ball would have relinquished the lead but he fought back to a full count and got the batter to ground out to first base, Camacho making a great solo put out to escape the inning.
Now it was Leto's turn.
With one out in the home eighth, Breton hit an infield single down the first base line. Hernandez would follow that, bloop a single to right where Breton made it all the way around to third. That prompted the third and final pitching change of the night with Bryan Perez coming up to the plate.
"I was looking for something in the gap, just past the infield or even a deep fly ball, I didn't care, anything to get that run in," Perez said. "Then I just saw that pitch so good."
— Andy Warrener (@jawarrener) May 16, 2019
Perez cranked it to left-center. It was sure to at least hit the wall and that deflated the Blue Devils as they knew they would never be able to catch Breton at the plate, but the ball kept going and tinked off the rail of the chain link fence and went over. The three-run homer, in walk-off fashion nonetheless, lifted the Falcons into the regional semifinals against rival Gaither on Saturday and lifted the Falcon spirits into the stratosphere.
— Andy Warrener (@jawarrener) May 16, 2019
"There were times when I didn't want to play baseball anymore, where I didn't make the right choices," Perez said. "But I changed, I got focused and my team and Coach Pizzio never gave up on me. He told me this is my moment. I never thought something like this would happen to me. This is probably the best thing that's ever happened to me in my life."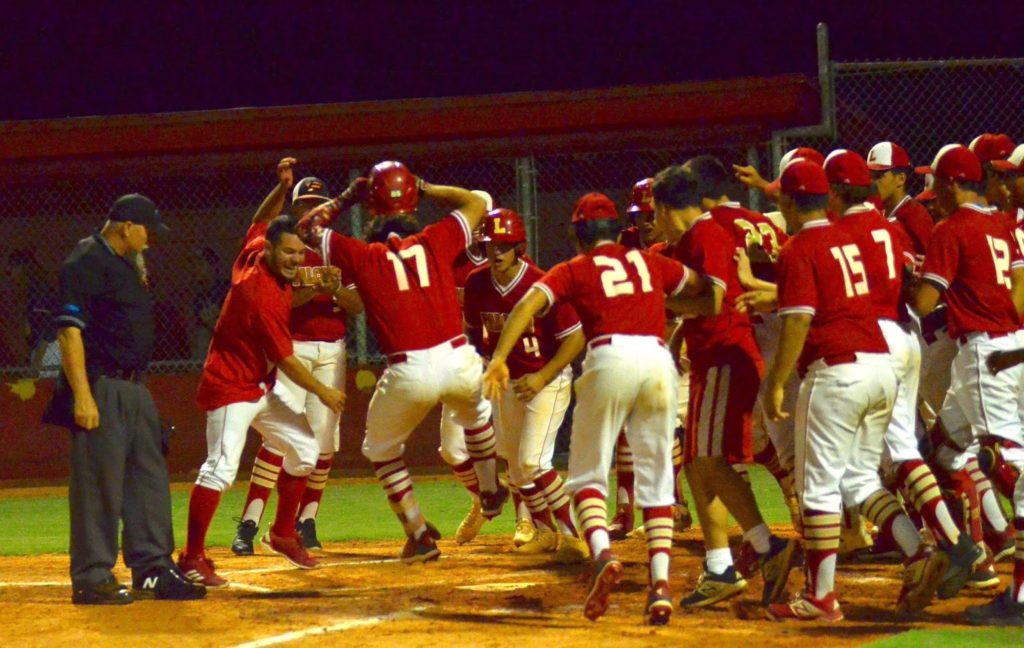 Perez leaps into home plate as his teammates celebrate his walk-off home run. 
–  Andy Warrener is a longtime area journalist and photographer. Follow Andy on Twitter at @jawarrener