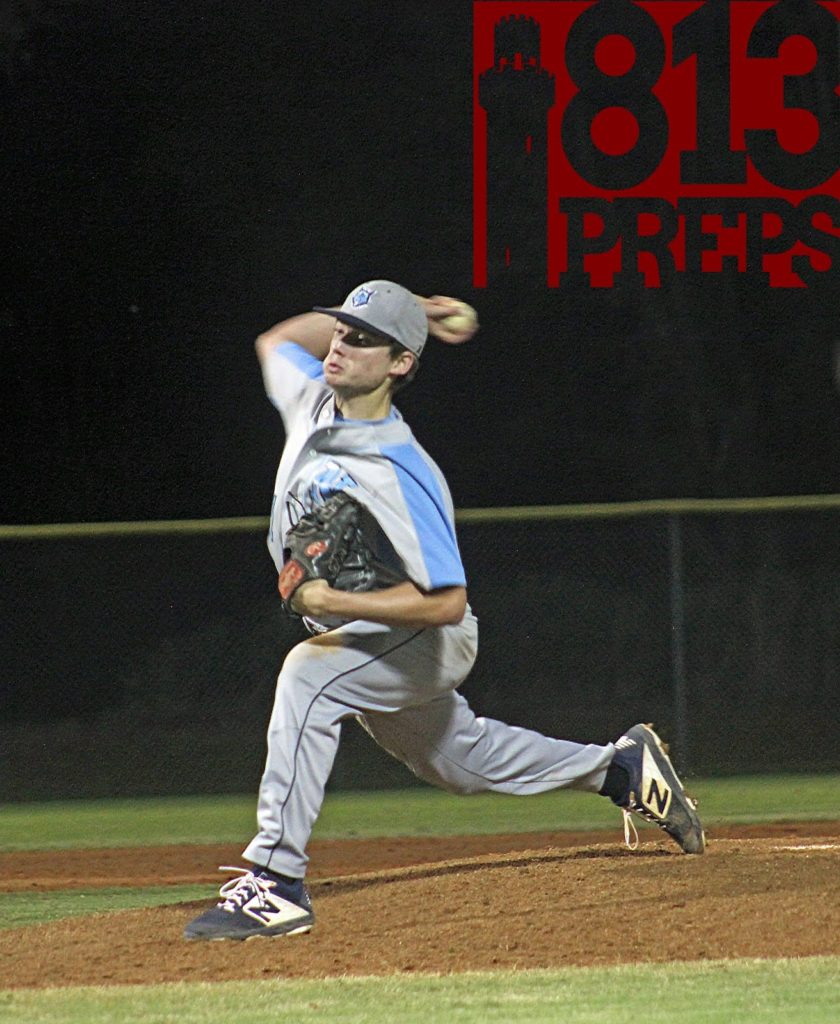 Newsome junior pitcher Cole Stallings pitched 5 2/3 innings in Wolves win.
(813Preps file photo)
By Bob Bellone
LITHIA – It was a long ride from Port St. Lucie for the Treasure Coast Titans on Wednesday. The trip home must have seemed even longer after a 3-1 loss at Newsome in a Class 9A region quarterfinal.
Wolves starting pitcher Cole Stallings allowed only a run and two hits before his departure with two down in the sixth inning after hitting his second batter of the night.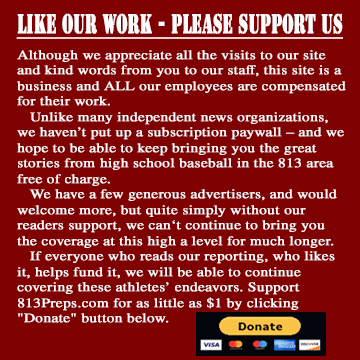 "He was getting a little tired, so the velocity wasn't quite there and the command," fifth-year coach Dick Rohrberg said.
But before departing, the right-hander struck out seven and issued only one walk in securing his sixth win of the season.
Treasure Coast (16-9) scored its run in the second inning with an infield single followed by three wild pitches. Stallings retired the next 11 batters before the late struggle that had him exchanging places with right fielder Zach DeVito, who picked up the last four outs and the save.
"They were running the pitch count up," Stallings said. "I should have gone out there knowing they can't hit me and get ahead in the count every time."
Newsome (18-9) took a 2-1 lead in the third. Cade Afeld walked with one out and raced to third on a Zach Benson single. After Benson took second base without a throw, Kelsen Johnson delivered both runners with a single.
Afeld put his keen batter's eye and speed to use again in the fifth. The junior walked, stole second, then took third when the catcher's throw reached the outfield. Moments later, Benson tapped a bunt in front of the plate and Afeld cashed in with an insurance run.
"I kind of hesitated at first because I didn't know if it was going to go far enough," Afeld said. "It got a nice little top-spin on it, and I just put my head down and started running."
Newsome will host a region semifinal Saturday at 7 p.m. The opponent will be the winner of Thursday's game between Alonso (15-10) and host Vero Beach (22-3), which was rained out Wednesday.
– Bob Bellone, with nearly a half-century of experience in sports journalism, is in his second year with 813Preps.com.