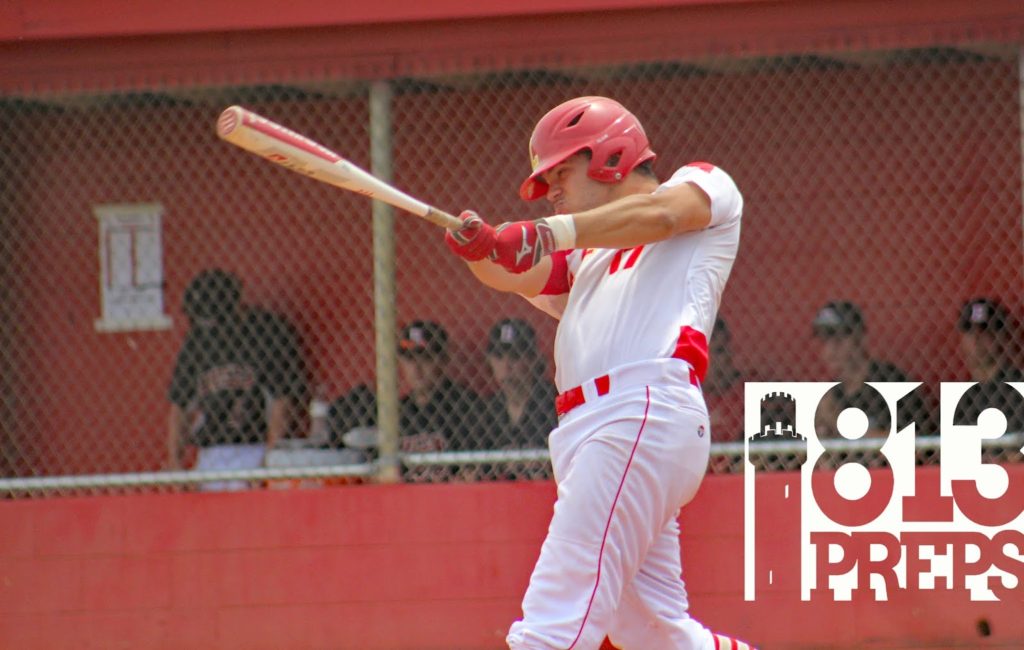 Leto senior Bryan Perez nearly let bad choices and bad influences take away his opportunity to play baseball, but the Falcons senior has worked hard to earn his spot on the team and hopes he is an example for his younger teammates. 
TAMPA – It was a tie game in the eighth inning of Wednesday's region quarterfinal between the Leto Falcons and visiting Winter Haven. The Falcons, having just escaped a bases-loaded, one-out situation in the top half inning, had just one hit through the first seven innings. After two, one-out hits put runners on the corners, designated hitter Bryan Perez stepped up to the plate. A grounder in the gap, heck, even a long fly ball would be enough to send the winning run across. The Blue Devils pitcher checked Damien Breton at third base, and delivered to the plate, where Perez put the barrel on the ball and drove it to left-centerfield. It was back, way back and it quickly dawned on the Winter Haven outfielders that the ball was going to be long enough to score Breton from third, even if it was caught. But it wasn't to be caught, the ball carried all the way to the fence, glanced off the top rail and went over the other side. Perez had hit a walk-off three-run homer to advance the Falcons to the regional semifinals.
It was a magic moment for the Falcons senior, but it was also a moment that almost never happened.
Bryan Perez moved to the United States from Cuba when he was five with his parents Yadami and Liubel, but it was as a three-year-old that he first started playing baseball – it was his passion. A foray into football when he was 13 only further convinced him of his undying love for the game of baseball.
Fast forward to his freshman year of high school, Perez's parents had split up and Perez Perez started to cave in to some of the negative influences in his life.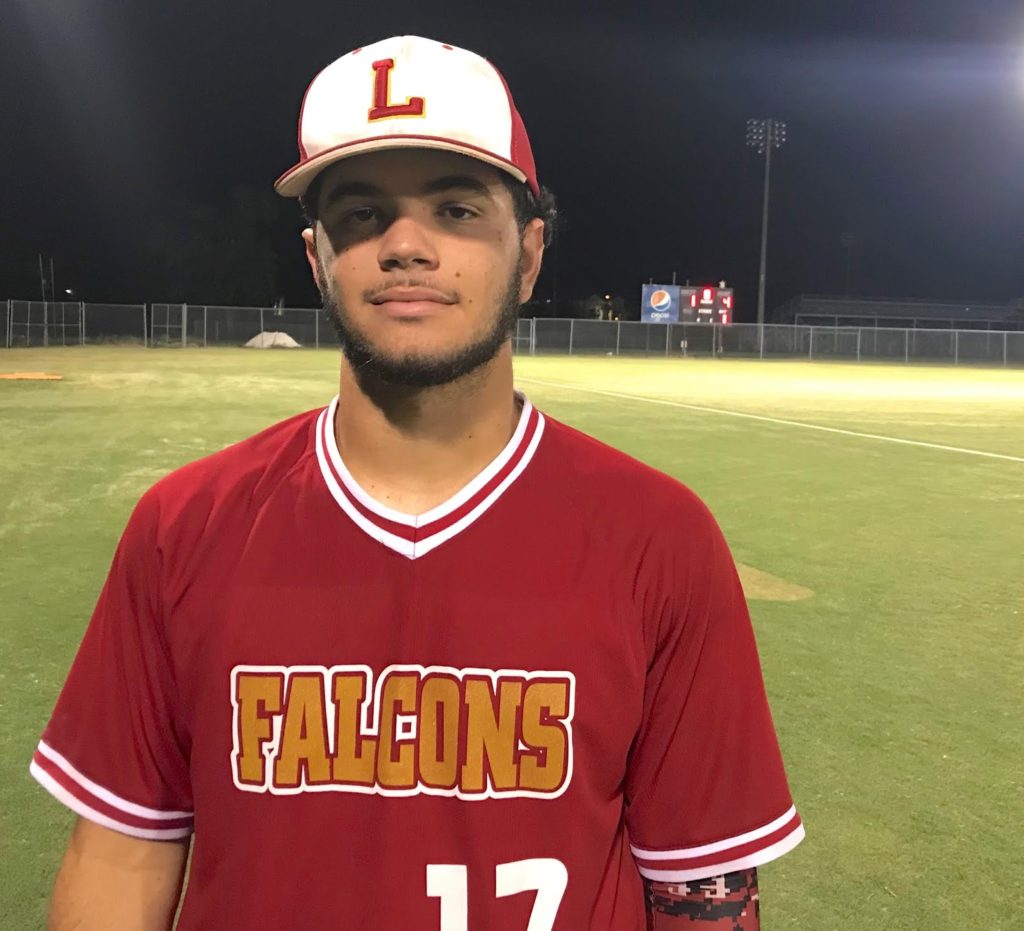 "At that time, there were some bad influences in my life," Perez said. "I started to catch on to it, letting my grades slip, skipping classes, making bad choices. I never wanted to give up on baseball, but I wouldn't listen (to the positive influences). I was hard-headed."
Perez made the Leto varsity team his freshman year and even played with the Falcons during the fall season, but a series of bad choices left him in a place where he couldn't play in the regular spring season.
"Things didn't work out for Bryan his freshman year," Leto head coach JJ Pizzio said. "The choices he was making were not choices I could allow with my program. I made some threats and the consequences were given."
In an effort to reinvent himself, Perez went to live with his aunt Yalili Rizo in Alonso's school district. Pizzio and Alonso head coach Landy Faedo are friends, so Pizzio never lost tabs on and never lost hope in Perez.
"I'd talk with Landy (Faedo) about him (Perez) and it seemed like we were kind of getting him on track," Pizzio said. "But then it fell apart all over again."
Perez was riding the bench at Alonso. By the second pool play game of the spring break Saladino Tournament, his sophomore year at Alonso, Perez quit the team.
"I was frustrated," Perez said. "My head wasn't in the right place. I told Coach Faedo that I didn't want to play, that I wanted to quit school and work. I thought it was over for me. I thought I'd never play the game again."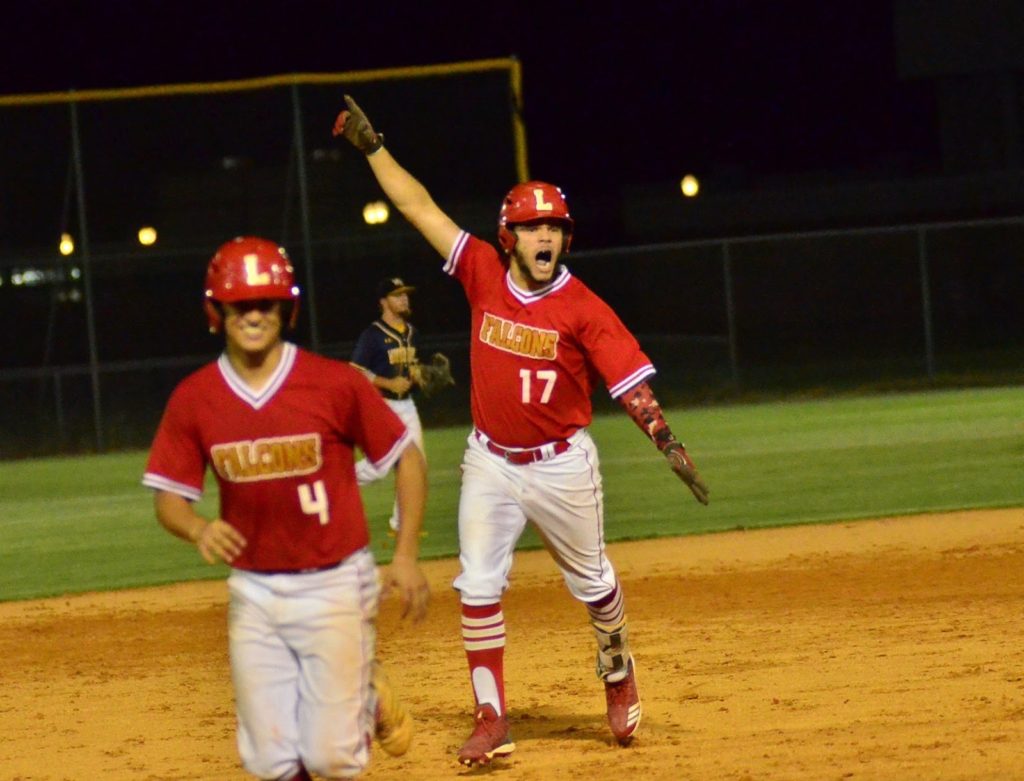 His junior year, Perez moved back in with his father, back into Leto's school district. Again, he had a good fall season and again, made the varsity team for the Spring. But again, he didn't start.
"His junior year, (I) told him the deal, that this is what he had to do, that he wouldn't start but if he worked his butt off and proved himself, I'd give him at-bats here and there," Pizzio said. "It wasn't that he wasn't doing the right things, but he wasn't doing them consistently enough."
Perez got his big chance at the end of his junior year during the district semifinals against Hillsborough. Down two runs and facing elimination in the sixth inning, Perez was tapped by Pizzio to pinch hit with two runners on base. Perez laced a triple down the third-base line that cleared the bases and tied the game. The Falcons would go on to win the game 3-2 and end up making the Class 7A state Final Four before losing to Pace in the state semifinals. Perez didn't play again the rest of Leto's run.
To make matters worse, Perez's GPA dipped below a 2.0 at the end of his junior year. He would not be able to play as a senior if he couldn't rescue his GPA and recover classes he'd failed. Pizzio stayed on him.
"I was fortunate to have people like Evanitta Omensetter, Robert Zicht and his other teammates around to help me," Pizzio said. "The team and administrators like Omensetter and Zicht really saved him. All I did was push him toward the people that were going to help him."
Perez was motivated to start his senior year after a solid season with his teammates in American Legion summer ball. He had six classes that he had to complete work in for credit recovery. Through virtual school and credit recovery classes, Perez started to pull himself up but it was taking a toll.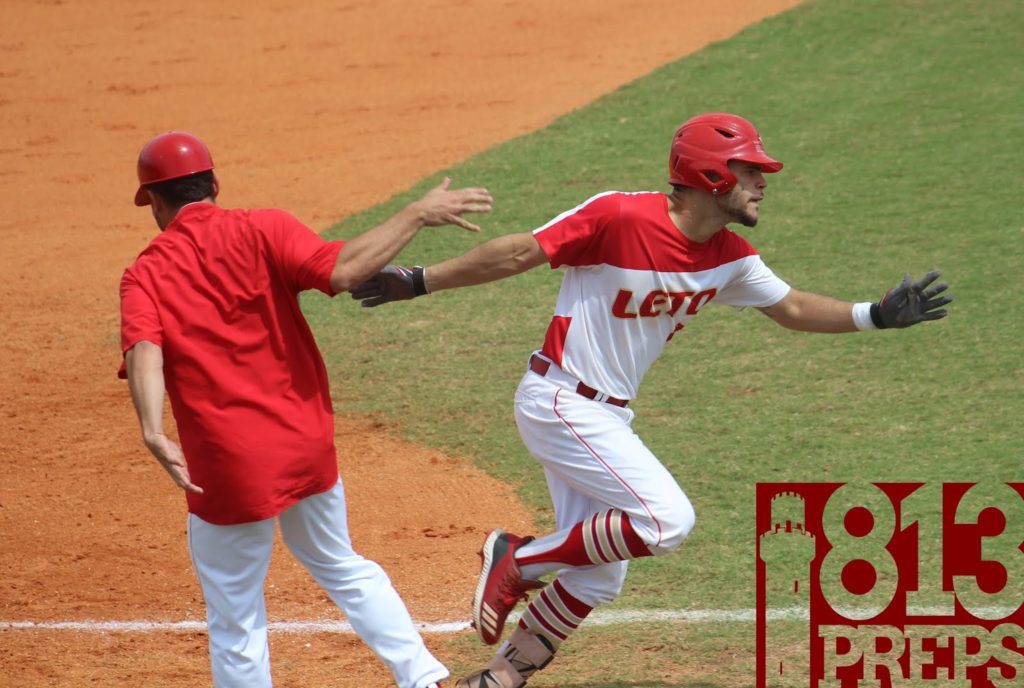 "I was stressed, exhausted, I just felt tired of it," Perez said. "I was trying to make money working to help at the house and so I dropped out of school and got a job."
Pizzio had already met with star pitcher Christian Suarez about Perez. Then when school started back up in January, they were wondering where Perez was.
"Four or five days went by and no Bryan," Pizzio said. "I told Christian (Suarez) that we needed Bryan this year."
Suarez and the rest of the team reached out. Pizzio called Perez.
"I knew he was there but that he wasn't picking up his phone," Pizzio said. "I hung up, called again, hung up, called again."
On the 46th call, Pizzio texted a not entirely kidding text to Perez. On the 47th call, Perez picked up.
"I just reiterated how serious we were about him coming back," Pizzio said. "We were going to make it work for him, whatever he needed."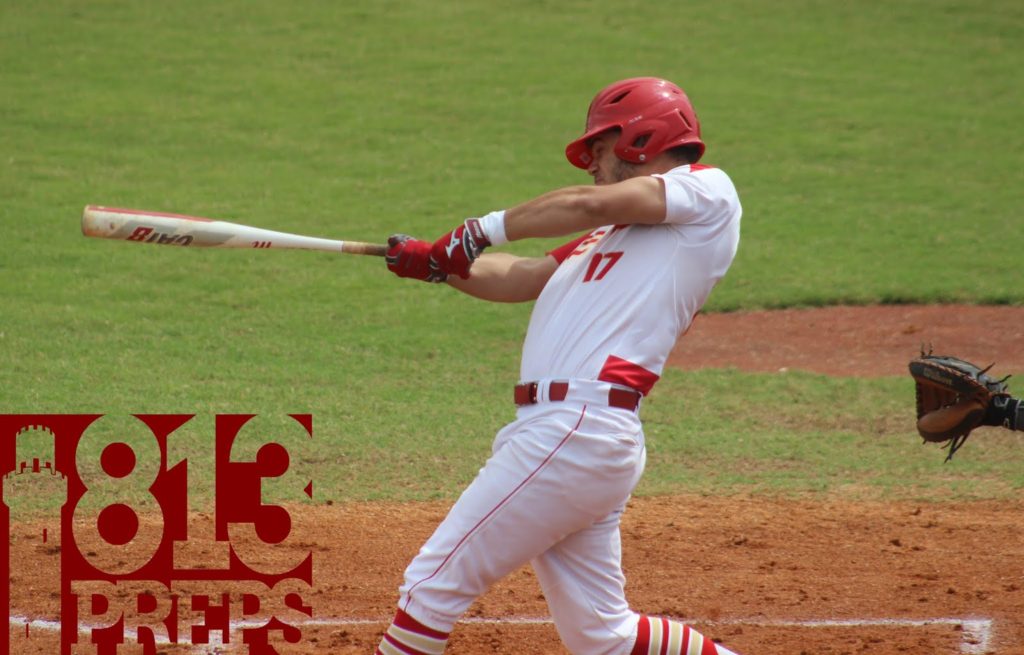 The call landed for Perez and he came back.
Perez recovered his last class, he got his GPA up to eligibility and he was starting for the Falcons wherever he could, oftentimes as the DH, but he has played outfield, first base, even catcher.
More importantly, Perez is now on pace to graduate June 1. Perez will actually complete his credit requirements by the end of this week. Just in time to face district rival Gaither, when Leto hosts the Cowboys in the Class 7A-Region 2 semifinals on Saturday at 7 p.m.
Ironically, June 1 is also the day that the Class 7A state final is set to be played.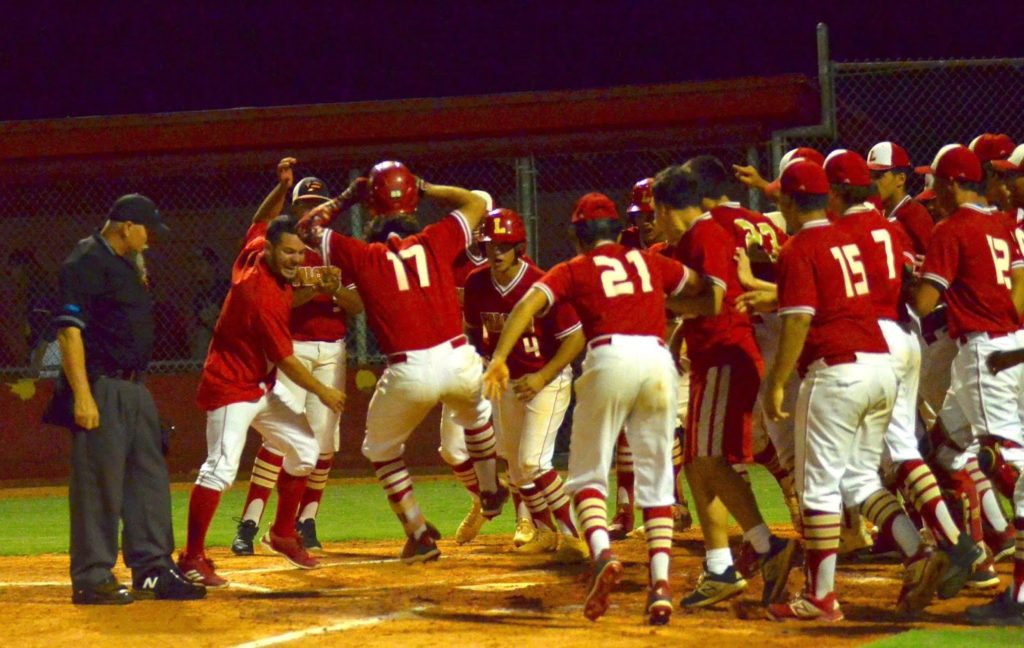 "It's crazy to think how it all actually happened," Perez said. "I was a couple of phone calls, a couple of texts away from not living that moment we had that Wednesday night."
With a GPA that's just barely eligible, Perez isn't entertaining a lot of college offers, but he says he's had some conversations with junior colleges that have expressed some interest. What's more, Perez is now the veteran guy that's been down that road and is a testament to younger players on the team that might find themselves in similar struggles; players like fellow Cuban-born freshman Bryan Cruz.
"We've got a freshman on the team, his name's Brayan Cruz and the kid has talent, obvious talent," Perez said. "So, I tell him, don't let it go to waste, don't let anything take you out of your focus. I know he hears me because he knows what I've been through."
–  Andy Warrener is a longtime area journalist and photographer. Follow Andy on Twitter at @jawarrener
Read our previous Senior Feature Series (click story title)


Part 1 – Riverview's Dillon Besnier
Part 2 – Lennard's Yazael Nunez
Part 3 – Sickles' Danny Bernstein
Part 4 – Berkeley Prep's Jakob Hines