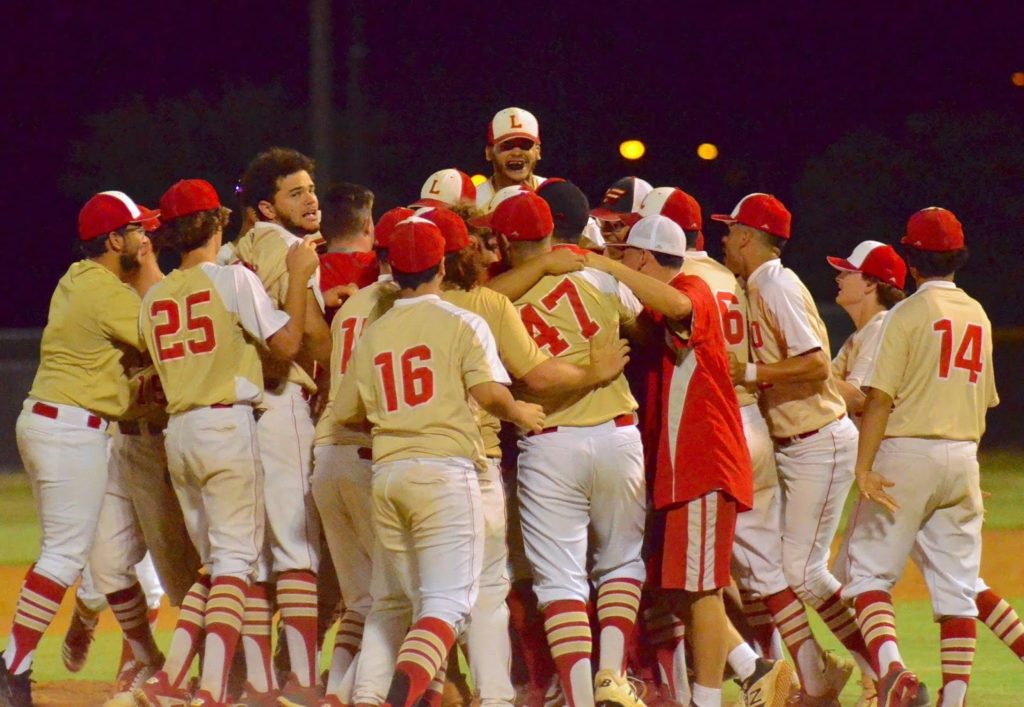 The Falcons mob the pitcher's mound after senior Javy Hernandez worked out of a bases loaded situation in the seventh inning to lead Leto into the region final for the second-straight season. 
Photo and story by Andy Warrener
TAMPA – Immense pressure does one of two things. It either crushes you or it makes diamonds. For the host Leto Falcons on Saturday night, the series of pressure spots could have cracked or broken lesser resolves. The Falcons and reliever Javy Hernandez came up diamonds in a 5-2, high-stakes win that advance Leto to the regional finals for the second-straight season.
"The only way we are any good is I believe in them, they believe in me and we all believe in each other," head coach JJ Pizzio said. "They are capable of anything, it's just a matter of them relying on each other and no one trying to do it for themselves."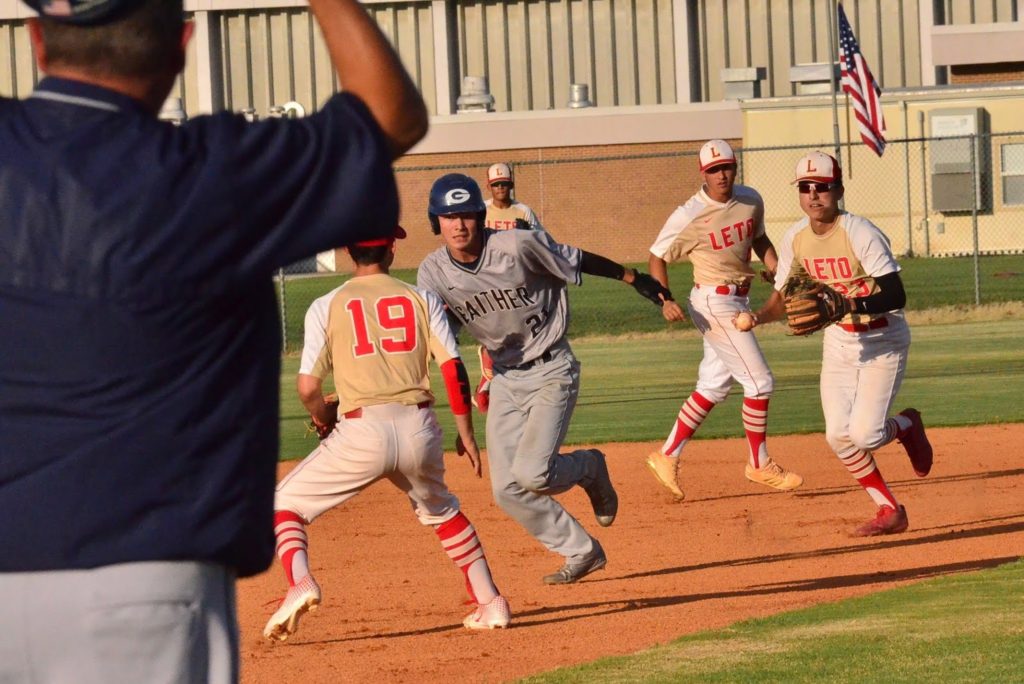 Leto senior Isiah Gonzalez (ball in hand) works Gaither runner CJ Hanson in a rundown between second and third, eventually getting the out. 
The Falcons built a four-run lead that held through three innings. In the fourth, starting pitcher Franklyn Hernandez got into trouble loading the bases with one out. That's when Pizzio brought Javy Hernandez straight in from the outfield, without him having a chance to work the bullpen. Hernandez only took a few warm up pitches and told the umpires he was ready. He was ready, striking out the next two batters to strand all three base runners. Pressure Spot #1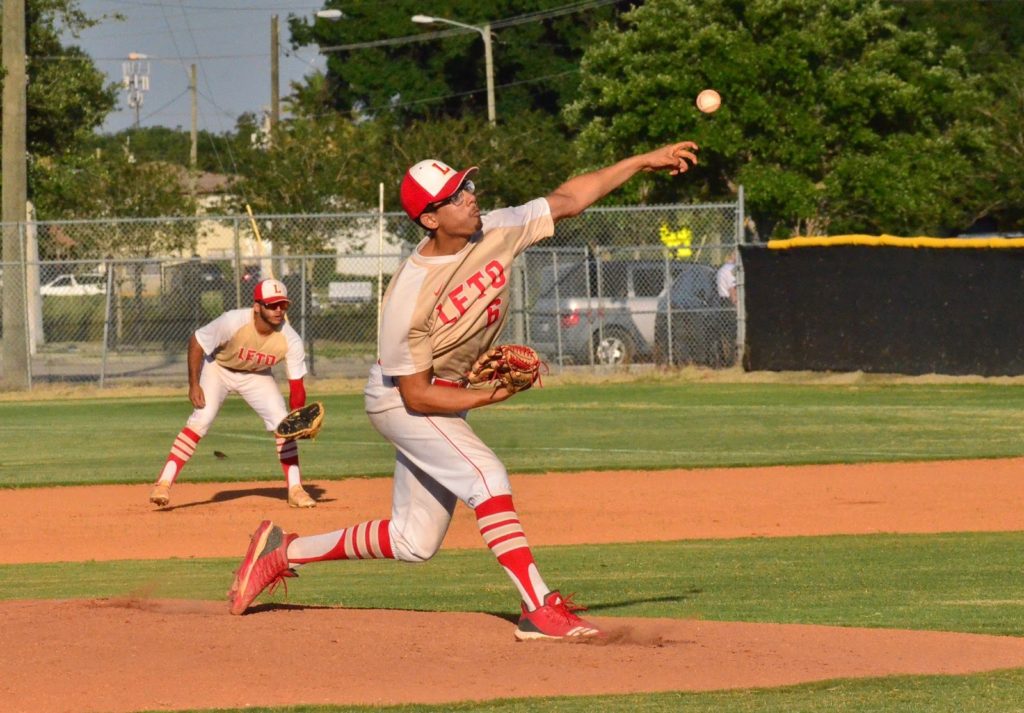 Leto senior starting pitcher Franklyn Hernandez earned the win on the mound, pitching 3 2/3 innings, allowing four hits and striking out four. 
Pressure Spot #2: In the fifth inning, again Hernandez got into a jam. Bases were loaded with no outs. The pressure there might have cracked Hernandez as he made a great put-out at the plate to cut the lead runner, but an overthrow by catcher Jose Santos trying for a double play sailed and the Cowboys scored one. A wild pitch from Hernandez let a second run across, but he worked through it and got a strikeout to escape the inning still with a two-run lead.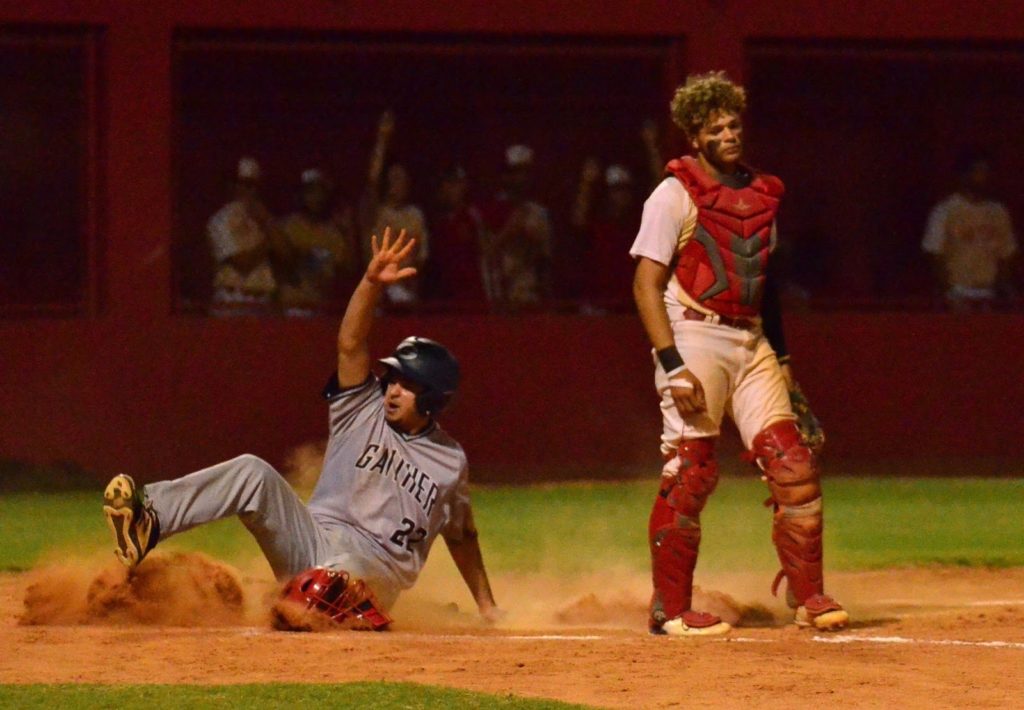 Gaither sophomore Frank Perez scores a run in the fifth innings. 
Pressure Spot #3: In the sixth inning, again Hernandez faced a bases loaded situation, this time with two outs. There was mention in the dugout about warming someone up. Pizzio was not having any of it, "he (Hernandez) is not coming out, no matter what."
Hernandez got the strikeout of Gaither's Willie Jackson.
Pressure Spot #4: In the seventh inning, yet again, Hernandez faced bases loaded with two outs.
"When I'm in tough situations, like after a walk or a hit, I'll just look over at JJ (Pizzio) and he always has something, some fix to work on," Hernandez said. "I know he has trust in me."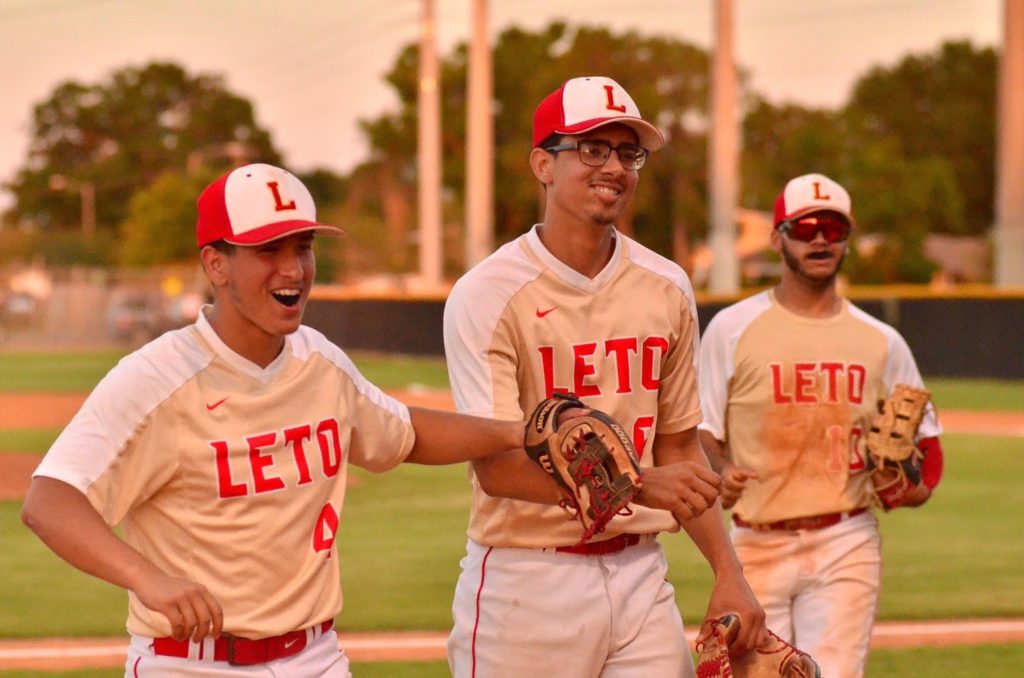 Leto seniors (left to right) Javy Hernandez, Franklyn Hernandez and junior Mikey Camacho come off the field between innings of the Falcons region semifinal win against Gaither. 
A strikeout against Frank Perez got the third out and the contents of the dugout poured onto the field to mob Hernandez. The Falcons had done it, again.
Hernandez certainly didn't do it alone. If Brayan Cruz doesn't single in a run in the second, if Colton Pizzio's fly ball wasn't long enough to score Isiah Gonzalez from third on a tag up (in the second inning), if Mikey Camacho doesn't run down a foul ball and leap reaching over the fence to catch it for an out (in the fifth inning), if Jose Santos doesn't steal home (in the bottom fifth), who knows how it ends for the Falcons?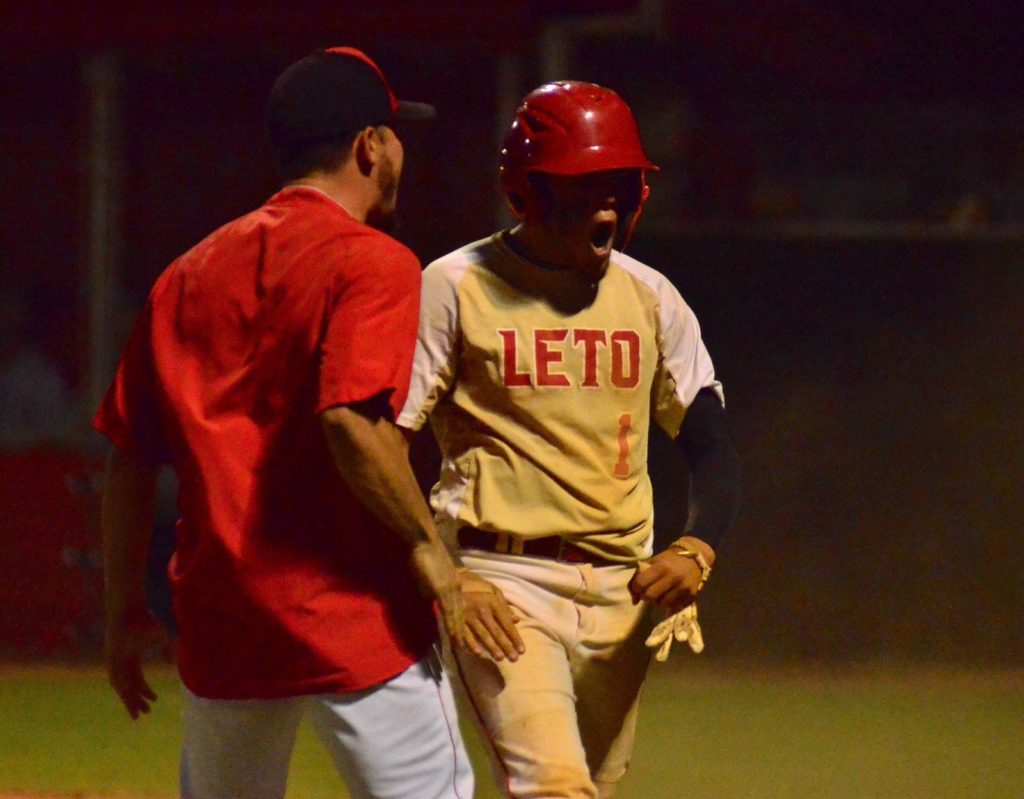 Falcons junior catcher Jose Santos is fired up after
stealing home in win. 
"(On the steal of home plate) That's the first time I've seen JJ call a play like that, maybe I've seen him do that in a JV game," Hernandez said. "He (Pizzio) knows when to slow down and when to speed up the game."
The game was delayed by a power outage with the stadium lights but only for about 20 minutes. It didn't rattle the Falcons, nor did it rattle Hernandez. As the pressure increased, so did the belief in each other. The Falcons came up diamonds. Javy Hernandez in three-and-two-thirds innings struck out seven but walked six. Both Cowboy runs were unearned. The Falcons stranded 15 Cowboys base runners on the night.
"The hardest thing is letting kids believe they can be successful," Pizzio said. "Being okay at something is okay, but what if there's something you can be great at?"
–  Andy Warrener is a longtime area journalist and photographer. Follow Andy on Twitter at @jawarrener