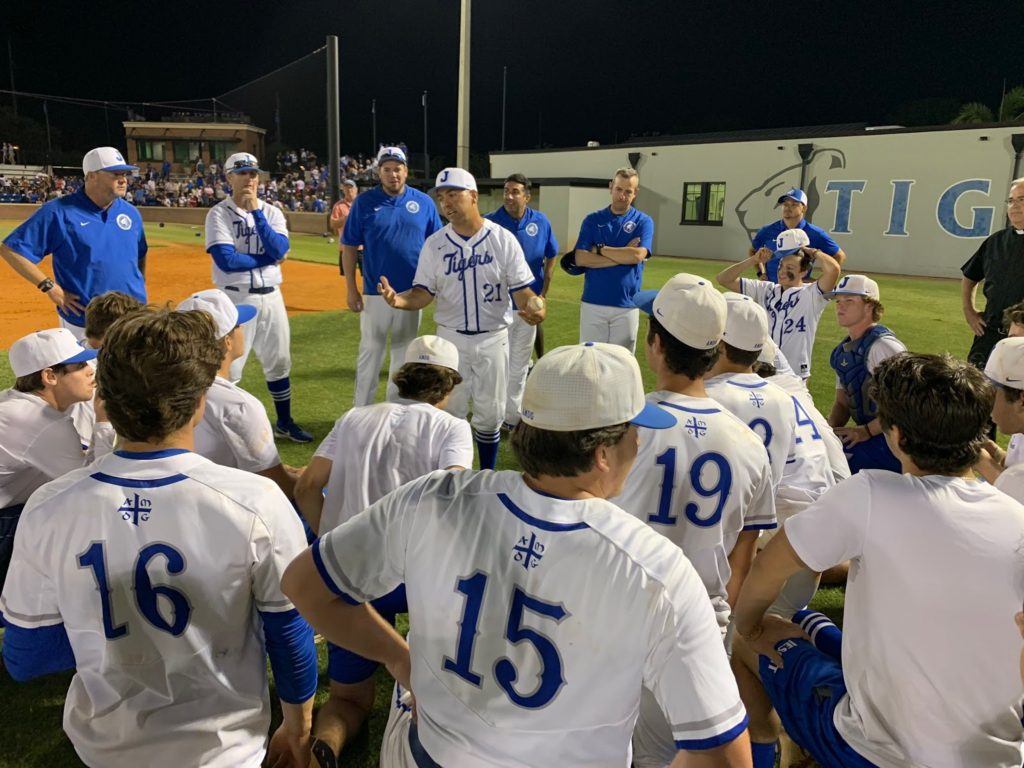 Jesuit head coach Miguel Menendez talks with his team after the Tigers walk-off region semifinal win over Jesuit. (Photo by Mike Camunas)
TAMPA — The old saying goes that there are no easy games.
That's certainly true for when district foes Jesuit and Jefferson square off.
Meeting for the fourth time this season (and eighth in the past two seasons), the Tigers cleared that last hurdle and knocked off the defending Class 6A state champ Dragons 6-5 thanks to a walk-off two RBI single by sophomore Cole Russo that propels Jesuit to the region final Wednesday hosting Dunnellon.
"They're the defending state champs," Tigers coach Miguel Menendez said amongst the huge on-field celebration at Jesuit's stadium. "It wasn't going to be easy. They're not going to quit, and we knew we were going to get their best effort. It's not like the other wins against them, (where) we were blowing them out. … It's unfortunate, considering how great this game was, that someone had to lose."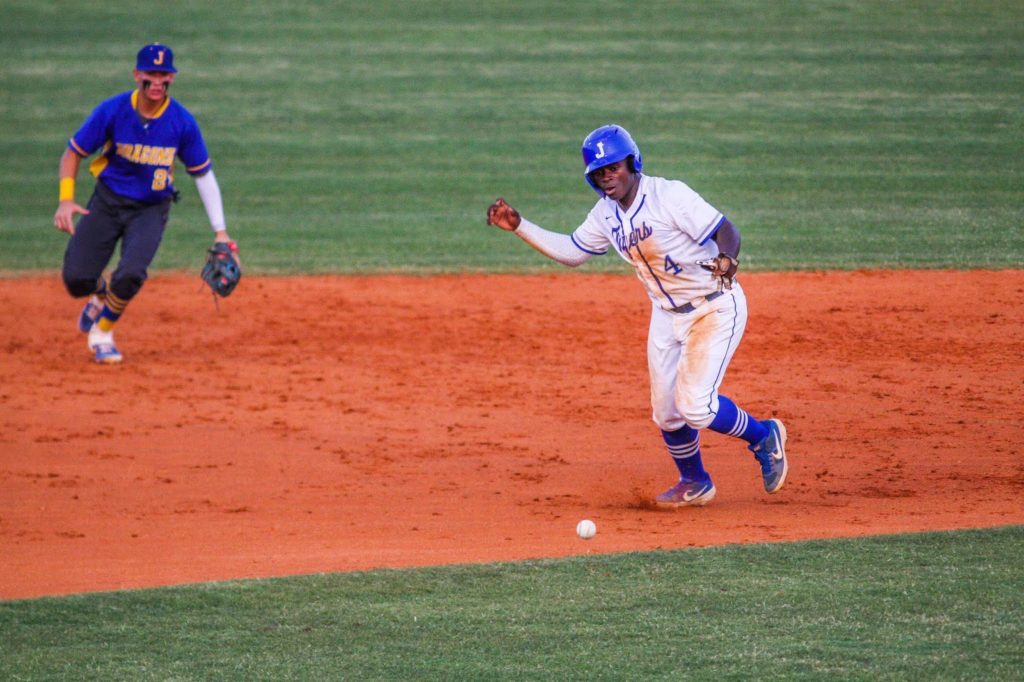 Jesuit's BJ Graham avoids a batted ball off of second base. Graham was 2-for-4 with three RBI in the Tigers win. 
From the start, it didn't look like Jefferson (14-13) would be the one to lose, especially by putting up a 2-0 lead in the top of the first thanks to RBI singles by Marc DeGusipe and Mario Lopez. The Tigers (24-5) would counter with one run thanks to an RBI single by B.J. Graham.
Both teams scored runs in the third — Jefferson added its third on a Lopez sac fly and Henry Politz had an RBI for the Tigers.
Graham would tie the game in the home third with an RBI single, but it would be a short-lived tie at three because the Dragons tacked on two runs on another single by Degusipe in the fifth.
— Mike Camunas (@MikeCamunas) May 19, 2019
"Coach told us to stay positive during the whole game," Russo said. "We were the better team the whole time and we just had to stay positive throughout it.
"I told our guys that if we get one guy on in the last inning we're going to win this thing. We got more than one guy on and here we are headed to the region final."
Indeed, Jesuit loaded the bases thanks to patient at bats and a misplay in centerfield, though did get down to its last out facing Jaiden Duarte and Julian Vargas on the mound.
With two outs and facing an 0-2 count, the big sophomore lefty, Cole Russo, stroked a liner off the right field wall scoring two for the walk-off win.
— Mike Camunas (@MikeCamunas) May 19, 2019
"I was just looking for a fastball to hit," Russo said, out of breath after being ambushed by his fellow Tiger teammates in the infield. "I saw a good fastball, so I knew I could put the barrel on it and drive it out there (to right field)."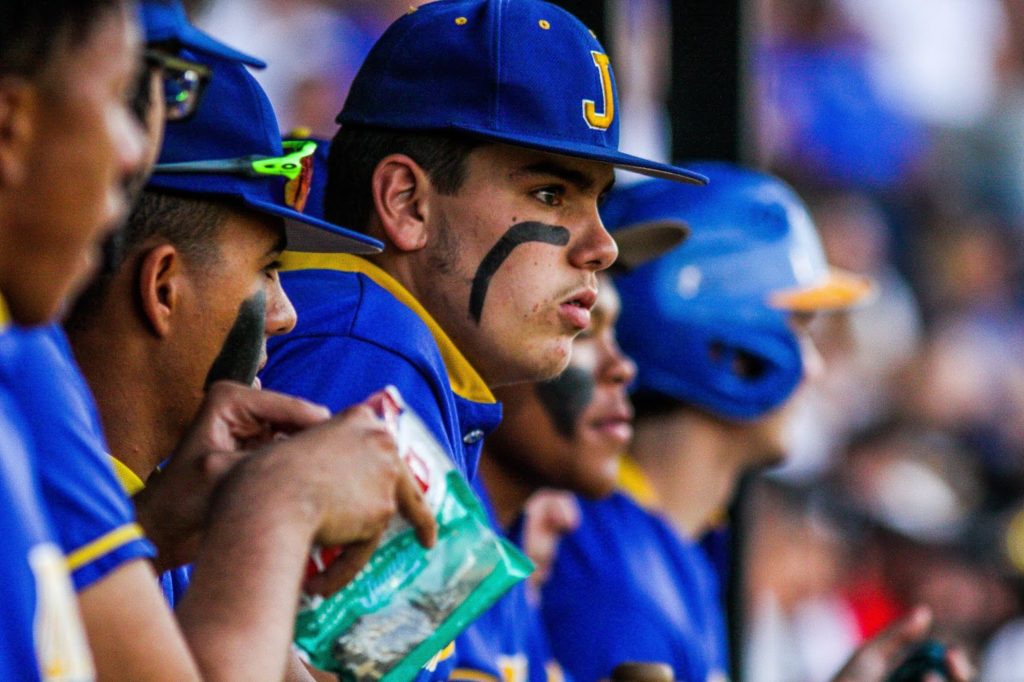 Jefferson players look on in Saturday's region semifinal game. 
While Jesuit and Jefferson have played each other four times this season, the Tigers are 4-0. However, they have not won any of those games by more than two runs. Going back even further, Jefferson won the 2018 regional semifinal match a little over a year ago, 2-1 in extra innings during its run to the state title.
"Both teams probably deserve to win this one," Menendez said.
"Obviously we have a lot of film on them," Russo added, "because they beat us last year, but we didn't panic when we went down early and it's our year this time around."
Menendez pointed out that Russo has stepped up in a big way in the absence of the team's best hitter, Bennett Lee, who was slugging .442 with 38 hits, 19 RBI, 12 doubles, seven triples and three homers before being lost for the season with broken fingers.
"(Cole) is just a sophomore, so he's getting his first opportunity with us," Menendez said, "and with Bennett not here, I'm not sure there's anyone else I'd rather have at the plate. Having him there at the plate, we were really confident because he's a guy who can really put a bat on the ball and has been for us as of late."
– Mike Camunas is a longtime veteran journalist who is always seeking true stories, trained under J. Jonah Jameson and takes better photos of Spider-Man than Peter Parker. Follow Mike on Twitter @MikeCamunas
Mike's Twitter feed was the place to be for some really great coverage of this Class 6A Region Semifinal showdown between Jefferson and Jesuit. Here's some more of what he had for us: 
— Mike Camunas (@MikeCamunas) May 18, 2019
— Mike Camunas (@MikeCamunas) May 19, 2019
Nick Perez needs just three pitches (and a great throw to catch a runner) to get out of the jam. 2-1 Jefferson over Jesuit they 2 in the 6A semifinal

@813Preps pic.twitter.com/AdOs3lCxZv

— Mike Camunas (@MikeCamunas) May 19, 2019
— Mike Camunas (@MikeCamunas) May 19, 2019
— Mike Camunas (@MikeCamunas) May 19, 2019
— Mike Camunas (@MikeCamunas) May 19, 2019
— Mike Camunas (@MikeCamunas) May 19, 2019
— Mike Camunas (@MikeCamunas) May 19, 2019
— Mike Camunas (@MikeCamunas) May 19, 2019
— Mike Camunas (@MikeCamunas) May 19, 2019
— Mike Camunas (@MikeCamunas) May 19, 2019