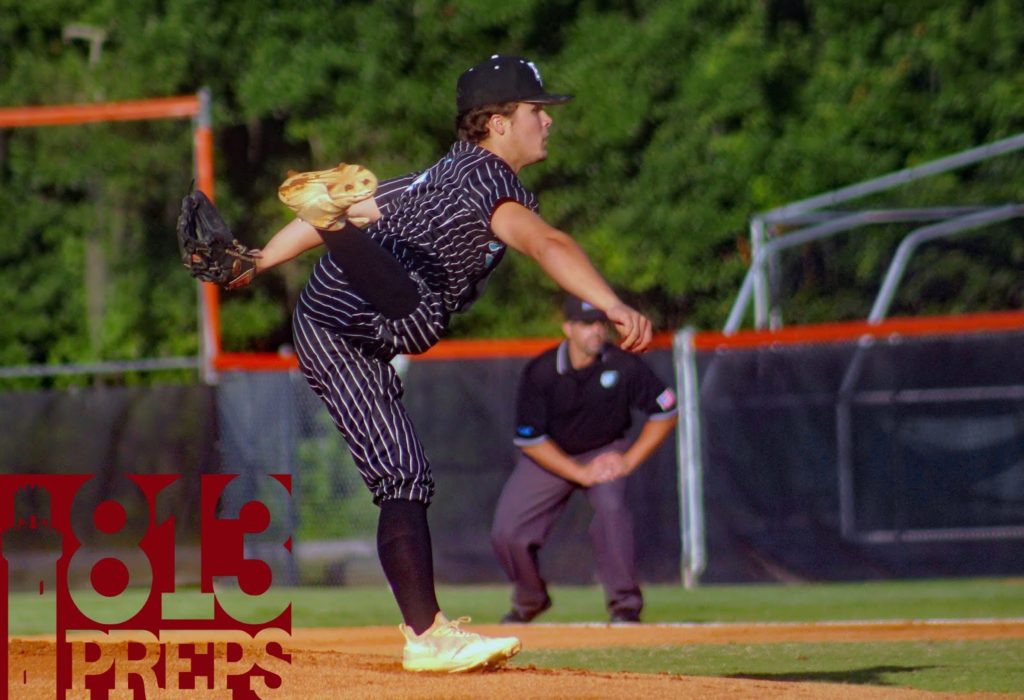 Plant City junior Jarod Wingo allowed just one hit in the final three innings of his complete-game win in the Class 8A region semifinals. Wingo improves to 5-0 on the year and had six strikeouts in the game. 
PLANT CITY – The easy part for Plant City senior Hunter Emerine was already done as he strode to the plate in the seventh inning of a tied, Class 8A-Region 2 semifinal game. In his mind, Emerine was already celebrating.
"Before I walked up, I'd already gotten a hit," Emerine said. "I told myself in my head I got a hit and then I got it done."
"Got it done" he most assuredly did. With two outs and runners on the corners, Emerine laced a line drive single into right field sending in Cole Cothren for the winning run as Plant City rallied with two runs in the seventh to defeat Plant 3-2.
"That moment ranks right there at the top," Emerine said. "We've had a bunch of big moments this year and I've been able to come through when my guys have put me in great situations."
— 813Preps (@813Preps) May 19, 2019
Plant City (27-2) junior Jarod Wingo seemed to find a different gear after allowing two Panthers runs in the fourth inning, working three-straight, one-two-three frames including needing just seven pitches to retire Plant in the top of the seventh and bring his offense to the plate trailing by a run.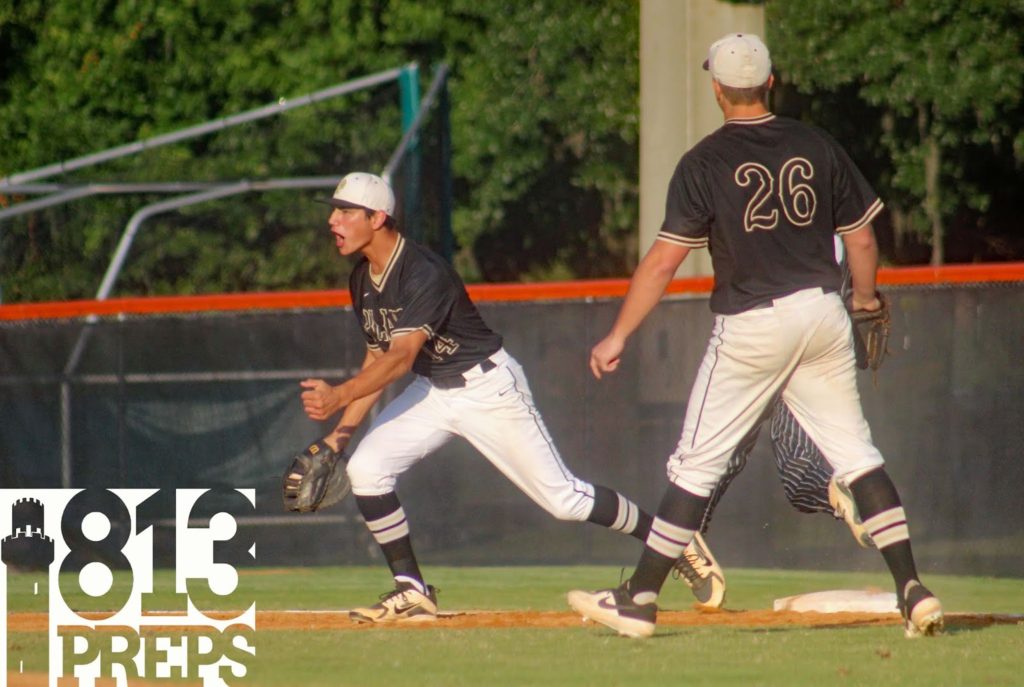 Panthers sophomore first baseman Jac Caglianone is excited after make a bang-bang put-out in the first inning. Caglianone was 2-for-3 with an RBI in the game for Plant. 
A Cade Shissler single was sandwiched between a pair of outs and it looked like time was getting short on the Raiders' best-ever season. However, Shissler went to second on a wild pitch before Cothren slapped single up the middle that Plant's defense couldn't get a clean read on creating a blank slate with a tied game as Shissler stormed across the plate. And momentum followed with him.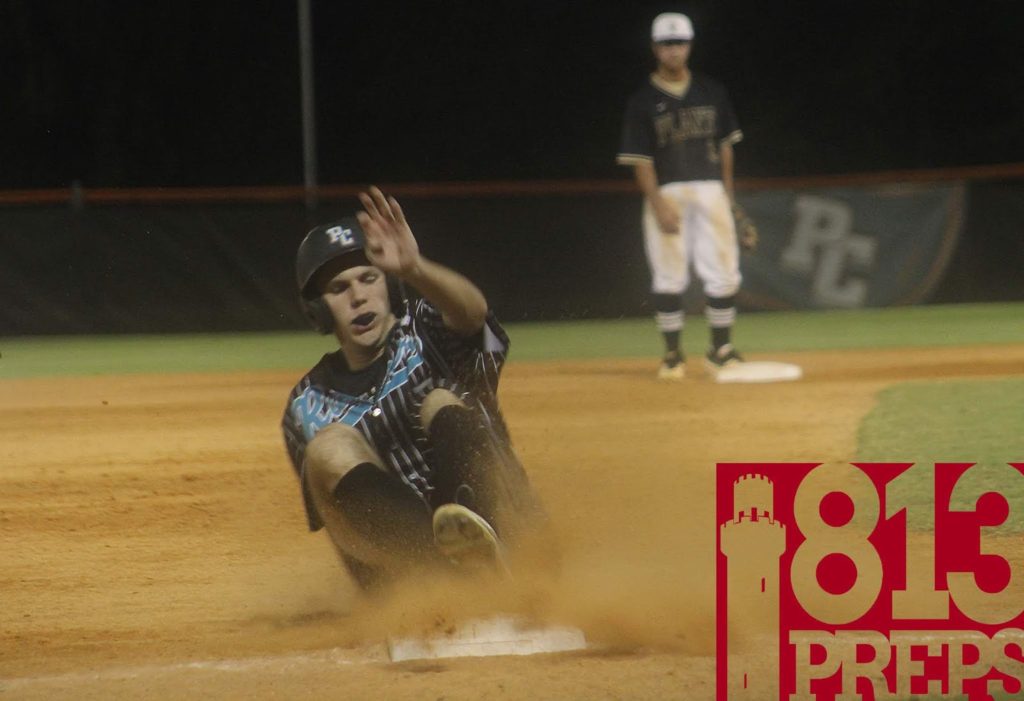 Raiders junior Cole Cothren slides into third
setting himself upto score the game winner
on Hunter Emerine's single. 
"When I saw a runner at second, I knew I had to do anything to tie the game," Cothren said. "I knew if we could just tie it here, even if it wasn't until a later inning, I felt like that would be all it would take to have momentum on our side."
For Wingo, the comeback was never in doubt.
"I was confident, I'm always confident in these guys," Wingo said, "and when Shissler got that single I knew we had them."
Senior Parker Messick singled to put runners on the corners and setup Emerine's heroics.
For Plant (17-10), an early Raiders' run on an error was answered with a bit of a rally in the fourth. After senior Gabe Rincones walked and stole second, JD Urso lined a single to left to tie the game, and after an error allowed Urso to move around to third, Jac Caglianone's single to centerfield gave the Panthers the lead.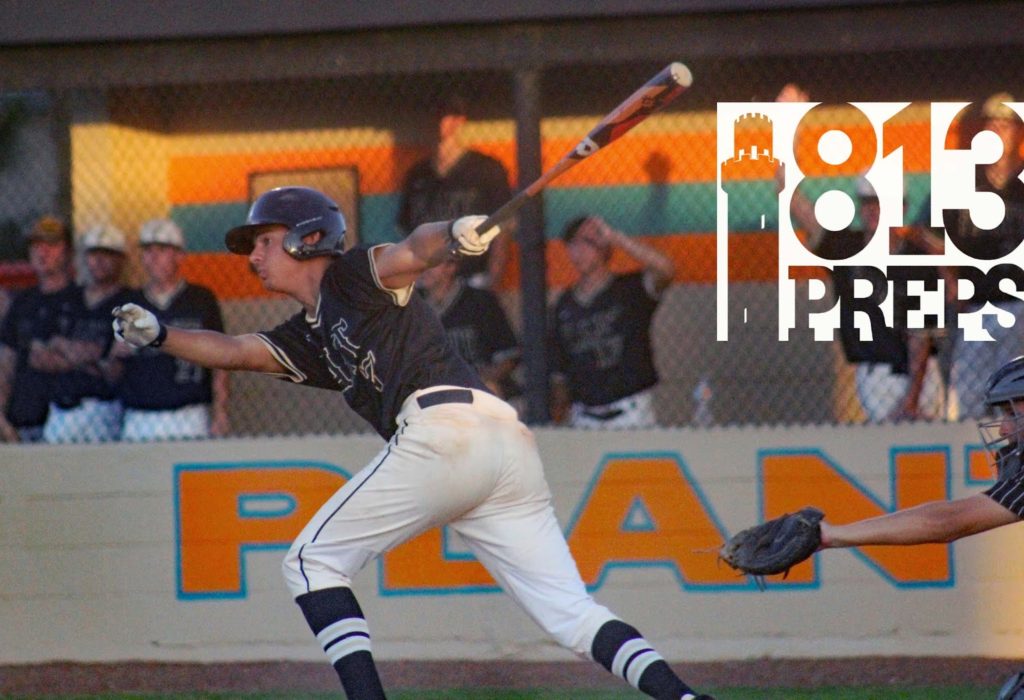 Plant senior J.D. Urso singles in a run in the fourth inning. Urso would also score a run later in the inning on a Sac Caglianone single. 
The two-run frame was the only significant struggle Wingo would face however, allowing just one more hit (erased on a caught stealing) finishing with six strikeouts and improving to 5-0 on the year.