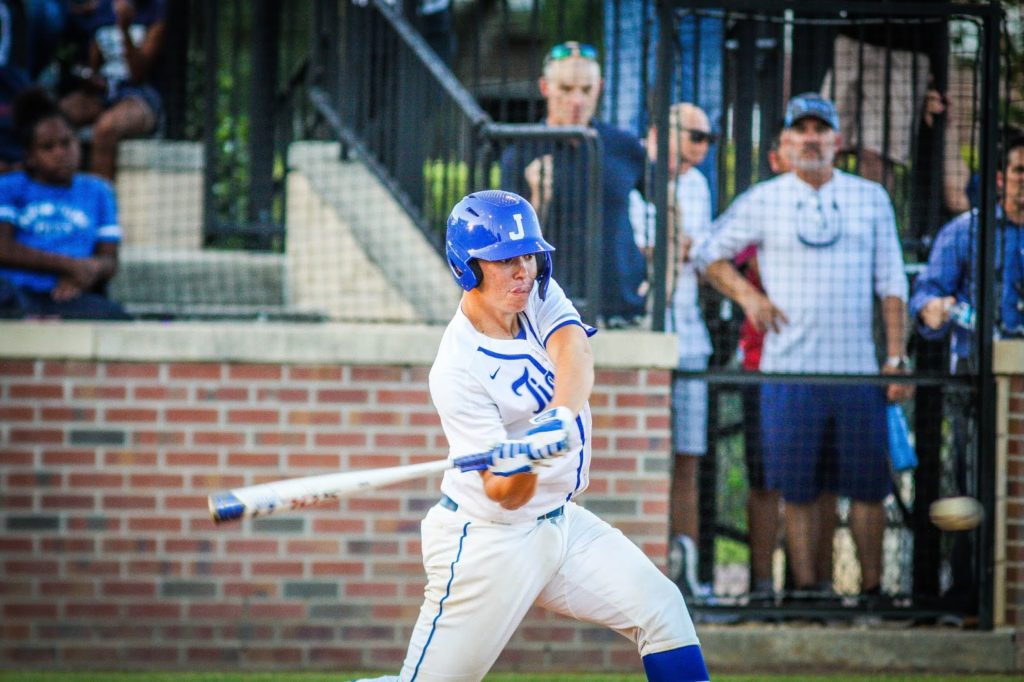 Jimmy Clifford, who has stepped up big in the absence of Bennett Lee, drove in an RBI during the Tigers 10-0 region final win Wednesday evening.

Story and Photos by Mike Camunas
TAMPA — The Jesuit Tigers went there.
One of the most-storied baseball programs in Hillsborough County compared itself to the Yankees.
Now, before you all get all upset about what could be construed as a controversial and divisive comparison, the Tigers (25-5) meant it in one way only.
Injuries.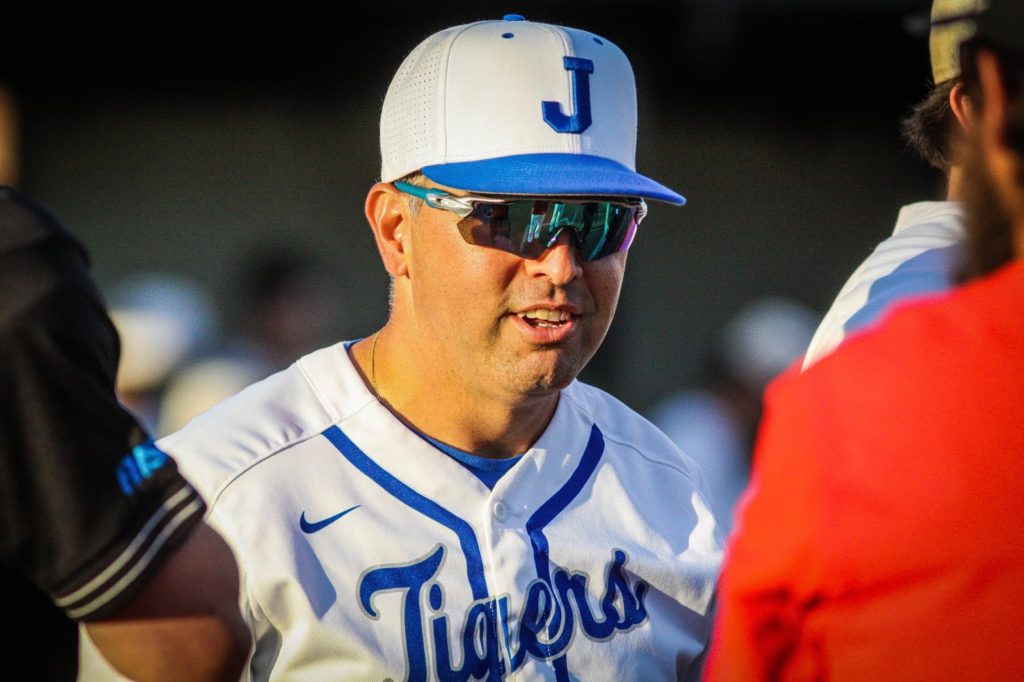 Jesuit coach Miguel Menendez chats with the 
Dunnellon 
coaches at the meeting at the plate prior to the 
Tigers 10-0 
mercy-rule win in five innings 
that propelled 
them to 
the 
Class 6A state tournament for 
the second time in three seasons.
The injury-plagued Bronx Bombers have or had nearly every superstar on the injured list, and Jesuit took it as motivation that the Yankees overtook the AL East lead despite all that.
Just as, following the loss of Bennett Lee and nagging injuries that kept popping up like Johnny Shoop missing the region semifinal with a pulled hammy, the Tigers went ahead and outscored opponents 26-5 in the Region 2 tournament to advance to the team's second state tournament final four appearance in the past three seasons.
"Nobody is going to feel sorry for us," Menendez said. "I told the guys, 'Just keep playing.' That's all they can do and they all stepped up and got it done when they needed to."
That included two 10-run mercy-rule wins, including bulldozing Dunnellon from the get go at Hyer Family Park in the Class 6A-Region 2 final.
"What we said was, 'Well, the Yankees just took over first in the AL East with all those injured," said senior captain Ethan Valdez, who drove in two RBI on Wednesday evening, "so one player doesn't make our whole team. We all have to contribute and play our parts here."
Nearly everyone did contribute to dispatch the other Tigers (24-7), which committed six errors in the game and saw starter Maurice Goolsby rocked for six runs before being pulled.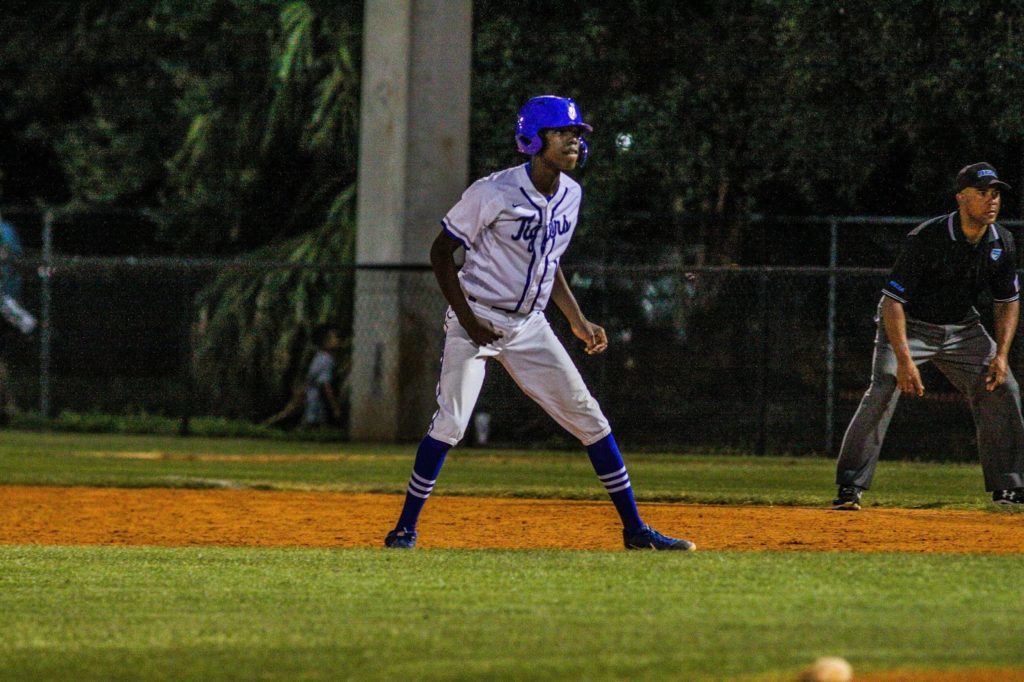 Jesuit speedster courtesy runner Jalen Niles scored 
a run Wednesday night.
Nick Rodriguez, Andrew Kynes and Henry Politz all drove in runs, as did Jimmy Clifford, who, Menendez says, has proven invaluable in the wake of losing Lee.
"Jimmy is probably the unsung hero of this team," Menendez said, singing praises of the player who stepped in behind the plate for Lee. "And not just because he's been great behind the plate, but also in the locker room. He's the guy that gets us and all the guys up, who keeps it up in there for us"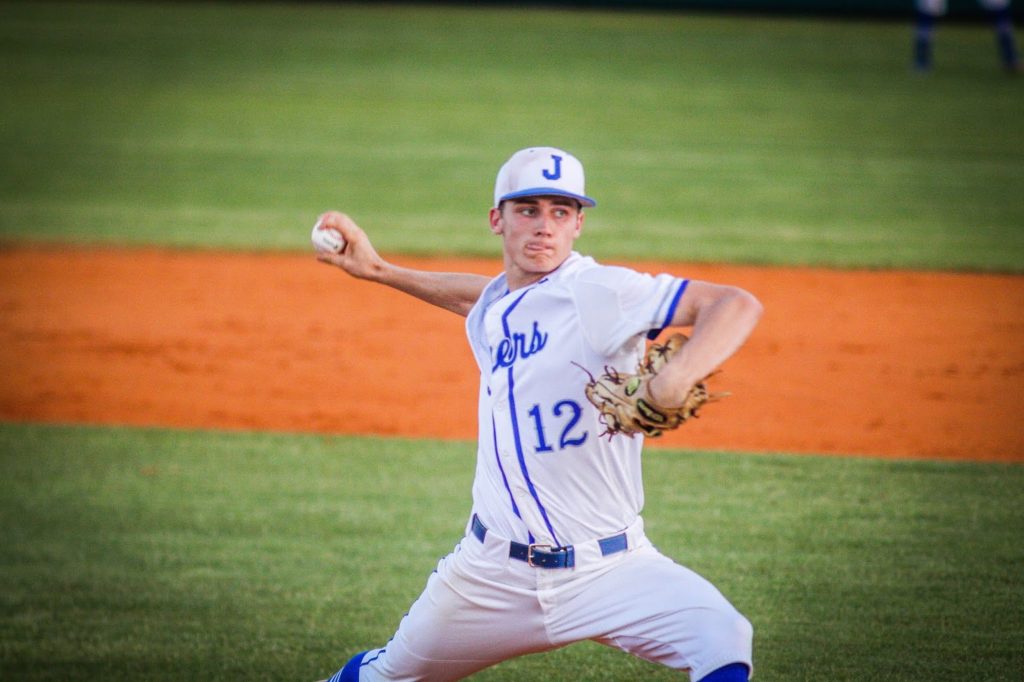 Junior Camden Minacci pitched four innings of one-hit baseball and struck out four in the Tigers 10-0 mercy-rule win over Dunnellon in five innings that propelled them to the Class 6A state tournament for the second time in three seasons.
Junior Camden Minacci made the start for the Tigers and pitched four innings of one-hit baseball and struck out four. He improved his record to 11-1 with a 0.95 ERA and 81 strikeouts, however, Minacci only has six games started, while his other five wins were picked up in relief appearances.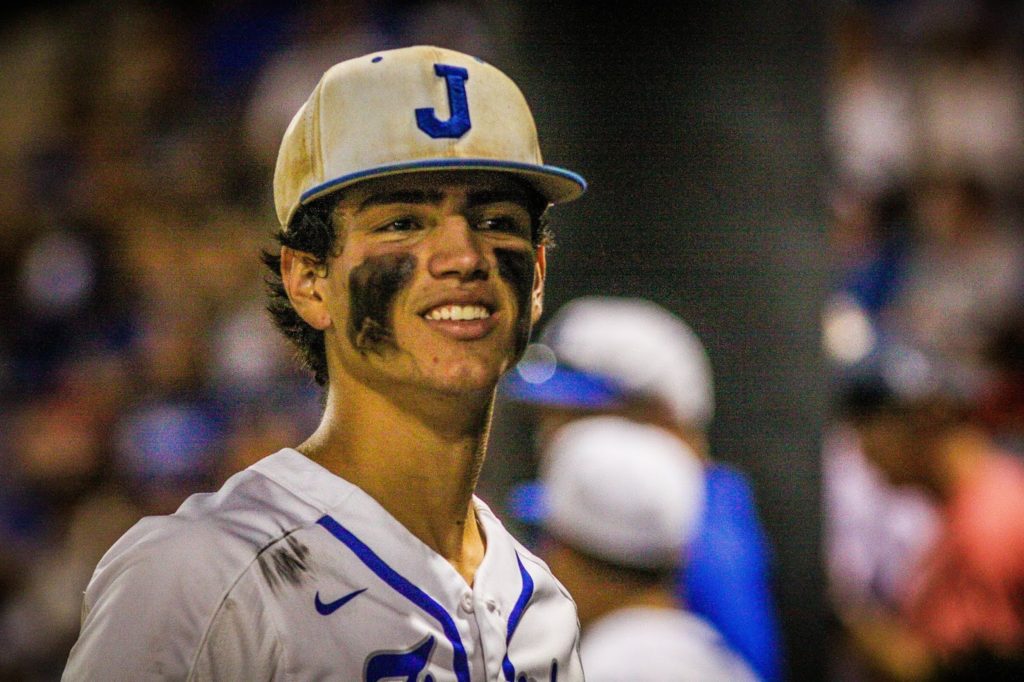 Junior Joe Casale went 2-for-4 with two RBI during the Tigers 10-0 win over Dunnellon. It was Casale's second RBI hit that gave the Tigers the mercy-rule run in the fifth to propel Jesuit to its second state tournament appear in three seasons.
"The loss of Bennett hurt, and everyone was down," said junior Joseph Casale, who drove in two RBI, including the hit that gave the Tigers the mercy-rule run in the fifth, "but we all knew we had to pick up the slack and it was going to be tough, but we got it done in a big way. Guys have been doing it by going out and playing the best they can."
— Mike Camunas (@MikeCamunas) May 23, 2019
Jesuit will face Miami Springs in next Friday's Class 6A state semifinal at Fort Myers' Hammond Stadium at 1 p.m. For Menendez, he was just pleased to get an early finish to start the prep, but his players have a scholastic hurdle slated for tomorrow.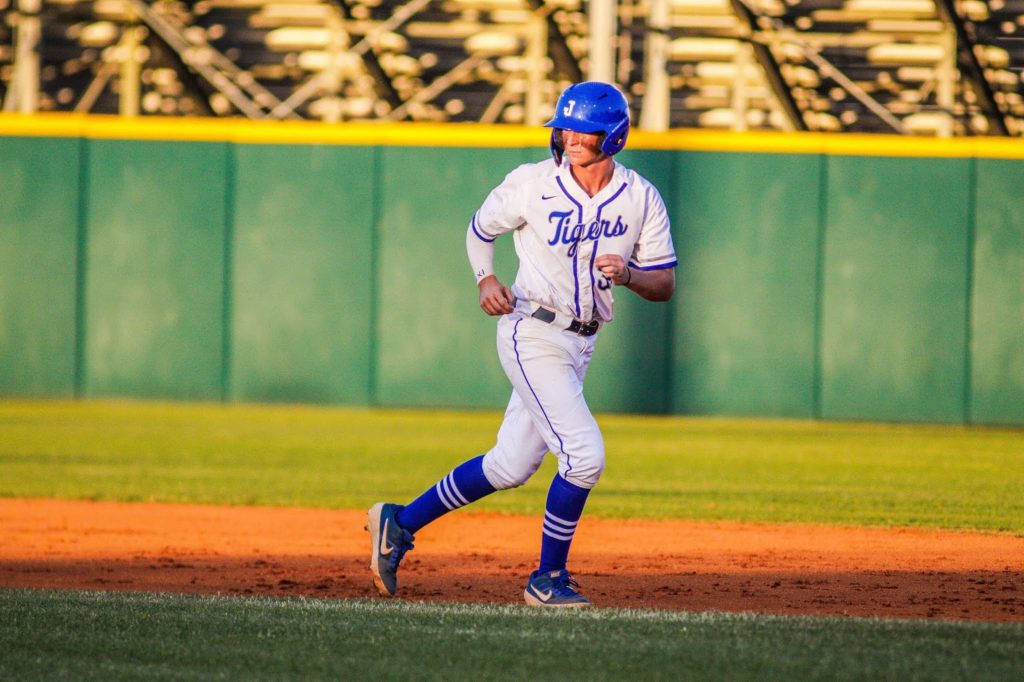 Nick Rodriguez scored two runs and drove in another 
during the Tigers 10-0 drubbing of Dunnellon.
"Hey, we were happy to get to 10 (runs) again and get out of here at a decent hour," Menendez said with a laugh. "We got exams tomorrow!"
For Casale, he's seeing a dream realized by heading to his first state tournament appearance as Jesuit seeks its fifth title and first since 2014.
"Coming in here (to Jesuit) as a freshman, that was a dream of mine," Casale added, "and Jesuit has notoriously good baseball teams, but some of them have fallen short. I think the difference this year will be how close we are — we're like a family and it's made a huge difference."
— Mike Camunas (@MikeCamunas) May 23, 2019
– Mike Camunas is a longtime veteran journalist who is always seeking true stories, trained under J. Jonah Jameson and takes better photos of Spider-Man than Peter Parker. Follow Mike on Twitter @MikeCamunas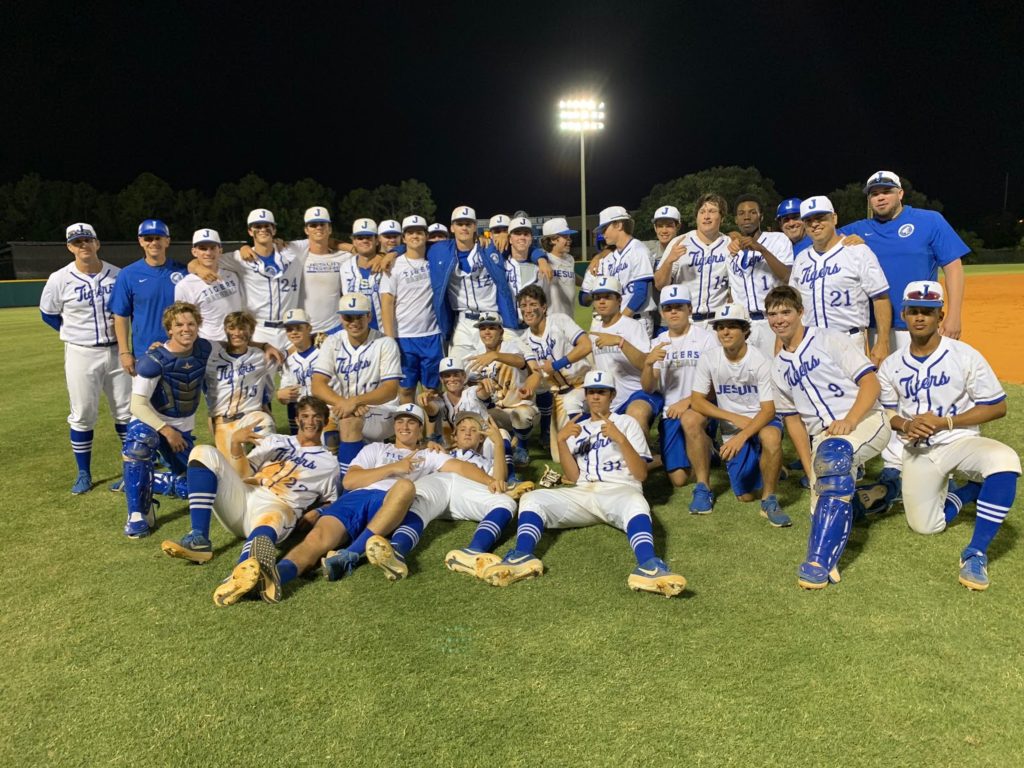 2019 Class 6A-Region 2 Champions
The Jesuit Tigers