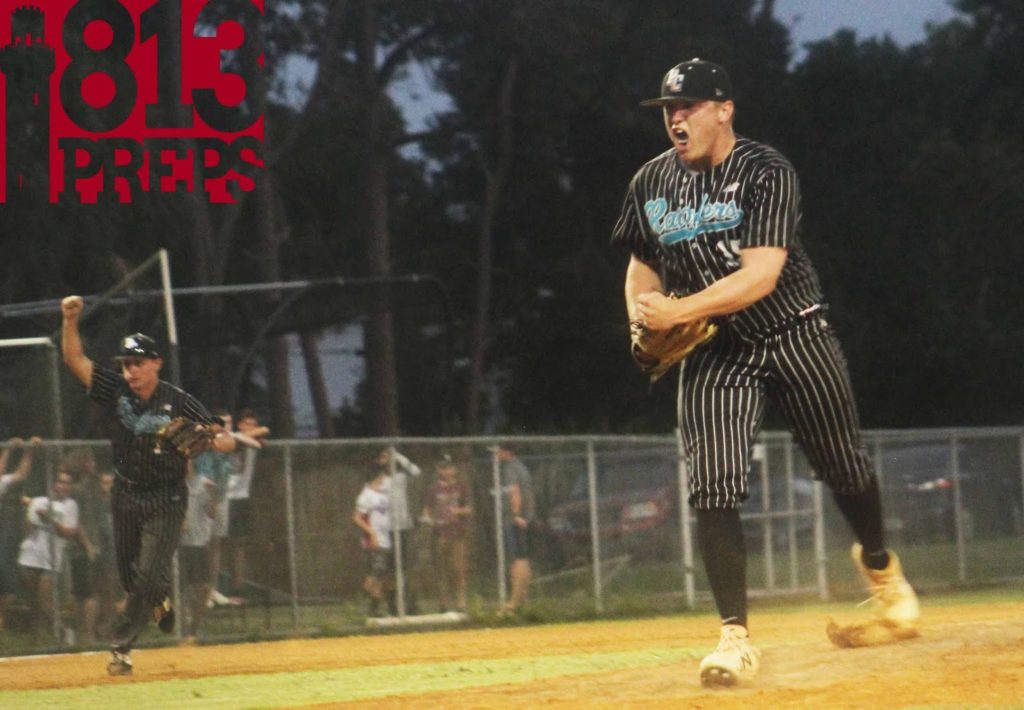 Plant City senior Parker Messick celebrates coming off of the mound after he struck out the side in the Raiders' 3-0, region final win at Seminole. Messick allowed just one hit, one walk and struck out eight in the win, his 10th of the year. 
SEMINOLE – Plant City senior Parker Messick is so good according to his teammate Tyler Dowdy, that the Florida State committed lefty only needs one to win on the mound. Heck, sometimes he almost doesn't even need one according to Dowdy.
"I mean, it's crucial to get a run to win, but man, Parker almost doesn't need that run," Dowdy said. "Parker has done the same thing all year, 0-0 ballgame, 10-0 ballgame, 1-0 ballgame, it doesn't matter. He has just gone out there and proven he is the best."
Though not needing a run is a bit of a stretch, it's not a huge one as Messick has picked up a win in his previous six appearances, tossing complete-games in all of them and allowing just a single run in that stretch. Wednesday, Messick made it seven-straight, tossing a one-hit, complete-game shutout as he led the Raiders to a first-ever FHSAA state semifinal game, with a 3-0 win over Seminole in the Class 8A region final.
— 813Preps (@813Preps) May 23, 2019
Messick worked fast, and both figuratively and literally, Seminole never seemed to catch up. A lone skipping, ground ball single off the bat of Mike Ridge in the third and a walk issued in the fourth were the only dings to Messick's scoresheet, as he struck out eight, punctuating his night by striking out the side to end the game. The win moves Messick to 10-1 on the season.
"If I had anything to say about it, they were not hitting a single one of those balls in that last inning," Messick said. "They may have fouled a few off, but it was my goal to strike every one of them out and that's what I did."
For the Raiders' co-captain Cade Shissler, Messick has had broad shoulders all season on the mound.
"He's been our horse all year and we climb up on his shoulders," Shissler said. "We know if we can get him one run, we are in good shape."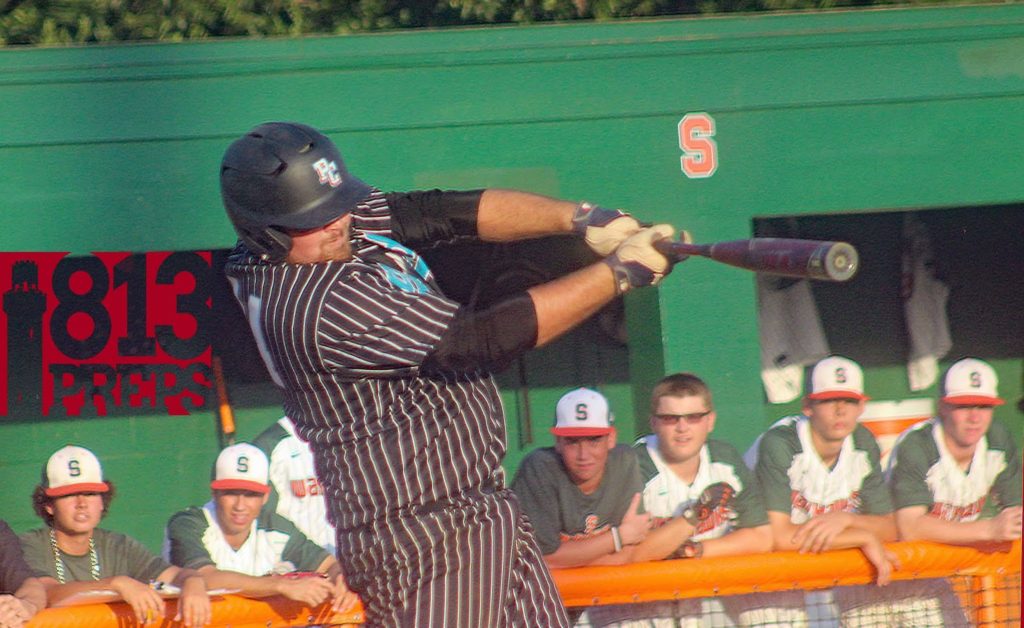 Plant City junior Tyler Dowdy puts a high fastball out of the park
for a solo home run in the second. 
And though he said after the fact, Messick may not have needed it, Dowdy gave him a run anyway smashing his fourth home run of the season over the wall in left-center in the second inning. Messick said he tossed his hat up in the air in the dugout the moment it left the bat, but Dowdy himself broke out of the box like he didn't fully barrel the ball.
"I didn't think I got it all," Dowdy said. "Our bus driver on the ride over here, who has been an umpire in the area for a while, said as many games as he's umpired here he's never seen a home run."
"When I hit it, I thought, 'this field feels big, I don't know if this one is going out, but it was hit well and I was at least getting on two.'"
Messick said before the game he asked his team to get him one and he'd try and do the rest, so when he saw Dowdy go after a ball up in the zone he knew the offense had come through for him.
"I think I threw my hat and immediately started walking out of the dugout to meet him because I knew it was out," Messick said. "But he did not, he was hustling for a double. I asked my team to get me one, that's all it would take and I knew it was gone when he hit it."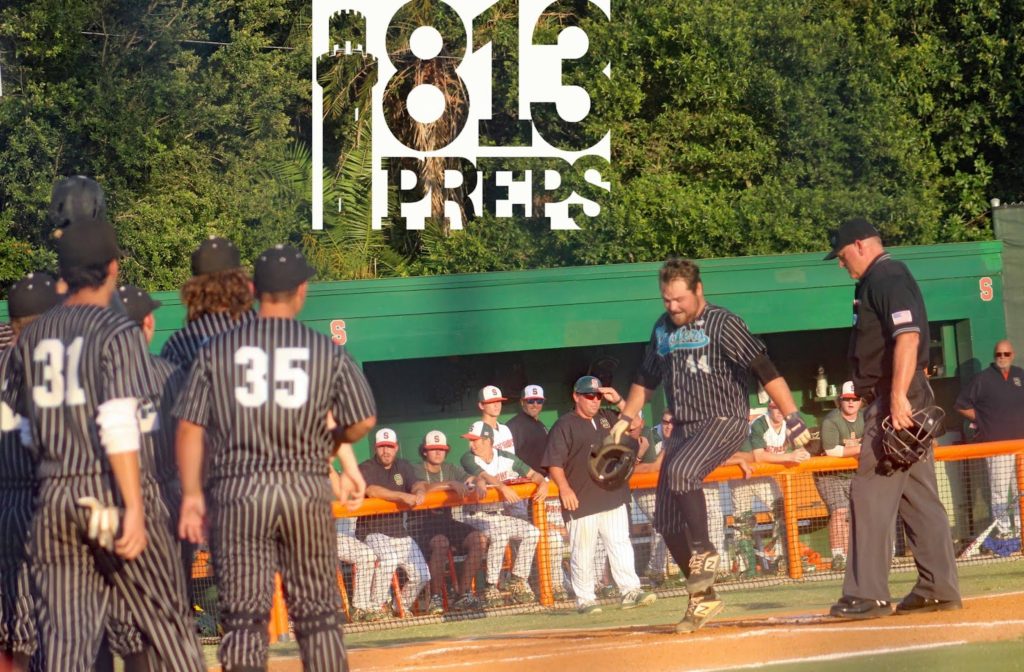 Dowdy stomps on home plate after his home run to left field in the second gave his team all it needed for a region final win. 
Plant City (28-2) added some cushion in the third as sophomore DeMario Williams got a leadoff single, stole second and then the senior, Shissler traded places with him with an RBI double. Shissler, a Stetson signee, added the Raiders third run in the top of the seventh driving in Casey Mawhinney (2-for-3) with his third hit of the game.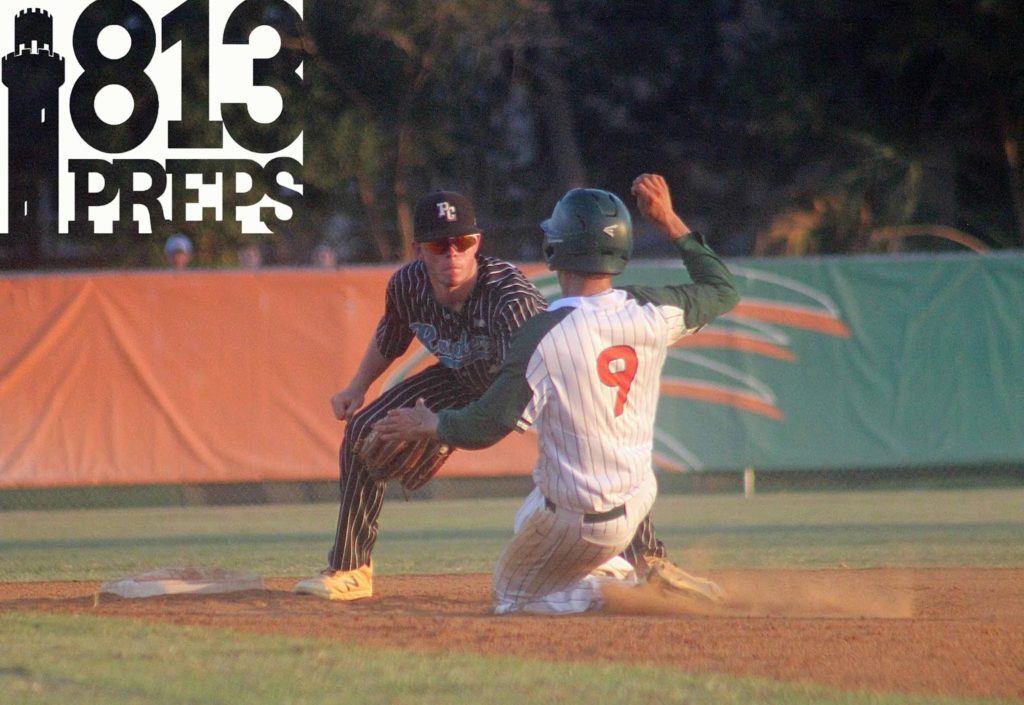 Raiders senior SS Cade Shissler applies the tag on a runner at
second base as catcher Hunter Emerine erases a fourth-
inning walk. 
"When we got that first run, Parker looked at me in the dugout and said, 'that's it we are winning this game,'" Shissler said, "and I believed him, but I was happy to get him a few more (runs) just to make it easier."
Plant City, which has not made a final four appearance since the current Plant City High School opened its location in 1973, and the last time PC reached the state final was in 1965 when the team was known as the Planters.
For Messick, the support of a huge Plant City fanbase that turned out for the game in Pinellas County, was added motivation and he said he wasn't going to disappoint the crowd.
"I was doing this for the boys, for the school, doing this for our city," Messick said. "This was incredible. I don't know if we've had this many people at one of our home games, and for everybody to travel this far, I wasn't going to let them down."
Plant City will take on Hollywood McArthur in next week's FHSAA state semifinal game held at Fort Myers' Hammond Stadium. The game is set for a 7 p.m. first pitch on Wednesday, May 29.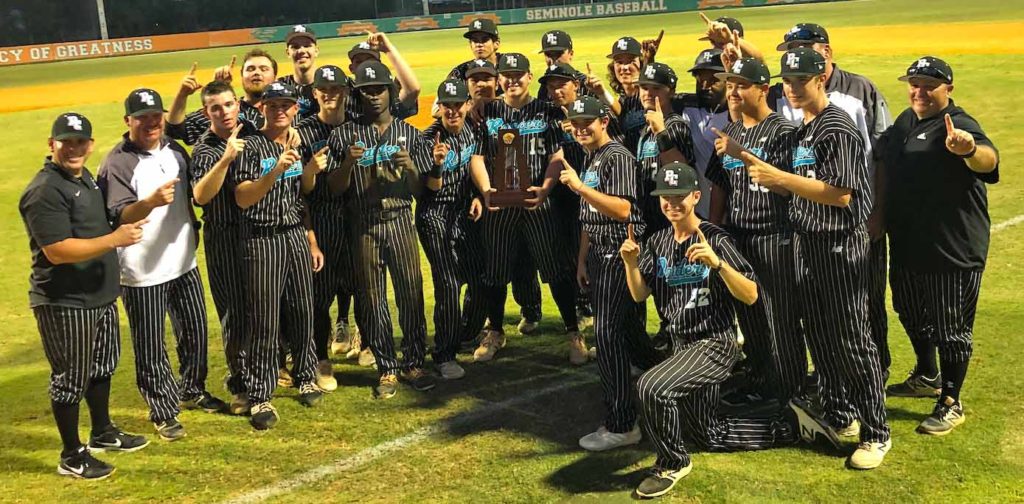 2019 Class 8A-Region 2 Champions
Plant City Raiders