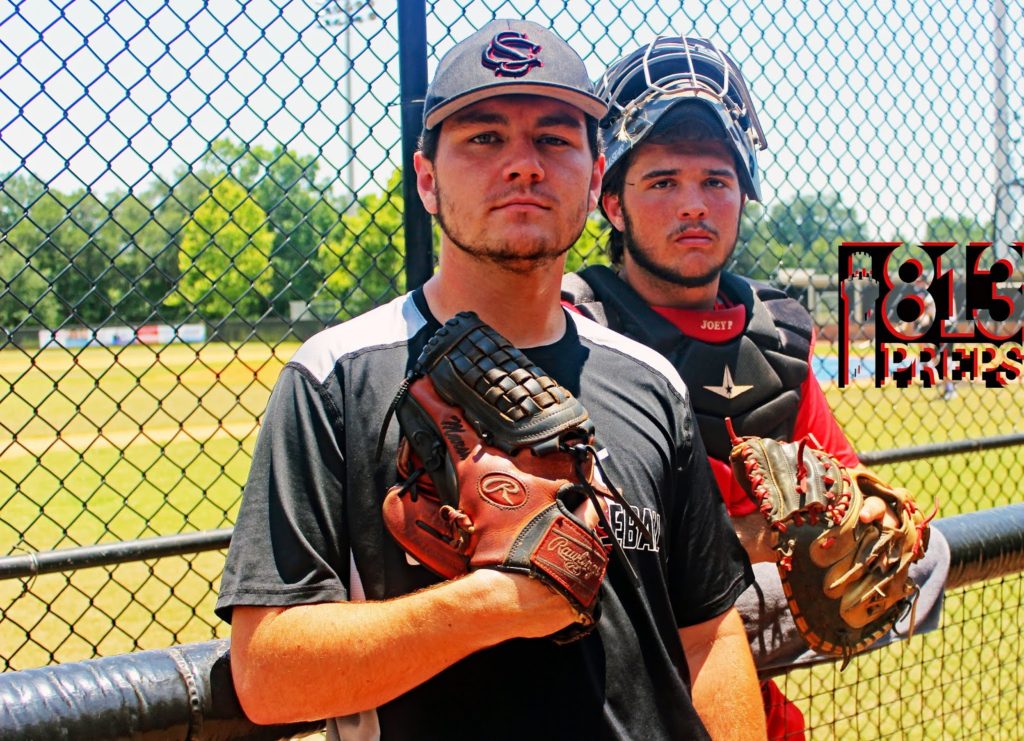 Strawberry Crest senior pitcher Alex Marshall and catcher Joey Parrillo spearhead a return trip to the Class 8A State Championship Tournament looking for more than just a satisfied feeling. 
DOVER – Strawberry Crest senior catcher Joey Parrillo described his teammate Alex Marshall in detail during the Chargers final practice on their home field before traveling to Wednesday's FHSAA Class 8A State Semifinal game against Lakeland George Jenkins (21-6) at Fort Myers' Hammond Stadium, but he summed it up this way: "I don't know really what to say, he's just a weird kid."
Weird.
To clarify, this statement was made within sniffing distance of a dugout awash in the odor of the Chargers de facto mascot for the week – a very large and very dead fish – which dropped from the talons of an osprey and landed behind home plate in a pivotal late inning of the Chargers' region final game against Chiles. After the fish fell to the ground mid-inning, Strawberry Crest managed to get out of a first-and-second, one-out, sixth-inning jam on the field, and the fish corpse has since remained in the dugout. A dugout where Tuesday, many of the Strawberry Crest players sported some of the worst dyed blonde hairdos you'll ever see, except for senior Ryan Dell, whose flaxen mane sports a splotch of red.
"It's not like I could make it any more blonde," Dell noted.
"There is no shortage of personality on this team, that's for sure," Chargers head coach Eric Beattie said. "The best teams I've ever been a part of, as a player or as a coach, have been some of the weirdest."
"There is a buy-in factor to every good team, and this team is comfortable with each other in every way."
Marshall the 6-foot, 200-pound pitcher at the top of the Chargers' rotation fits the mold of the often odd, quirky, or yes, weird left-handed pitchers according to Beattie.
"He is a weird dude and he says some weird stuff," Beattie said. "But pitchers are weird man, and lefty pitchers are usually even weirder."
A South Florida State College commit, Marshall has posted an 8-3 record on the mound this season, with a 1.78 ERA and 68 strikeouts.
This season's results came along with equal parts effort and equal parts grit and determination and were fueled by a bit of disappoint last season. Despite a bit of a breakout showing as a sophomore in 2017 (4-3, 10 appearances and 51 innings), Marshall saw his role diminish a bit on the mound last year working in parts of only seven games. His explanation, simple and matter-of-factly: "Last year, I got beat out. There is no other way around it."
"It was tough not being out there, and although I knew my teammates were going to take care of things on the field it was tough," Marshall said. "So, this year there was no way I was going to let it happen again and I grabbed that No. 1 spot by the throat and never let it go."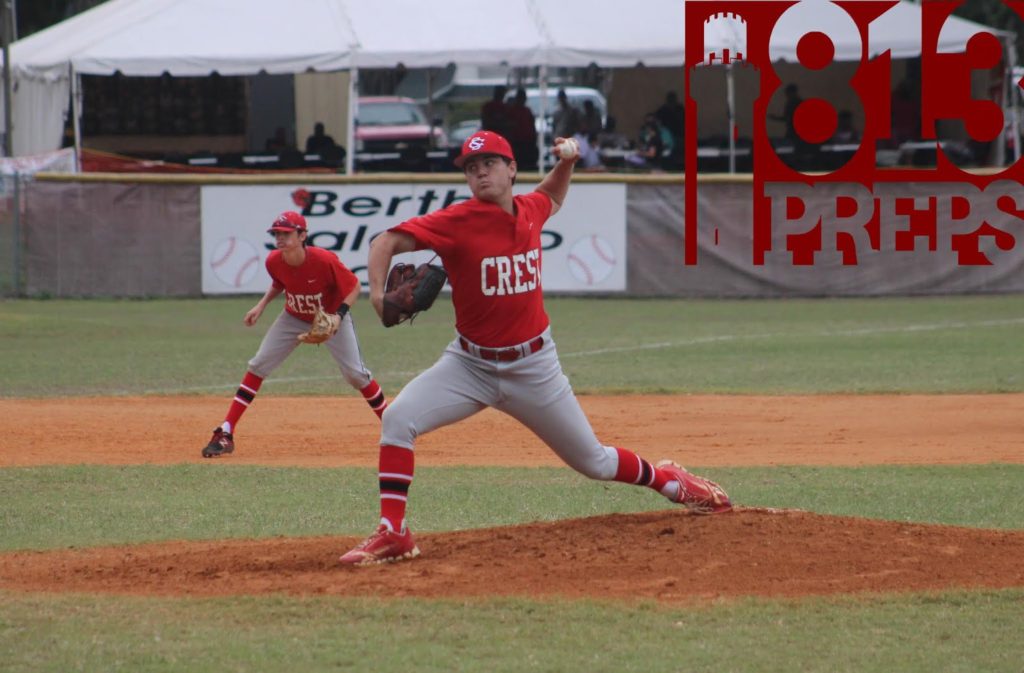 Strawberry Crest senior pitcher Alex Marshall.
The diminished role certainly sparked a fire for him this season and he has responded, assuming the No. 1 spot in the rotation. The spark was certainly evident for Beattie and it is his determination on the mound that is his best weapon.
"He's got an average fastball with average movement, an average change-up and an average breaking ball," Beattie said. "But what he has that is above-average is his competitiveness, you see him on the mound and he has this personality and intensity in every single pitch he throws."
"I'll take that guy with his stuff and above-average grit and intensity, over a guy with above-average stuff and no intensity every day. With Marshall you know every time he's out there he's coming with all he has."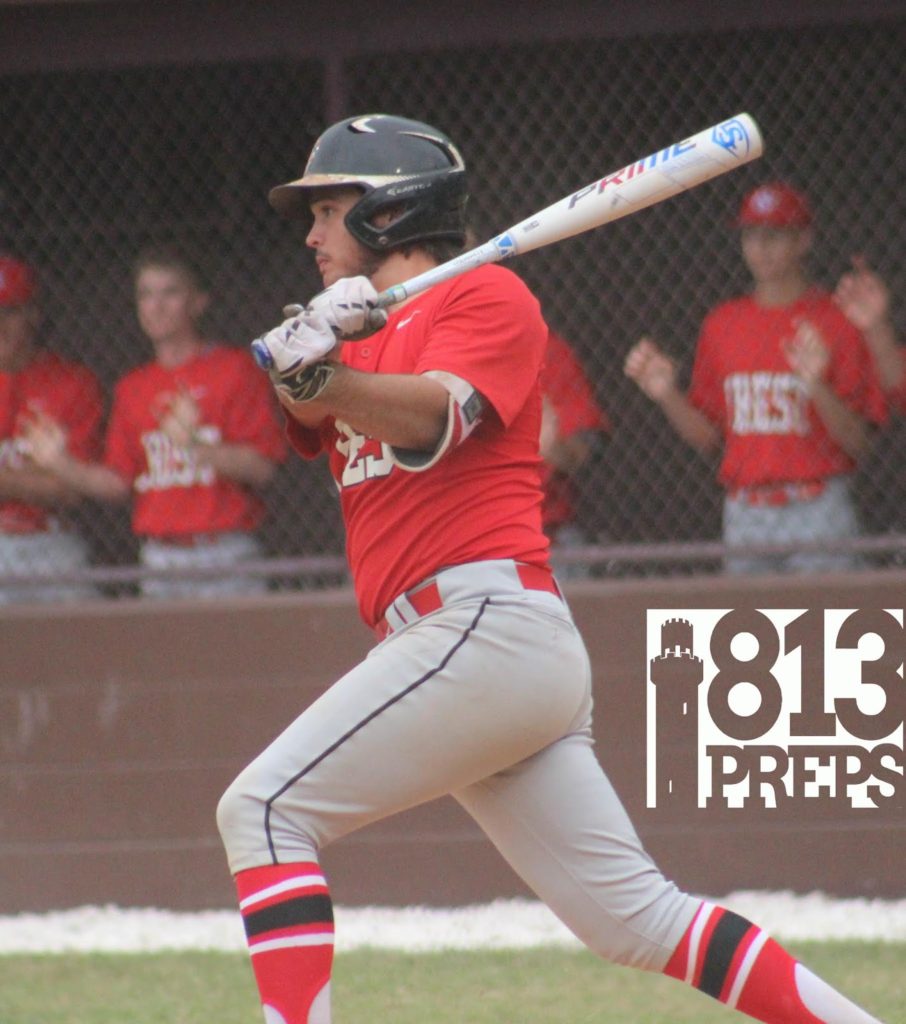 Chargers catcher Joey Parrillo
Parrillo, who is hitting .288 with 15 RBI and six doubles, while handling the staff  on the mound, said his relationship with Marshall dates back nearly a decade so he's used to the sometimes-strangeness his battery mate makes. Parrillo said Marshall's one-liners and "weird" stuff has a way of snapping his team out of things and realigning the focus.
"I've known Alex since elementary school so we've had a bond for a while," Parrillo said. "In our time here though, we've really connected. But he is a weird kid, some of the stuff he says I have no idea where he comes up with it. But it works for him."
Beattie said his senior backstop has been pivotal in the team's successful two-season stretch and it his ability to form relationship with his pitchers, including four players who have reached 30 innings on the mound this season, and a combined staff 1.90 ERA.
"With a catcher, it all comes down to relationships and trust and Joey is gifted at creating relationships," Beattie said. "Your chemistry between pitcher, catcher and umpire is so important, and Joey is a guy who creates that. He's smart, he's caught these guys for years, he knows what these guys need at any time and he is great at voicing those things to our team and making those things happen."
Parrillo said focus on the task ahead for himself, Marshall and the Chargers' five other returning seniors from last year's first-ever district championship for the school, is no joking matter. He said there is a different attitude throughout the team heading back to the state tournament. Last year, he admitted there was a bit of a complacency, a "happy-to-be-here" attitude heading into states. The result: an uncharacteristic eight Strawberry Crest errors on the field in a 5-2 semifinal loss to Sarasota in Fort Myers.
"I think we were satisfied just getting to states," Parrillo said. "This year we aren't going there to just be satisfied. We are going out there to prove we are the best team. We will never again be satisfied by mediocrity, we are going there to win."
Marshall added: "Eight errors. Eight errors. Eight errors. That is constantly on our minds. We went down to Fort Myers and we did that. We made eight errors in a state game. We refuse to let that happen again."
"I think we were a bit blinded by the lights and it had been a long, drawn out journey to that point," Marshall said. "This year we know the ins-and-outs, we know what's up, and we are going to go in like we own the place. We are a much different team."
Strawberry Crest (18-10) has no plans to just smile and wave this season and are not going to just be happy with a visit to the state championship tournament.
"As proud of each other as we are, I don't get a satisfied vibe from this group leading up to tomorrow," Beattie said. "Last year we were just trying to win the first district championship for the school and we fed off that and won a region title too. To the players and to the families I think it was a, 'hey we are just happy to be here' mindset."
"I don't see that at all this year, I think we are going into tomorrow very, very hungry for a win tomorrow and I don't think that is enough for these guys. They want to win. We want to win it all."
And just to keep it weird, according to Beattie, who spent Tuesday's post-practice afternoon getting his hair professionally dyed blonde, they're bringing along a very big and very dead friend.
"We have kind of bought in that the fish was our saving grace against Chiles," Beattie said. "We are absolutely bringing that fish with us to Fort Myers."