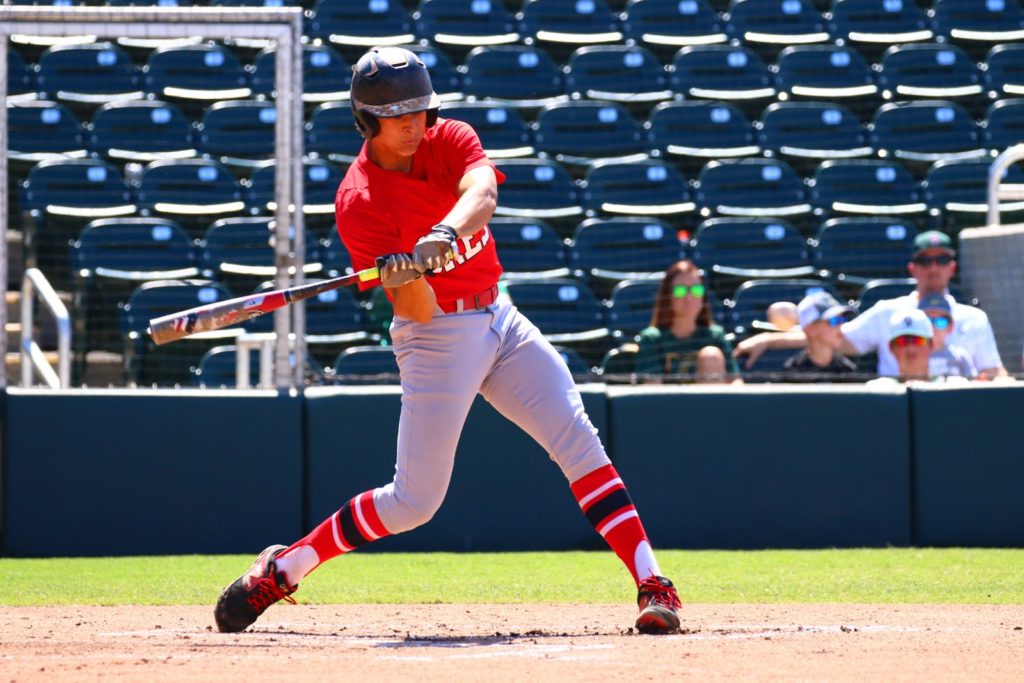 Strawberry Crest senior Jacob Heath collected three hits, drove in four and earned the save on the mound as the Chargers advanced to a program-first state championship final, with a semifinal win over Lakeland Jenkins in nine innings. (Photo by Bob Quinn)
FORT MYERS – It was no stage-shocked, light-blinded, satisfied Strawberry Crest baseball team that walked into Wednesday's FHSAA Class 8A state semifinal game.
There is no question that the Chargers were complacent last season, happy with the district title, pleased after stretching it to a region crown. So, the state semi in 2018 was, well a dud, a clunker, a swing-and-a-miss – as Strawberry Crest lost to Sarasota behind a handful-and-a-half of errors.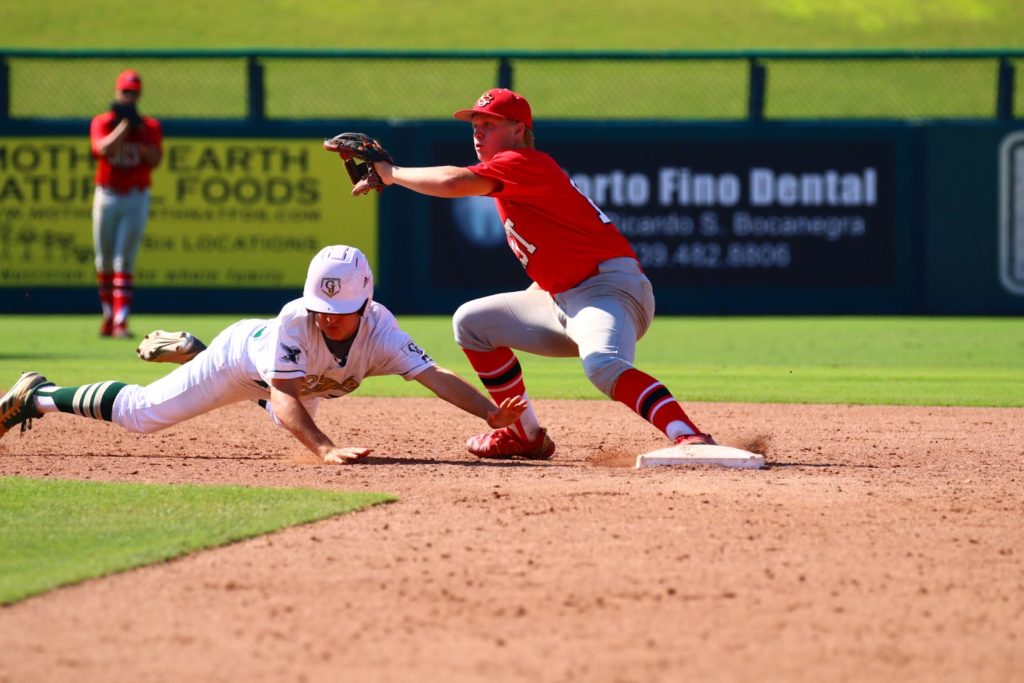 Chargers senior shortstop Ryan Dell waits on a pickoff attempt for the Chargers. (Photo by Bob Quinn)
This year it wasn't going to happen. Chargers head coach Eric Beattie said he knew it just watching his team carry itself through the playoffs the last few weeks.
"We (the coaches) felt a totally different vibe the last few weeks leading into the (semi)final," head coach Eric Beattie said. "There was a sense of confidence amongst the team … a sense of familiarity."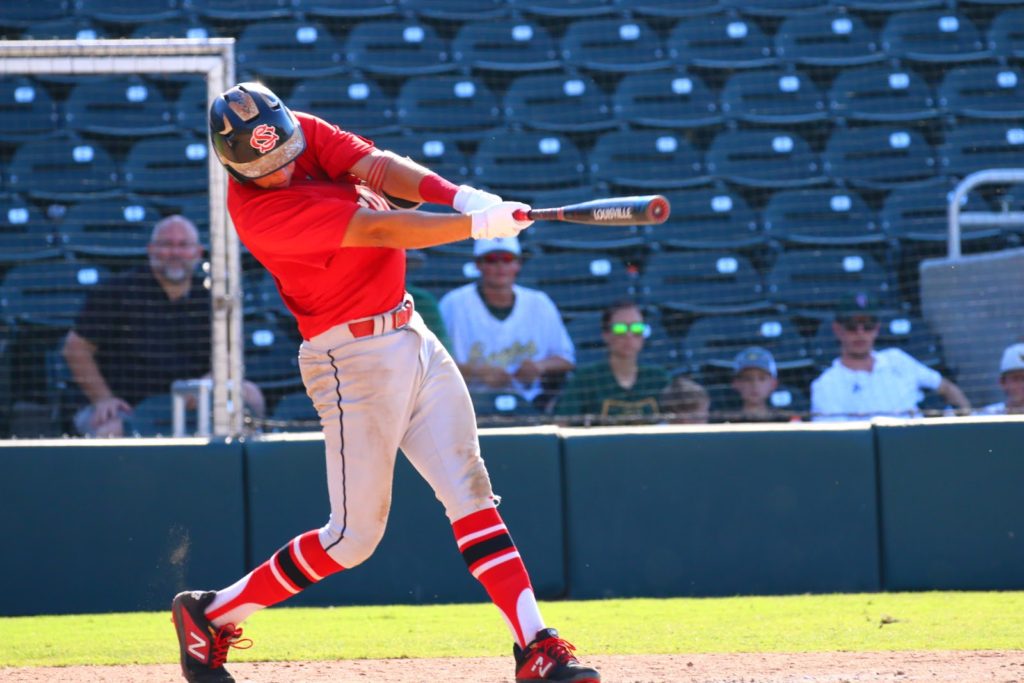 Benny Pues was 2-for-4 scoring a pair of runs in the Chargers win. 
Immediately, Strawberry Crest looked like it had put away the ghosts that haunted from last season's state semifinal, as this year, the Chargers stormed the field putting up a three-spot in the first inning on hits from Kade Manderscheid, Benny Pues (double) and a two-run single off the bat of Jacob Heath.
But it wouldn't be easy and it would take extras to decide this one. Crest put up a big three-run ninth behind RBI doubles from Tanner Kelley and Heath, and had to hold on in a wild bottom half for a 6-5 win, advancing to Thursday's state final game – a first in program history.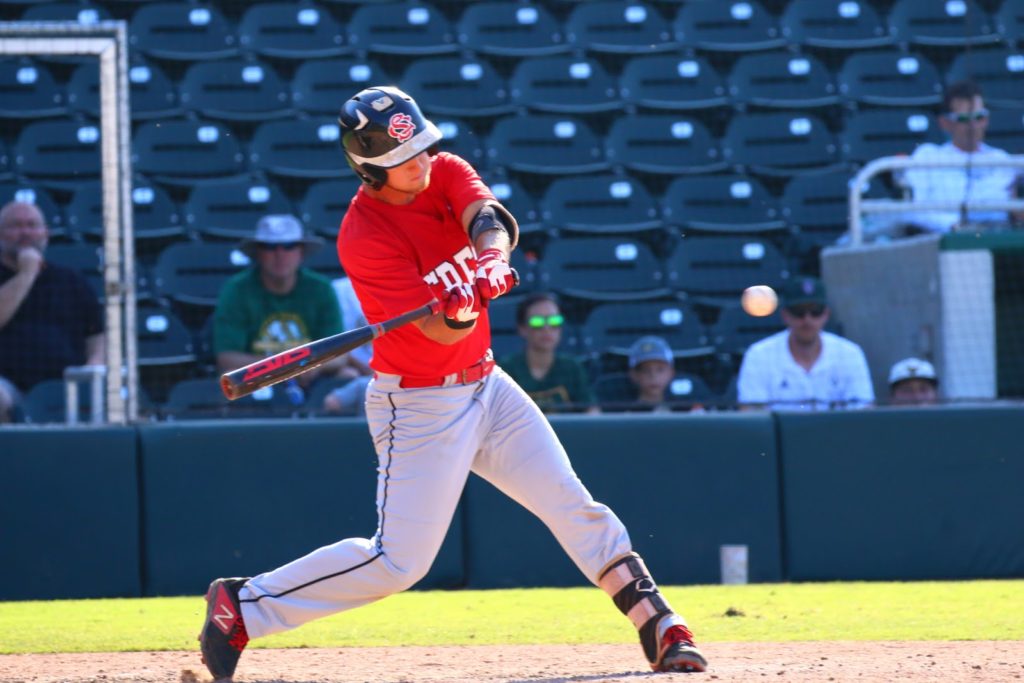 Strawberry Crest senior Tanner Kelley drove in the first run of the Chargers ninth-inning rally with an RBI double. (Photo by Bob Quinn)
The game's hot start cooled a bit and though the Chargers kept hitting the runs didn't follow as Lakeland Jenkins chipped away, making it down to its potential final out before a wild pitch in the seventh allowed the tying run to cross and force extra innings.
Even after the tying run, Pues said he wasn't worried. His team has been tested. It's learned from its opportunities … and it's mistakes.
"Most teams that make it here, most of the time it's their first time here," Pues said. "Most team aren't lucky enough to make it here two times in their career.
"… (This year) we weren't afraid out there, weren't afraid to go out there and make a play," Pues said. "Last year, it was a foreign environment for us. Now we've played in every situation, I even think that was like our third of fourth nine-inning game."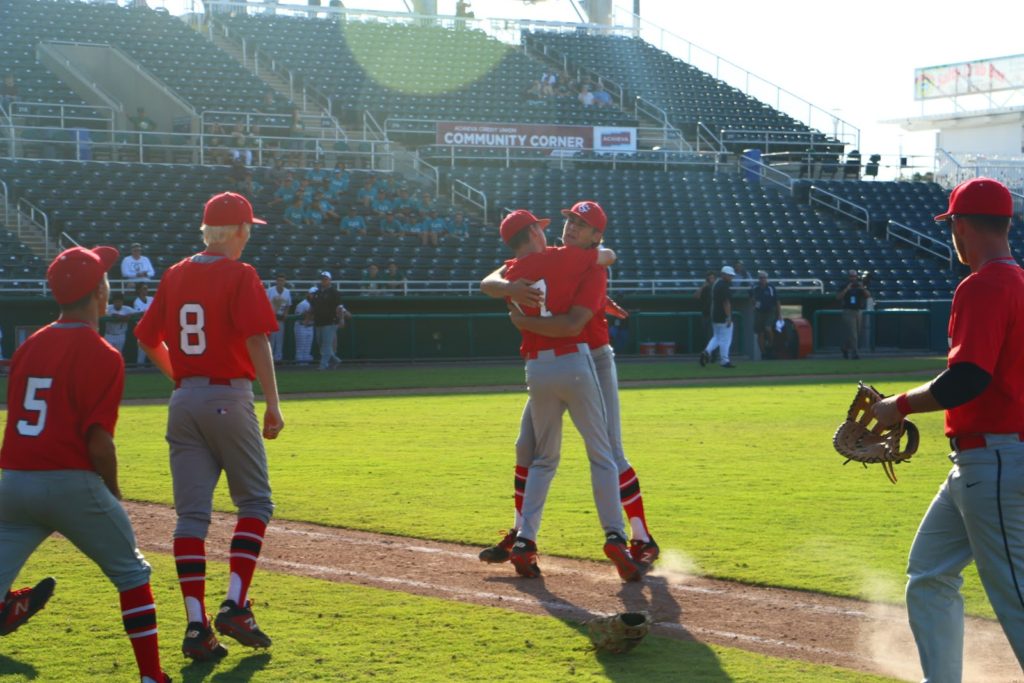 Jacob Heath is met with a big hug from Caleb Weaver after working out of a jam and securing the Chargers win in the ninth. (Photo by Bob Quinn)
In fact, the Chargers have played in a pair of 10-inning games this season, winning both, but completed the trio with its extra-inning win on Wednesday.
For Strawberry Crest (19-10), the tying run meant a whole new game and Strawberry Crest was up to the task, picking up its reliever Manderscheid two innings after the wild pitch and earning him a victory on the mound when Colby Fanning led off the ninth with a single, Alex Mussenden did his job with a sac bunt, and the top of the lineup Tanner Kelley burned the defenders with an RBI double to the wall in left-center. Crest added two more as Heath doubled to right later in the frame.
Heath, who finished 3-for-4 in the game with four RBI, tipped his hat to the Chargers opponent, especially starting pitcher Michael Ross, who tossed 8 1/3 innings and took the tough loss.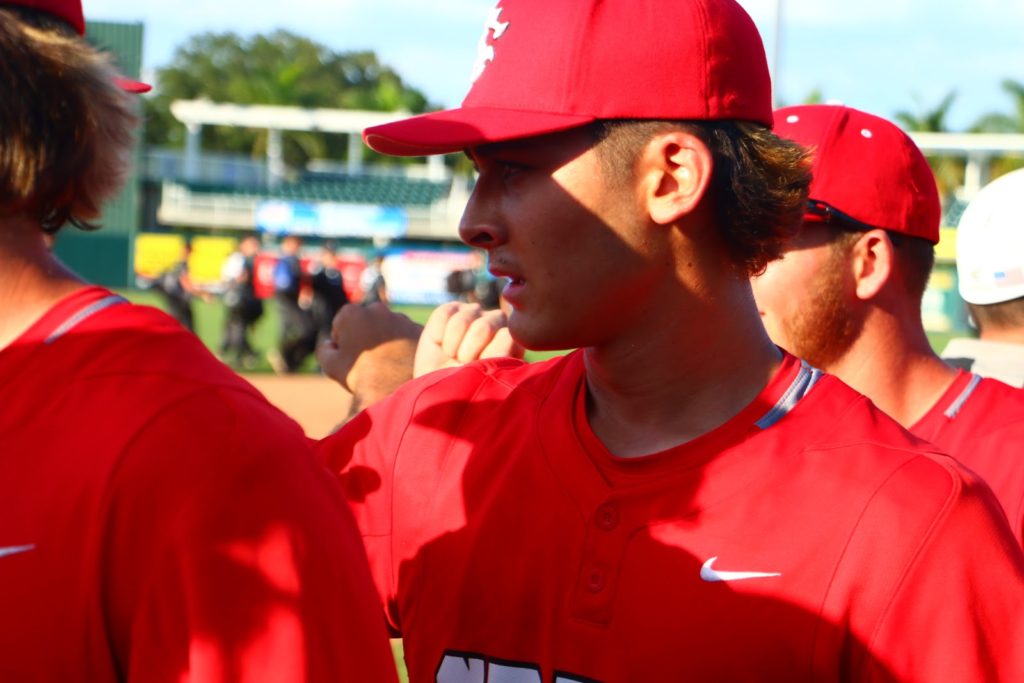 Jacob Heath. (Photo by Bob Quinn)
"I was excited, that's the only way I can put it," Heath said. "George Jenkins, their pitchers kept it on us all day long, nothing came easy, and their defense was spectacular. So being able to get a ball down in that outfield, sure was hard, but we got it done."
Jenkins got two back in the ninth, loading the bases with no outs on Heath, and allowed runs on a single and sac fly before the senior steadied himself and finished out the game.
"We give a lot of credit to Jenkins out there today," Beattie said. "We saw them play against Windermere (in the region final) come back from a 4-0 deficit. That team fights their butts off and does not give up."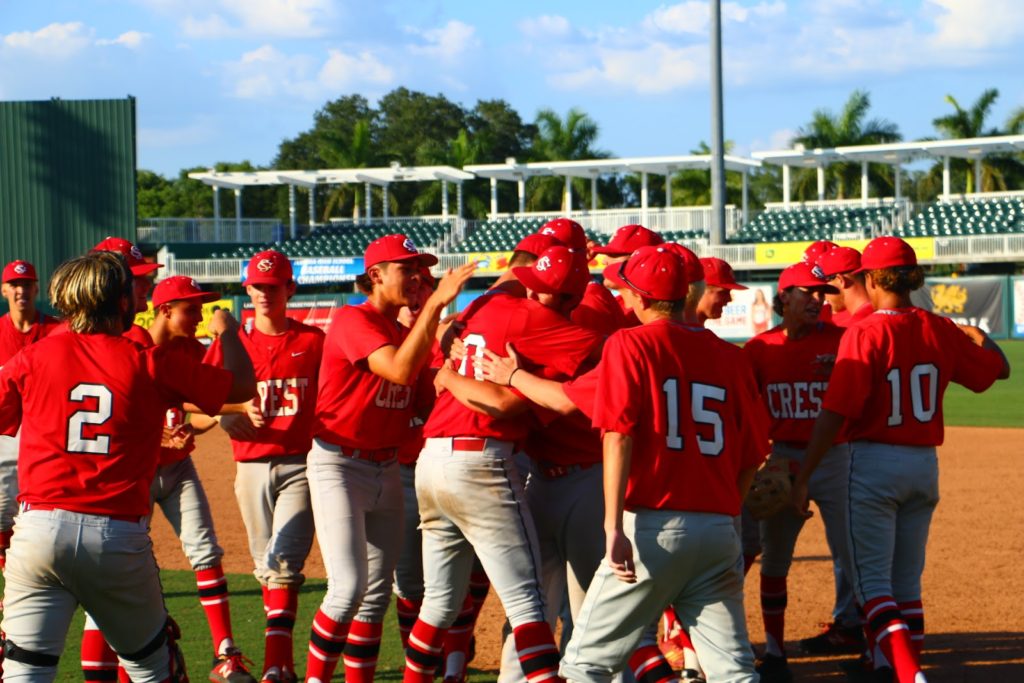 The Chargers defense, which faltered a year ago with eight errors, was impressive in its return trip. Starting pitcher Alex Marshall and Kade Manderscheid picked off two, and senior catcher Joey Parrillo gunned down a pair of runners trying to steal. Marshall, who left after 3 1/3 innings and allowing a second run, but after he moved out to right field defensively and looking to avoid further damage, he ran down a ball tailing toward the line to end the fourth inning.
"I tell them all the time when I'm pitching, 'you go out and work for me, and I'll work for you,'" Marshall said. "So, I told Kade, ' hey I got you.I'm going to make a play for you. Go out and make the pitches and I've got you.'"
Strawberry Crest will square off against Plant City (29-2)  in the final with both teams making the plateau for the first time in program history, after the Raiders cruised by Hollywood McArthur 8-0 in Wednesday's nightcap semifinal. This game will also mark the first time two Hillsborough County teams have faced off for a baseball state title and means that there will be a state champion from the eastern part of the county (east of I-75) for the first time ever.
In the previous meeting between the two on March 14, Plant City got the win 5-3, but the two are much more developed teams than they were two and a half months ago.