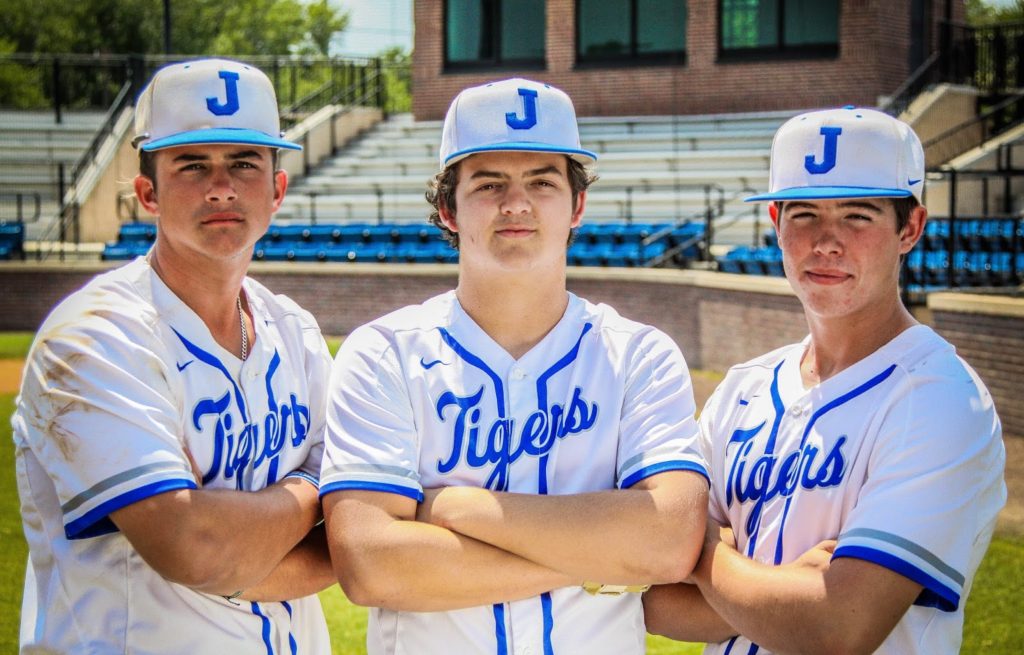 Sophomore slugger Cole Russo (left) and senior captain Jimmy Clifford (right) have stepped right in to fill the void after offensive leader Bennett Lee (center) was lost for the remainder of the season to broken fingers. Clifford, Russo and the entire Jesuit squad are headed to Fort Myers aiming for the Class 6A state title, which would be Jesuit's fifth baseball crown. 
TAMPA — It's been a team effort.
From the beginning, during the middle, to overcome the adversity and in the end, if Jesuit is going to win the storied program's fifth state title — and first since 2014 — it's going to take maximum effort as a team.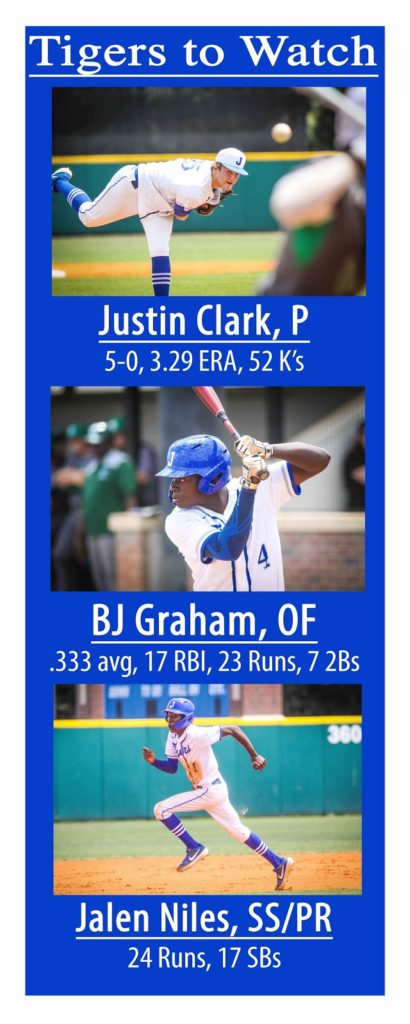 "There's a reason a baseball — this team, too — has that many players," Tigers coach Miguel Menedez said. "Everyone will have to carry their own weight for us reach our goals."
Jesuit (25-5) has one goal left to check mark to complete a perfect preseason list. The Tigers will attempt that Friday at 1 p.m. with a Class 6A state semifinal game vs. Miami Springs (27-3) at Hammond Stadium in Fort Myers.
However, Jesuit will be penciling a lineup missing one big name: junior captain catcher Bennett Lee, who has been sidelined since before districts with broken fingers.
"We can't wait around for Bennett to save the day and no one is going to feel sorry for us that he's out," Menedez said. "Obviously, losing him was a huge blow because, maybe selfishly, I think he's the best catcher in the area. Yeah, we'd much rather be making this run with Bennett, but never did we say that we can't do it without him."
The Tigers were disappointed — nearly heartbroken — to learn of Lee's injury, yet it hasn't slowed them down. Jesuit has outscored postseason opponents 44-8 and that includes two mercy-rule wins in the regional tournament that didn't include Lee's bat which blasted three homers, 12 doubles, 19 RBI and 38 hits with a team-high .442 average.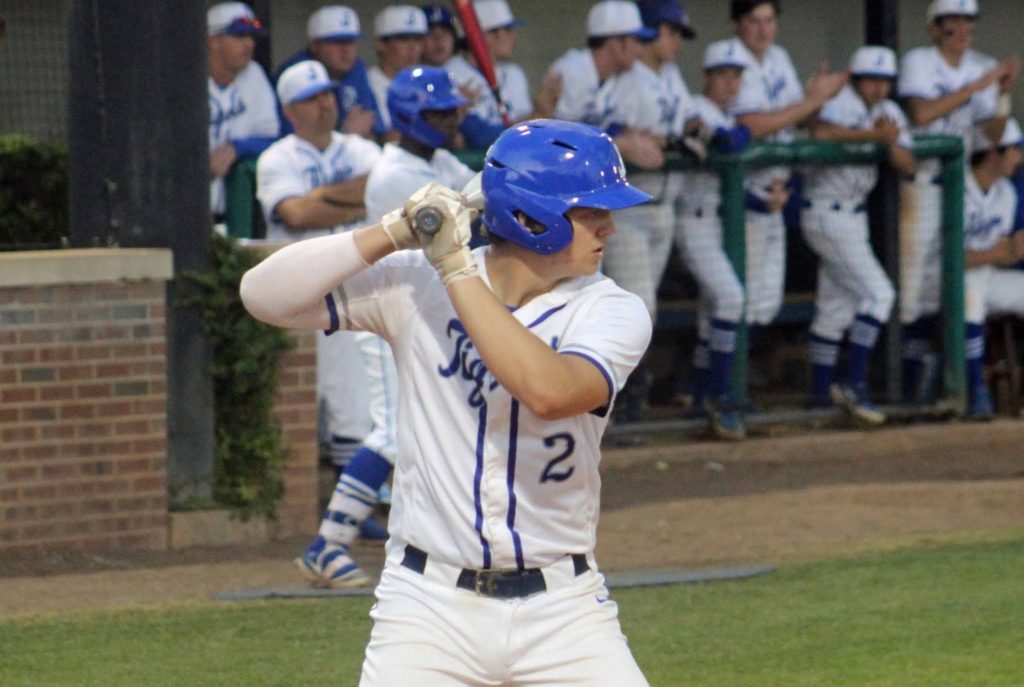 Bennett Lee was leading the team with 12 doubles and a .442 average when he was lost to an injury prior to the postseason. 
Two reasons the Tigers haven't slowed their run-scoring prowess: senior captain catcher Jimmy Clifford and sophomore first baseman Cole Russo.
"To everyone's credit, no one panicked," Menendez said, "and I think that has a lot to do with Jimmy. The way he handled it, everyone followed suite.
"Cole is one special, special kid, too," Menedez added. "His mindset at his age is amazing, and I told him he was going to have to step up for us and didn't miss a beat. He said, 'I've got this.'"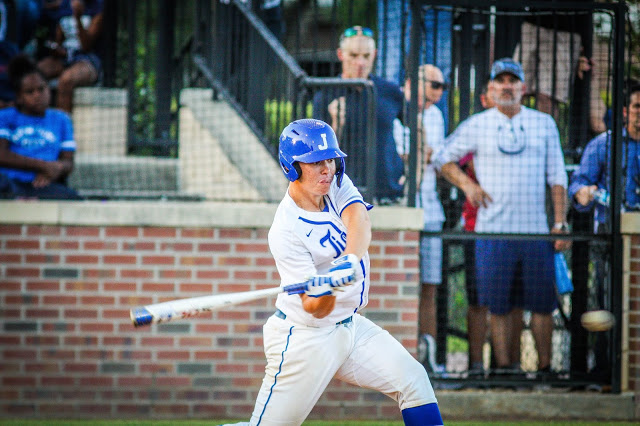 Jesuit senior Jimmy Clifford.
Clifford and Russo had to take over primary catching duties and becoming a bat that anchors the lineup, respectively, and each embraced those roles admirably. Clifford has come up with some big hits — he is batting .396 for second best on the team — while Russo has come in clutch, including a walk-off single that knocked off district rival and defending 6A state champ Jefferson in the region semifinals.
"Obviously, our road to states without Bennett is much harder, but we're a great team," Clifford said. "Nothing changed, really. I knew I was going to get some more playing time as my role expanded to catching seven innings, but I was doing my part and what I can so that we win."
"I just wanted to take on a big role and contribute," Russo nearly echoed. "I was very happy to come up big in the semis. Now, I've enjoyed leading as a sophomore and look forward to continue to lead moving forward."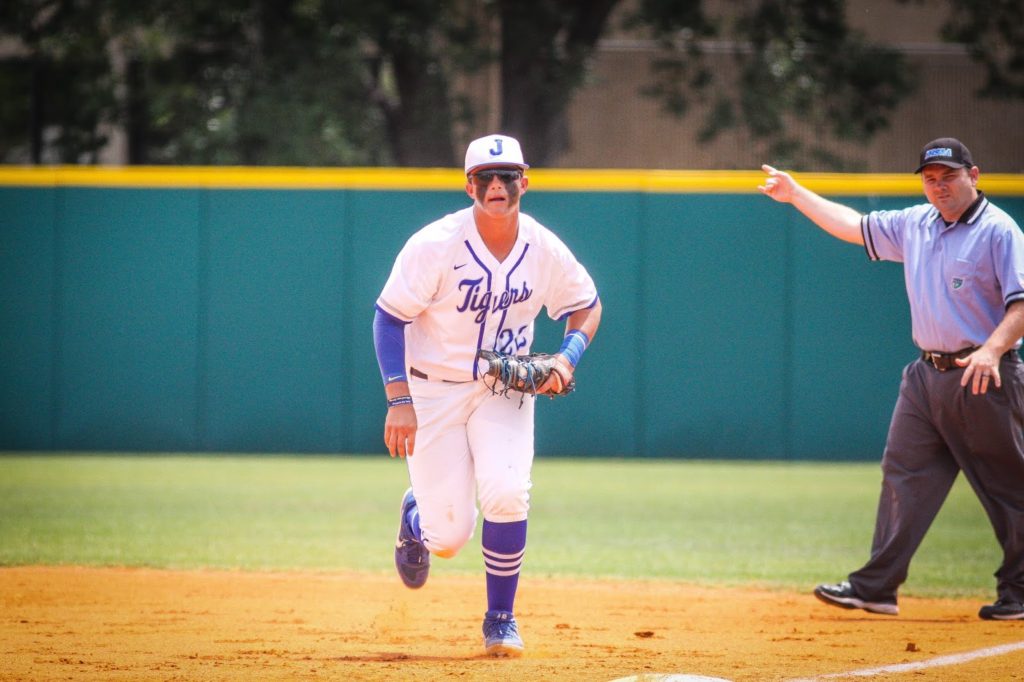 Sophomore first baseman Cole Russo. 
Clifford's contribution goes beyond the diamond. Everyone points out how, as the captain voted on by his teammates, he is the locker-room and dugout voice — the glue that keeps this bunch cohesive.
"Jimmy does a great job with this team and has always done a great job," Lee said. "He's the smartest guy on the team, the smartest guy at school and the smartest guy on the field."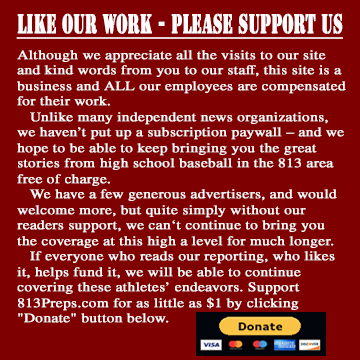 "Sometimes it can be divided in the locker room," Menendez added, "but Jimmy's done a good job policing the locker room and making sure everyone is involved and hanging out."
Menendez also points out that Clifford leads by example, saying he's one the last guy to leave the field, even after a huge, celebratory win.
"There he is after that big win in the dugout, cleaning up and the last one to leave," Menedez said. "Everyone has great respect for him and you can see that because they voted him as captain."
On Friday, Jesuit will face arguably one of its toughest opponents this season in Miami Springs. They have a freshman, Jason Torres, who has hit six homers, and the Golden Hawks have three pitchers who have struck out 50 or more batters. Friday's likely starter, LHP Carlos Rey, has a 2.01 ERA.
"That guy has got about 82-83 on a fastball, but with Cam (Minacci) on the mound, I think we can get it done," Russo said.
Camden Minacci (11-1, 0.95 ERA, 81 K) will indeed be on the mound for the Tigers and who has "been phenomenal" for Jesuit, "even exceeding all my wildest expectations," added Menendez.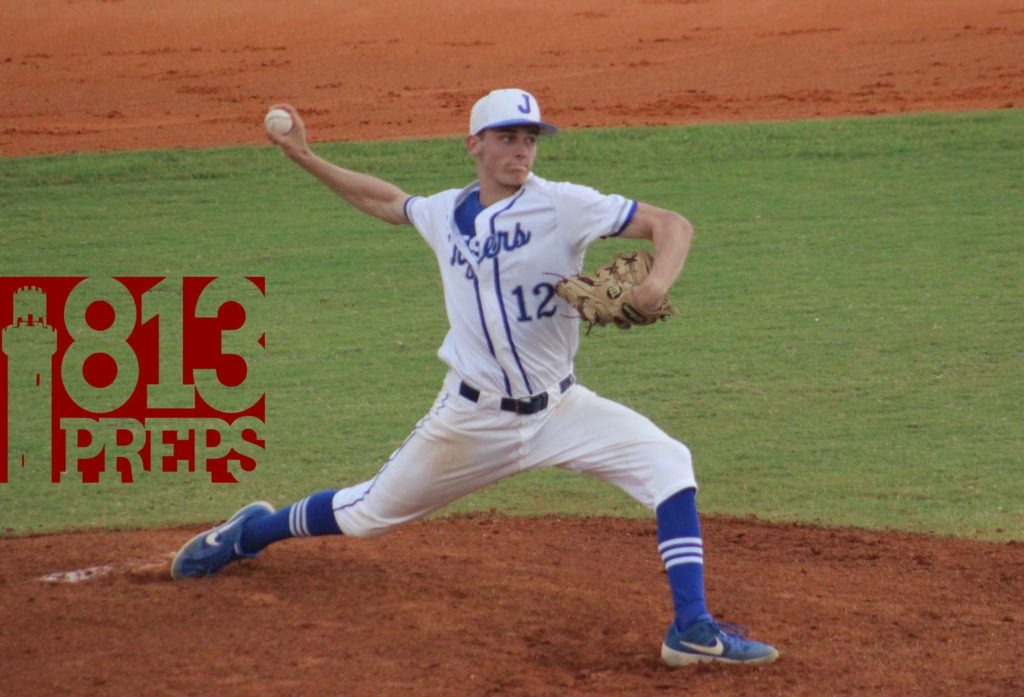 Jesuit junior pitcher Camden Minacci. 
"Oh, I wouldn't say he's exceeding expectations because of the hard work he puts in — I expected this from him," Lee said of Minacci. "He believes in himself and he trusts in and sticks to his routine. He's given it his all whether he's pitching good or bad. He's a bulldog of a competitor."
"He struck out 10 guys in four innings (to open the season vs. Miami Westminster Christian)," Clifford added. "We knew it before, but that (outing) showed everyone that he was going to be dominant this season."
And now, everything can come full circle for the Tigers. After starting the season facing a team from Miami, the team's biggest game to date is against another Miami team. Menendez, a Tampa native and former University of Tampa player, would like to see that — and more.
"We're excited for the challenge," said Menedez, who helped his high school alma mater, Key West, win a state title as a player in 1995 and coached the Conchs for eight seasons before taking over at Jesuit following the team's 2014 state title run. "It's fitting, really, that we started the season against a Miami team and now we can bookend it with another team from Miami. Except, we want another win outside the bookend."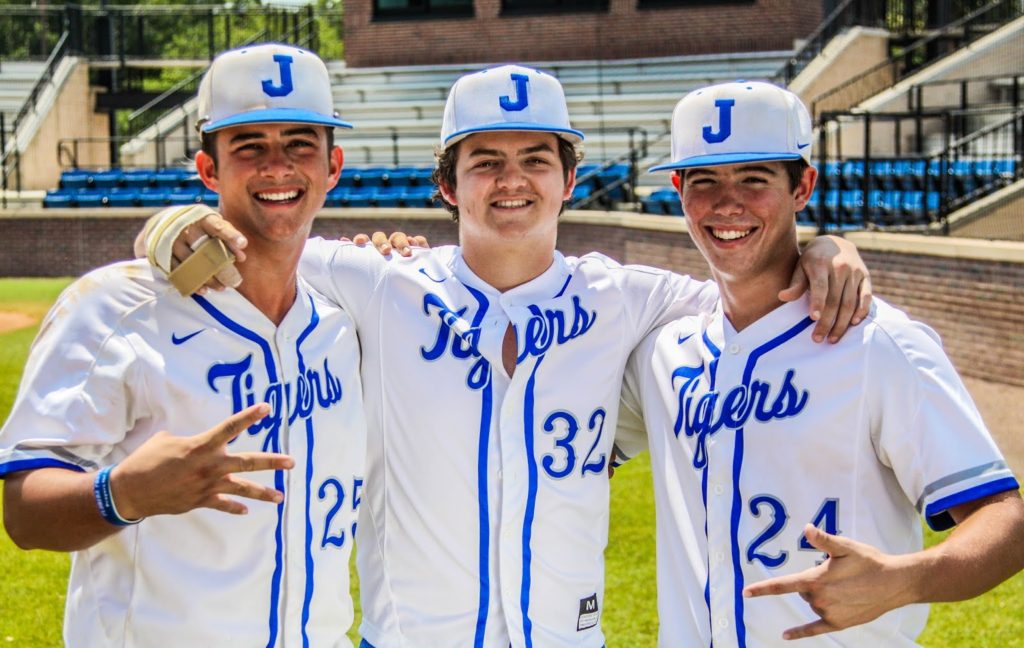 Junior Bennett Lee (center) helped get Jesuit through the regular season in fine fashion, but when he went down with an injury sophomore Cole Russo and senior Jimmy Clifford kept on producing and have Jesuit looking for team title No. 5.