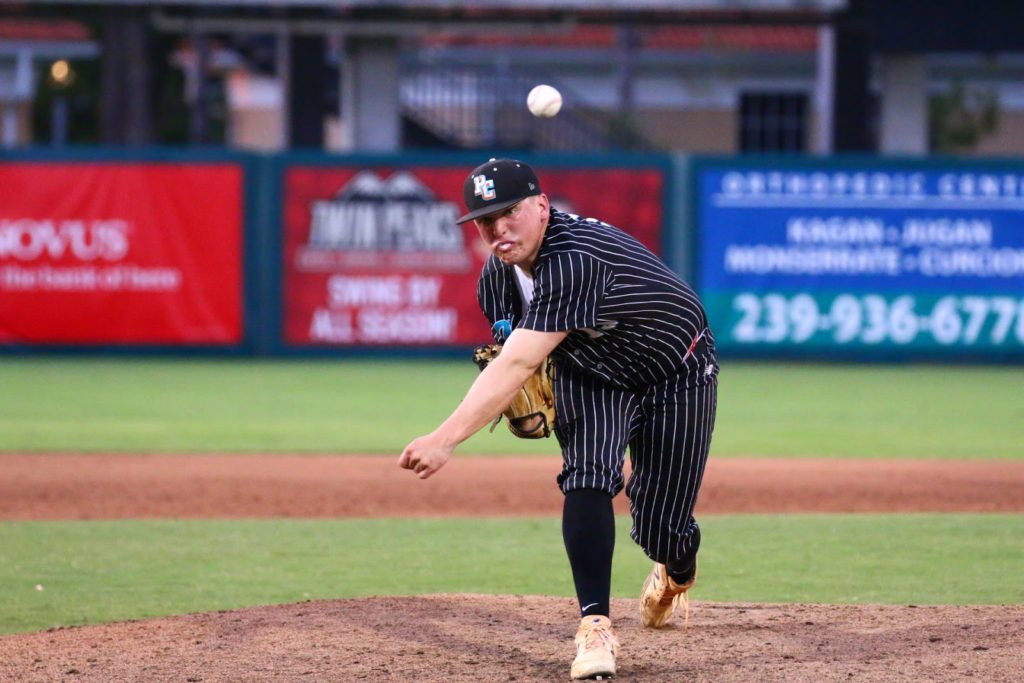 Senior Parker Messick's last appearance on the mound for his Plant City Raiders was epic, tossing a three-hit shutout against Hollywood McArthur and striking out 16. Messick also chipped in a solo home run that cleared the seats in right field at Fort Myers' Hammond Stadium. (Photo by Bob Quinn)
FORT MYERS – What's up Parker?
Plant City coaches playfully got in the ear of Raiders junior slugger Tyler Dowdy that his third inning, line drive, solo home run to left field didn't have the distance of the one captain Parker Messick blasted over the seats in right field, according to the senior.
Not to be outdone, Dowdy, whose solo home run provided all the support Messick would need on the mound in the Raiders Class 8A region final win over Seminole last week, deposited the first pitch he saw one hitter after his teammate and returned to the dugout with a message for the team ace.
"Coach (Mike Fryrear) looked at me on deck and said that Parker said his went further," Dowdy said. "So, I was like, 'alright, wait here.' I came in here after I hit the second one and I was like, 'What's up Parker?'"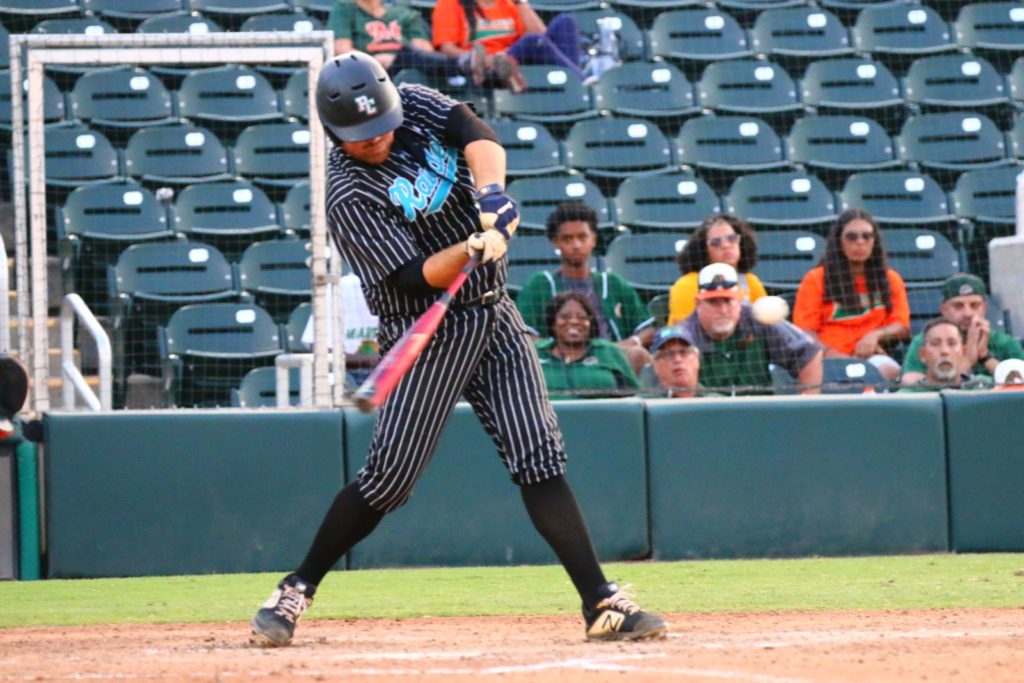 Junior designated hitter Tyler Dowdy connects on a third inning, leadoff home run for the Raiders. 
(
Photo by Bob Quinn)
The two smashes, which puts Dowdy's total at six on the year were impressive, but the night belonged to Messick.
The Florida State signed lefty was nearly untouchable on the mound, allowing just three hits, and striking out 16, Hollywood McArthur hitters as the Raiders earned a spot in the school's first-ever FHSAA Class 8A state championship game with an 8-0 victory.
Messick allowed a two-out double in the first, but made the first seven outs by strikeout before a routine ground ball skipped its way into the glove of fellow captain Cade Shissler and on to first for the out. Messick only half-joking acknowledged he was mad the out wasn't another K.
"I was a little mad at myself," Messick said wearing an ear-to-ear grin. "I wanted to strike every one of them out after those first two."
With a runner on second in the seventh inning, Fryrear said Messick asked if he could stay in the wind-up for the final two outs, the run didn't matter, but the runner didn't matter to Messick who had no intention of letting him score.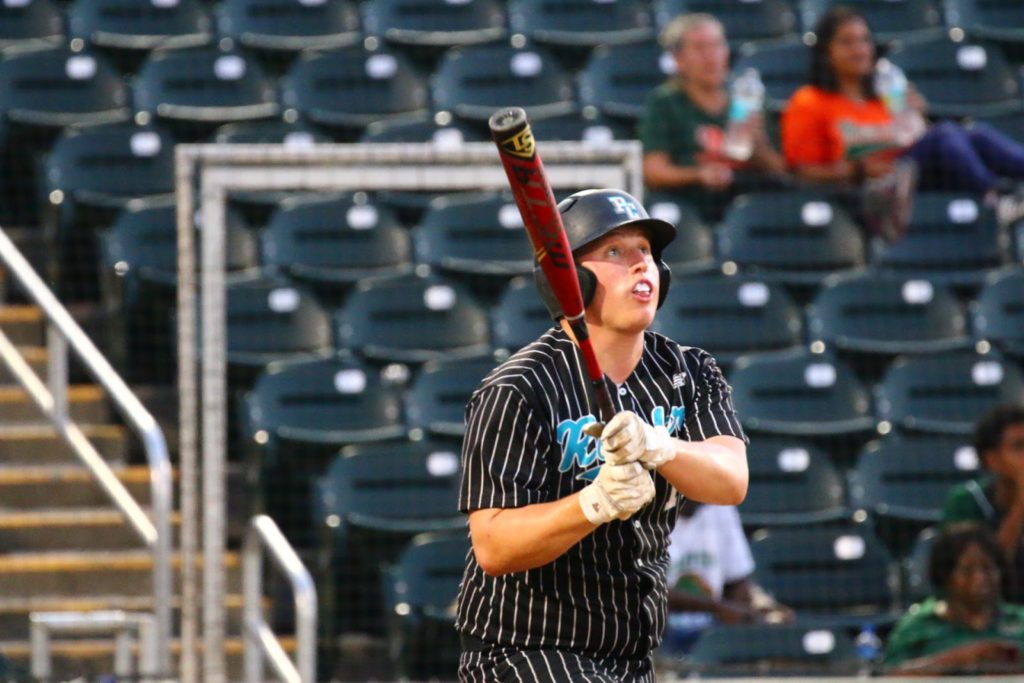 Messick watches his booming homer in the fifth inning. 
(
Photo by Bob Quinn)
"He kept on telling me, let me go in the wind-up. Let him go to third, who cares? The next guy is already done," Fryrear said. "When he's mowing, throwing 88-90 (mph), and his ball is running like it was I had no questions about letting him do what he wanted."
"Parker Messick was waiting for this moment his entire career. He was waiting for this. All these big moments he's had were great, but this was 'the' moment."
The win, Messick's eighth-straight complete game, moved the senior to 11-1 on the season and put Plant City (29-2) on a collision course with Hillsborough County neighbor of about eight miles in a straight line, Strawberry Crest. Thursday's meeting at 7:30 p.m. at Fort Myers' Hammond Stadium marks the first-ever showdown between a pair of teams from the 813 facing off in a championship game.
To get Wednesday night's game against the Mustangs started, the Raiders needed a wild pitch to send Shissler, who led off the game with a single, across the plate and Plant City added another on a Messick single.
Dowdy's first homer of the game, was followed in the third inning by a Casey Mawhinney single and eventual score.
A night that featured 12 Raiders hits a pair from a sophomore DeMario Williams stood out.
For those who haven't seen him, Williams is pretty fast. New word. DeMario Williams is "flasht?" His routine single in the third ended with the two-sport rising star standing at second base when the outfielder took his time getting the ball in, and helped spark a two-run inning where Williams scored on a passed ball and Chris Rodriguez wore a pitch for a bases loaded RBI.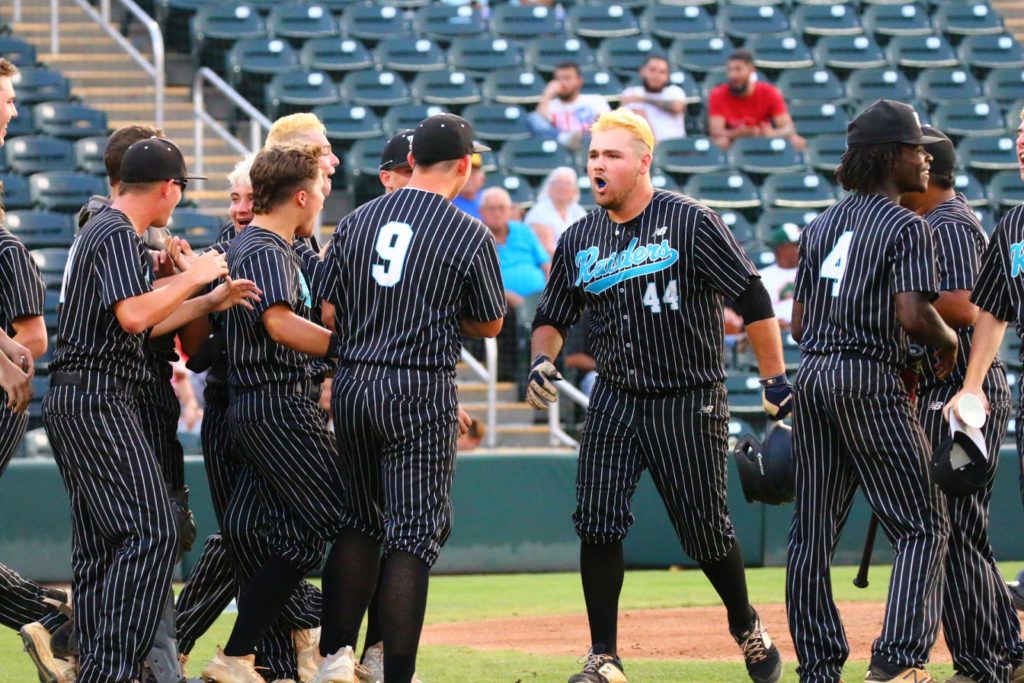 Dowdy shows off his freshly dyed blond hair as his teammates charge out to meet him after blasting one of his two home runs in the game. 
(
Photo by Bob Quinn)
But it was his triple that lead off the fifth, the one that looked like he was in DVR >>> that wowed the crowd. The buzz was short-lived s Shissler sent the next pitch off the wall in left and made the game a laugher at 8-0.
"I see the ball go and I'm on my horse," Williams said. "When it got by him, there was no question, I'm getting to third.
"I push myself to go faster and faster. To get there for my team. With Parker shoving on the mound, Tyler Dowdy hitting two home runs, so I know I have to go out there and play as hard as I can for them."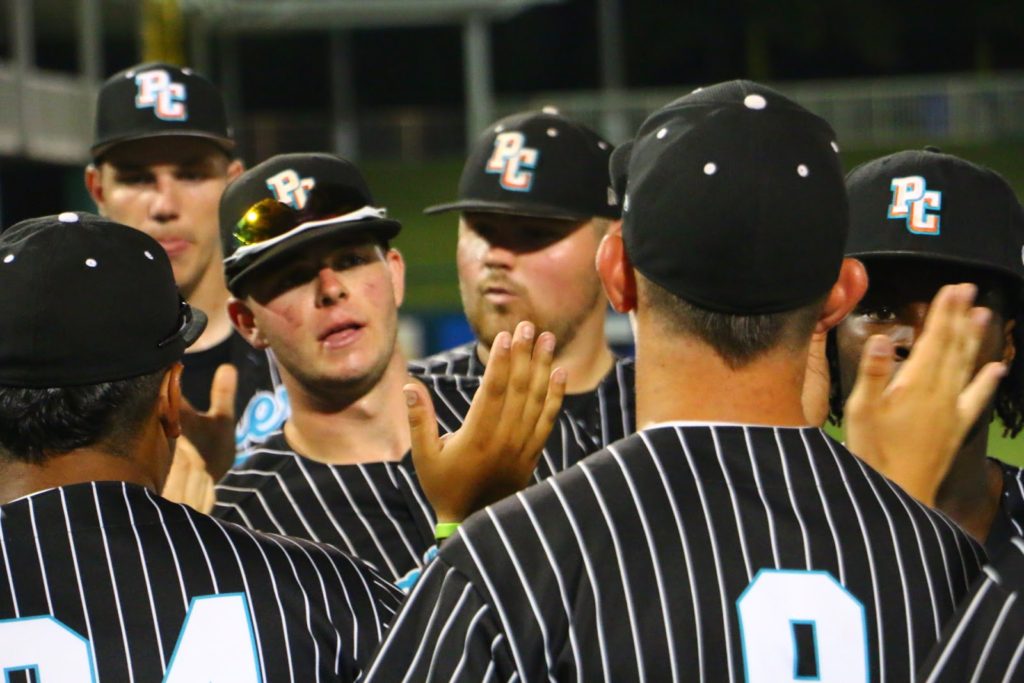 The offensive outpouring was something Messick said he fed off on when he went back out on the mound.
"We were all going crazy after those first two runs," Messick said. "Then Tyler hits one, I hit one, then Tyler hits another one and I carried that with me the rest of the way."
As mentioned above, Plant City will square off against Strawberry Crest (19-10) in the final with both teams making the plateau for the first time in program history, after the Chargers won and extra-inning game against Lakeland George Jenkins.
In the previous meeting between the two on March 14, Plant City got the win 5-3 (for whatever a game two-and-a-half months ago means).
"Crest has played with a ton of passion, (Joey) Parrillo and those boys, I don't know who they are going to throw … but it doesn't matter. That team just has the grit," Fryrear said. "…It's going to be a chess match. But the best part with my guys is I don't need to play anything, because they are going to come to play."
Messick added that he couldn't think of a better opponent for tomorrow's final: "I hope there is a bunch of people here tomorrow … to play Crest, who are all my best friends, in the state championship, we can't wait for that. We are so excited."