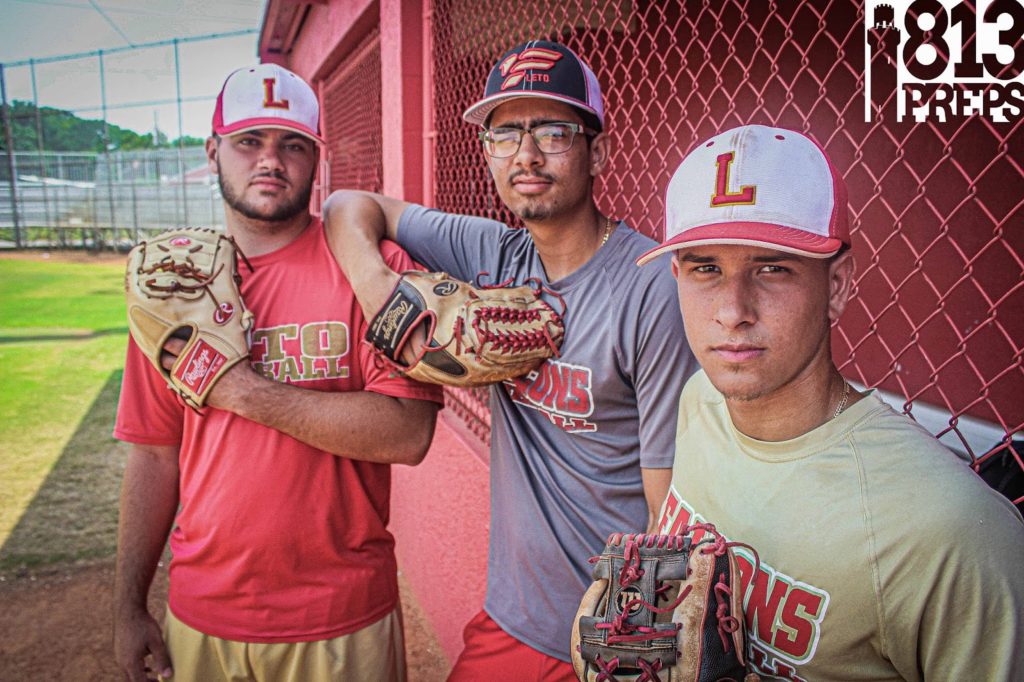 Leto seniors (left to right) Christian Suarez, Franklyn Hernandez and Javy Hernandez each have a role as the team's "Big Brothers."
TAMPA – Leto head baseball coach JJ Pizzio is unique. He often speaks to his team in dry, sardonic, razor-sharp one-liners. He picks on his fellow coaches (one, his actual brother and two more former pitchers he coached as high schoolers), he cracks on his players' parents, he is brutally honest and often hilarious in his take downs – and they all love him for it.
That's how it is with family, and for better or for worse, the Falcons are family.
That'll be on display tonight at the Falcons' baseball field at 7 p.m. as Leto will host a sendoff party for the team before it heads south to Fort Myers for the second-straight year to compete in the FHSAA Class 7A state championship tournament. There will be food, a DJ, an autograph session where Pizzio has created baseball cards for all his players, coaches and even one for Matteo, the grandfather of senior Javy Hernandez who never misses a game, greets every visitor to the field with a big smile, and is as imbedded in the "Family" as any Falcons player.
The Falcons are as entertaining of a show as you will ever come across. And that's before you ever even see them on the field, where the tinkering master-crafter Pizzio does his best work. Leto is as sound on defense as they are proficient on the mound, and are a nightmare for defenses at the plate and on the base paths.
The Falcons have a crop of seven seniors, but have also had a group of five sophomores and freshmen that have gotten them to this point – a state semifinal showdown with Doral Academy in Friday's 7 p.m. game at Fort Myers' Hammond Stadium – big brothers and little brothers.
So, with family in mind, and Pizzio's buzz-saw humor as our inspiration, 813Preps hopes our readers – our live studio audience, if you will – will indulge some creative license as we present our state preview on the Leto Falcons in the grand tradition of the three-part family sitcom, as we examine three of the team's "big brothers."
The "team" glove
Four years ago, when then-freshman Christian Suarez attended his first Leto practice he hatched a plan. After the first workout with the Falcons, Suarez rushed home and shared the idea with his father, Chris.
"He told me, 'Dad, I'm going to be this team's first baseman," the senior Suarez shared a few weeks back.
So, ever the supportive father, Chris took Christian to the local sporting good store and purchased a brand new Rawling's first baseman's mitt.
Unfortunately for Christian, (and very fortunately for Leto) then arrived Jorge Carrero to the halls of Leto High. Carrero took over at first base and as a senior last season helped Leto earn its first state semifinal berth since 1970, hitting .342 with 19 runs scored and 16 RBI.
Christian Suarez never played a game at first base for the Falcons.
"Jorge Carrero wasn't here yet," Suarez said. "Nobody even tried out for first base, and I figured, I got this. I can do this."
What Suarez did do however, was become a star for Leto on the mound. The Stetson signee has posted a career 22-7 mark with a 1.49 ERA, including a 9-3 record this season, a 1.43 ERA and 100 strikeouts and will toe the pitching rubber for the Falcons on Friday.
"Before I got to high school I was playing up with older kids in travel ball and I hit okay," Suarez said. "But I knew my real passion was pitching. I love everything about it, I love being in control."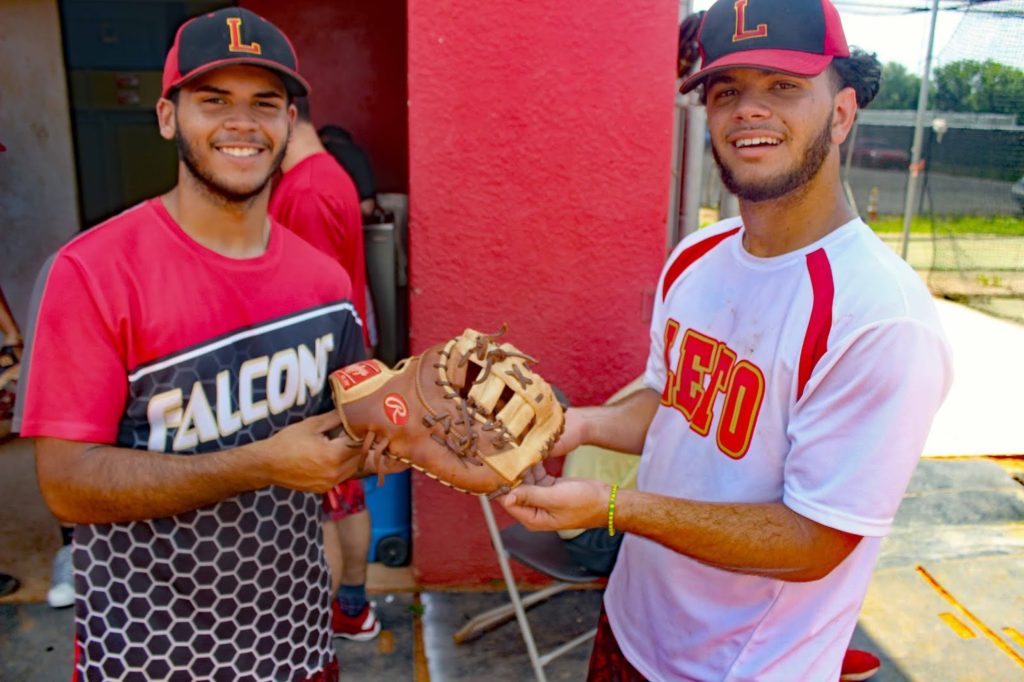 Leto junior Mikey Camacho & senior Bryan Perez
display the "Team Glove"
And although Suarez's first baseman's dream went unfulfilled, that glove, found its home with the team, being used now by the Falcons first base duo junior Mikey Camacho and senior Bryan Perez.
"I think Bryan Perez is using it as we speak," Suarez said from foul territory at a recent Falcons' practice. "It is the team first base mitt now. It has indeed been properly donated."
That Javy Swagger
If Suarez is the calm, collected, get-the-job done big brother, Javy Hernandez is the sizzle.
The Falcons senior owns it on defense, he swings it at the plate, and this season he's even taken his bravado to the mound, where in 12 appearances for Leto, he has posted a 2.28 ERA and 34 strikeouts in 28 innings.
But at third base, Hernandez is in his element.
"I don't think anybody has ever played third base with more swagger than Javy," Suarez said. "It's a good thing, we feed off of Javy and when he is tearing it up out there it trickles through the whole order. Having someone like that behind you, gives you all the confidence in the world."
For Hernandez, he said his emotion, the swagger, is fed directly from his teammates around him.
"That comes from my team," Hernandez said. "They show a lot of heart, so I have to show a lot of heart. When that all comes together the great comes out you on the field."
An Ode to Jafarvis
If the Falcons are a family of 20 brothers, then even though the seniors would be the big brothers, someone has to be the little brother of the big brothers. That somebody is Franklyn Hernandez.
Franklyn sports a pair of thick-rimmed glasses on his brow, and bears weight of much of his team and Pizzio's good-natured ribbing upon his shoulders.
Built with a 6-foot, lanky frame the senior has been nicknamed by his teammates as Jafarvis, the name shared by a former teammate's pet rooster. Hernandez in the grand tradition of the comic foil Rodney Dangerfield, gets "no respect" from his brothers in the dugout.
"They kind of pick on me a lot," Franklyn said with a shake of the head. "But I know it's all out of love, we're a family."
That's what families do. Everybody has a role and Jafarv… Franklyn has his role.
"Whenever they tell me, 'Franklyn you are good,' I go out and I do bad," he said. "So, they've just taken to telling me I suck, and it's worked out."
But that's in the dugout. With his family. On the field, Hernandez takes respect.
"Franklyn is a guy who needs to be the butt of all of the jokes, it's what fuels him and it's all with love," Suarez said. "His freshman year, sophomore and junior year I don't know if he understood that. But now he knows how much we love him. We're brothers, we all make fun of each other.
"But we know what he can do out there (on the field), too."
His 7-1 record on the mound, his 2.45 ERA and 62 strikeouts demands respect. And though Suarez may get the lion's share of the attention for the pitching staff, it is Hernandez who has won some of the biggest games for the Falcons. He defeated Gaither in back-to-back appearances on the mound this season, once for a district title and once in the region semifinals, and he also picked up the win over Gaither to claim last year's district championship.
The end credit bonus scene
And though you'd think Pizzio's role in the family might be the father, it's probably more appropriate to say he is the biggest, big brother in the bunch. His players know a screw-up on the field, a lack of hustle, or a lapse in the classroom is less likely to get you grounded, than it is to make you the butt of one of his scathing barbs.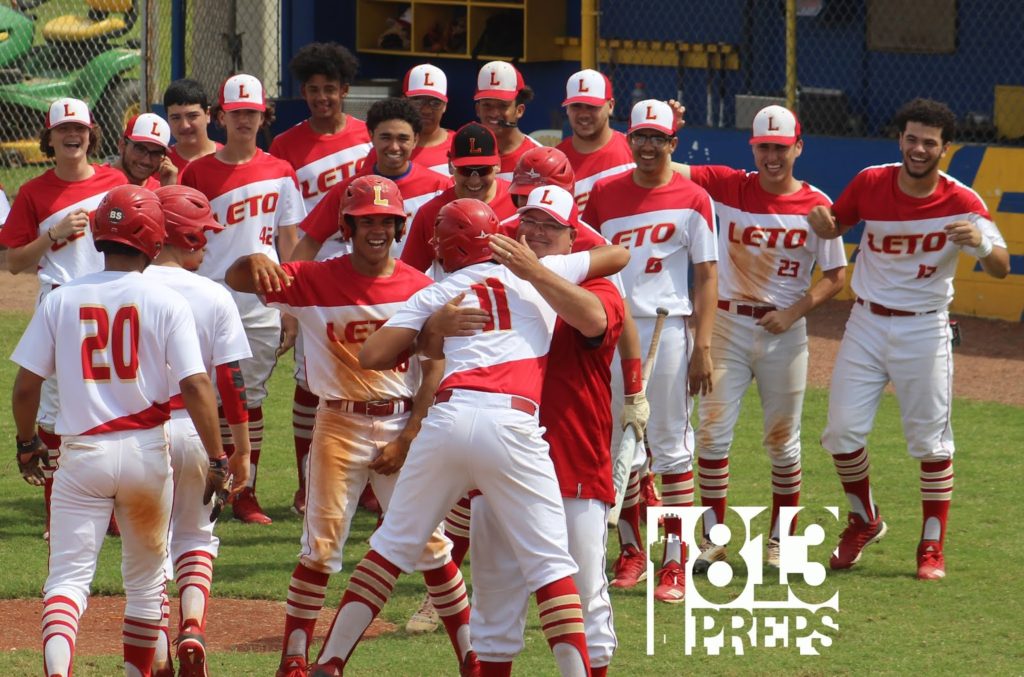 "We know he does it because he loves us," Javy Hernandez said. "He knows what he's doing when he gets on us. He wants to fire us up, get us mad and give us a little bit more motivation.
"When he screams at me, it makes me mad but then I think, 'awe man, maybe I need to listen to him, because he loves me and he cares about me,' and it usually turns out he's right."