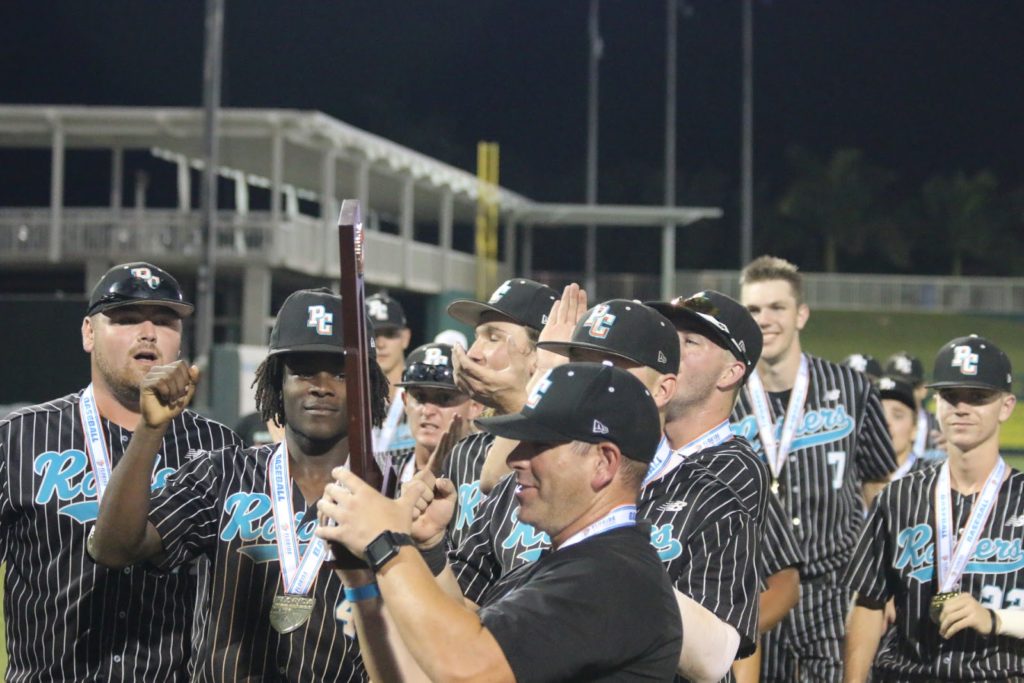 Plant City head coach Mike Fryrear holds the championship trophy after the Raiders defeated Strawberry Crest 3-1. (Photo by Bob Quinn)
FORT MYERS – Plant City was just too good. The lineup too strong. The defense to smooth. And the pitching was simply outstanding.
Strawberry Crest came to battle a team it knows well, a neighbor of about eight miles, and had them scouted about as well as any team could. Just as the Chargers battled to claim a nine-inning state semifinal win on Wednesday, Strawberry Crest never went away in Thursday's final.
Plant City, a first-time visitor to the state championship game, a first-time district champion, a 30-win team came to do something. And did, as the Raiders celebrated on the field of Hammond Stadium after Cole Cothren snagged the game-ending line drive to seal Plant City's 3-1 victory.
Fitting since it was Cothren who started things for the Raiders offense in the home first with a line drive single to right, before Parker Messick walked, Hunter Emerine was hit-by-a-pitch, and Tyler Dowdy, scalding hot, Tyler Dowdy sharply singled to right plating a pair of runs.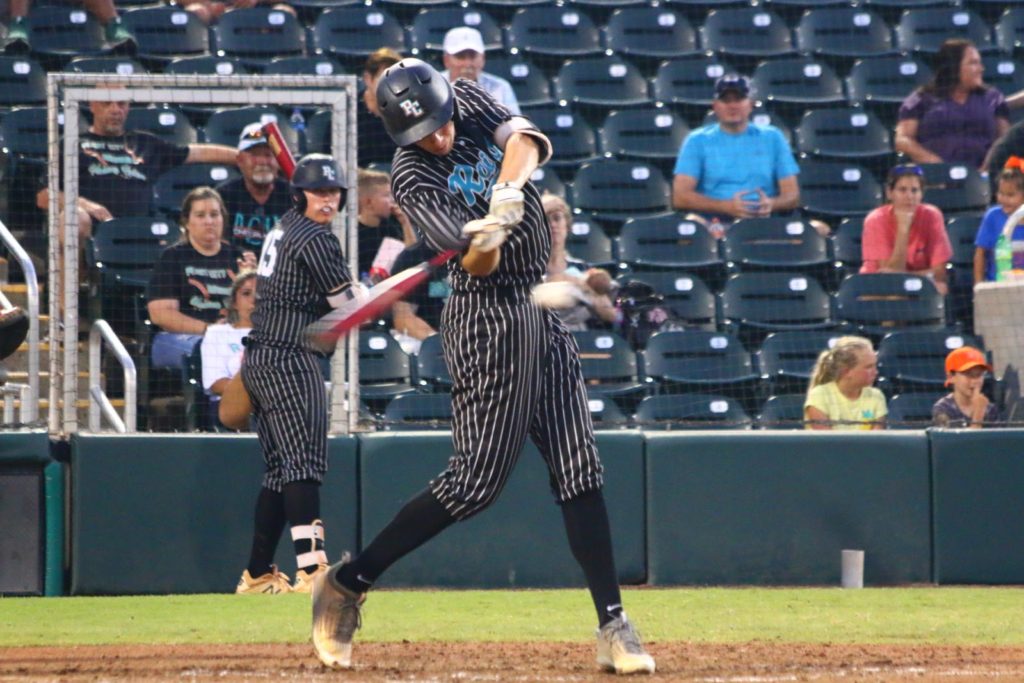 Raiders junior Cole Cothren started off the offense in the first inning. (Photo by Bob Quinn)
Dowdy, who went 4-for-6, with two home runs, four RBI and two runs scored in the state semi and final game, said he knew a first-pitch curveball was coming and he surprisingly sent it the other direction.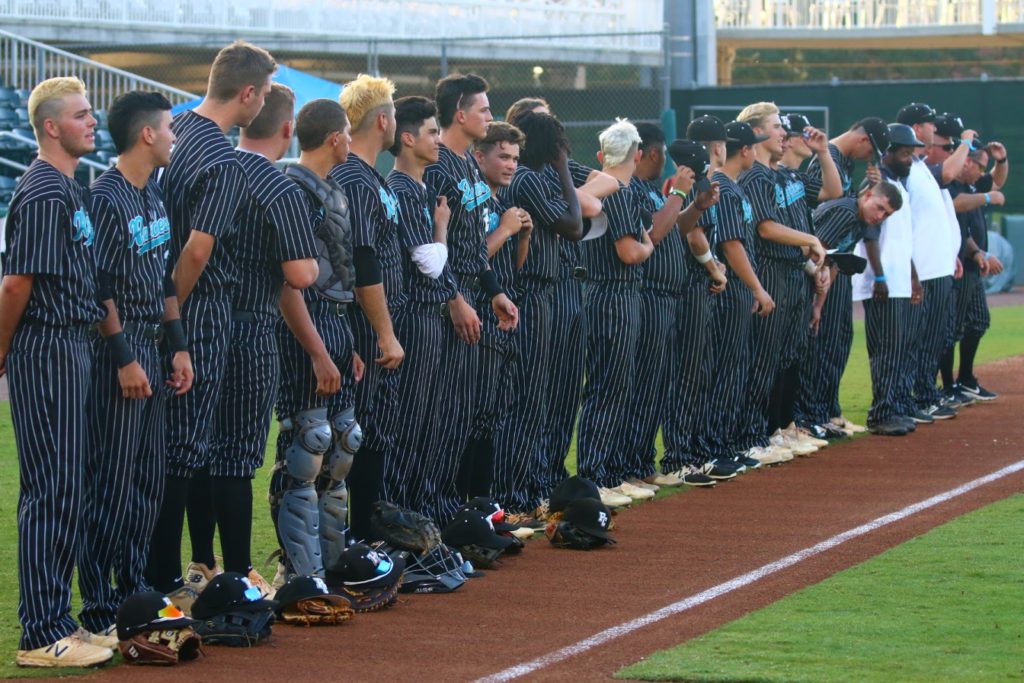 Plant City Raiders. (Photo by Bob Quinn)
"That was an at-bat that I knew I had to get a single," Dowdy said. "Our (assistant Demetrius Heath, nicknamed Meatball) Coach Meat always says, 'don't let a good pitch go by with a man in scoring position.'
"When I saw that hole open, I'm usually a pull hitter, but little did they know I had one backside for them."
Dowdy reflected on the moment and a season that saw the Raiders go 30-2.
"This is incredible, at the beginning of the season we were going to do this for the seniors, and while doing it for them, the rest of us got to do something pretty special together," he said. "It's hard to win 30 games in a season, I've said it the whole way, I know there will never be a team that outworks us. It's a grind you have to put in every day."
But as it was last night, even with Dowdy's heroics at the plate. It was on the mound where Jarod Wingo held court all evening where this one was decided.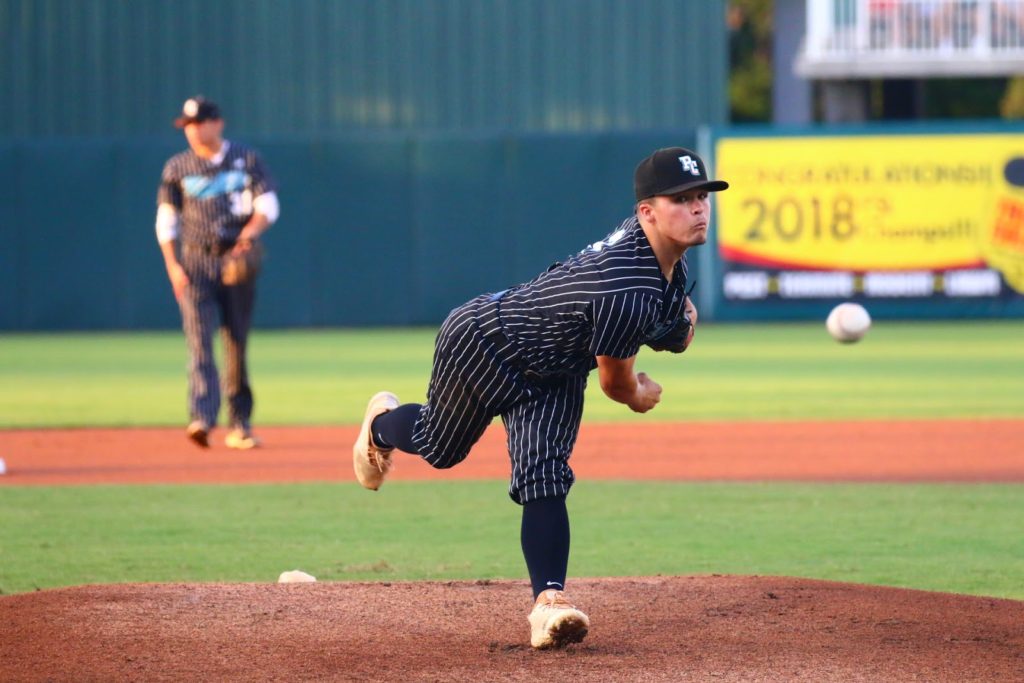 Plant City junior Jarod Wingo was on his game on the mound tossing a complete-game and helping lead the Raiders to a state title. (Photo by Bob Quinn)
The 5-foot-11 righty was a giant on the hill Thursday night as he needed just 77 pitches to finish his complete-game effort, allowing just one, unearned run on three hits, no walks with five strikeouts, none bigger than the one to end the top of the fourth to strand a pair of Chargers runners on base and maintain a one-run lead.
"I knew I had this game," Wingo said. "When Parker pitched his ass off yesterday, I knew it was straight mentality and confidence for me. From that point, through my bullpen, and out on that mound tonight, I was straight into the zone.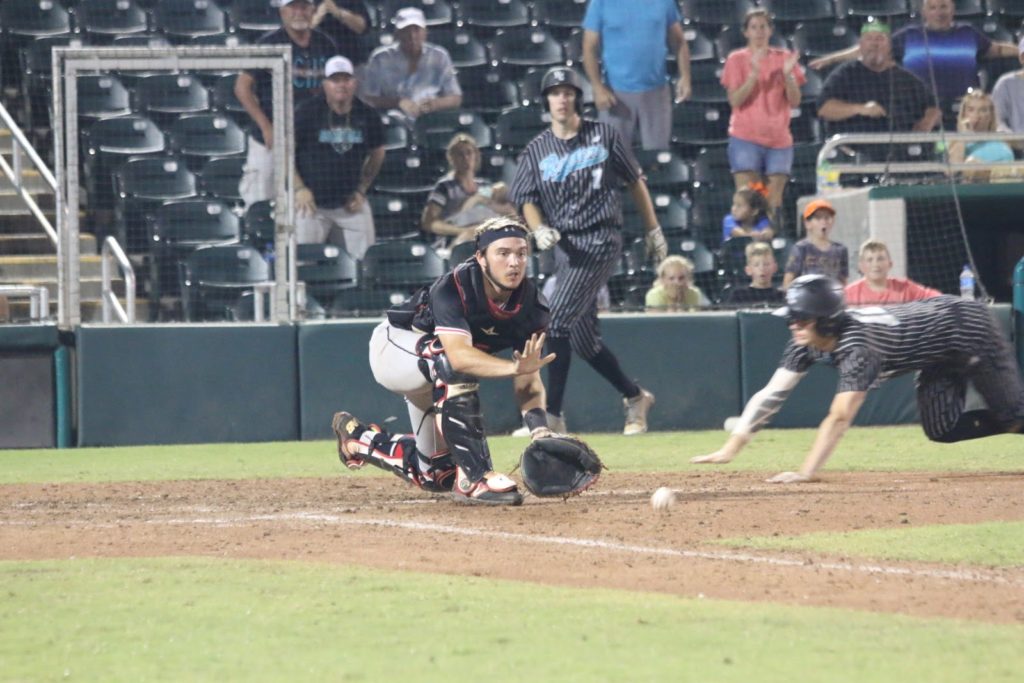 The throw into Chargers C Joey Parrillo was not in
time as Raiders runner Jace Stines scores in the sixth.
(Photo by Bob Quinn)
"I absolutely tip my hat to (Strawberry Crest), they are great ballplayers, but I was going straight at them. I wasn't here to pitch around them. I was going straight at it."
Once spotted two runs, the Raiders players were pretty confident according to Cothren.
"We have two aces on this team in Parker and Wingo," Cothren said, "if we get even just a few on the board, we knew Jarod was going to shut them down."
The Chargers lone run came in the fourth inning, Tanner Kelley reached on an error and stretched the play for two bases. He moved to third on a putout and senior Benny Pues cashed him in with a sac fly.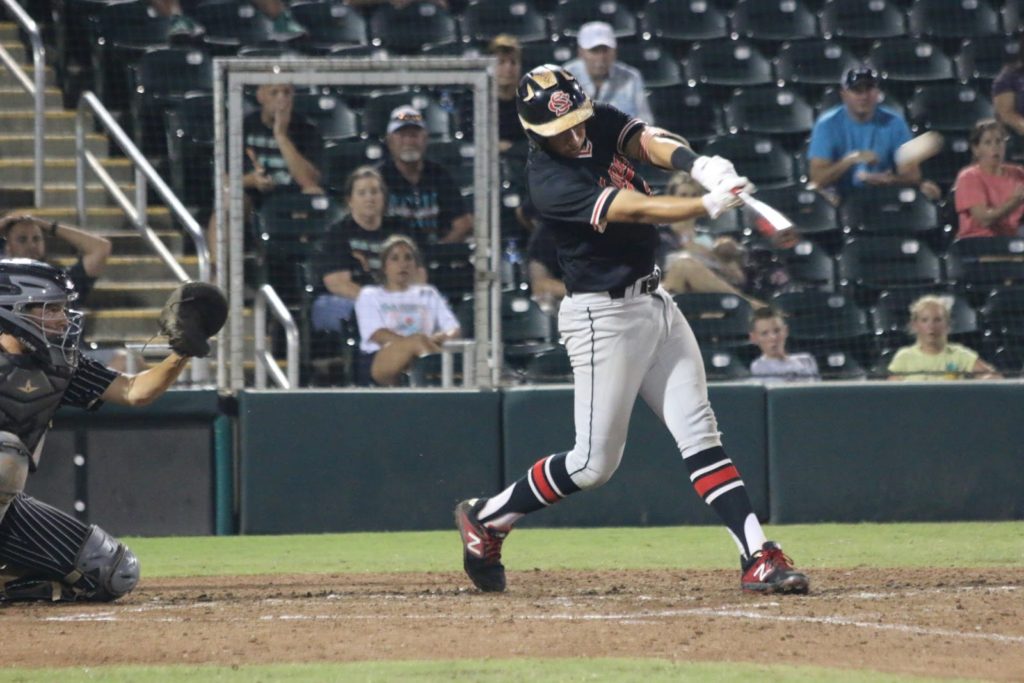 Strawberry Crest senior Benny Pues connects on a RBI sac fly in the fourth inning. (
Photo by Bob Quinn)
Strawberry Crest (19-11) junior Eli Garner was given a very tough task to on a big stage. Plant City (30-2) stung him early, and after four hits and in two innings he was replaced by Jacob Heath who tossed 20 pitches in earning the save in the Chargers semifinal win over Jenkins. Heath tossed four innings, allowing just one unearned run.
"I wouldn't pick another group of guys to come out here to play with," Heath said after the game motioning to his team behind him. "I love every one of these boys to death … I know how special it was to be able to spend my time playing with them."
Seventh year Raiders head coach Michael Fryrear was in a bit of a shock after the win, but his first statement to 813Preps was pure class.
"They were more prepared than any team we've faced all season," Fryrear said of the Chargers. "They had shifts on us, bunt defenses on us, they were deke-ing us, their pitchers were pitching backwards on us. Thank God we got those two runs first.
"That's what it's all about they gave us all we could handle."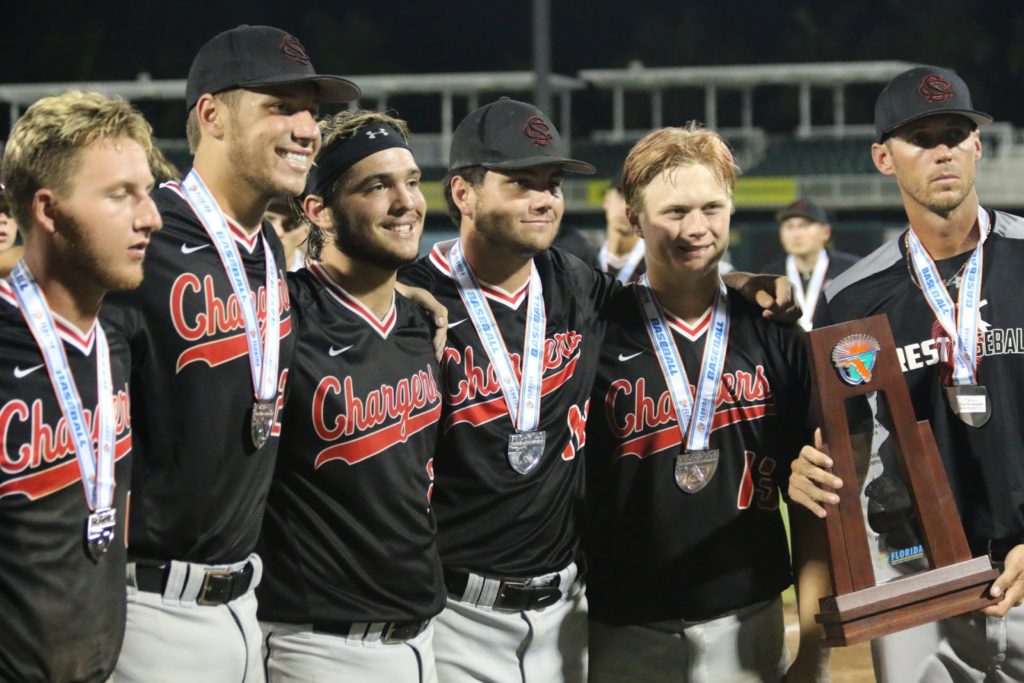 Strawberry Crest coach Eric Beattie with a collection of some of his seniors after the final. (Photo by Bob Quinn)
For Beattie the loss was tough, but he said the fight in his team was more than he could ask for.
"At the end of the day, you had two really, really good teams that really, really wanted to win," Beattie said. "One had to win and one had to lose. That was a hard-fought respectful game, and unfortunately for us we ended up with less runs on the board.
"Our boys fought, they fought hard. I'm very proud of my team."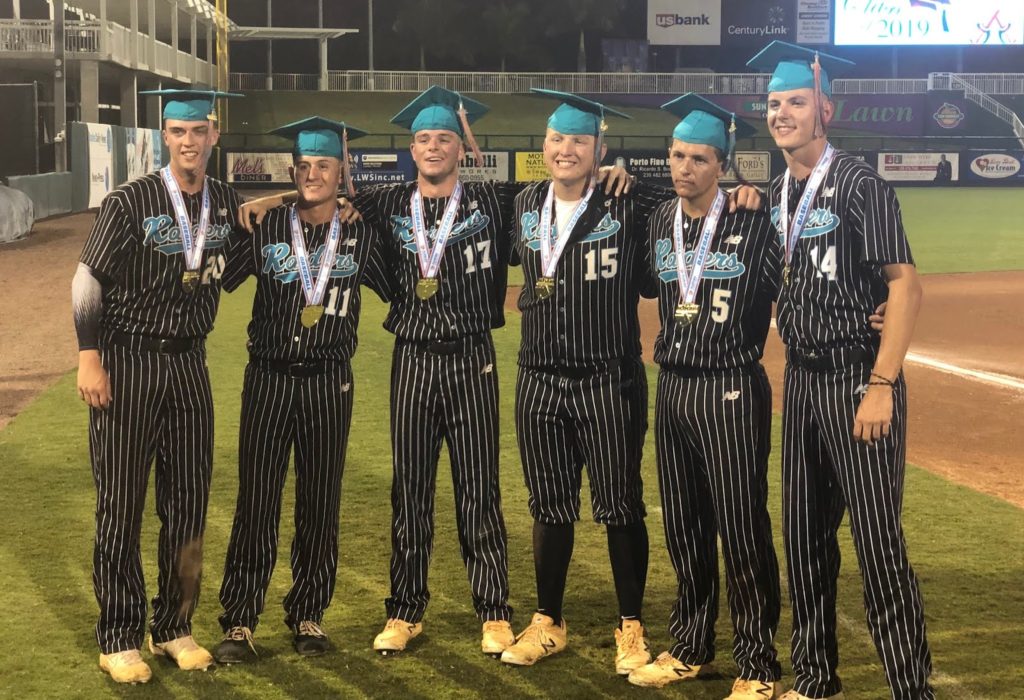 Plant City seniors missed graduation on Thursday, but those caps look pretty sharp with them gold medals.