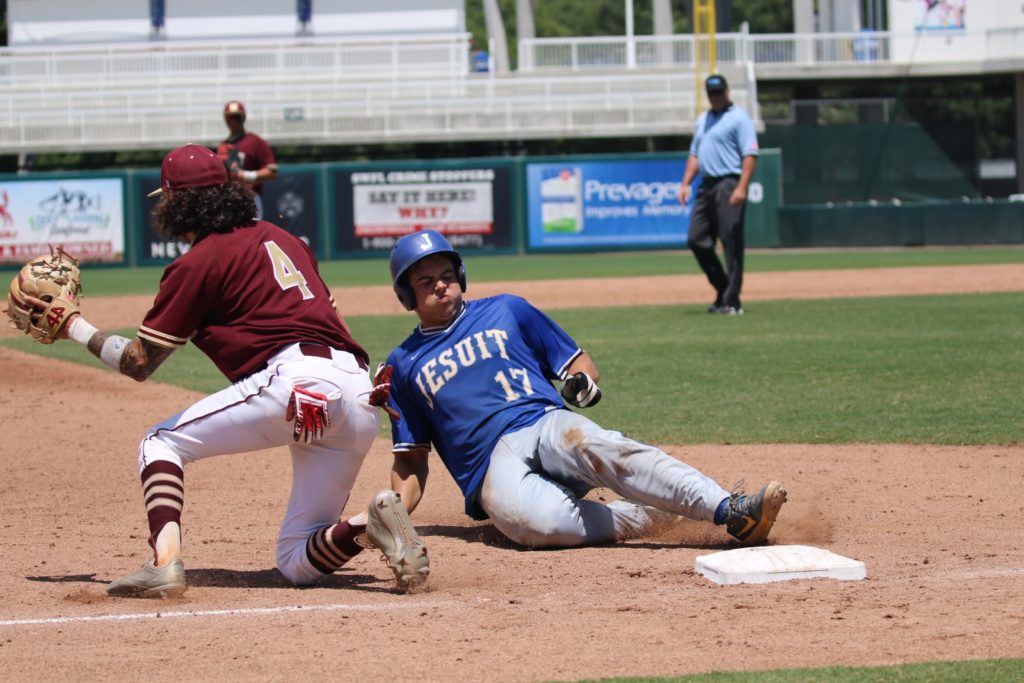 Jesuit junior Henry Politz slides into third after his fifth-inning, two-run triple to the gap in right center. (Photo by Bob Quinn)
FORT MYERS – With just two seniors in the starting lineup and three sophomores among its top four hitters in the lineup, there was hardly anyone in the Jesuit dugout, save for injured junior Bennett Lee, who was a significant part of the Tigers' state runner-up team in 2017.
So, despite such a recent trip, Jesuit head coach Miguel Menendez's Thursday advice for his young team heading into the Class 6A state semifinal the next day was relax.
"We talked about it yesterday, with (Miami Springs) being here for the first time and with really Bennett (Lee) being the only guy on our team with any experience (at the state tournament) from two years ago," Menendez said, "that the first team that could settle in and relax and just play their game would probably be the team to win."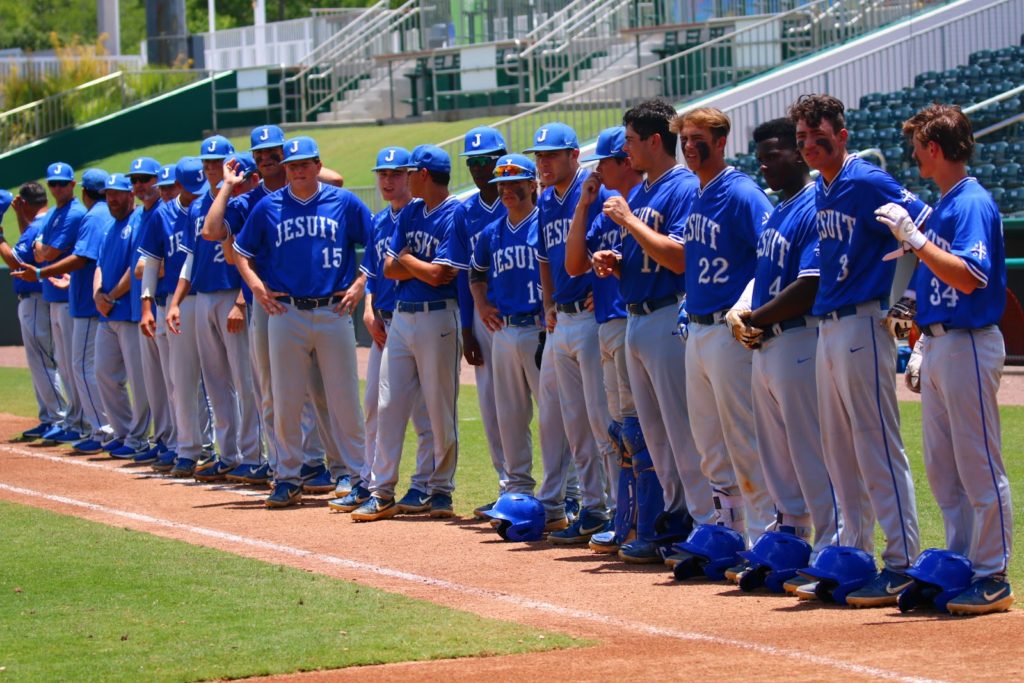 The Tigers players line-up for the anthem in pregame.
(Photo by Bob Quinn)
A pressure-cooker situation, a big stage, the blazing sun and a crop of young players playing in a huge setting, that advice may sound like it would be a challenge.
But challenge accepted and met, as the Tigers put up a big fourth inning, added to it in the fifth, and held off a rally from Miami Springs, to win a 7-3 ball game and advance to Saturday's state final in search of the program's fifth all-time title.
Jesuit churned out its fourth inning lead, scoring five runs on five hits, including doubles by BJ Graham and Bradke Lohry (RBI), a first-run RBI sac fly by Jimmy Clifford and RBI hits by Ethan Valdez and Nick Rodriguez.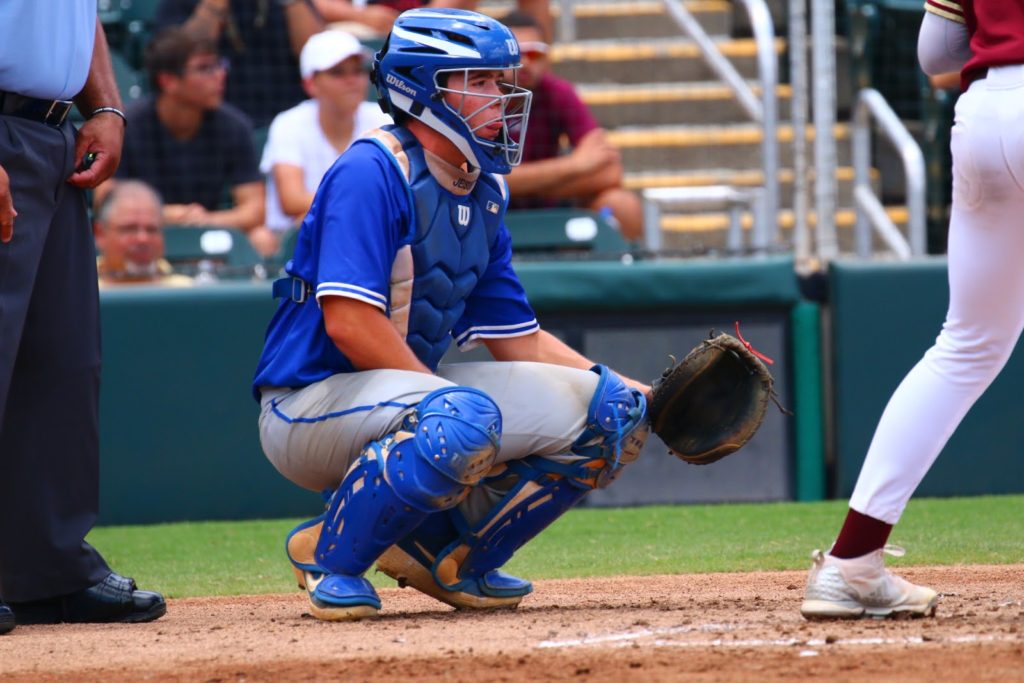 Jesuit senior catcher Jimmy Clifford plated the games first run with a sac fly in the fourth. (Photo by Bob Quinn)
For Rodriguez, this season started at the junior varsity level but picked up with a midseason call-up where the sophomore had a game-winning RBI in his first game and proceeded to hit .378 and score 12 runs through 45 at-bats. On Friday, Rodriguez batted leadoff in the state semifinal going 2-for-4.
"It's kind of hard to wrap my mind around," Rodriguez said. "I got called up because someone was hurt, and then when Bennett was hurt I started hitting leadoff, so the thing I think about is not trying to do too much.
"(Try not) to do more than I can, stay within my approach, keep doing what I'm doing and hopefully things turn out good."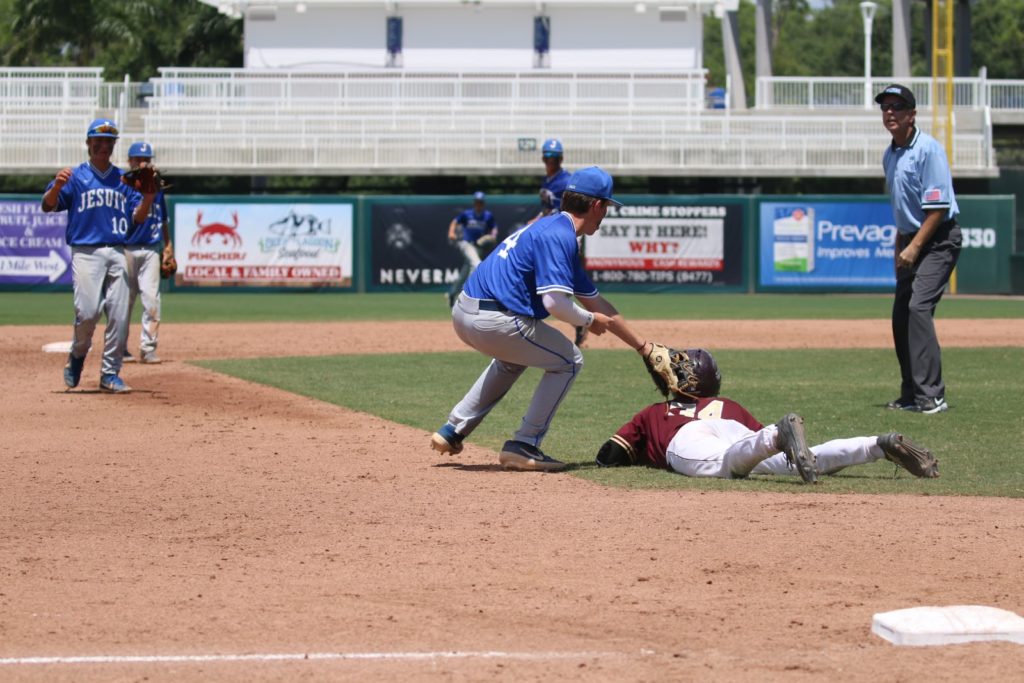 Sophomore third baseman Nick Rodriguez makes the tag to end a two-on threat in the fourth, on a pick-off, rundown play started by Camden Minacci. (Photo by Bob Quinn)
Jesuit (26-5) added to its lead in the fifth when junior Henry Politz crushed a triple to the right-center gap to drive in a pair.
"A lot of success in that at-bat came from what I did on deck," Politz said. "… I watched him and it was all fastballs, and I was like okay I'm going to time that up.
"His first pitch was low and away in the dirt and I knew he was going to come back at me and try to get ahead, he did, hip-high, right where I like it and I hit it hard up the middle."
Though the sturdily-built, 6-foot-3, 230-pound junior did admit he was feeling it a bit as he pulled into third.
"If I'm being completely honest, I was exhausted," Politz said.
Graham, whose double started the fourth-inning burst and led off the fifth with a single scoring both times, said the key for his team was to not succumb to the big setting and keep the same approach that has seen Jesuit dominate through the post-season, outscoring opponents 51-11 since the start of the district tournament.
"We knew this was going to be a big stage, so we just tried to keep the same approach and not do anything crazy," Graham said. "Obviously, it ended up pretty well."
Sophomore Cole Russo chipped a pair of singles and scored in the win.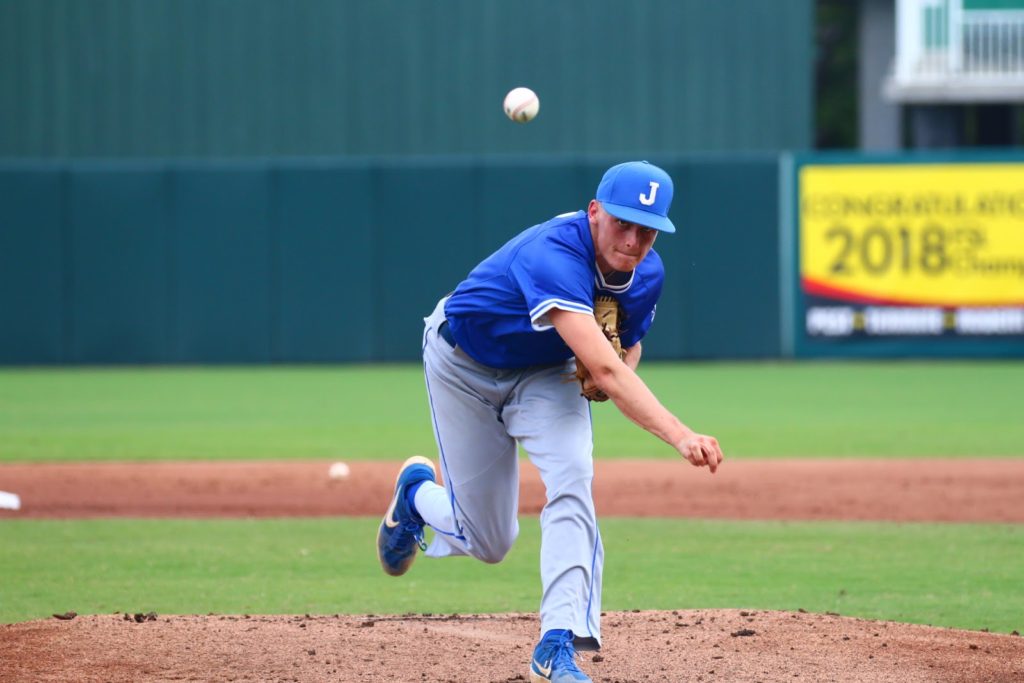 Jesuit junior pitcher Camden Minacci earned the win and improves to 12-1 on the season. (Photo by Bob Quinn)
It was not the best of outings for Jesuit starting pitcher Camden Minacci, though he only allowed two hits it was the free passes – five of them – that ended his day early. The Golden Hawks added three runs all tagged to Minacci after he departed with the bases loaded in the fifth, but reliever Josh Mallitz wiggled out of the inning without any more damage.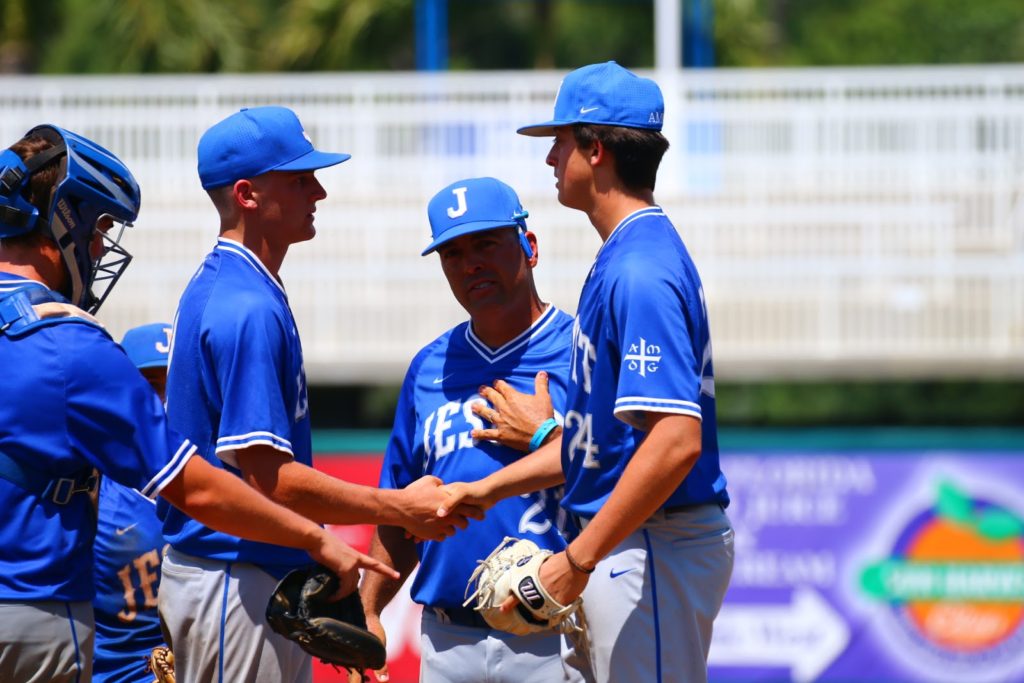 Minacci greets Josh Mallitz with a handshake, when the junior replaced him on the mound. (Photo by Bob Quinn)
Turner Thompson entered to finish the game off in a non-save situation.
Though not completely pleased with his outing, the highly-competitive Minacci did accomplish one of the goals he set out with in the start – to go long enough to save pitching for tomorrow's game. He did that while earning the win and improving to 12-1 on the mound this season, as Mallitz worked two innings with just 28 pitches to remain eligible to pitch on Saturday.
"I thought that execution today would be going as long as I could, getting us a win and making sure all the other guys stayed under 30 pitches," Minacci said. "I was a little disappointed with the four pitch walk I had, because I would have liked to finish one more inning, but Mallitz came in and threw 28 pitches and Turner came in and shut the door."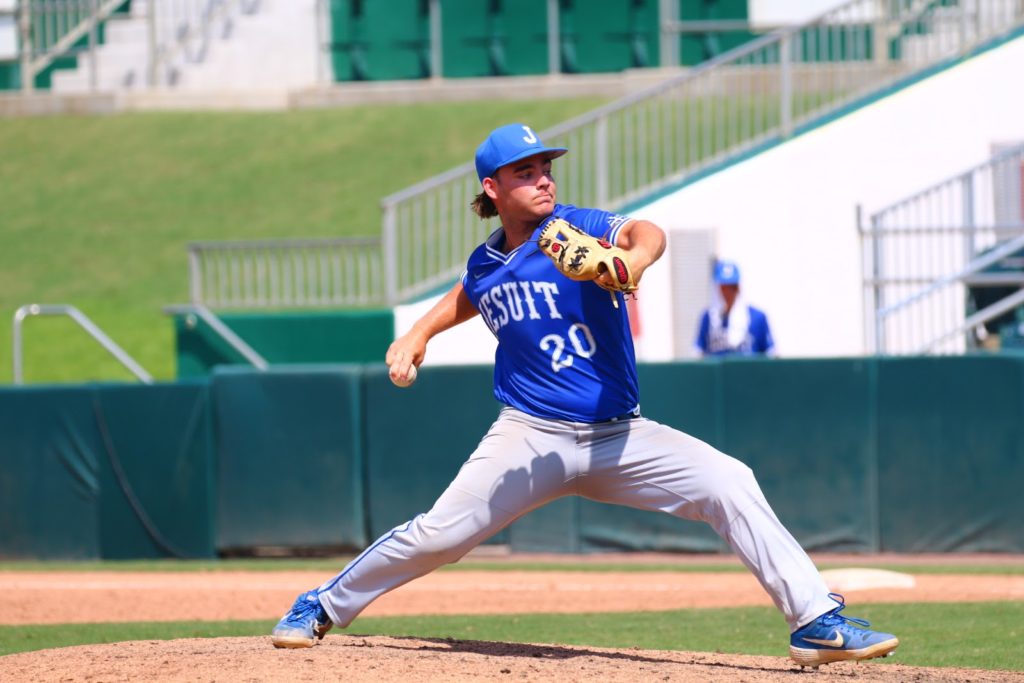 Jesuit junior closer Turner Thompson finished off the game recording two strikeouts in the seventh inning. (Photo by Bob Quinn)
Jesuit is looking for its fifth state baseball title, facing off against Pinellas County's Dunedin, winners on Friday, 7-4 over Lynn Haven Mosely. The Tigers and the Falcons square off from Fort Myers Hammond Stadium at 4 p.m. on Saturday.