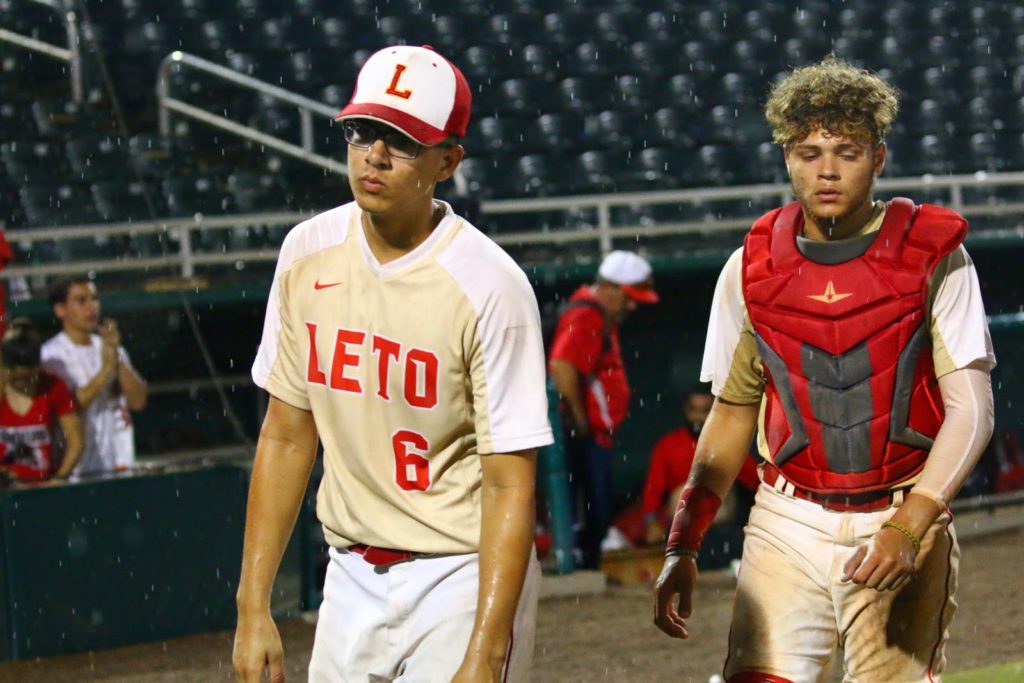 The rain soaked the Falcons late as Leto's season was closed with a tough Class 7A state semifinal loss to Doral Academy. (Photos by Bob Quinn)
FORT MYERS – Leto stung the baseball early, but a Doral Academy defender seemed to always be right where he was needed.
In turn the Firebirds offense was patient to start, then explosive in a hurry. A first-inning run on a double and RBI single from Doral's Luis Espinal wasn't insurmountable, but the six-spot in the second proved too much for the Falcons. Leto's season ended, for the second season in a row, in the Class 7A state semifinals, this time in a 10-0, five-inning, mercy-rule loss.
Senior Christian Suarez struck out the first two he faced in the home first, but the trend didn't continue and before the close of the second the Stetson commit's spectacular high school pitching career was over. His night ended after 1 2/3 innings, four strikeouts and seven runs (four earned) on the board.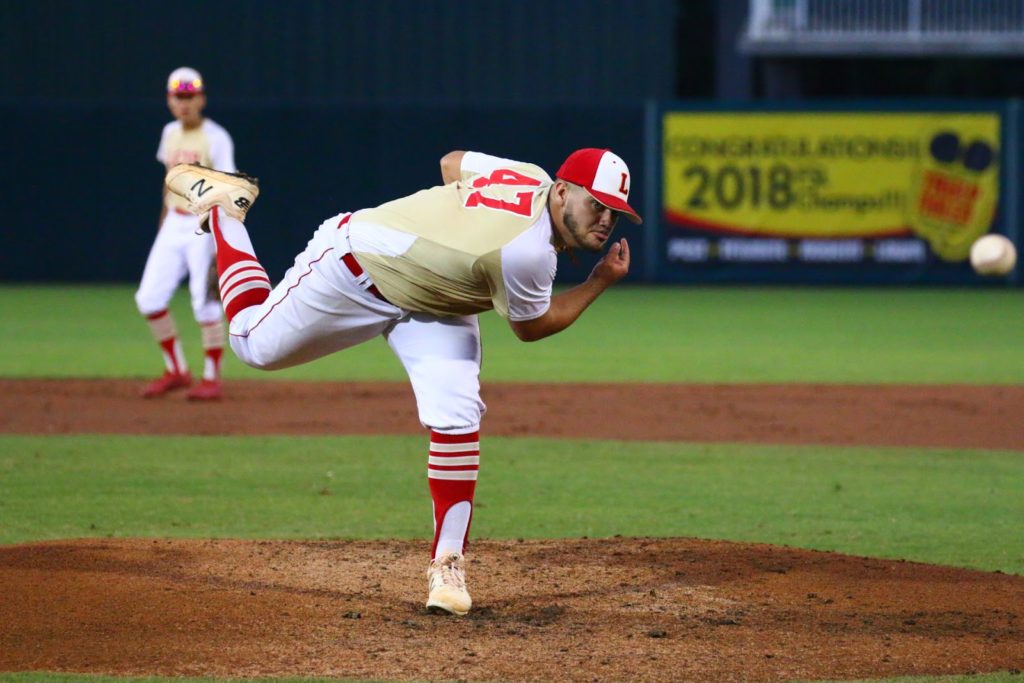 It was a tough final outing for Falcons four-year varsity pitcher Christian Suarez, as the Stetson pitched lasted lest than two innings on the mound, being tagged with seven runs and his fourth loss of the season. 
(
Photos by Bob Quinn)
Doral was patient working counts and stayed away from, or even sometimes hit Suarez's strong slider.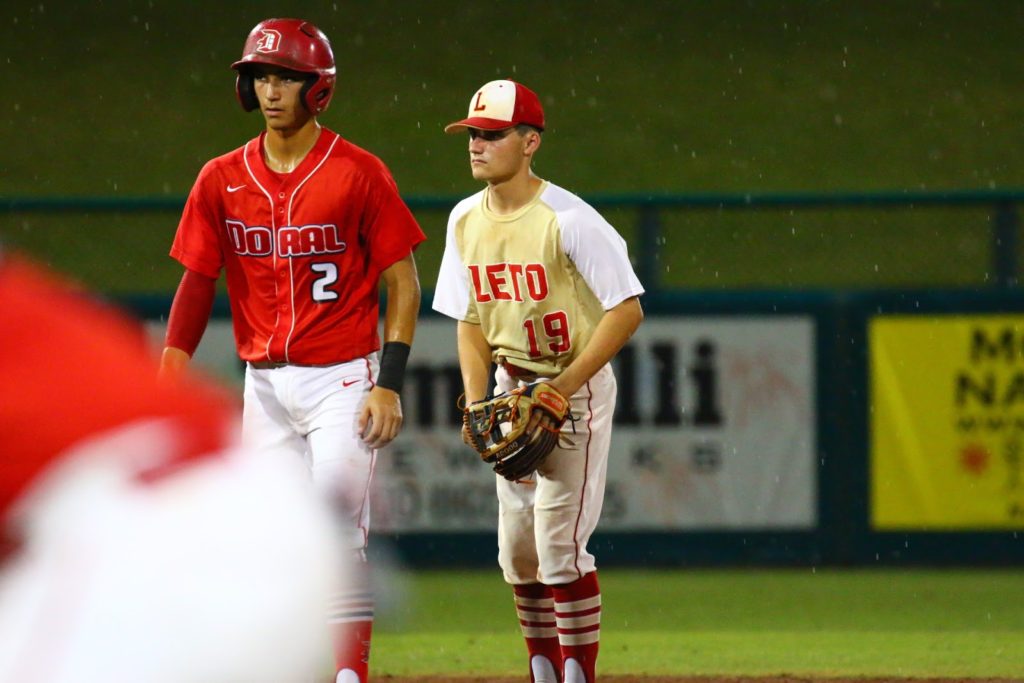 (
Photos by Bob Quinn)
"I think they got into really good hitting counts, a couple walks in there, then they'd get a big hit," Falcons coach JJ Pizzio said. "I think they scored four or five with just three hits, three really good hits … They hit some really good pitches that Christian has been able to get people to swing and miss at."
Suarez took the loss and falls to 9-4 on the season, finishing with 104 strikeouts. He wraps up his Leto career with 22 wins and 209 career punchouts.
"These are bonds that I've made with some of the best friends that I will ever have," Suarez said, "and (I also got) my biggest mentor and one of my best friends, Coach Pizzio, I know I'll have a best friend for life."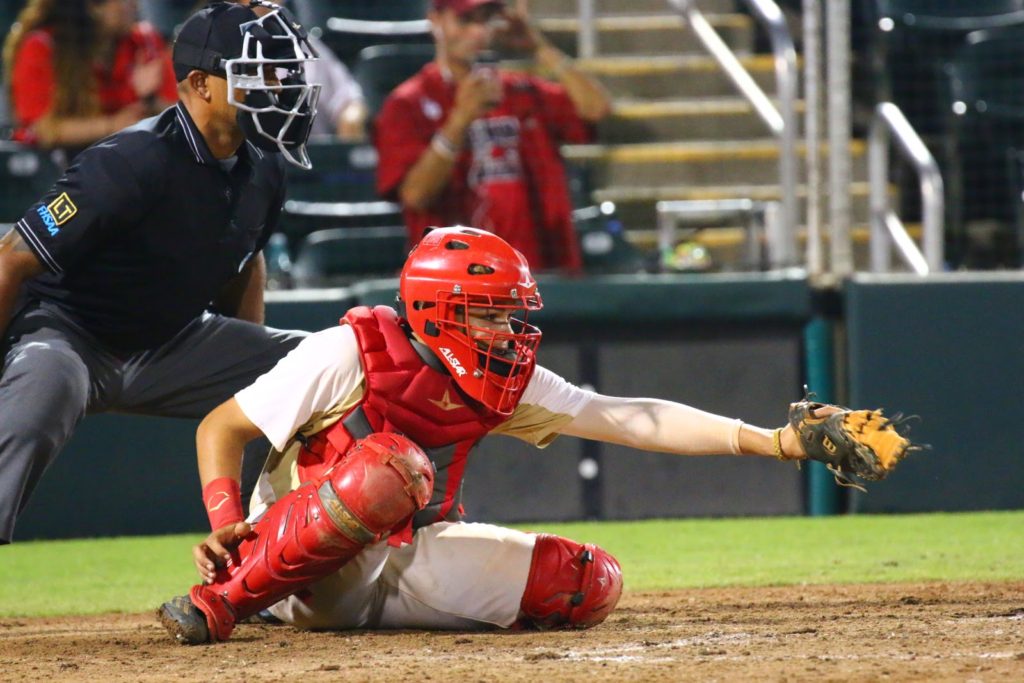 Leto junior catcher Jose Santos. 
(
Photos by Bob Quinn)
The nice-sized Leto crowd supported their team throughout, cheering as junior catcher Jose Santos laced a ball to right field sliding into second to start the fourth, then moving to third on a ground ball. But the wind was sucked out when Santos was picked off for the second out of the inning and Doral eventually took an 8-run lead to the home half. It was that kind of night for the Falcons.
"Our approach is always pretty sound, but I replayed the game inning by inning, and yeah, I thought we hit the ball pretty hard a few times," Pizzio said. "I watched some guys who seemed pretty seasoned, make some big plays on us."
The fifth inning began and again the Leto fans, which included a filled student Spirit Bus on the final day of school, screaming "L-E-T-O, Leto!" in triplicate and Tomas Lozano responded with a first-pitch double. The Falcons got a walk out of Isaiah Gonzalez.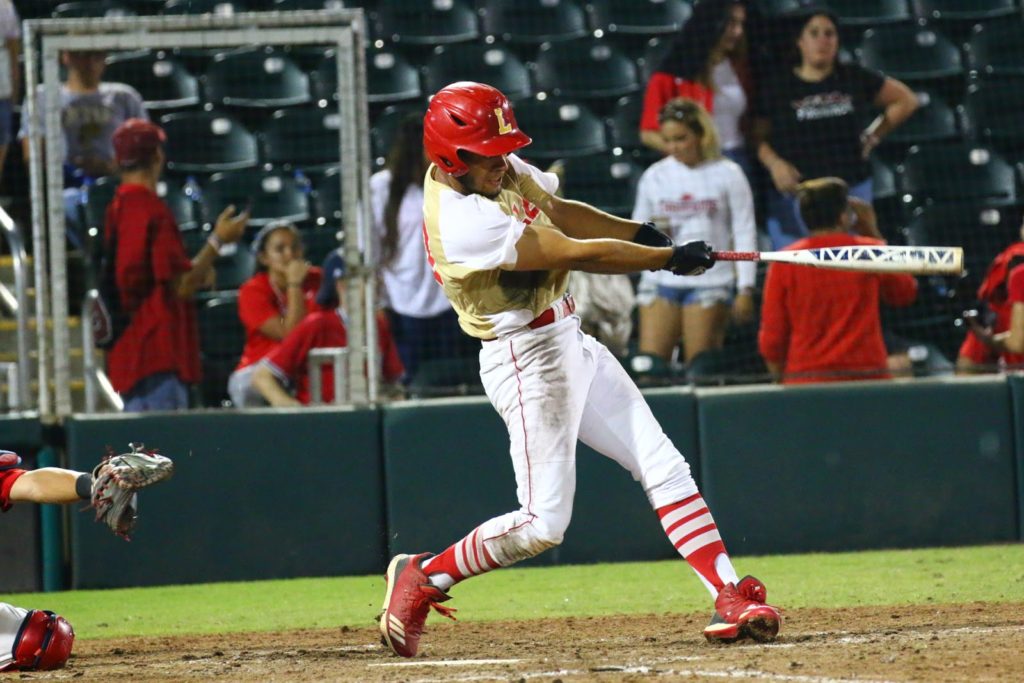 Tomas Lozano led off the fifth with a double, but a few batters later was left stranded 

when Doral turned an inning-ending double-play. 
(
Photos by Bob Quinn)
But after a strikeout, again the Doral defense was exactly, spectacularly, perfectly placed for a double play started on a one hop chopper to third base. That. Kind. Of. Night.
"This was one of those nights and those seem to hurt the most," Suarez said. "Sometimes, you just want the ball to maybe not be hit so hard, find a hole somewhere, maybe the shortstop isn't there and a hit finds the hole.
"It sucks that happened to us tonight, but (Doral) played a good game and deserved to win."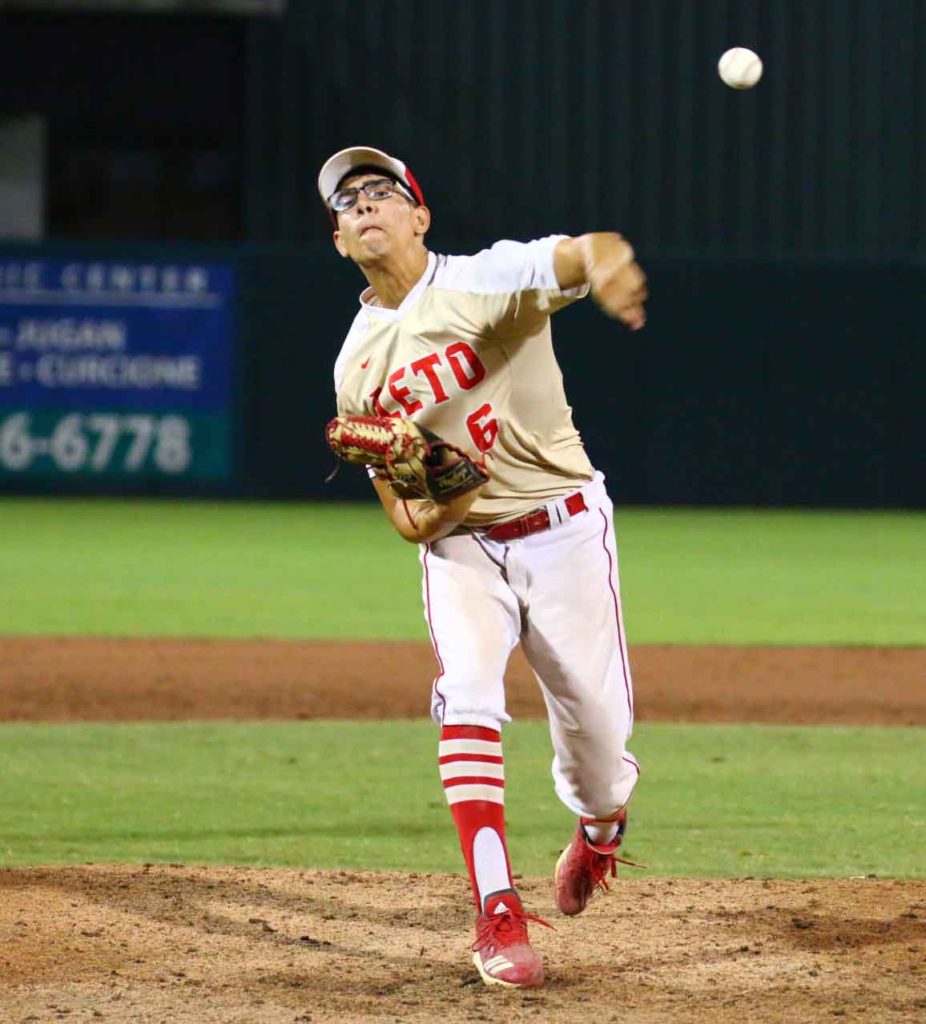 Leto senior pitcher Franklyn Hernandez. 
(
Photos by Bob Quinn)
Senior Franklyn Hernandez, who came on in relief in the second, allowed a run, but struck out five in 2 1/3 innings of a no-decision. He ends his senior campaign 8-1 with 67 strikeouts.
"Franklyn came in and did what he always does," Pizzio said. "I need some college guy to watch that outing he just had where he carved up some big hitters, he's tough on lefties, and he has this change-up we call the lunch box and he threw that thing pretty damn well."
Damien Breton's first inning single was the only other hit for the Falcons, as Firebirds senior Mario Garcia pitched all five innings to earn the win improving to 9-1 on the year.
Leto closes the season at 23-7.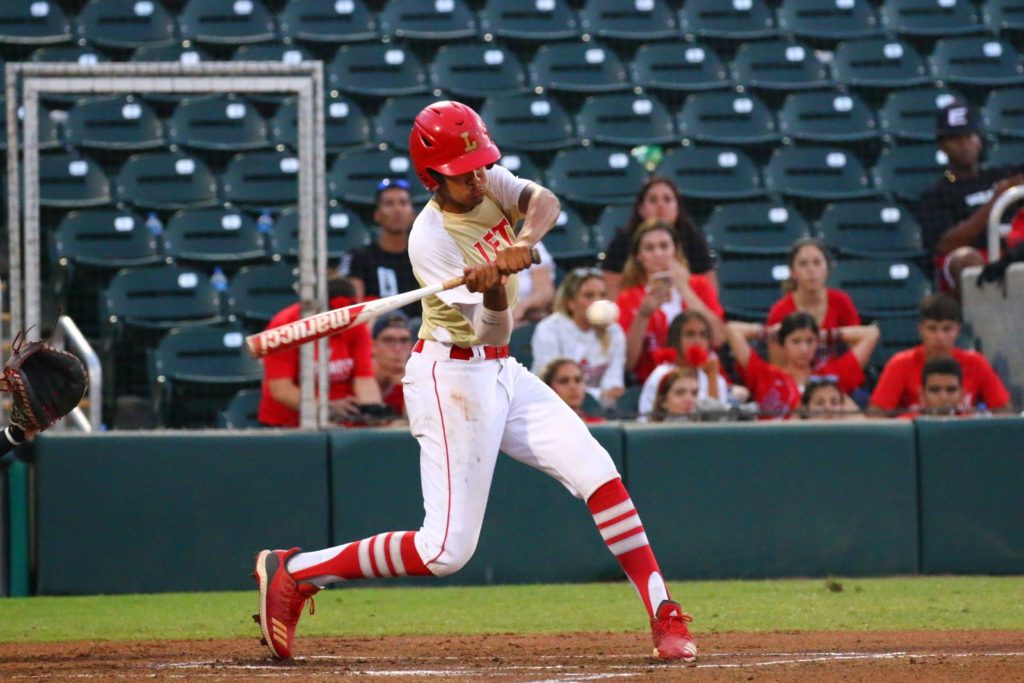 Leto sophomore Damien Breton had a first inning single, one of just three Falcons hits in the game. 
(
Photos by Bob Quinn)
Even in a down moment, the dry humor of Pizzio couldn't be quelled after the game, remarking of his team's penchant for late-inning rallies this year.
"We win games in the seventh inning all the time, we just didn't get there," he said of the game's early, mercy-rule ending.
Adding with a chuckle: "If they would have given us two more innings, uh-oh, bad news for those guys."
Doral Academy advances to the 7A state final against defending state champion Venice on Saturday at 7:30 p.m.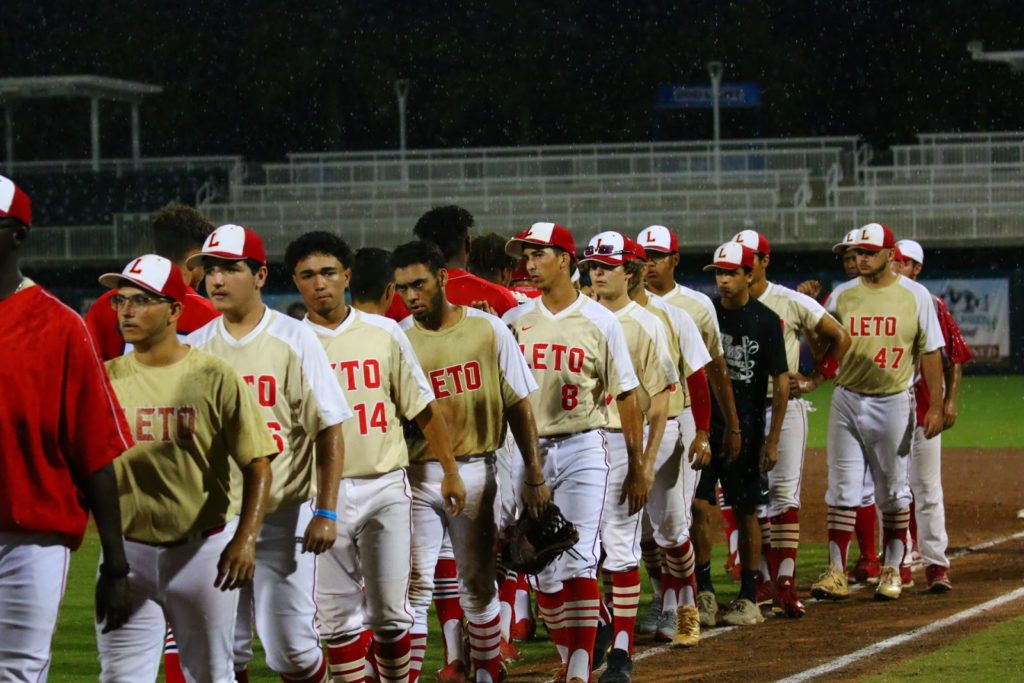 (
Photos by Bob Quinn)