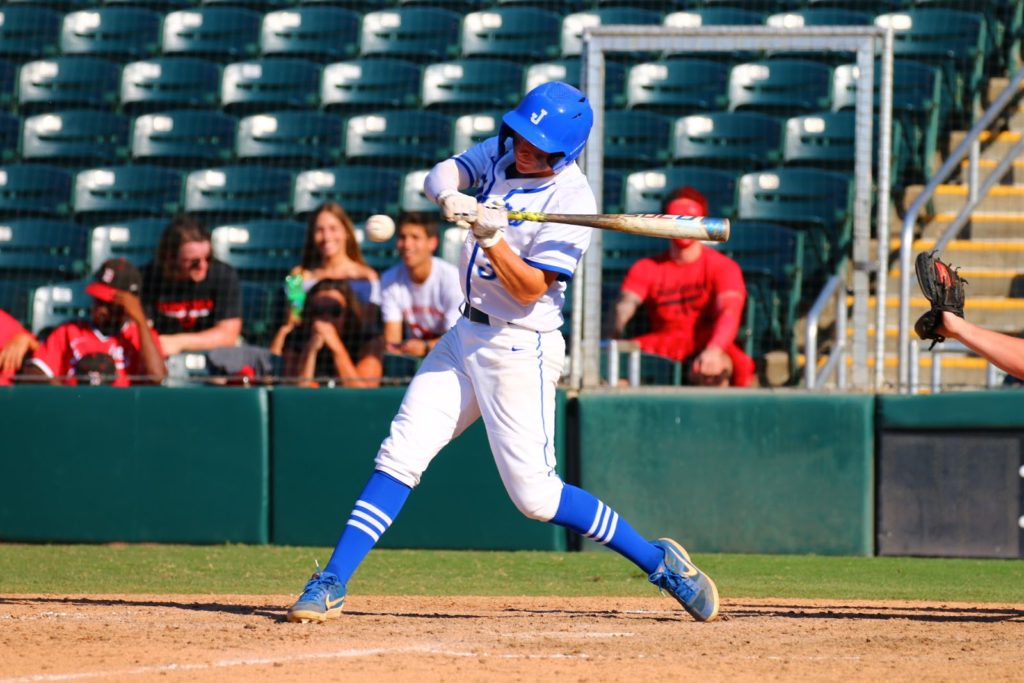 Sophomore Nick Rodriguez slapped an RBI double down the third base line in the sixth providing the Tigers the final run needed to claim Jesuit's fifth state championship title. (Photo by Bob Quinn)
FORT MYERS – Jesuit baseball was forged in fire this season by a schedule that featured champions from this and other states, two national top-10 teams, an Ohio team currently in the final four, and every other scheduled team looking to catch the Tigers sleeping.
So, a one-run deficit in the fifth inning of the FHSAA Class 6A state championship would not shake the resolve of a team that tested.
For the fifth time in the school baseball program's history, the Jesuit Tigers are state champions with a trio of sophomores and a junior bashing the way to a 4-3 victory against Dunedin early Saturday evening.
Video shot and produced by Bob Quinn
for 813Preps
Jesuit (27-5) allowed a first-inning run on an error to the Falcons, as Connor Russell crossed the plate after a throw went wide of first. From there, starting pitchers on each side kept their opponents off balance for four innings. Junior Justin Clark struck out six, allowing only the one unearned run, while countering Dunedin senior Dominic Pineiro let his defense supporting him holding the Tigers off the board and to just three hits in his work.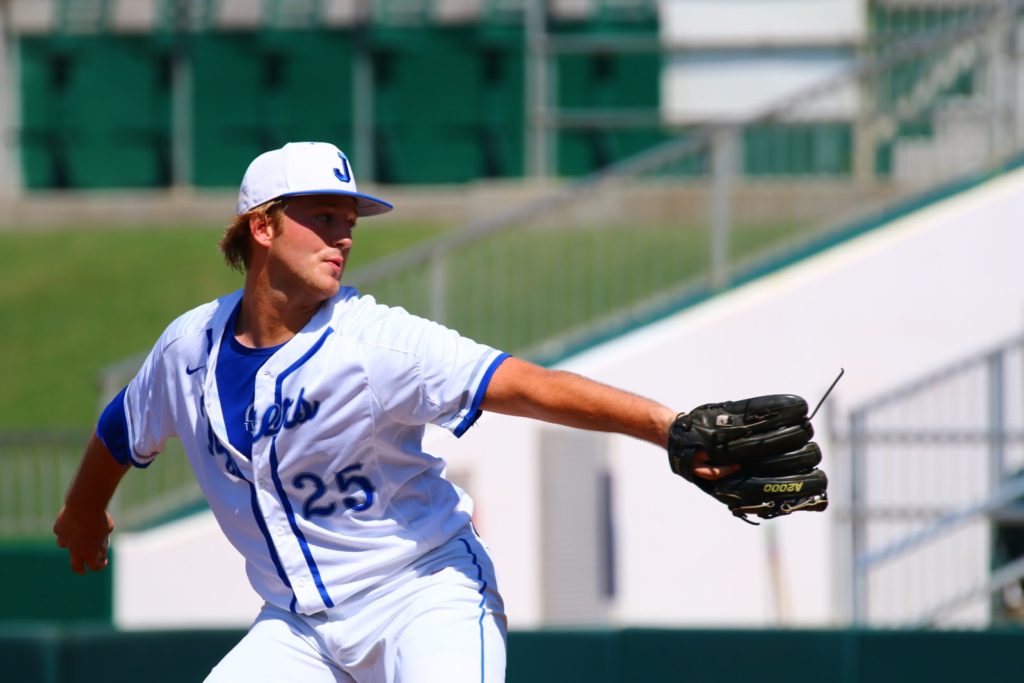 Jesuit junior Justin Clark tossed four innings on the mound, allowing one unearned run and striking out six. 
(
Photo by Bob Quinn)
And though Jesuit sports a number of lefty hitters, it was almost welcomed when lefty Dominic Baratta took to the mound for Dunedin in the fifth.
"Honestly, when they brought the lefty in and I was kind of happy," Tigers head coach Miguel Menendez said. "I know that seems kind of strange considering how many lefty guys we have in our lineup, but we've faced a left-handed pitcher in every playoff game so far so I think it was old hat for our guys."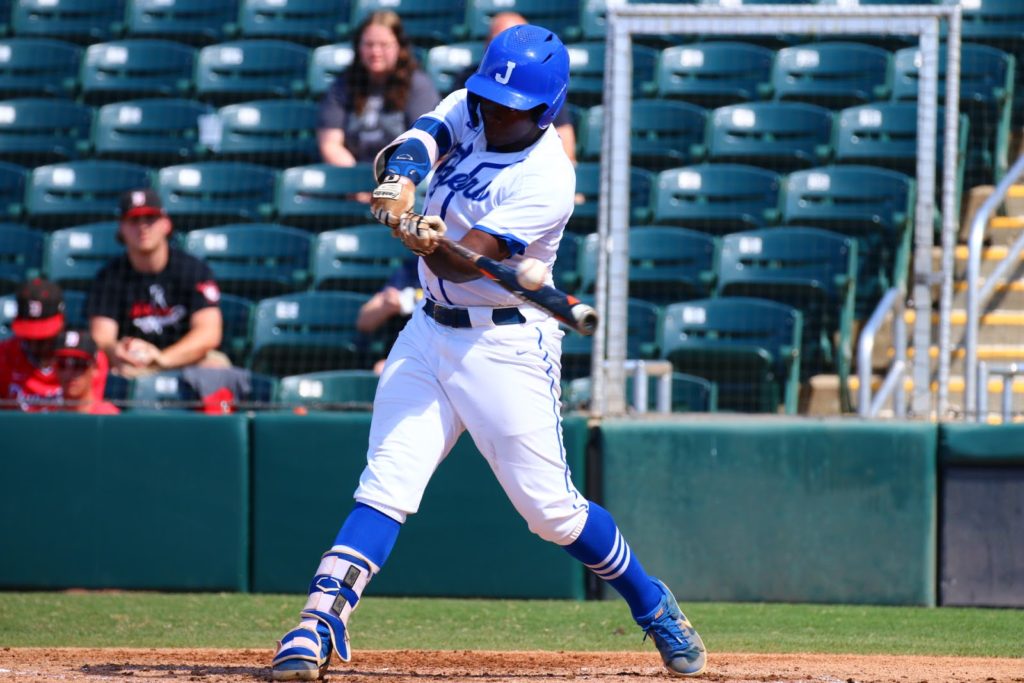 Junior BJ Graham smacked a double in the first and also had an RBI single in the fifth. 
(
Photo by Bob Quinn)
That didn't seem the case at first, as Baratta recorded the first out on just two pitches, but the Tigers' hitters found their way to the senior. A pair of walks followed, then a Joseph Casale ground ball advanced the runners and set up sophomore BJ Graham to hustle his way down the line, earning an infield single and tying the game.
BJ Graham's RBI single. (Video by Bob Quinn)
Graham, who repeated his two-hit semifinal performance with two knocks against Dunedin, said he has made some adjustments in recent weeks to work away from his natural pull swing.
"It looked like it's been easy, but it was actually very hard," Graham said. "My whole life I've been a pull hitter, but staying in the cage, working the tee outside, it really has helped my game."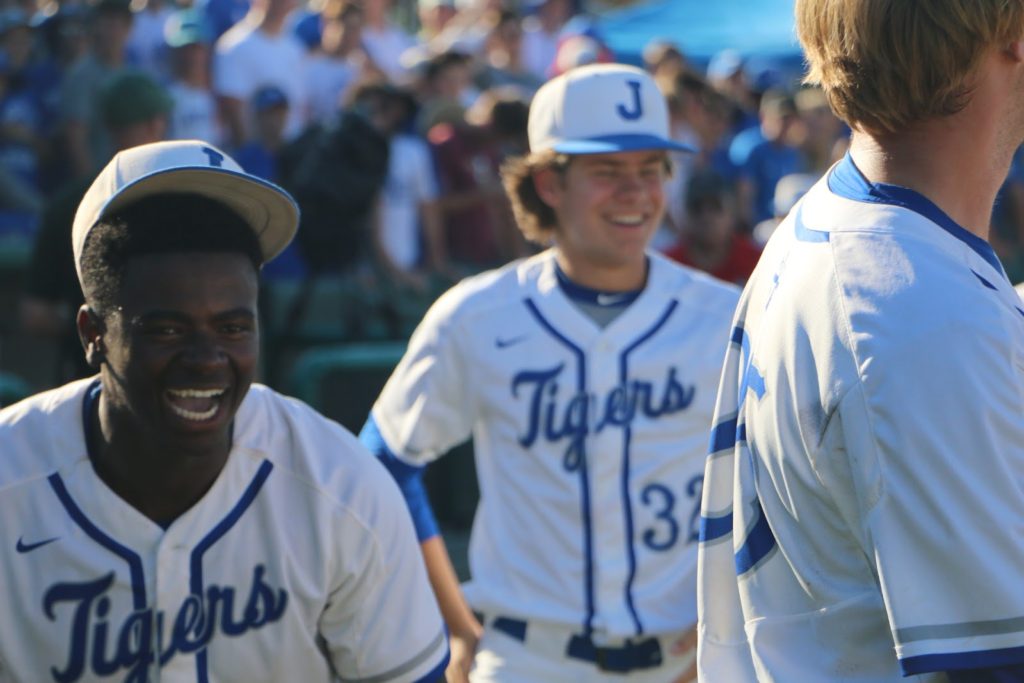 (
Photo by Bob Quinn)
Lefty-hitting sophomore Cole Russo then smashed a ground ball, single to the right side for his team-leading 27th RBI of the season. That tipped things the Tigers way.
"I was trying to find a fastball I could drive and I knew he was living low," Russo said. "I hit it between the first and second base hole … he was throwing a lot of fastballs and he came in on me and I was able to drive it. It felt really nice." "
Cole Russo's RBI single. (Video by Bob Quinn)
Junior Henry Politz kept the two-out rally going with a run scoring line drive to cap the three-run frame.
Dunedin responded in the sixth, trimming the lead in half when Seth Buttice scored on a bases loaded passed ball.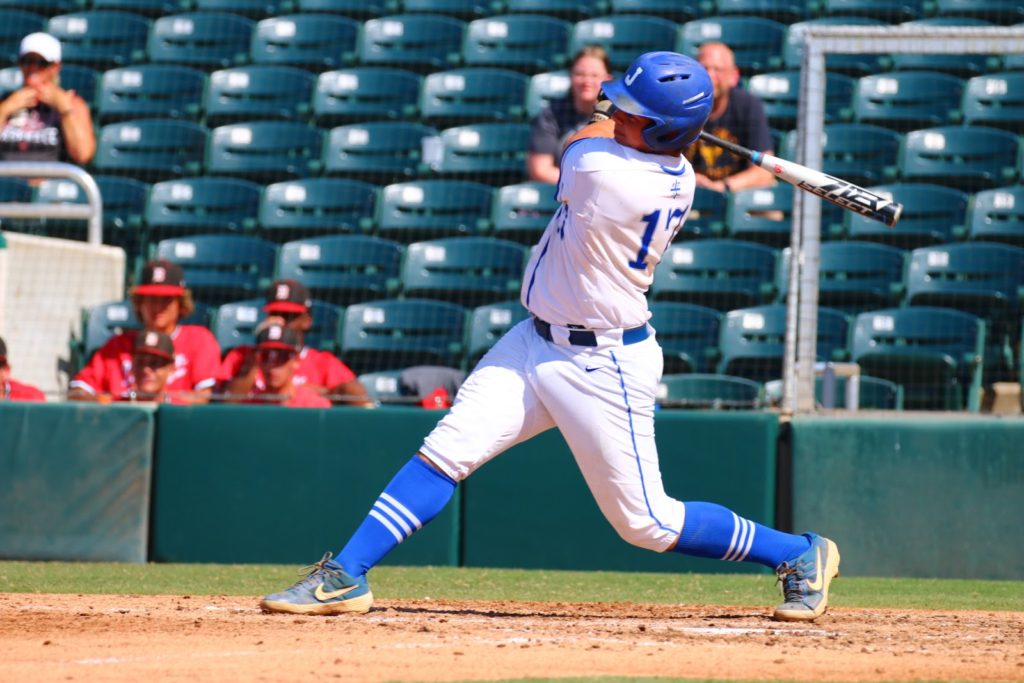 Tigers junior Henry Politz had a pair of hits and an RBI in the final. 
(
Photo by Bob Quinn)
But the Tigers kept producing and the home sixth started with a Jonathan Shoop single, productive outs from senior Ethan Valdez (sac bunt) and Bradke Lohry to move the runner to third, where Nick Rodriguez – JV call-up Nick Rodriguez, leadoff hitter due to injury Nick Rodriguez, make-the-most-of-the-shot-your-given-.375-hitting Nick Rodriguez – sent a screaming skipper passed Shoop just inside the third base line for an RBI double. Rodriguez was caught trying to stretch it to a triple, but the damage was done.
"Every time I get up I try not to do too much, do what I'm capable of doing," Rodriguez said. "Not doing more than I can do and somehow I got that ball between the third baseman and the third base line."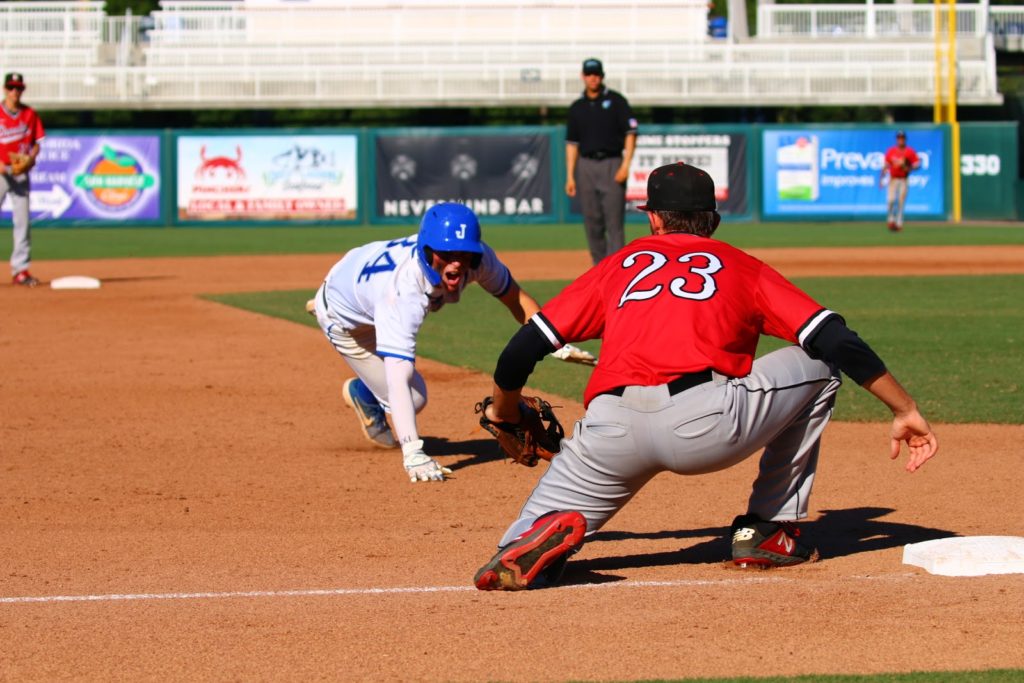 The double did it, but Rodriguez tried his luck
and was caught at third. 
(
Photo by Bob Quinn)
Adding with a wide grin spread ear to ear: "I tried to make it a triple, but it didn't really work out. It is crazy to think that I didn't even start the year on the team, and now I have the winning RBI in the state championship game."
Dunedin fought to the very end, scratching one more back in the seventh as Lake Fisher's RBI sac fly plated Ray Sass, but Jesuit finished the game as Turner Thompson pumped in strike three to senior Jimmy Clifford.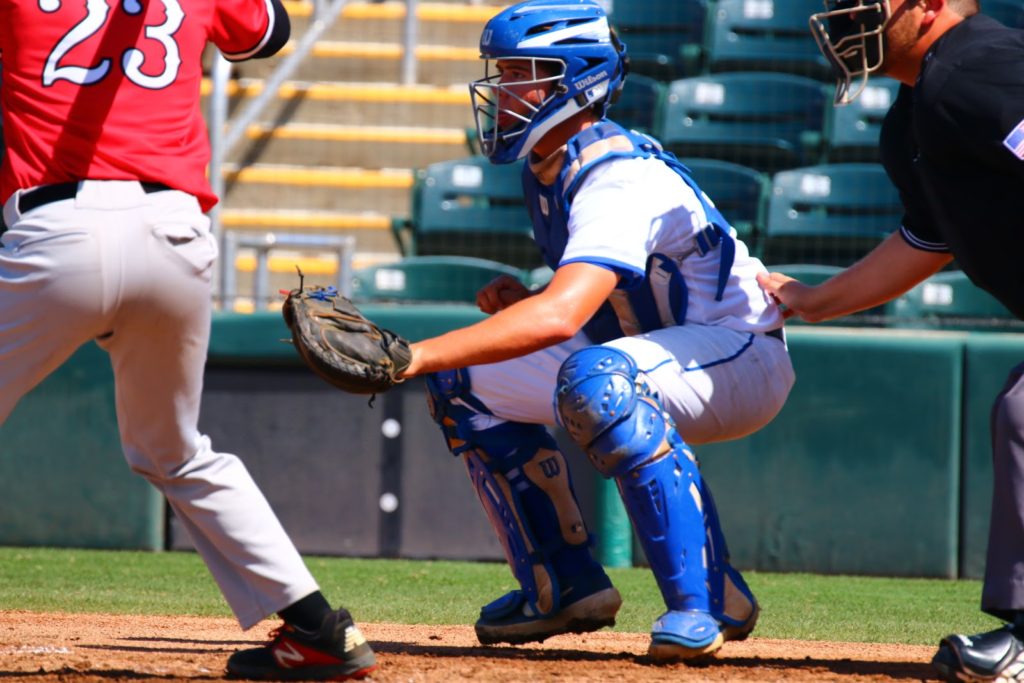 Jesuit senior catcher and captain Jimmy Clifford. (Photo by Bob Quinn)
Clifford, who has provided steady leadership all season for his team, which was only deepened when he stepped in when starting catcher Bennett Lee lost to broken fingers prior to the playoffs, added a caught stealing and a foul-pop catch to the win, Valdez had a single, the sac bunt, a stolen base and excellent defense at second base, and Brandon Incardona entered as a pinch runner in the game as the three senior captains represented the departing class of 2019.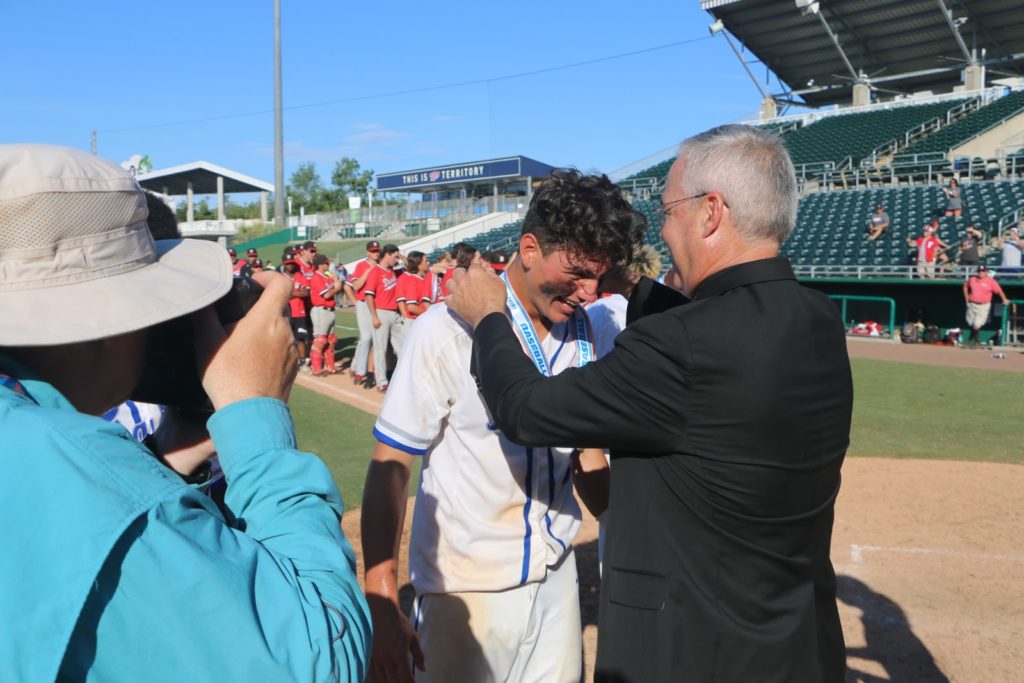 Jesuit president Fr. Richard Hermes, S.J. presented the Tigers players with their championship gold medals. 
(
Photo by Bob Quinn)
"I thought it was poetic for (Jimmy) even more than the strike out, that he was the guy to catch the last out was a very fitting tribute to this senior class who sometimes get overlooked because we have so many quality young guys," Menendez said, "But these seniors led the way, they showed us how to win, and were so unselfish.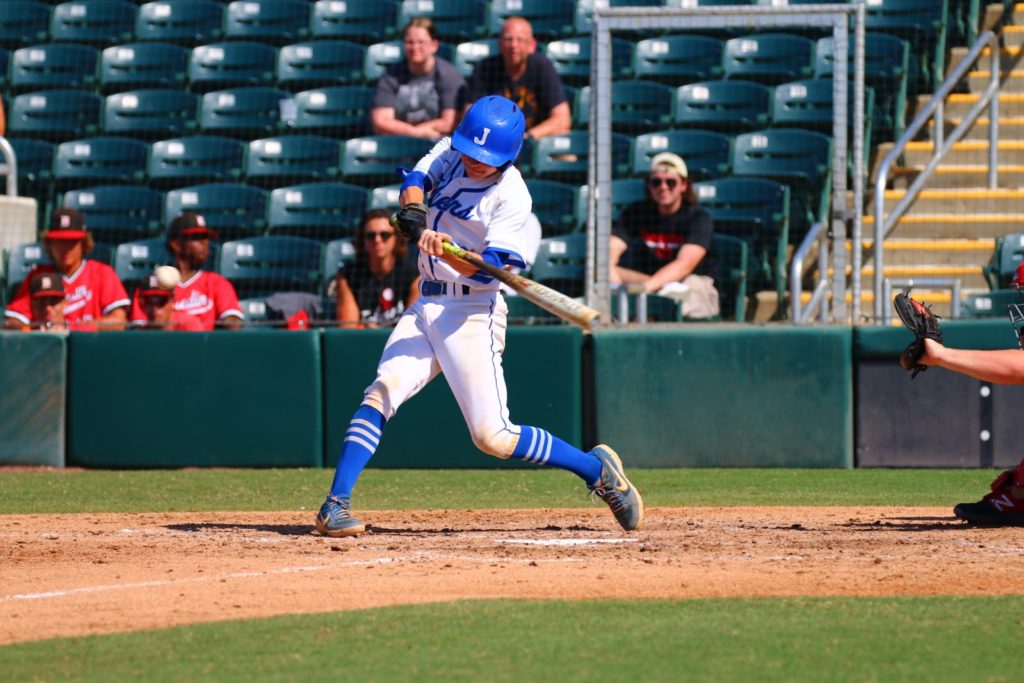 Jesuit senior Ethan Valdez. 
(
Photo by Bob Quinn)
"They were great teammates who didn't care about the credit or if someone played in front of them. They just wanted to win."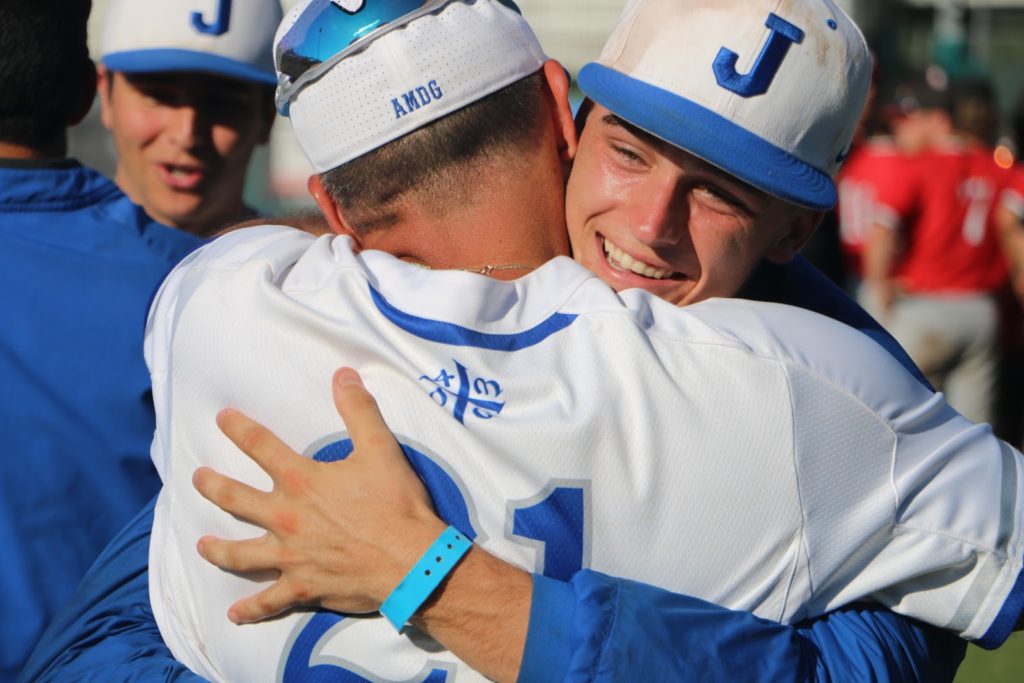 Jesuit head coach Miguel Menendez is wrapped up in a hug from junior pitcher Camden Minacci, who earned the win on the mound in Friday's state semifinal win.
However, in the post-game press conference it was not lost on Menendez and the five players – two juniors and three sophomores – in attendance that the Tigers' future is looking pretty bright.
"I think this shows that this is just the beginning," Politz said. "I think for years to come we've got a sophomore class … and some really good freshman as well … we are going to be very good for a long time."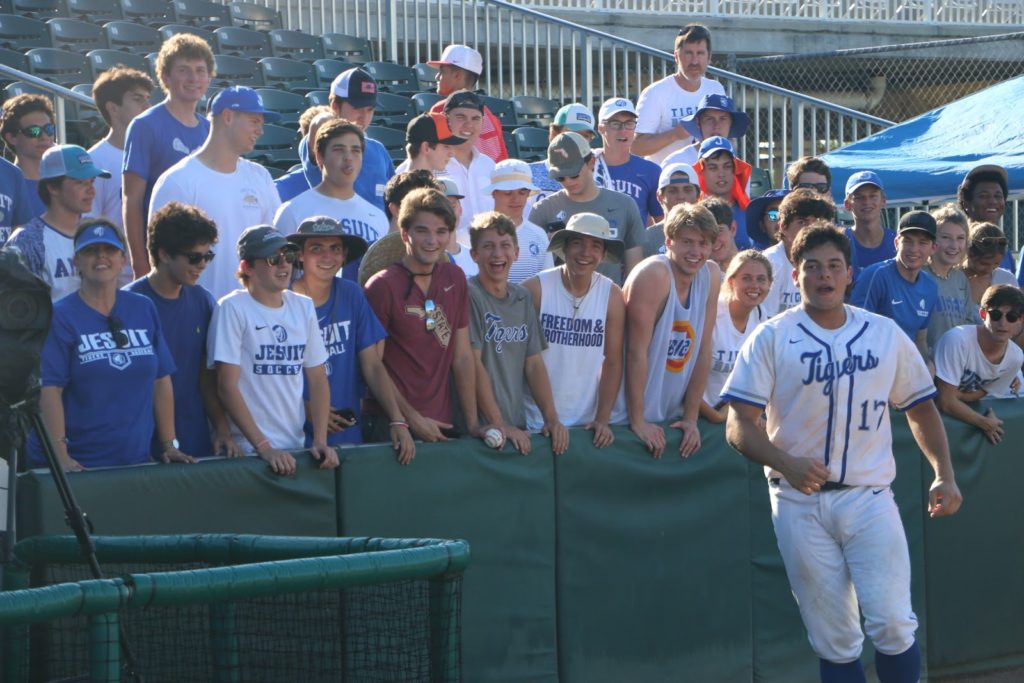 Jesuit junior Henry Politz returns to the celebration with his team after going over to great some of the big crowd the Tigers had in support on Saturday. (Photo by Bob Quinn)