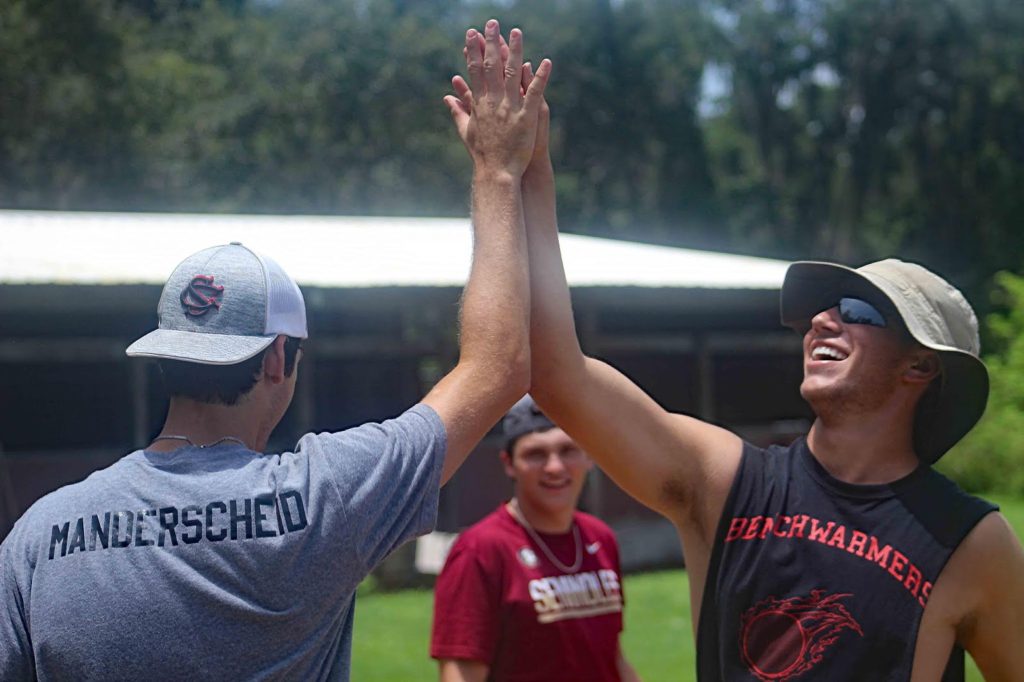 Recent Strawberry Crest grad Benny Pues (right) is congratulated at home plate by Chargers and wiffle ball Ballz Deep teammate Kade Manderscheid after hitting a home run at Pues' MiniFenway field in Plant City. 
PLANT CITY – Benny Pues wears a bit of a wry smile as he thinks back about when he asked his grandmother, Shirley Ercoli, about the possibility of putting a wiffle ball field in her backyard where she once grazed horses. He pitched it as a place for some friends and baseball teammates to get together for an afternoon and have some fun. The recent Strawberry Crest alum admits that at the end of the summer in 2017 he didn't really let his grandmother in on the full scope of his plan.
"I asked if she'd be okay if I had a wiffle ball field in here backyard," Pues said. "I know she thought maybe I'd put up a temporary fence and maybe lay down some bases, but I don't think she ever thought it would be like this."
After seeing a video on the internet of a Vermont home's backyard send-up to the Boston Red Sox Fenway Park stadium called Little Fenway, the seed was planted in Pues. So, he mowed down the area, then spent all the money he had on a way-to-much-to-be-selling-to-a-16-year-old supply of Round-Up and sprayed out the base paths.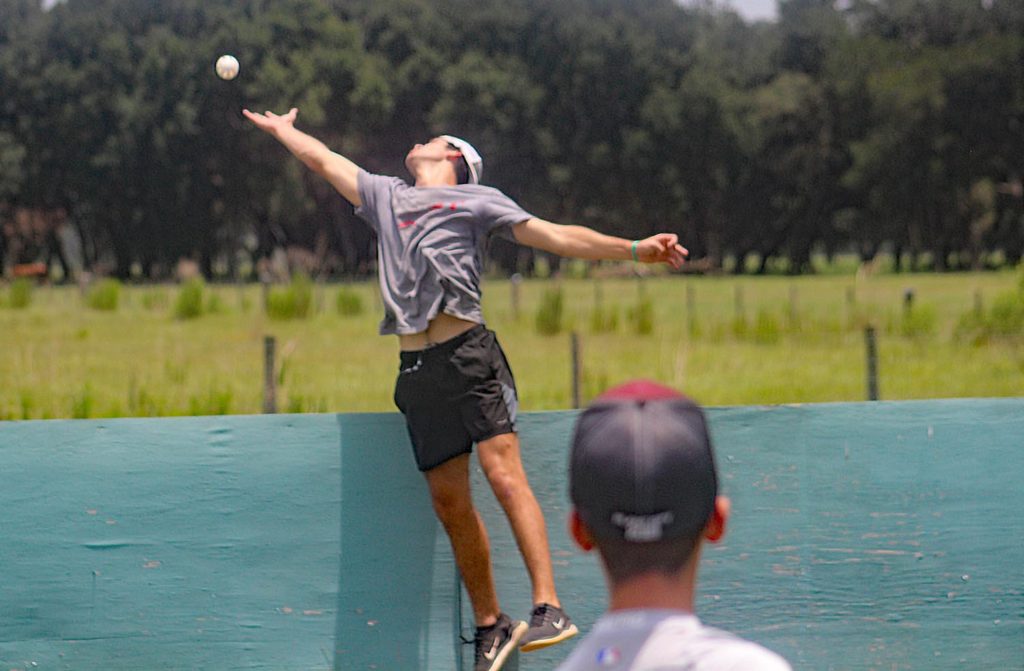 A home run ball flies just out of reach of a leaping Kade Manderscheid. 
However, tapped of cash it wasn't until after Hurricane Irma when Pues went to work offering his services to neighbors clearing debris, that his dream really started to come together. With more money at his disposal, he bargained for some posts and plywood, dug more fencing out of a swamp on his uncle's property, and purchased a truckload of clay and showed back up at his grandmother's property.
"I had to talk her into it, when I showed up with a truck full of dirt, I don't know if she was 100 percent sure about it anymore. But she's been great (about it)."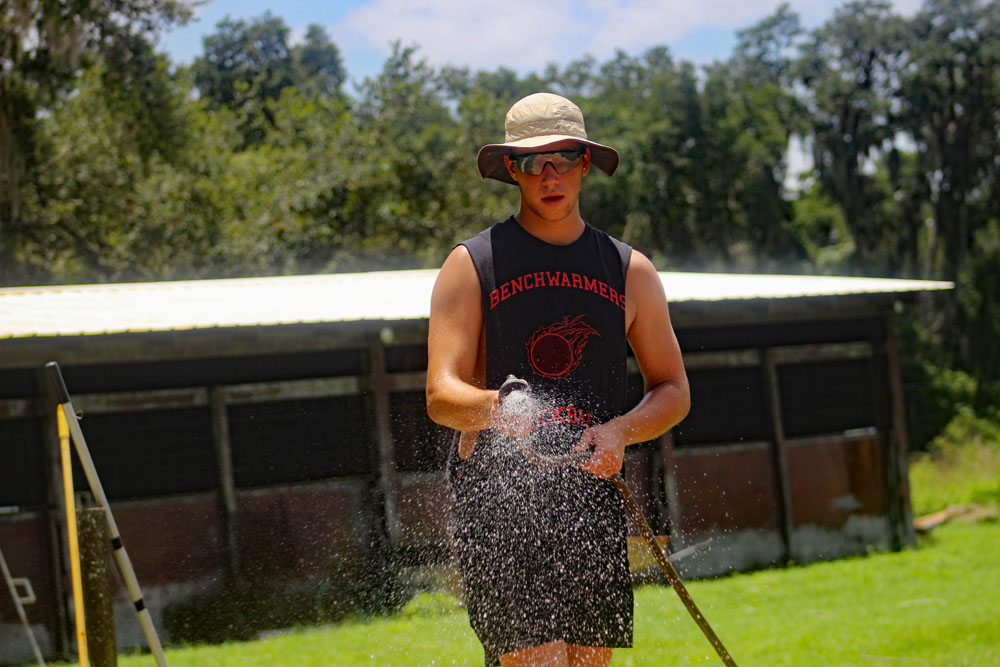 Pues takes a lot of pride in his efforts and spends most of his free time keeping his MiniFenway in playable shape. 
It took 13 months of work between Pues, a number of friends, his bother Ethan and teammates from his Strawberry Crest baseball team, and he admits the spring baseball season did put a pin in the progress. But come June of 2018, there was a replica Green Monster complete with fence distances and advertising, foul poles, bases, and a large group of friends hungry to get on the field.
Mrs. Ercoli did put her foot down when Pues arrived with a truckload full of cinderblocks to build dugouts, and there is a no parking on the grass policy out front, but other than that the boys were free to go at it.
On June 22, the first pitch was thrown at MiniFenway and it spawned a summer league last season, complete with regular season games, and saw Pues' younger brother Ethan earn World Series MVP honors with seven RBI in the deciding game 3, as he and teammates Anthony Grasso, Brandon Watts and Dylan Kregelka – the Sandlot Sluggers captured the first season title.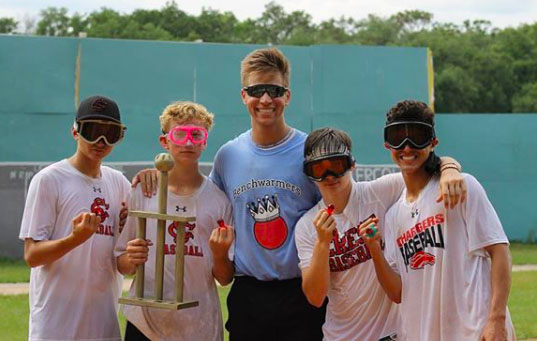 Complete with trophy and championship ring(pop)s, the inaugural summer season World Series champion Sandlot Sluggers (left to right): Brandon Watts, Ethan Pues, league commissioner Benny Pues of the runner-up Benchwarmers, Dylan Kregekla and Anthony Grasso. Photo courtesy of Pues and the @MiniFenway Instagram account. 
Word of the field spread a bit throughout the first year, as MiniFenway has its own Instagram profile with a humble, but passionate following. Pues said there have been teams from a number of other area high school baseball programs, as well as other sports that have stepped to the plate at the field. And though he is off to college in mid-August he hopes to put together a few more weekend tournaments this summer.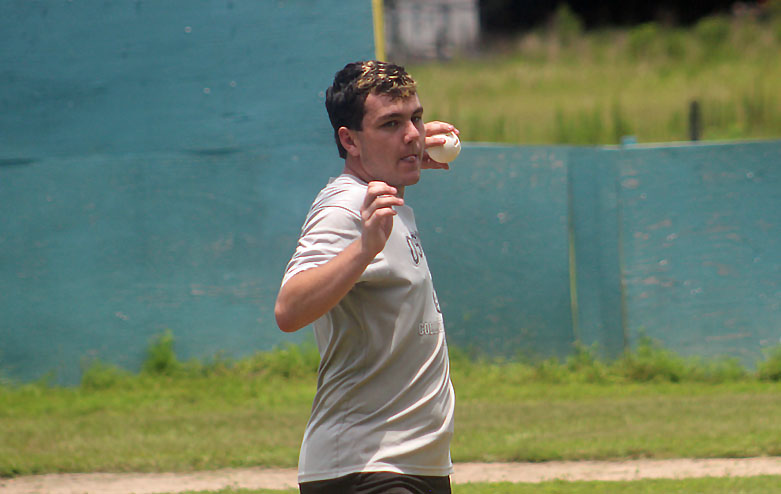 Alex Marshall helped Strawberry Crest's
baseball team to back-to-back district
and region titles, and a 2019
8A state runner-up finish.
"This is such a great place for our friends to come out, get together and play some stupid whiffle ball," Strawberry Crest 2019 grad and South Florida State College signee Alex Marshall said. "It was a lot of work putting it together, but I think it's been worth it getting to come out here and enjoy what we've done."
Gage Young, who played baseball at Durant and will be playing at Palm Beach State College next year added: "We are all friends during the high school season, but during the year we don't get to spend much time together. So, having this, a place to come out and have some fun, is great for us."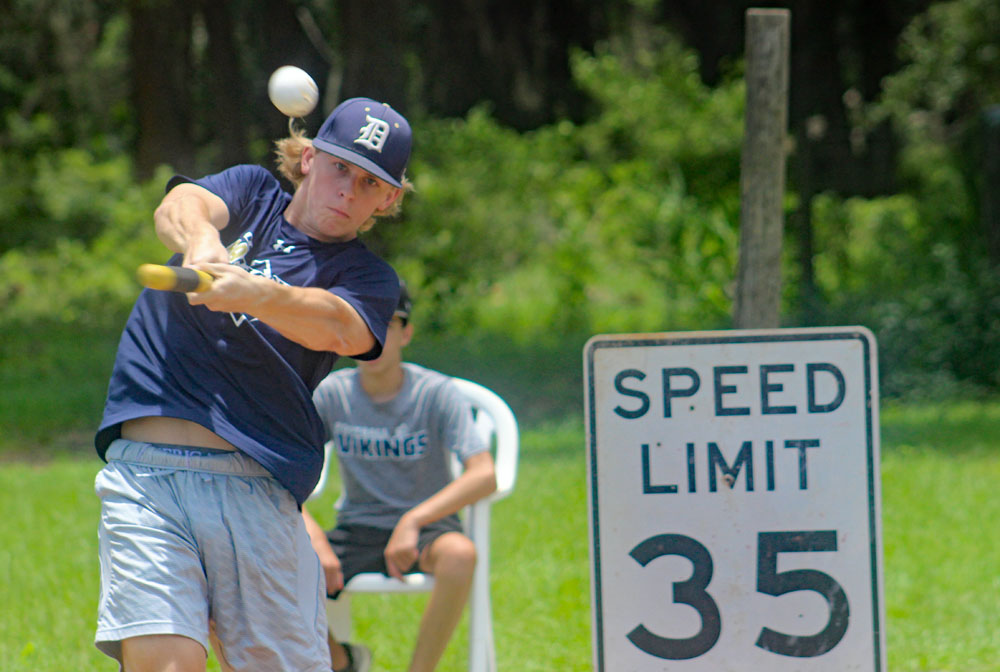 Recent Durant baseball player Gage Young with a hit. 
For Pues, who is committed to play at Polk State next year, he hopes that MiniFenway can be a way for his former teammates, both high school and travel ball, can stay connected and that when winter or summer breaks happen over the next few years they have a way to reconnect through the field.
"What we are going to do this summer between work and baseball, I'm going to host a tournament here and there," Pues said. "So, by the time everyone is coming back between fall baseball and things are starting to slow down, I hope this is someplace guys will want to come back and get together and have a good time."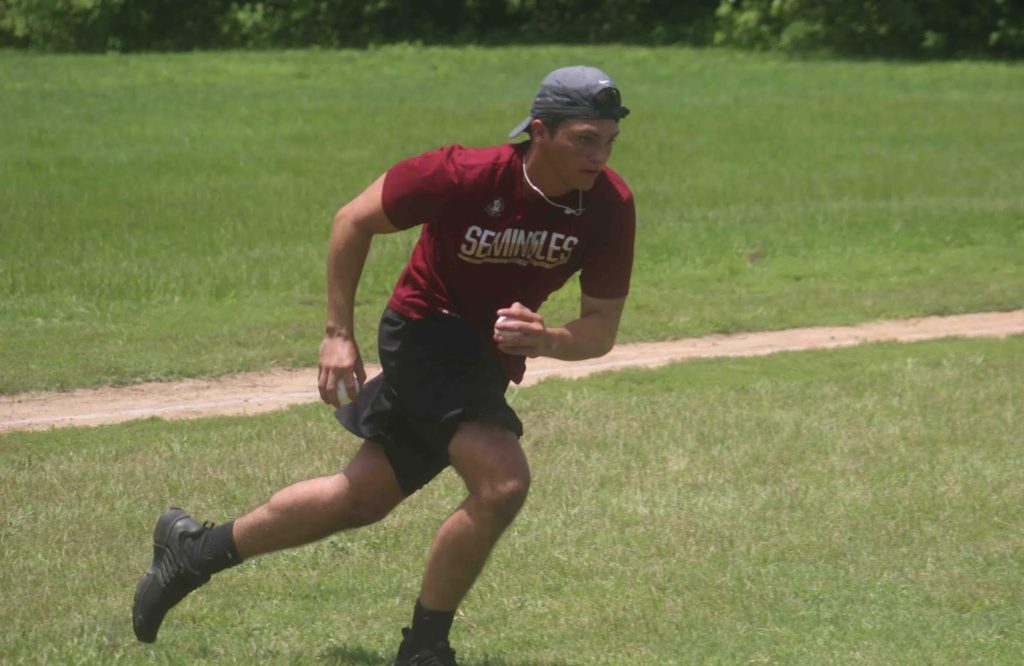 Mitchell Jones runs to make a force-out in a early-round game. 
Opening the 2019 Summer in style
The first event of the 2019 summer took place on June 21 – one day shy of the field's one-year christening anniversary – and Pues and his buddies were gracious enough to host 813Preps for the afternoon, where five teams competed in a double-elimination tournament.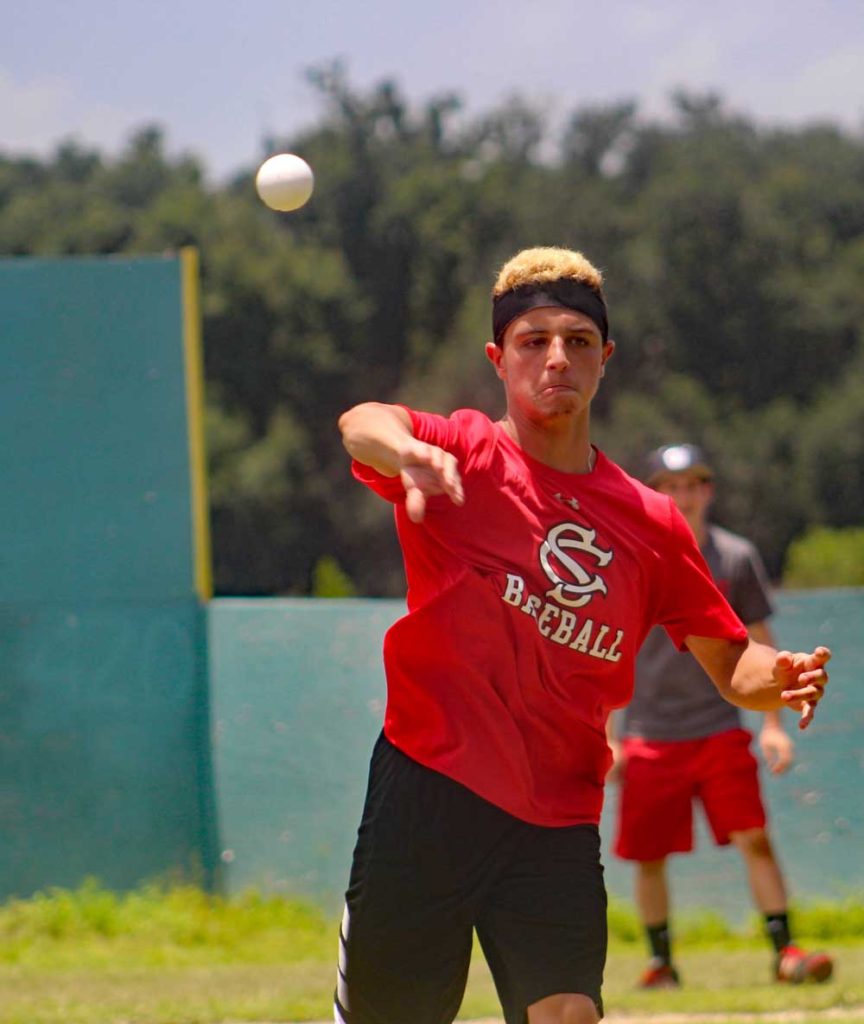 Anthony Grasso, pitcher for the Sandlot Sluggers
World Series champions the Sandlot Sluggers were in the driver's seat through the early knockout rounds, claiming a victory over Pues's Ballz Deep squad, which included fellow Strawberry Crest Chargers baseball teammate Kade Manderscheid and classmate Mitchell Jones. The Sluggers trio (who will be active in the Chargers 2020 baseball program) of Grasso, Kregelka and Watts (Ethan Pues was away playing travel baseball), employed a smart strategy of patience at the plate as some of the other team's pitching – including Manderscheid, Chargers' teammate Alex Marshall, and Seffner Christian alum Bryce Mitchell struggled making contact with the salvaged 35 MPH road sign on a built wood frame that serves as the strike-zone-backstop.
The Sandlot Sluggers went 2-0 in the early rounds earn a bid in the finals.
Ballz Deep fought out of the loser's bracket with a big quarterfinal win over Marshall's team, which also included 2018 Crest grad and HCC pitcher Damien Torres and recent Durant grad Gage Young and earned a spot in the final defeating a team led by Crest alum CJ Kirkland and Mitchell.
Setting up a final between the veteran Chargers players versus the younger Crest players and defending World Series champs. The pre-championship pomp included a live video stream on Instagram with Marshall serving up the sometimes-scathing play-by-play, Kirkland manning the camera, and Young helming a group of middle school players as the umpires. All took place after all of the day's competitors queued down the basepaths and stood for the Star-Spangled Banner.
In the championship though, it was all Ballz Deep as the veteran Chargers would win the first game of the championship final as Manderscheid provided a solo home run and then worked out of a bases loaded jam in the final inning to force a winner-take-all game.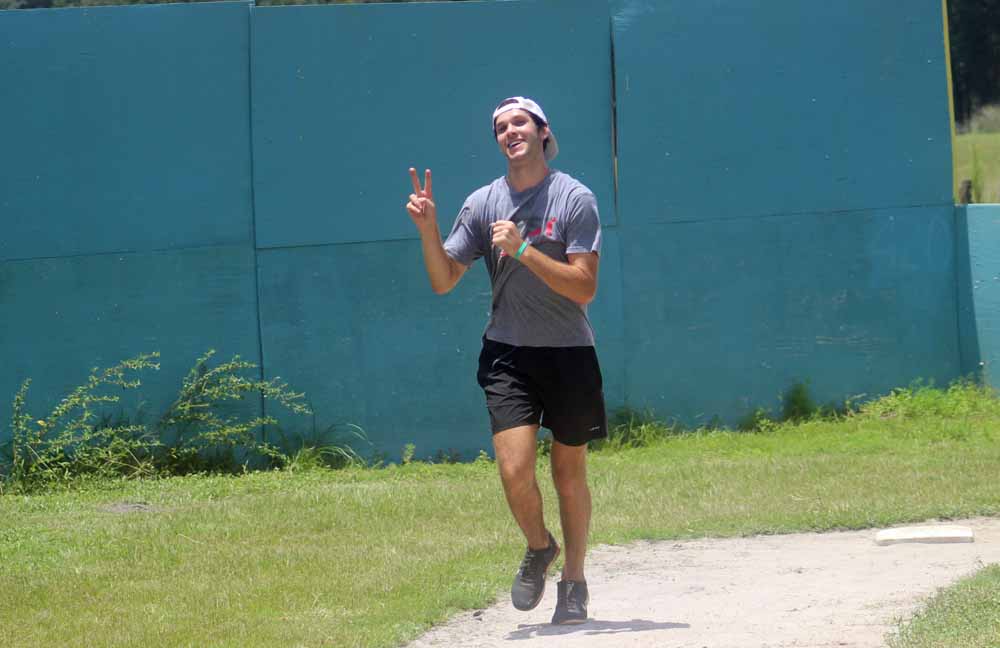 Manderscheid milking the home run trot after giving his team the lead in game 1 of the championship final. 
and the summer's opening tournament title would be claimed as Pues lined a screaming two-run homer to right and tournament MVP Manderscheid closed the door with a pair of strikeouts to end the game in a 2-0 victory.
"We dropped that first game to them in the opening round and had to work our way back in this," Pues said. "While (the Sandlot Sluggers) were over there resting in the shade, we were working hard and gaining more faith in each other."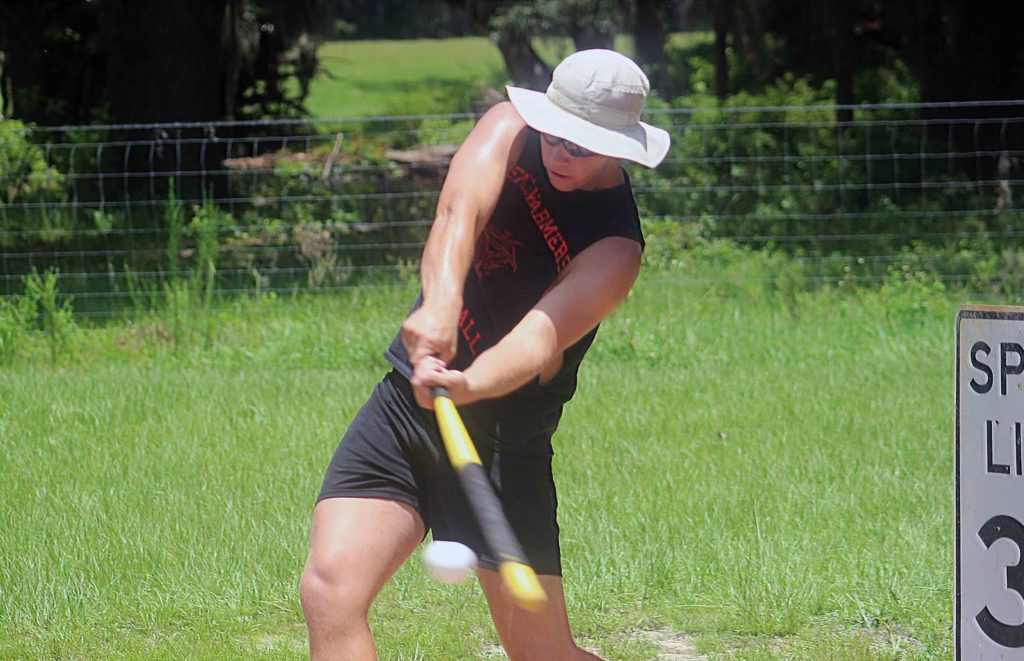 Pues takes a big cut in the championship round. 
Manderscheid, who was taking some healthy ribbing from play-by-play man Marshall and his opponents that he may be running out of gas, said he overcame some adversity late in the day as his lactose intolerance was in a battle with some pizza eaten in between games, but he had to power through for his team.
"Honestly, the pizza started to get to me, but a dub is more important," Manderscheid said.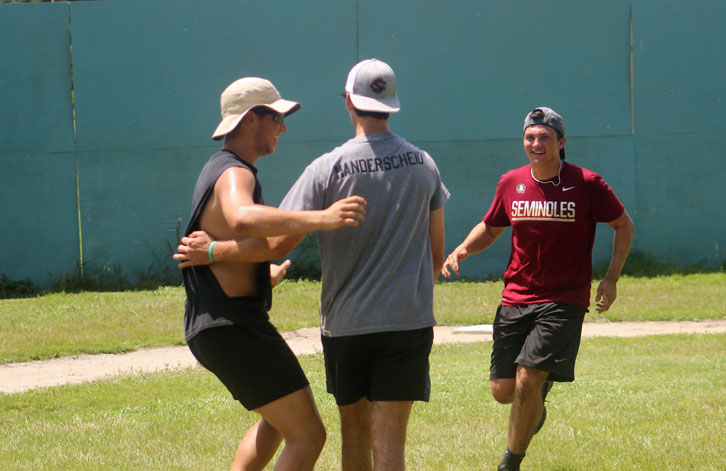 The moment of victory for Ballz Deep in the 2019 summer opening tournament.
For Grasso, who had eight strikeouts in the final two games, the Sandlot Sluggers just didn't catch a break as the late afternoon rolled on.
"I think our pitching was a bit off, our hitting was a bit off and we just didn't get the big play on defense," he said.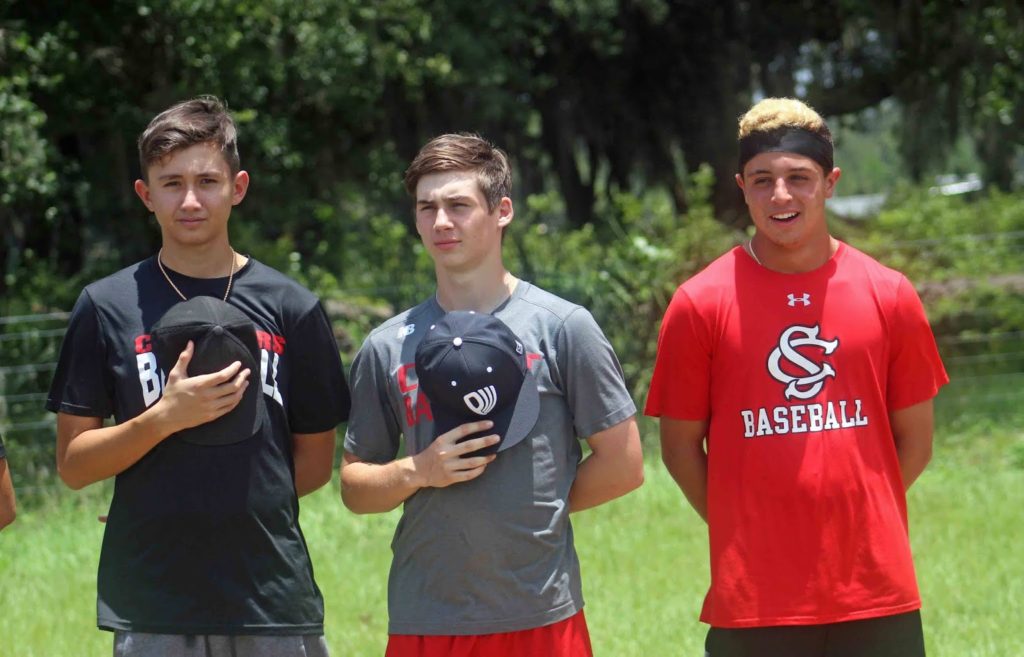 The runner-up Sandlot Sluggers. 
Pues encourages anyone interested in joining a tournament this summer to reach out to him through the MiniFenway Instagram account (click here for the link).


Photo Gallery